"Copics make it easy to fix things." COPIC AWARD Winner Shares Their Love of Copics and Favorite Coloring Techniques!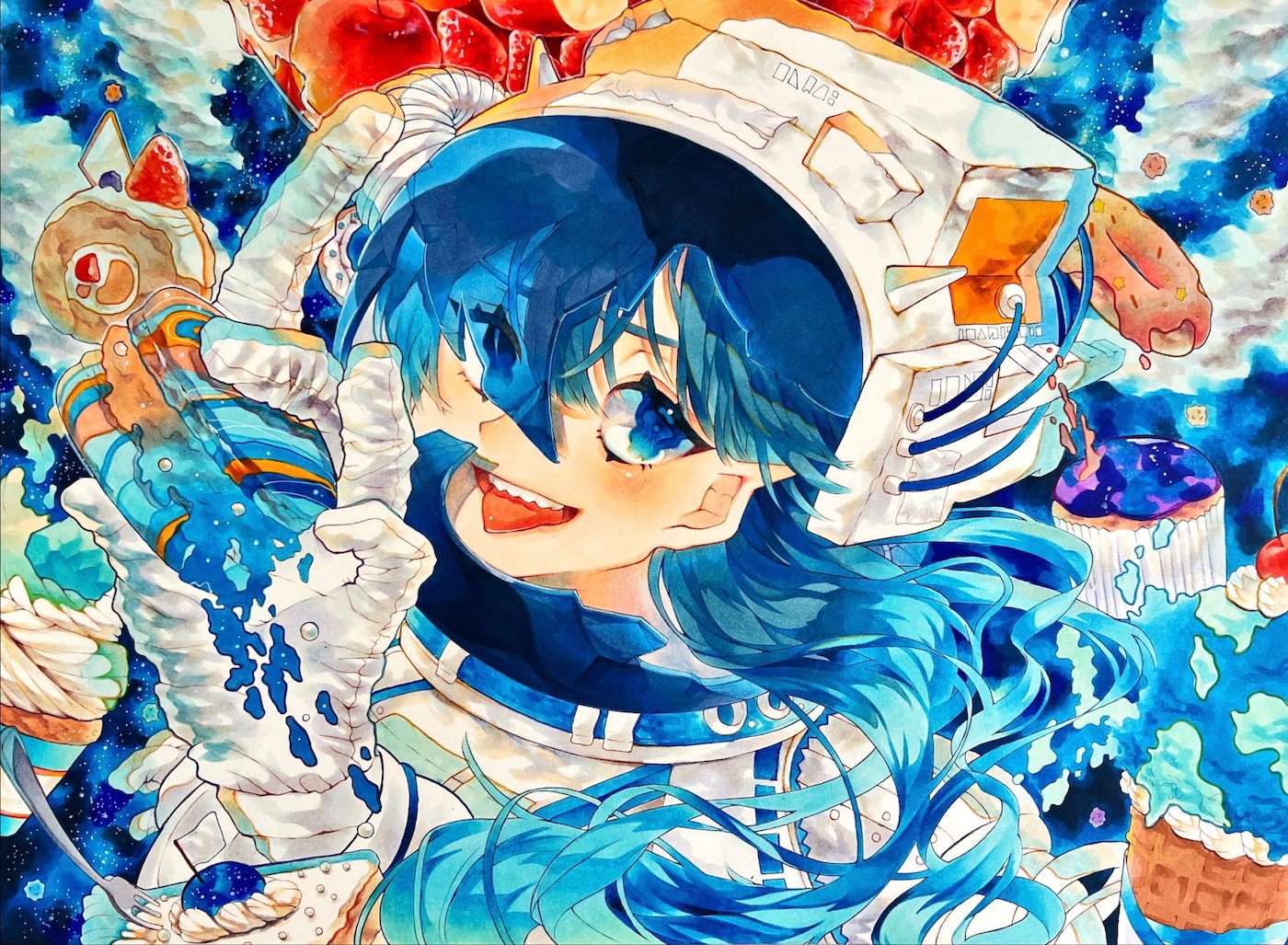 The winner of the pixiv Award for this year's COPIC AWARD, an illustration contest that draws participants from all over the world, is university student Yuka Hirano.
The winning entry is a stunning illustration that uses beautiful shades of blue to create a vision that combines delicious sweets and outer space.
Some may consider using analog tools like Copic markers to be particularly difficult, but Hirano claims that it makes fixing things simple.
In this interview, we asked them about the inspiration behind their work, their impressive use of color, and their Copic techniques.
What you draw stays with you when using analog tools
── Congratulations on winning the pixiv Award! Was this your first time entering the competition?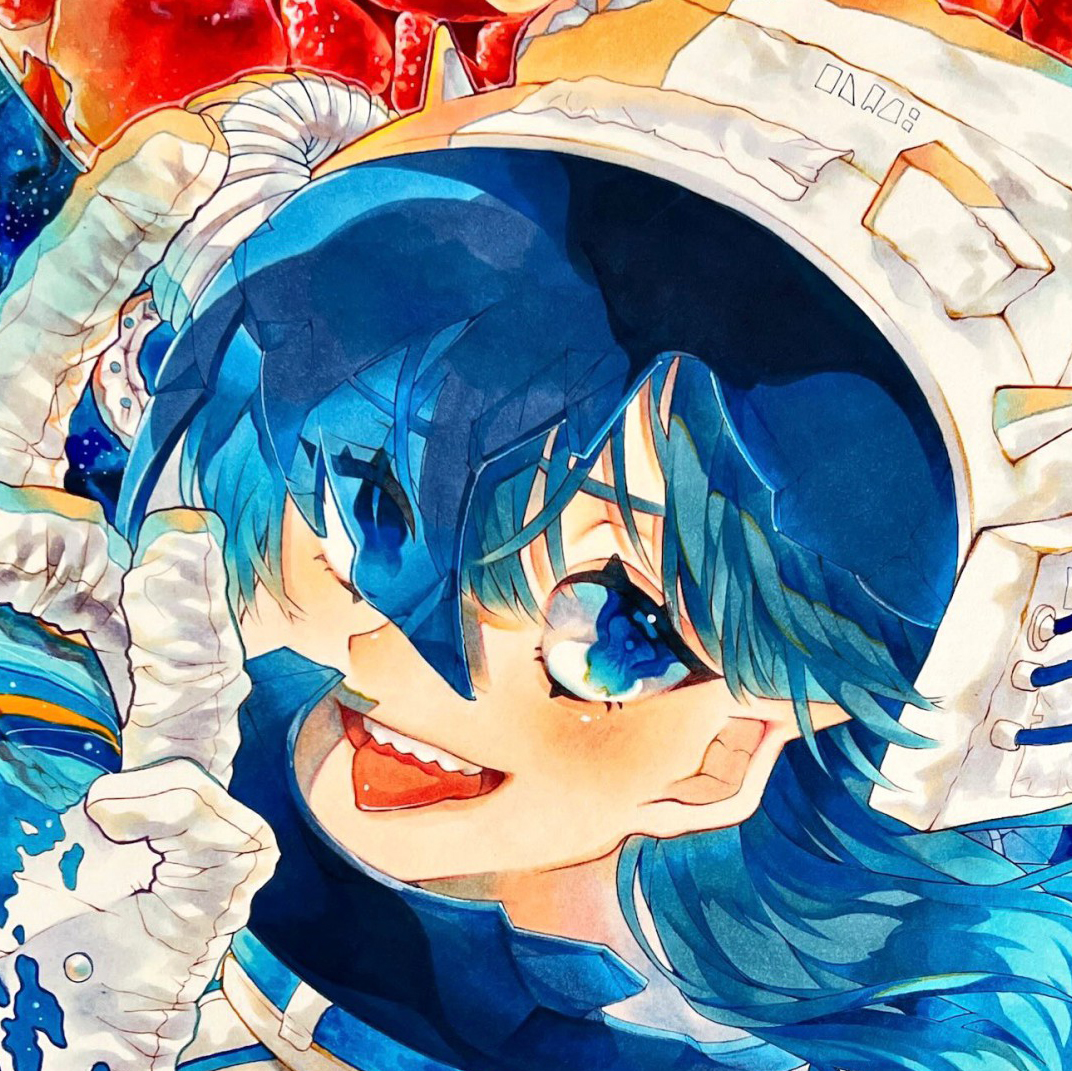 I'd been considering entering for four years, but this was my first time actually taking part. (laughs) I always thought it'd be nice to be selected for an award, but I never imagined I'd win the pixiv Award. I assumed it was only for entries posted on pixiv.
── When did you start drawing?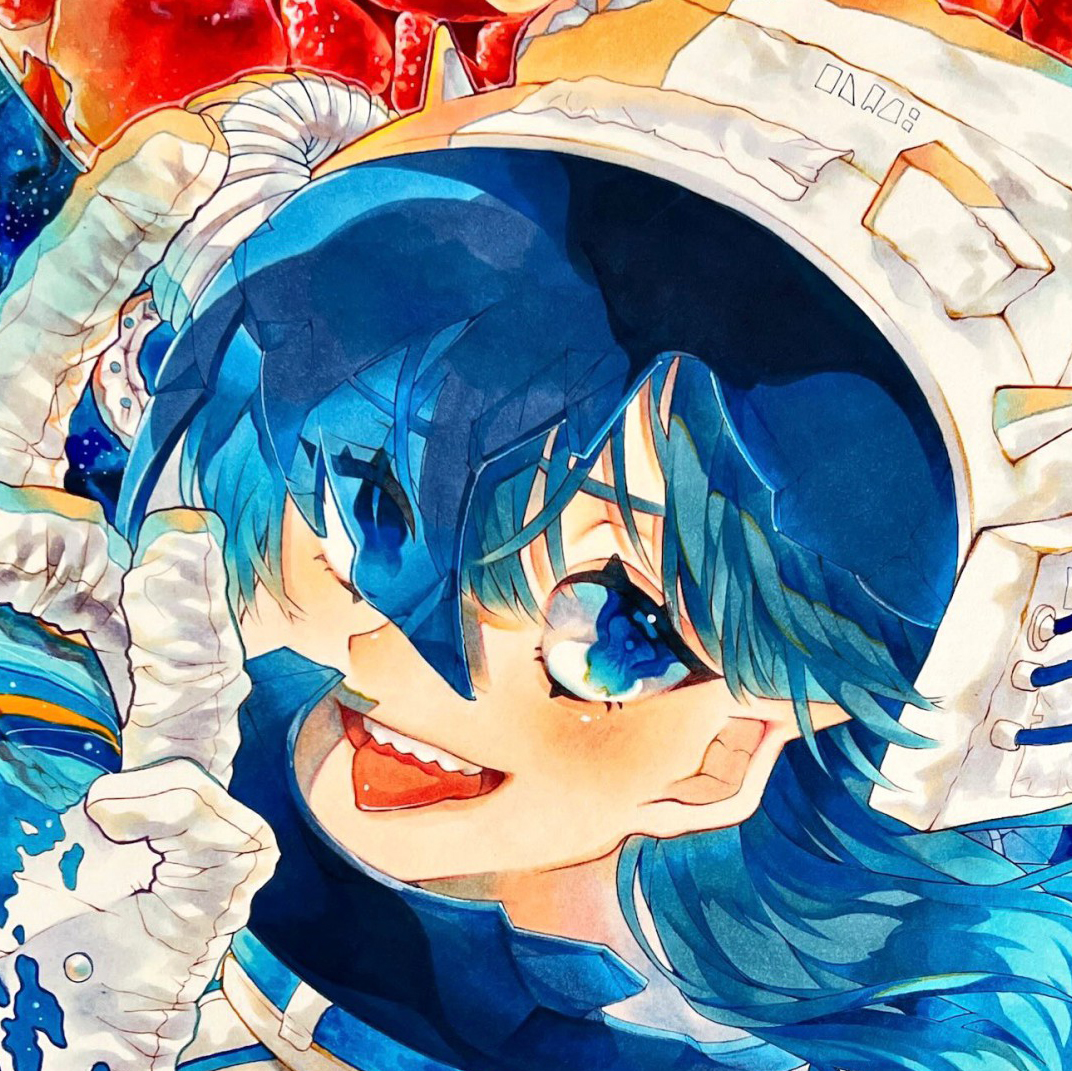 I've been drawing illustrations since I was a child, but I only started posting them on social media when I was in junior high. I'm now in university.
── Were you always an artist who preferred using analog tools?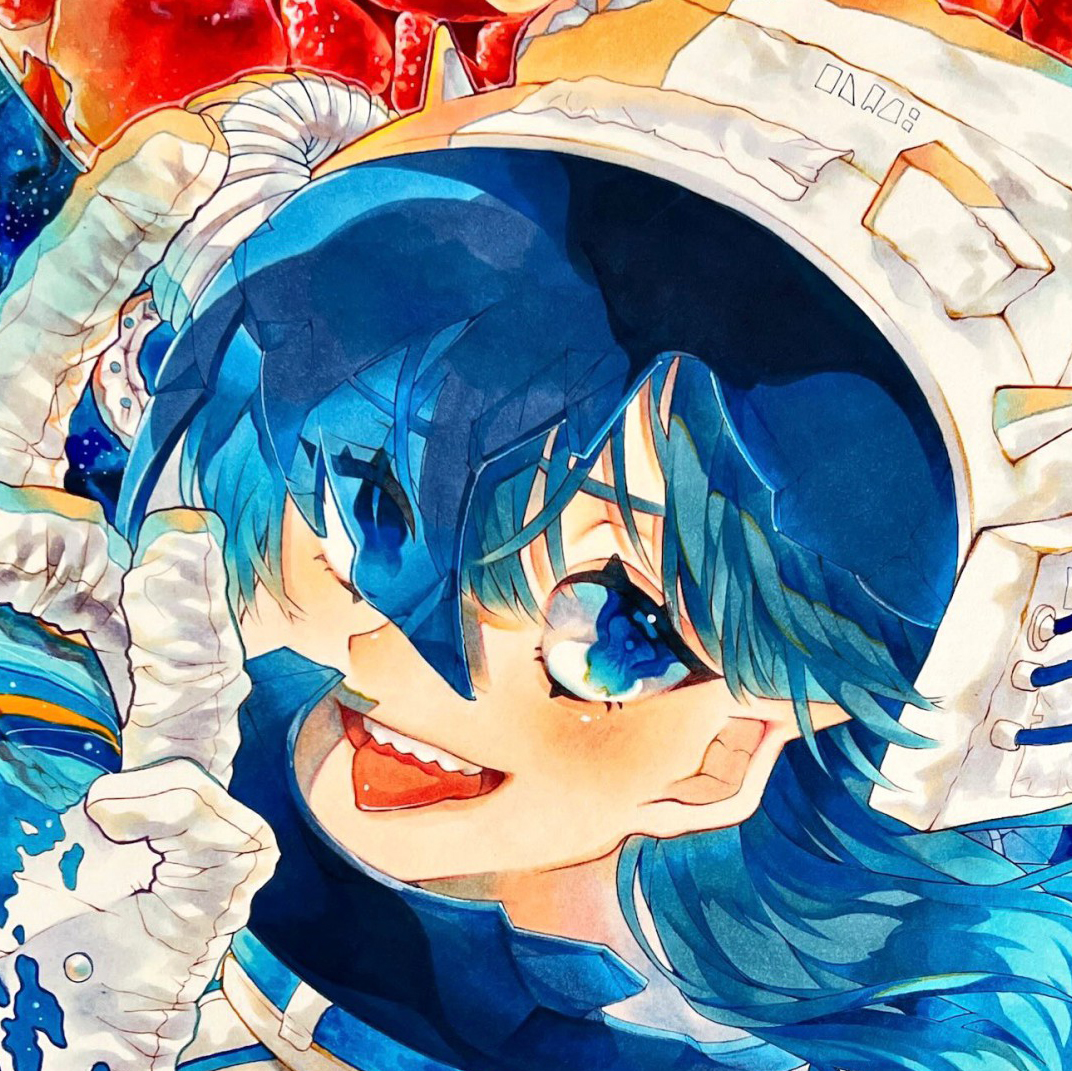 I drew digitally from junior high until about the time I started high school.
But when I was in my first year of high school, I had the opportunity to learn how to draw from an illustrator who used Copic markers at one of Nippon Designer Gakuin's open campuses. It inspired me to begin practicing with these markers. After that, I won another contest using Copics, which really made me love it as a medium, so I've mostly stuck to using Copics to make my art.
I know that digital art is more convenient and easier to work with, but there's something special about creating art using physical tools that makes it feel more like what I've drawn stays with me.
── Collecting Copics as a student must have been difficult!
Yes, they're very expensive! But my fascination with Copic markers was too strong. The first Copic I bought when I was in junior high school was No. 100, a pitch-black color that could not be used for actual coloring. It made me so happy when I drew line art with it. (laughs)
── You must have amassed quite a collection by now.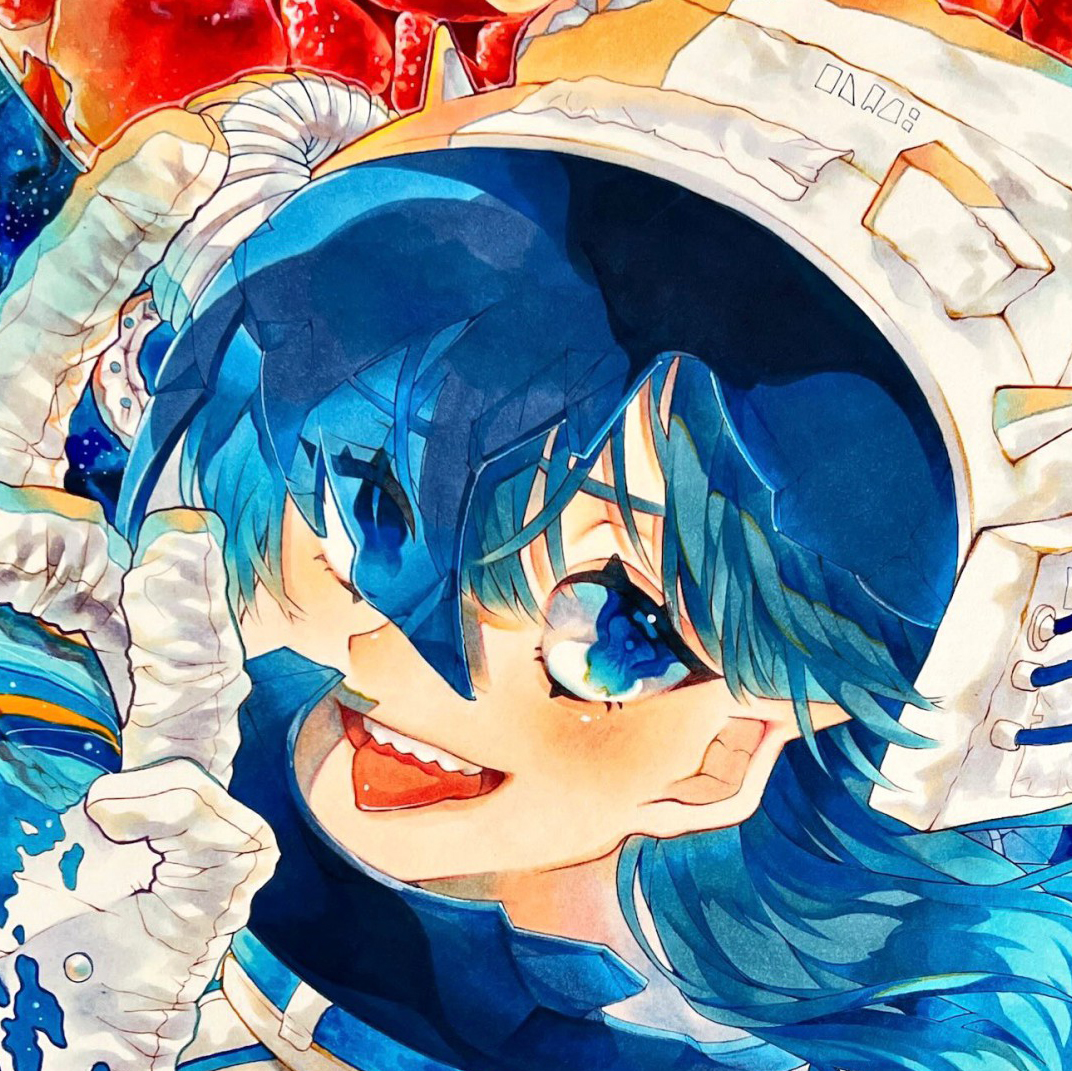 I had 300 to 400 markers at one point, but I realized there were a bunch of colors that I didn't use and now my collection has shrunk to around 200.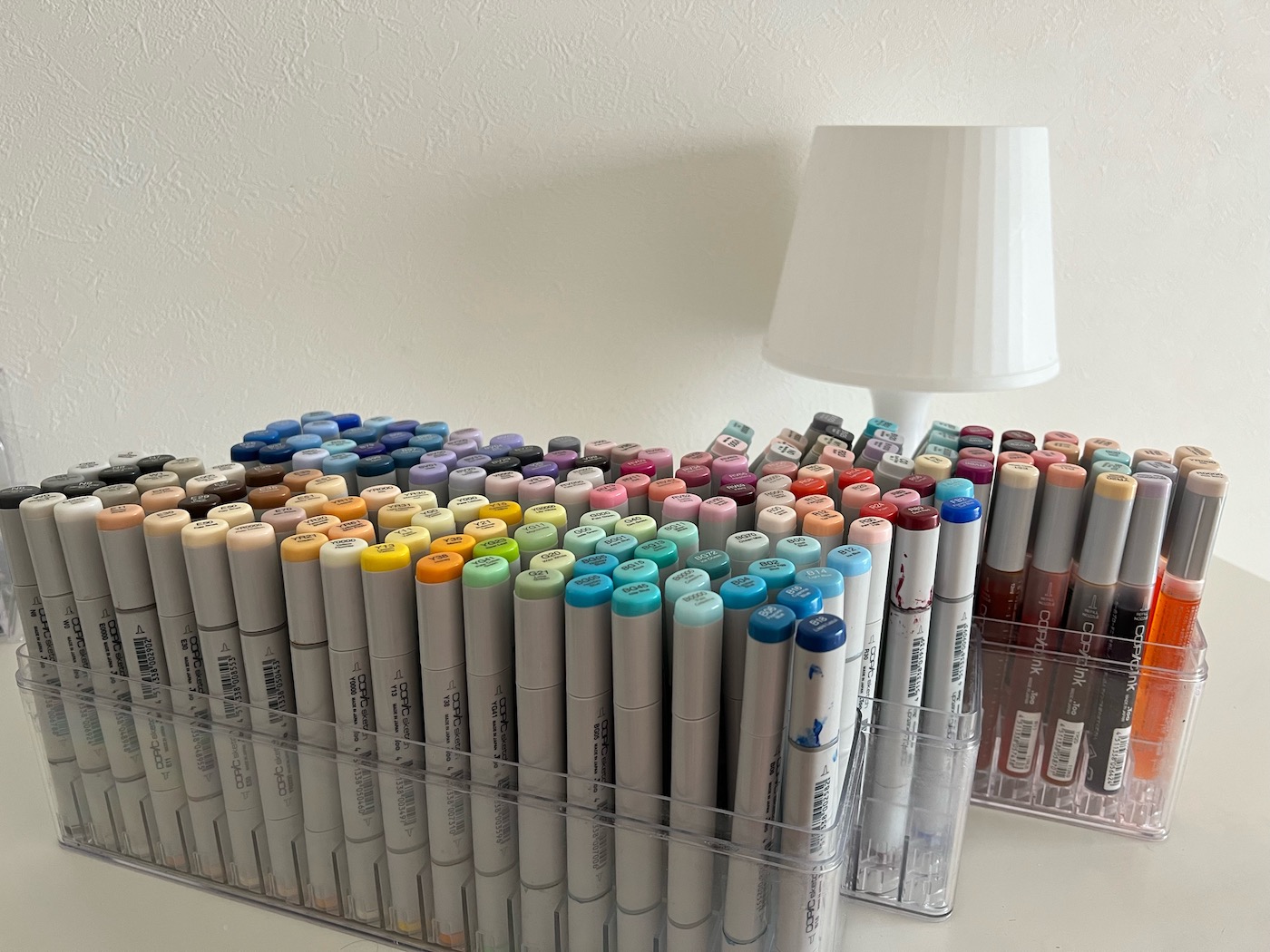 ── Which colors do you avoid using and what hues do you gravitate toward the most?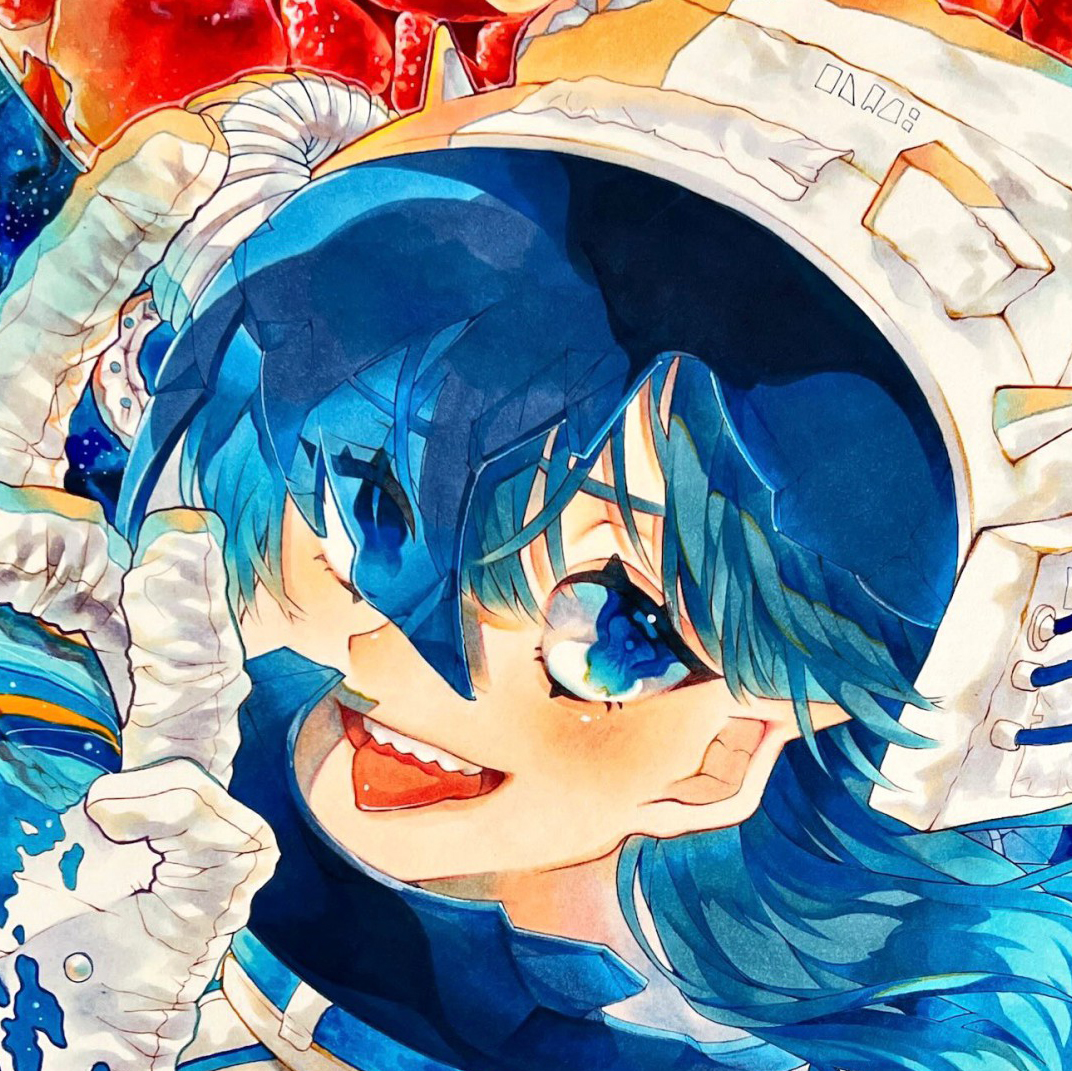 I don't use pinks and yellows very often. They are quite bright colors, so finding the right place to use them is tricky. I tend to use reds, purples, and blues.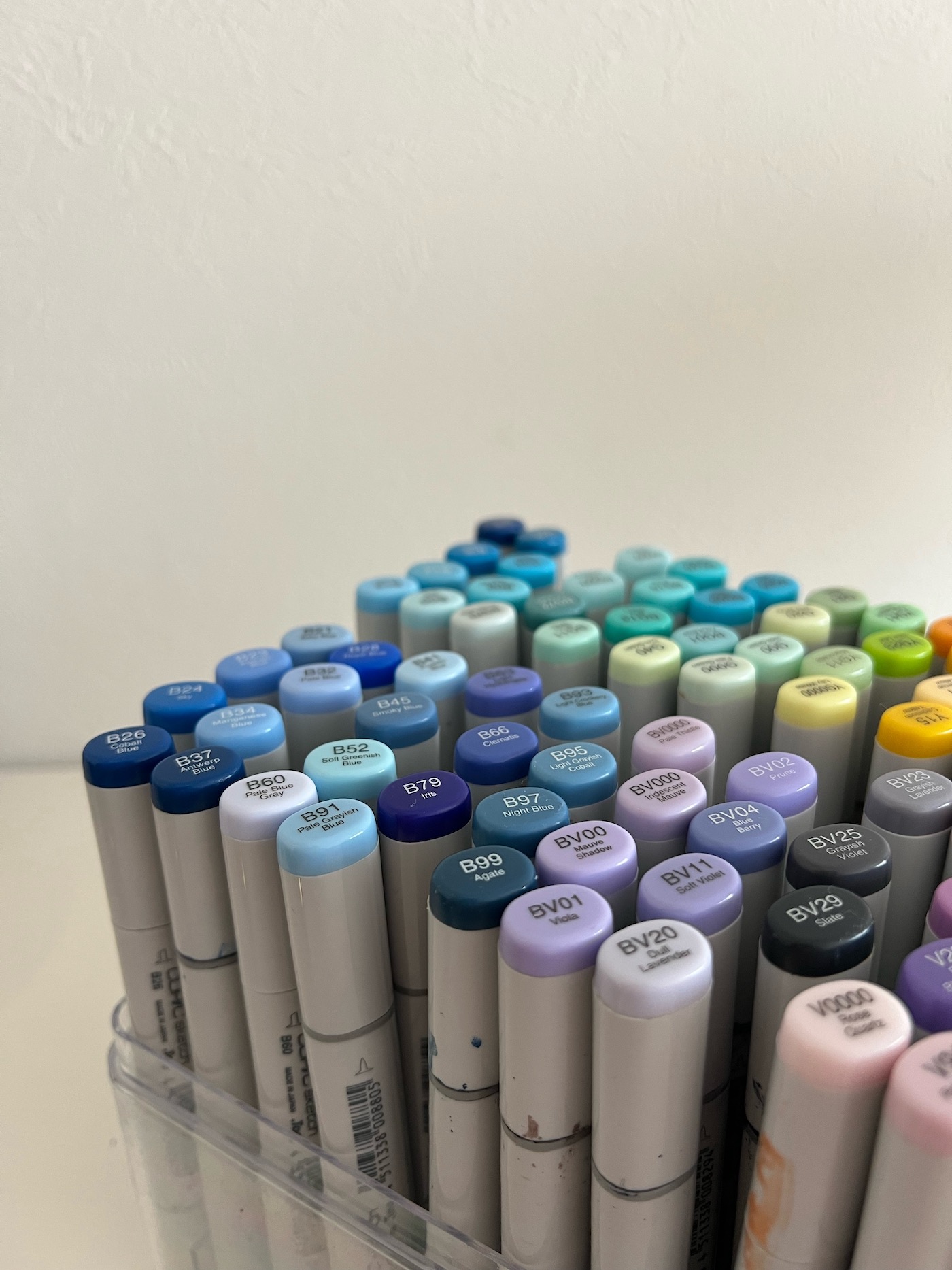 The key to a colorful illustration is clustering colors
── Blue is very prominent in your award-winning work.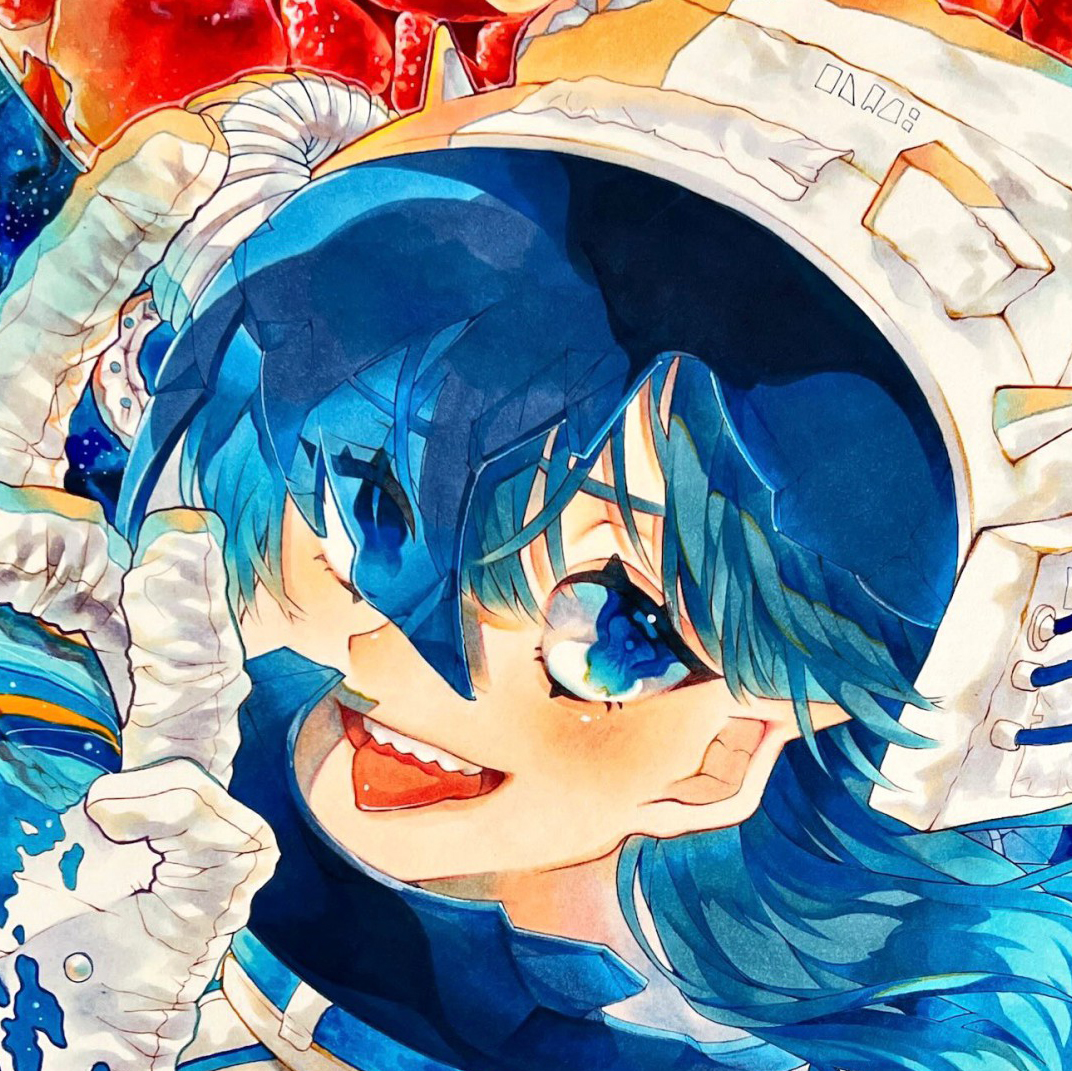 My favorite color is blue, and it's easy to make gradations with it. I like how you can use blue to represent outer space, the sky, and the sea.
── Finding the right balance between choosing a main color and making the artwork colorful must be difficult.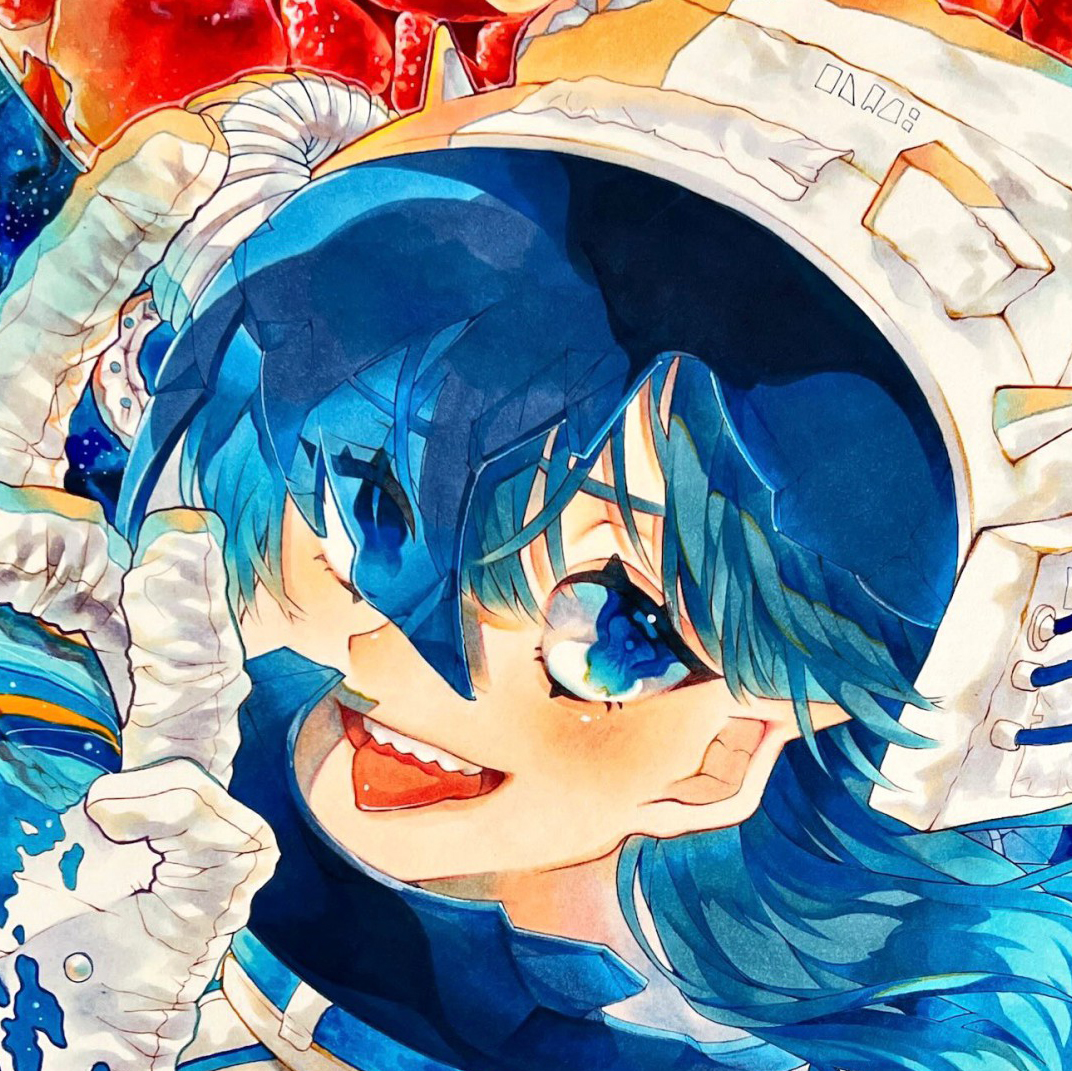 It's true that you need to be careful with vibrant colors. It's easy to go too far with them, which can make the whole picture overwhelming to the eye. To avoid clashing colors in the illustration, I used blue and orange gradations for the highlights and shadows of white areas such as the spacesuit, gloves, and cream.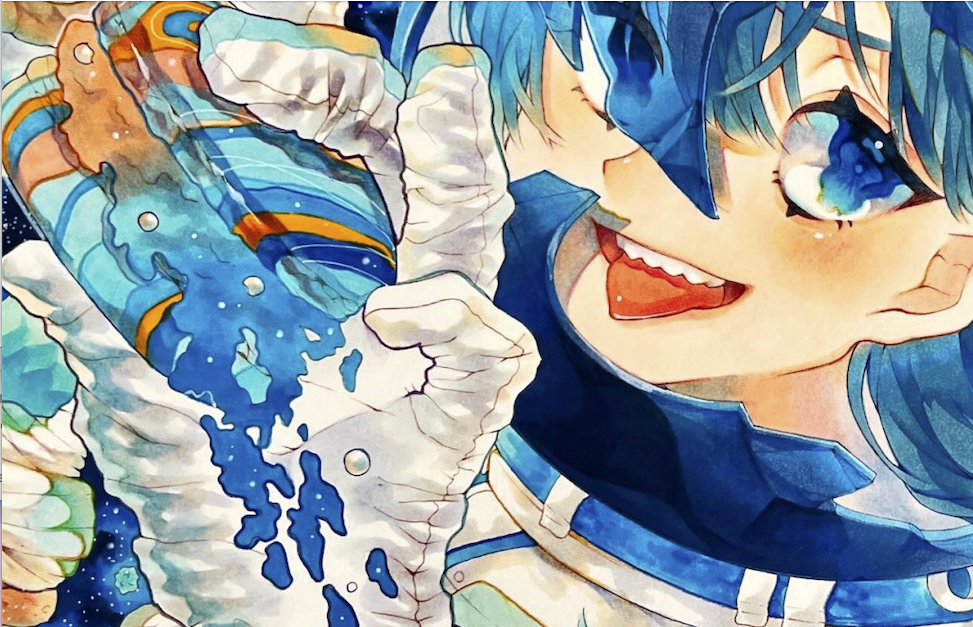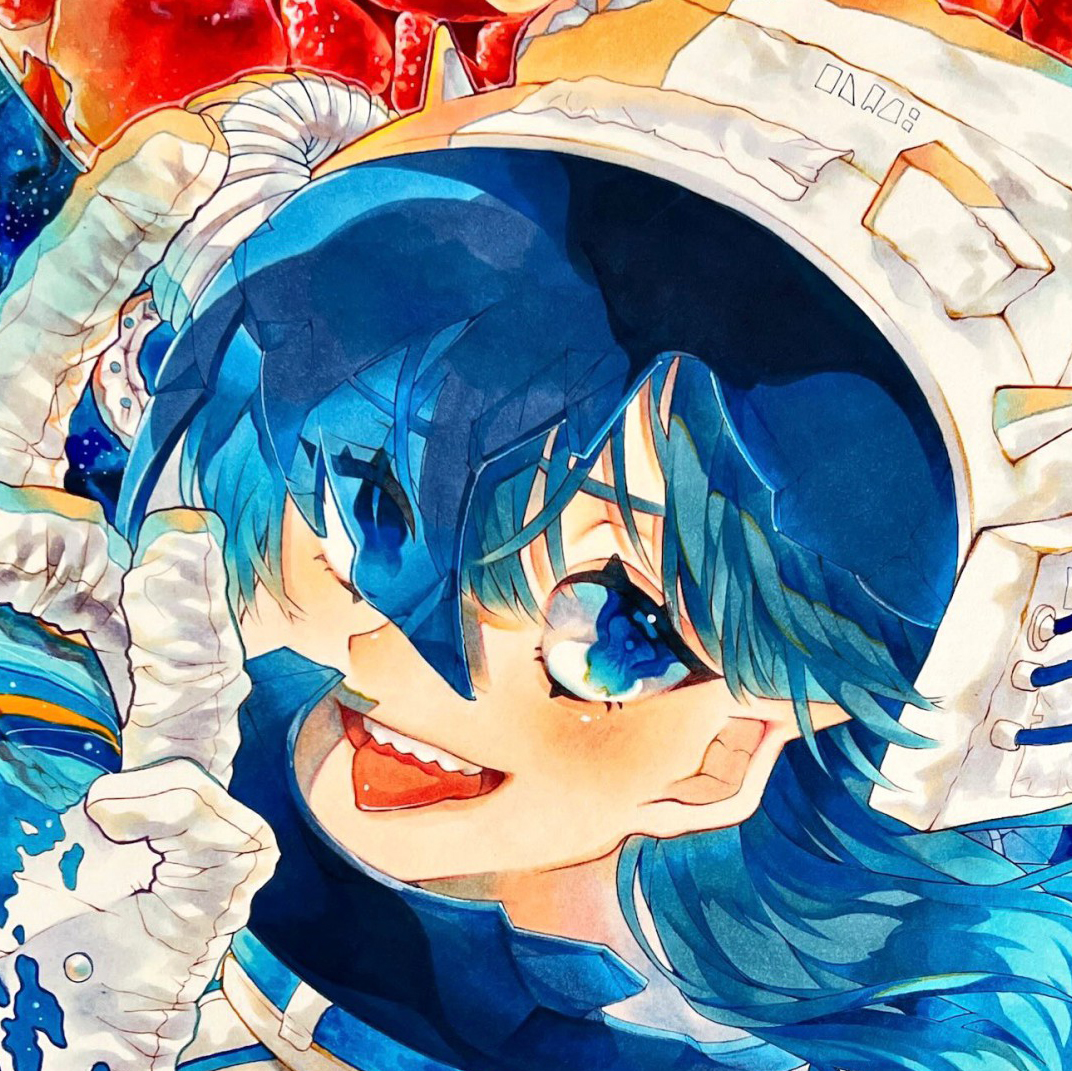 I also tried to place orange objects as close together as possible, creating clusters of color. This was true for the cake, macaroons, orange helmet decorations, donuts, and so on.
── What is the underlying idea behind this illustration?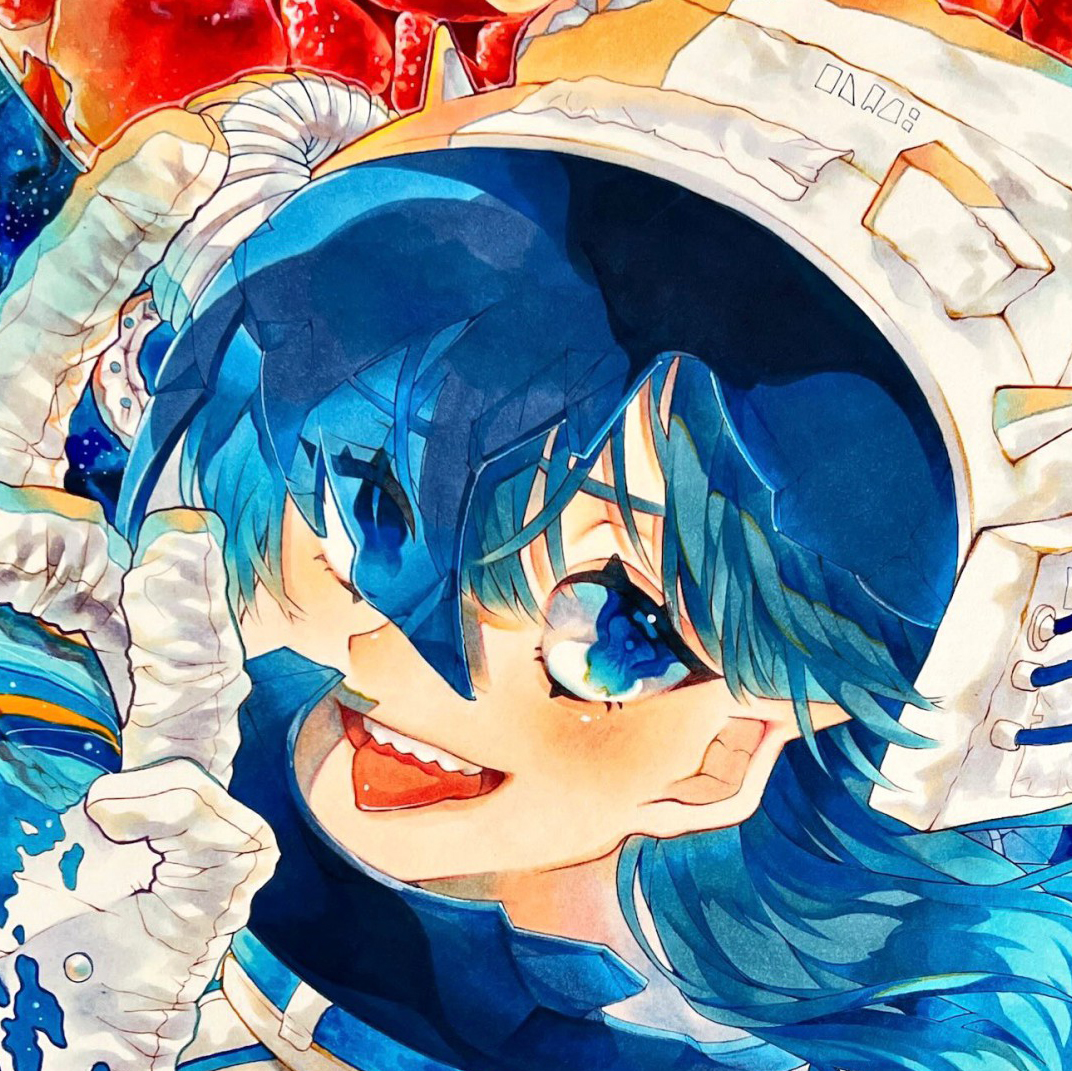 The concept centers on a villain-type girl who consumes a planet made of candy. I gave her a gleeful expression that almost dares you to try to stop her.
This picture is a remake of a similar one I made in high school. I wanted to do it again because it was a drawing that I had so much fun making that I liked it no matter what anyone else said about it. I thought this contest would be the perfect opportunity to do so, and I'm overjoyed to have received an award for a piece of work that I have such a strong attachment to.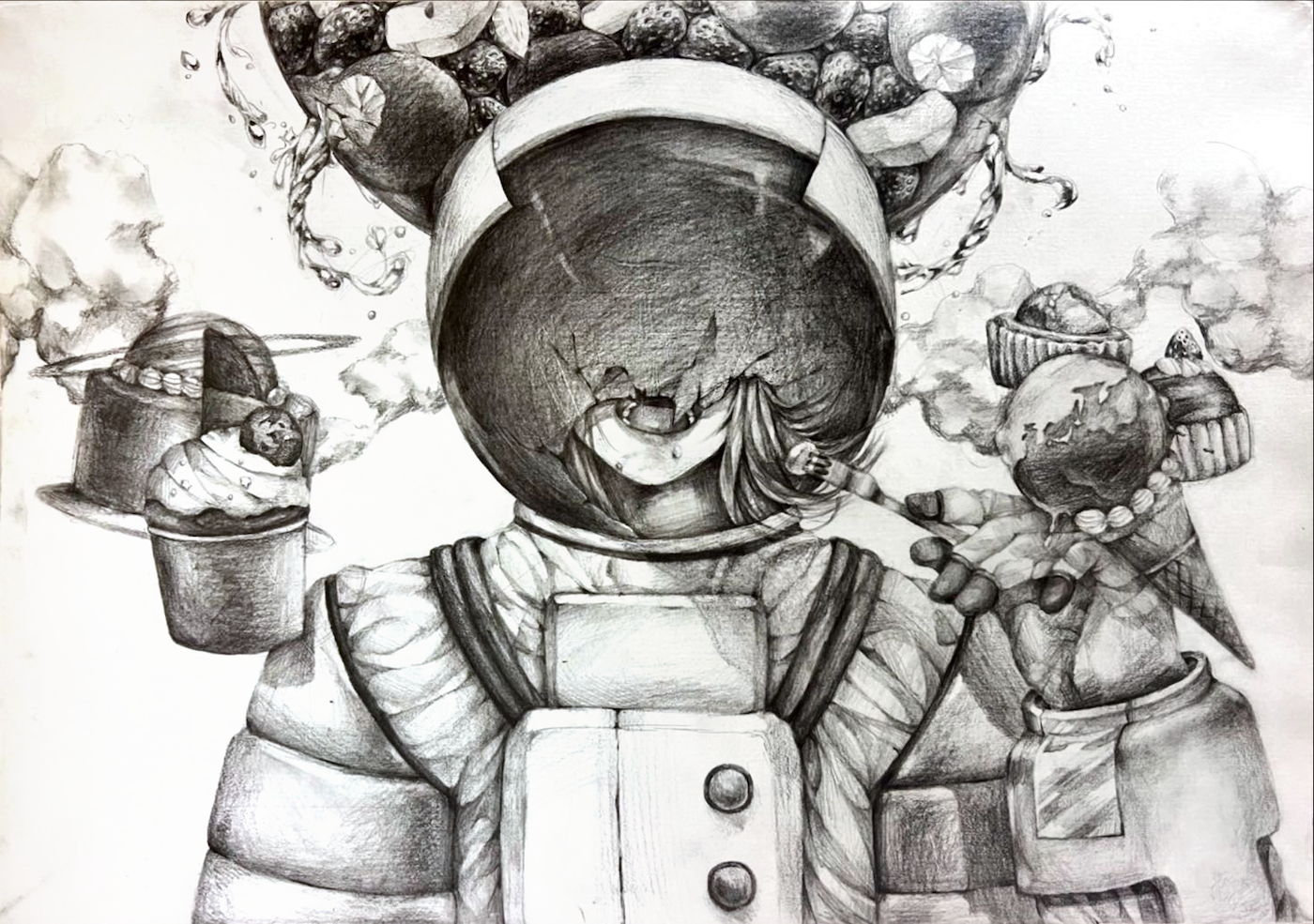 ── Although the motifs are the same, the two illustrations are quite different.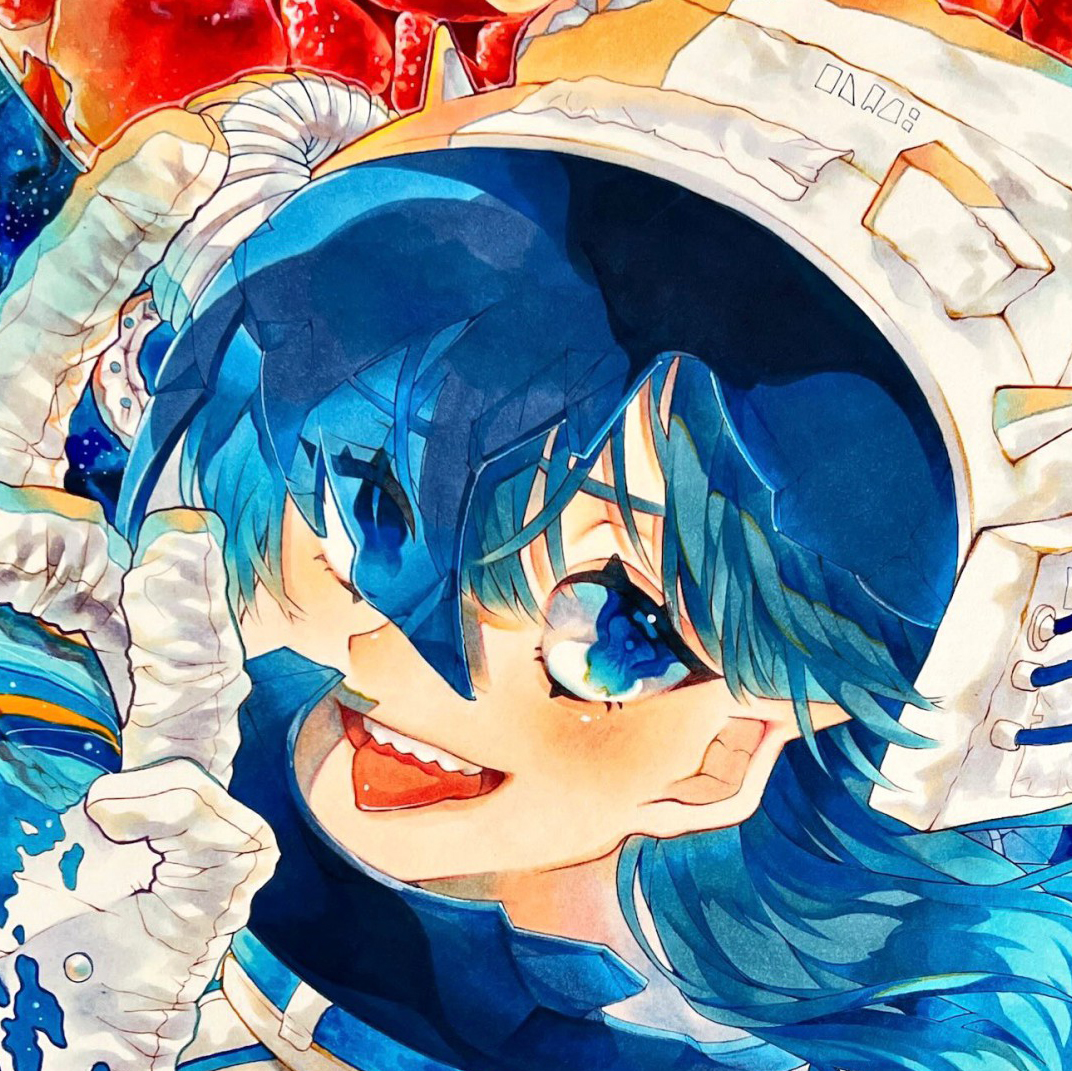 I wanted to make a statement, so I cracked open the character's helmet to reveal her face. The most enjoyable part of the process was deciding on a facial expression for the character. I concentrated on portraying the character with a dynamic energy of someone caught mid-movement with a careful eye on her body language, hair, direction of her face, and other things.
── How long did it take to complete?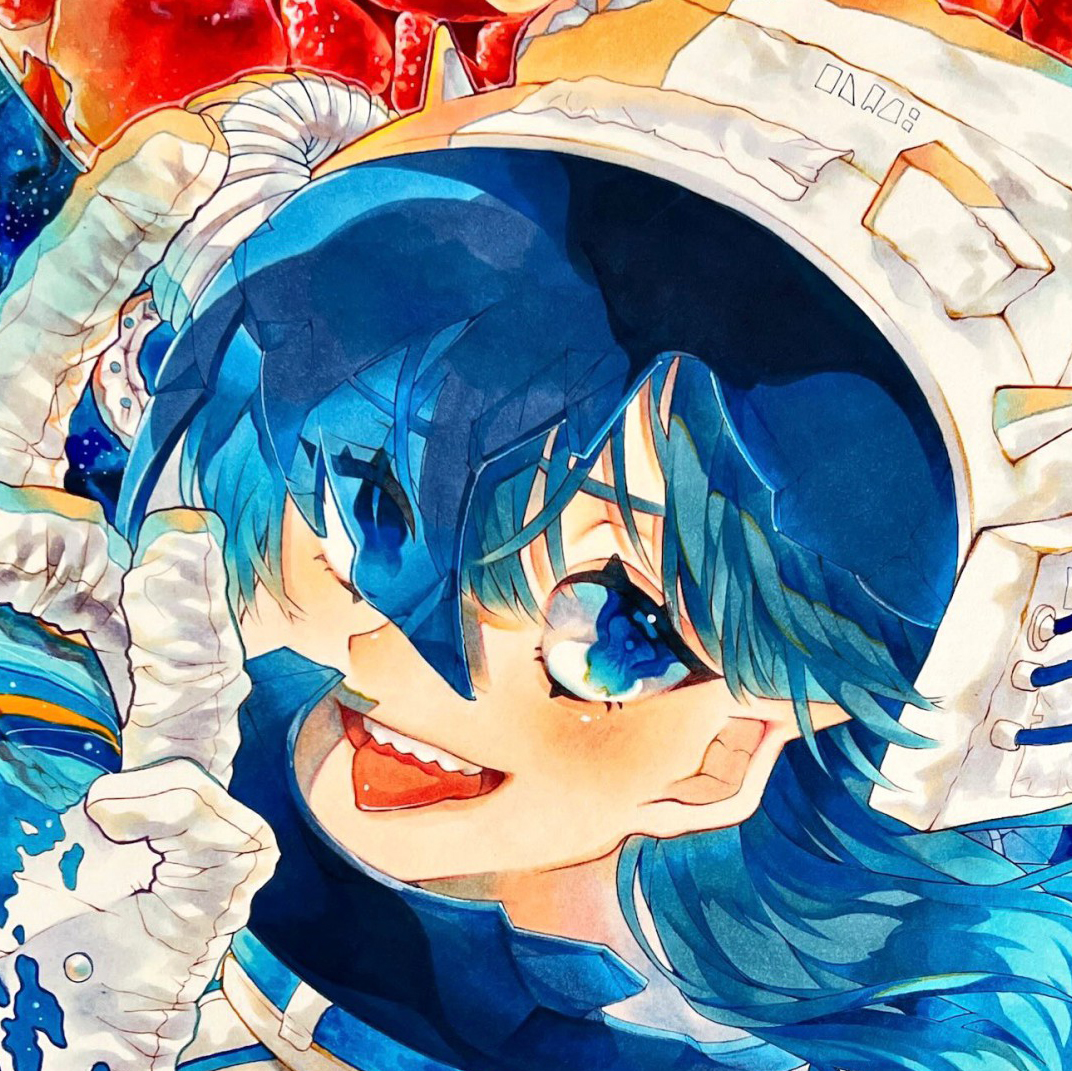 I began working on it about a month ago. I created a rough draft digitally, but I was so preoccupied with university that I completely forgot about it... I remembered just three or four days before the deadline and traced the draft, did the line art, and stayed up all night every day to finish it on time. (laughs)
── So you finished it in a matter of days?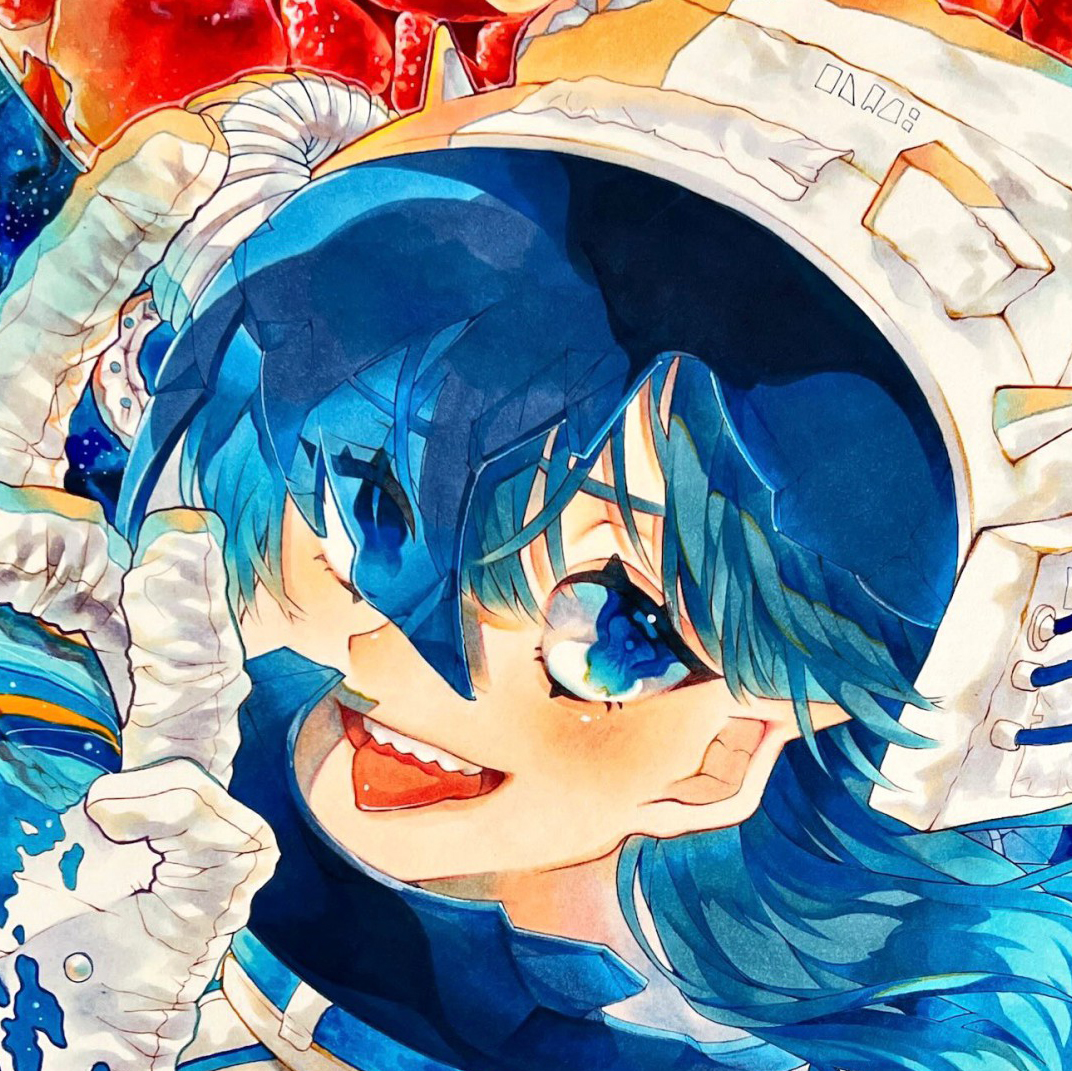 Yes, I did paint it in a hurry. As a result, I made the mistake of forgetting to paint the white dots of the stars in the lower right corner...
── Did you use only Copic markers for coloring?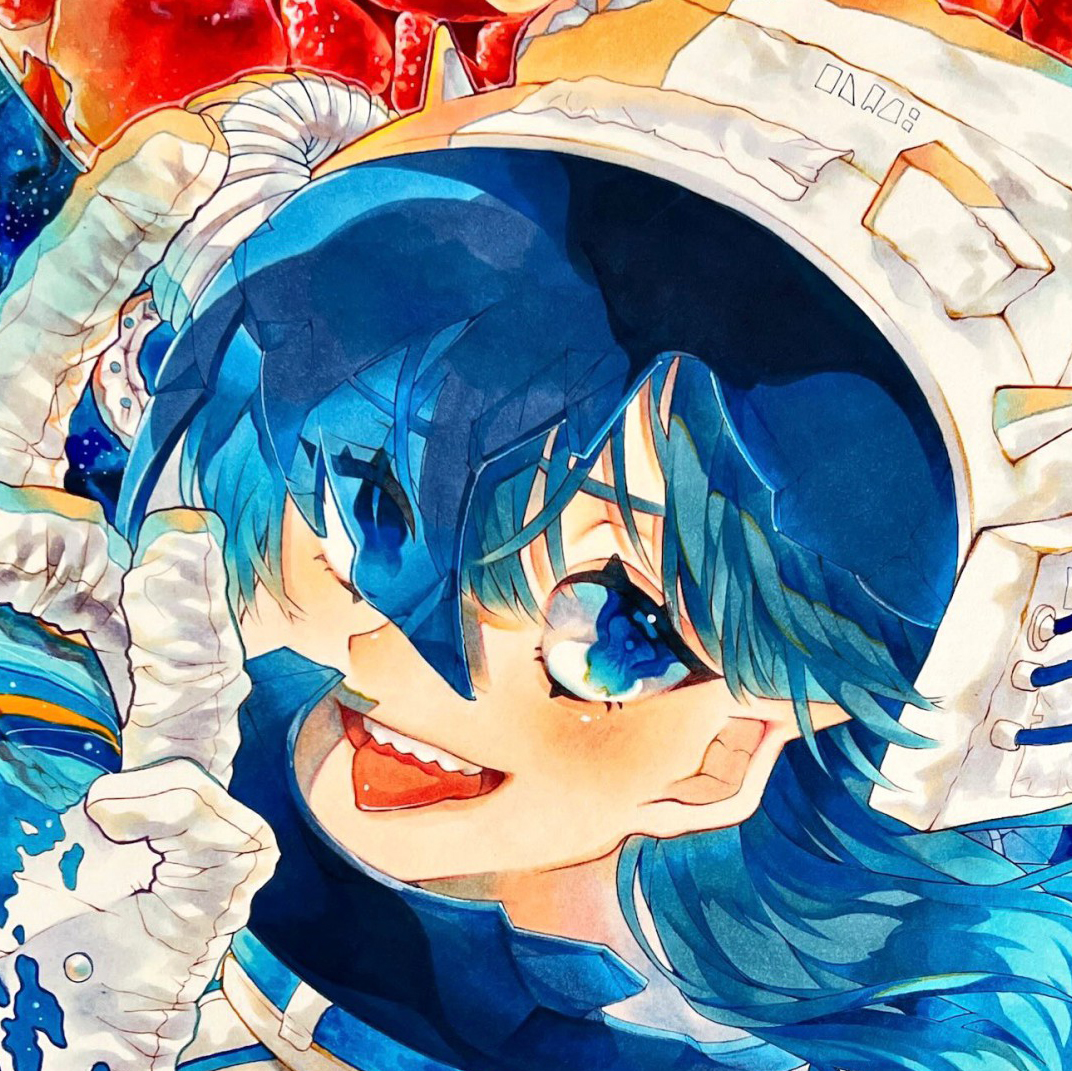 I also used colored pencils. I used Copic Multiliners to draw the lines of the cream on the cake, but I didn't like how they looked, so I traced them with yellowish-colored pencils. I also used colored pencils for the blush on the character's cheeks.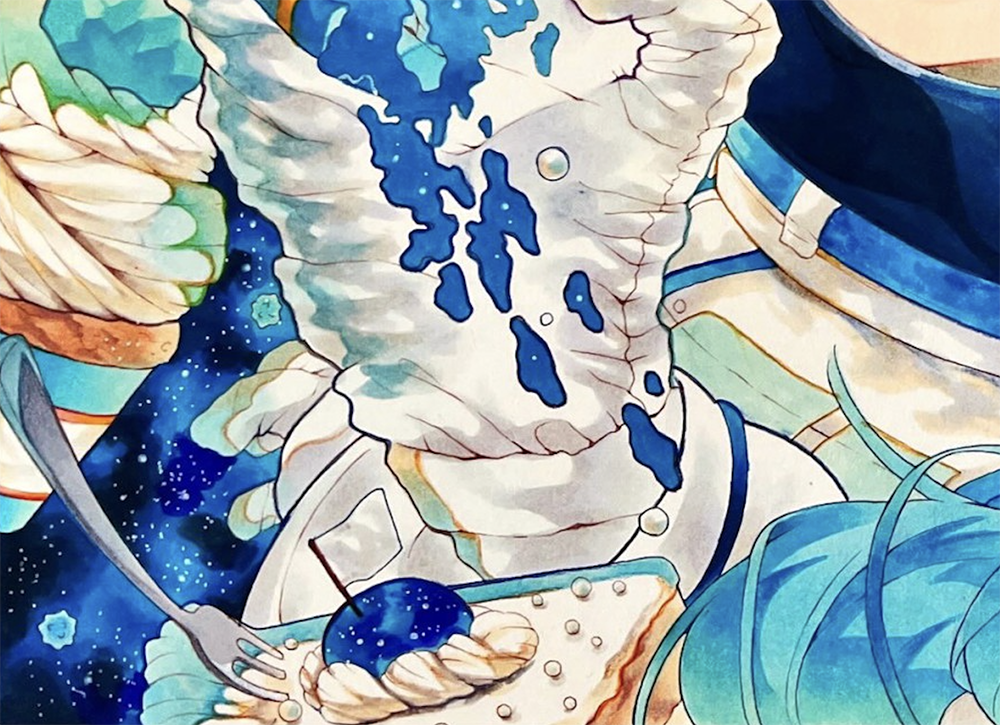 ── ym, who won the pixiv Award before you, also talked about using colored pencils for blush.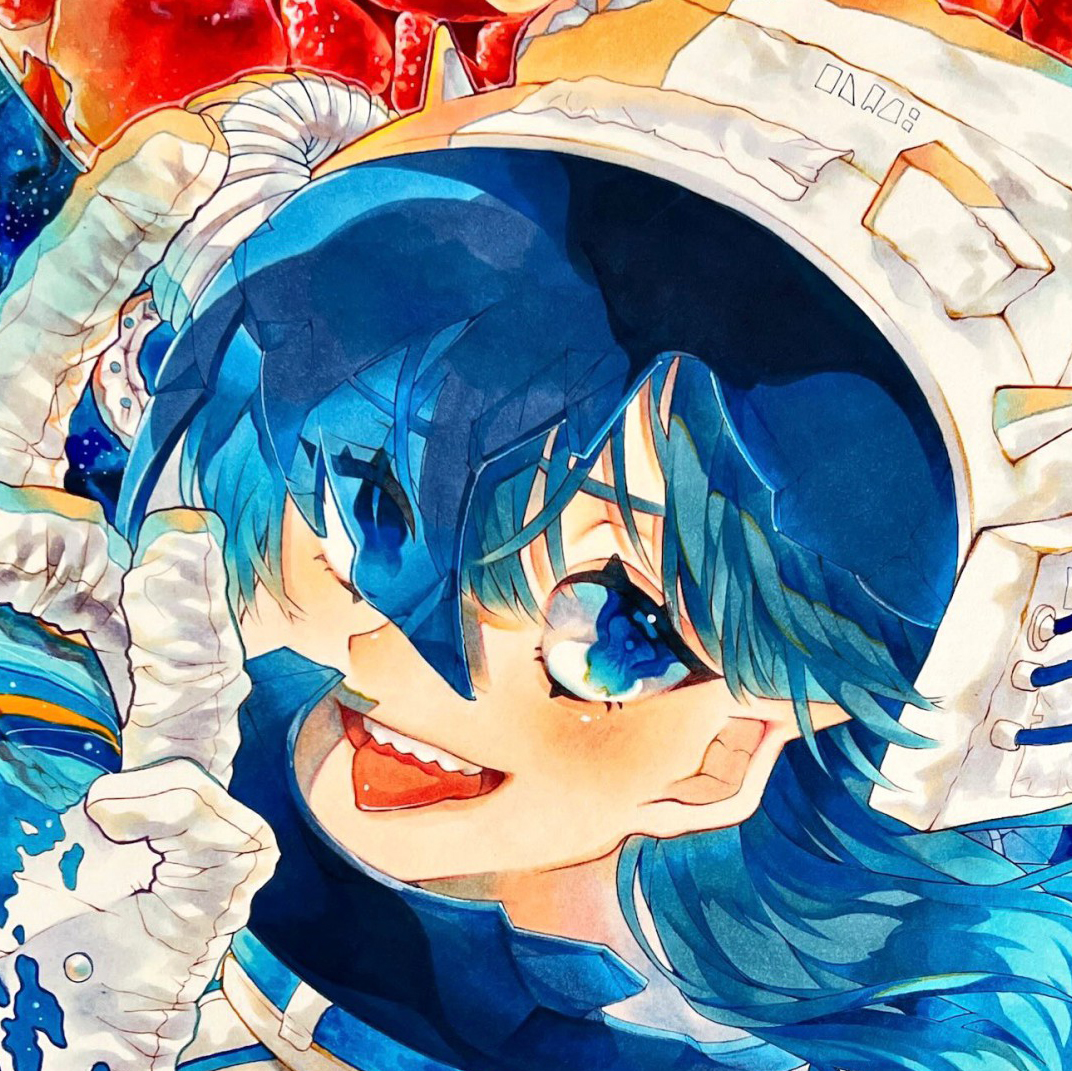 That's true. Copics colors come out a little too smooth, so I think watercolor pencils are a good choice if you want something a little gentler when coloring human skin or cream.
── Is there any other element of analog art that you have specific preferences about besides using Copic markers?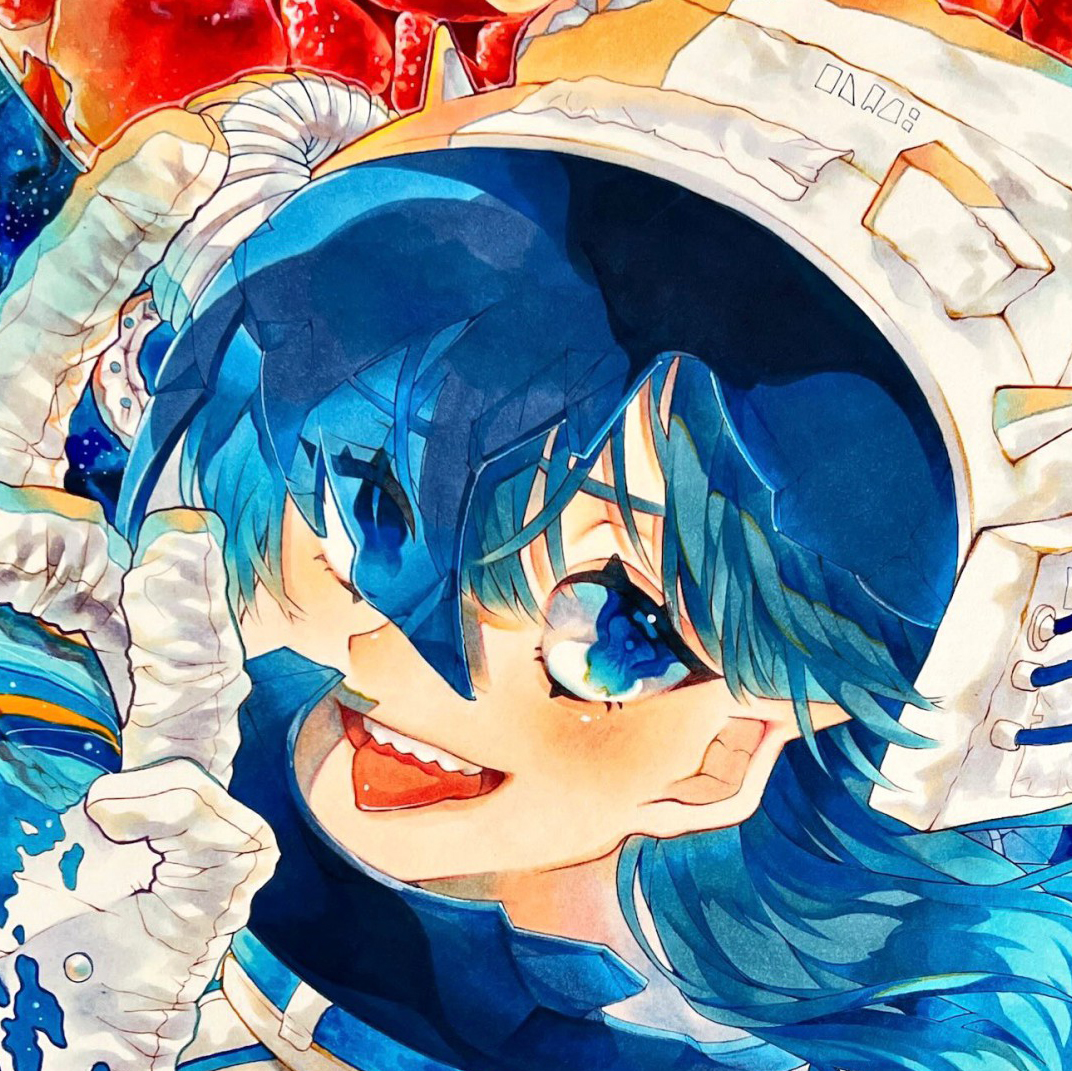 I'm very picky about the paper I use for painting. I recommend the Vifart Cold Press Watercolor Paper. For line work, I use Copic Multiliners, but their fine tip means that it's easy to leave grooves in or even rip thin paper. The Vifart paper, on the other hand, is dense and sturdy, so it doesn't buckle under the weight of my strokes. (laughs)
I also use colored pencils from Staedtler, a drawing pencil manufacturer.
You can correct your mistakes even in traditional art
── It must be hard to master all the different drawing materials you have. How did you practice?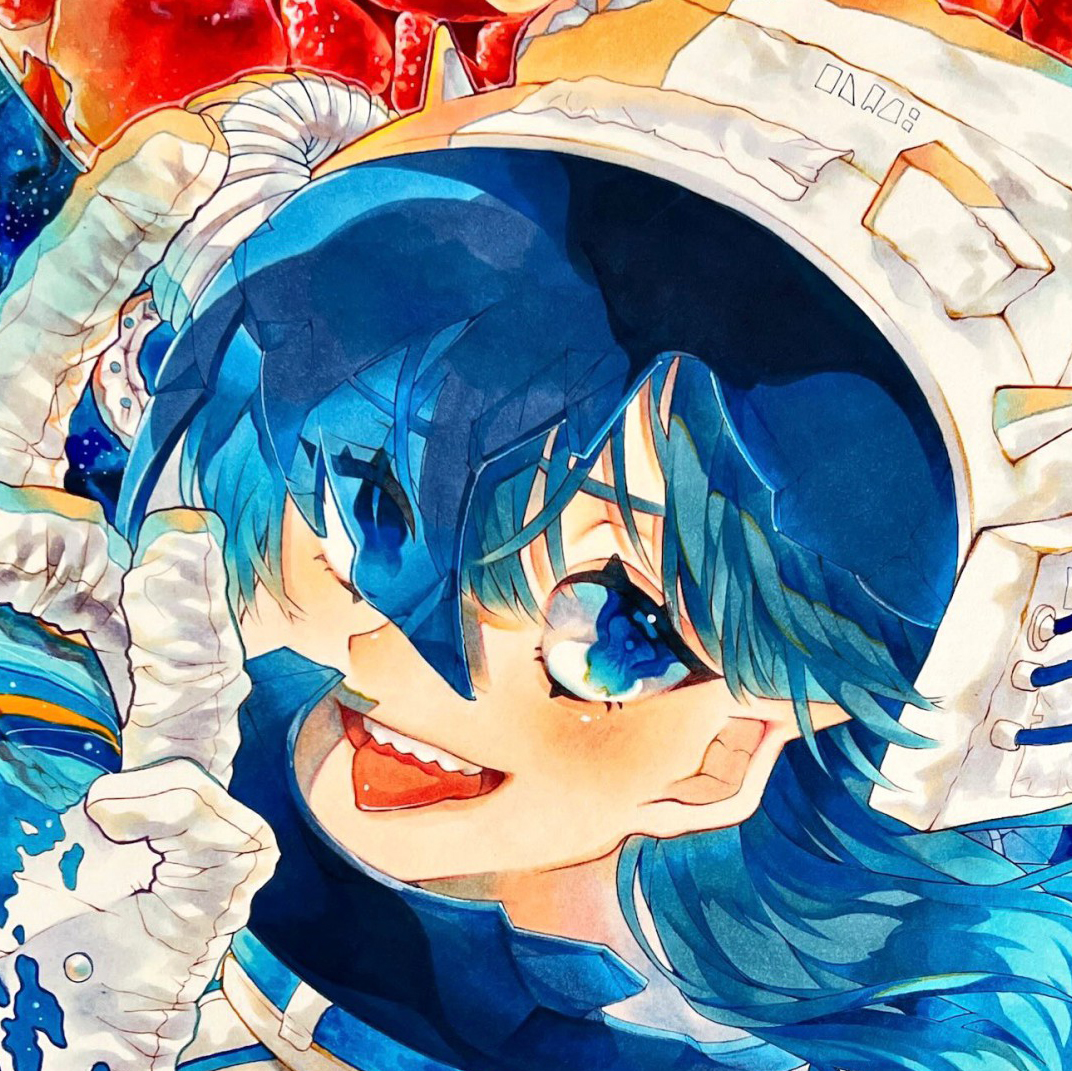 I believe it's critical to keep drawing and to think to yourself, "I think I did well this time, even though I'm not very good yet." If I make a mistake, I look up how to fix it with Copics and keep on drawing. I also made some significant errors this time.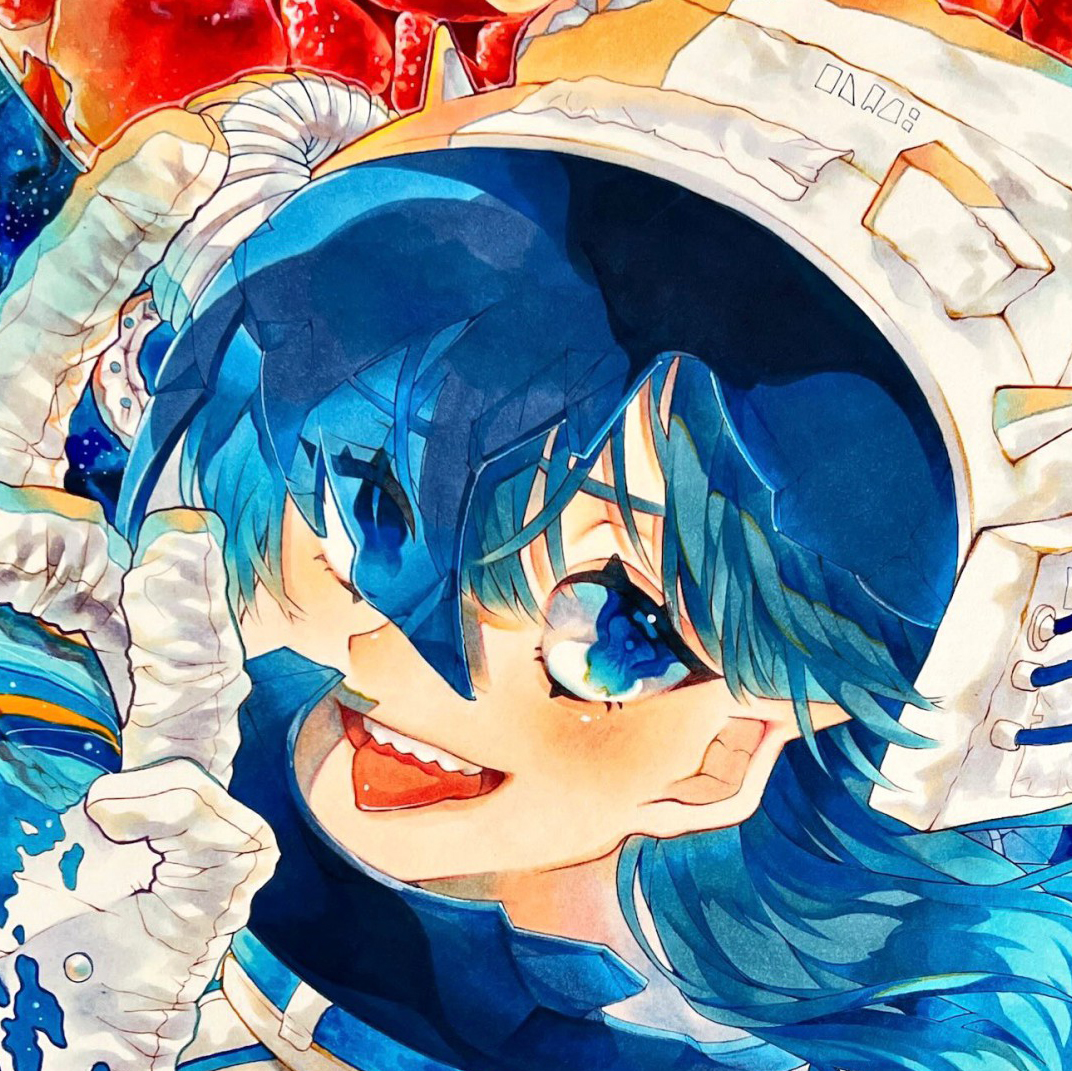 The fruit in the background that is supposed to represent the sun… I really wanted to draw its juice dripping into space, but it didn't work out. I removed the red with Copic No. 0, then painted over it with dark blue and added the clouds. Copics make it easy to fix things.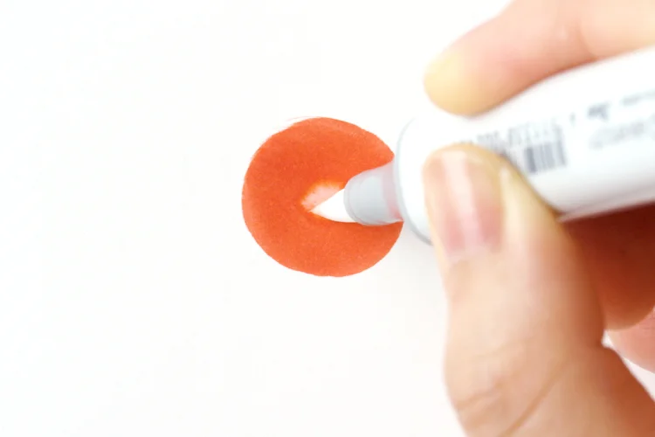 ── Many people fear that if they make a mistake while coloring with Copic markers, it will be impossible to fix it. But that's not the case, is it?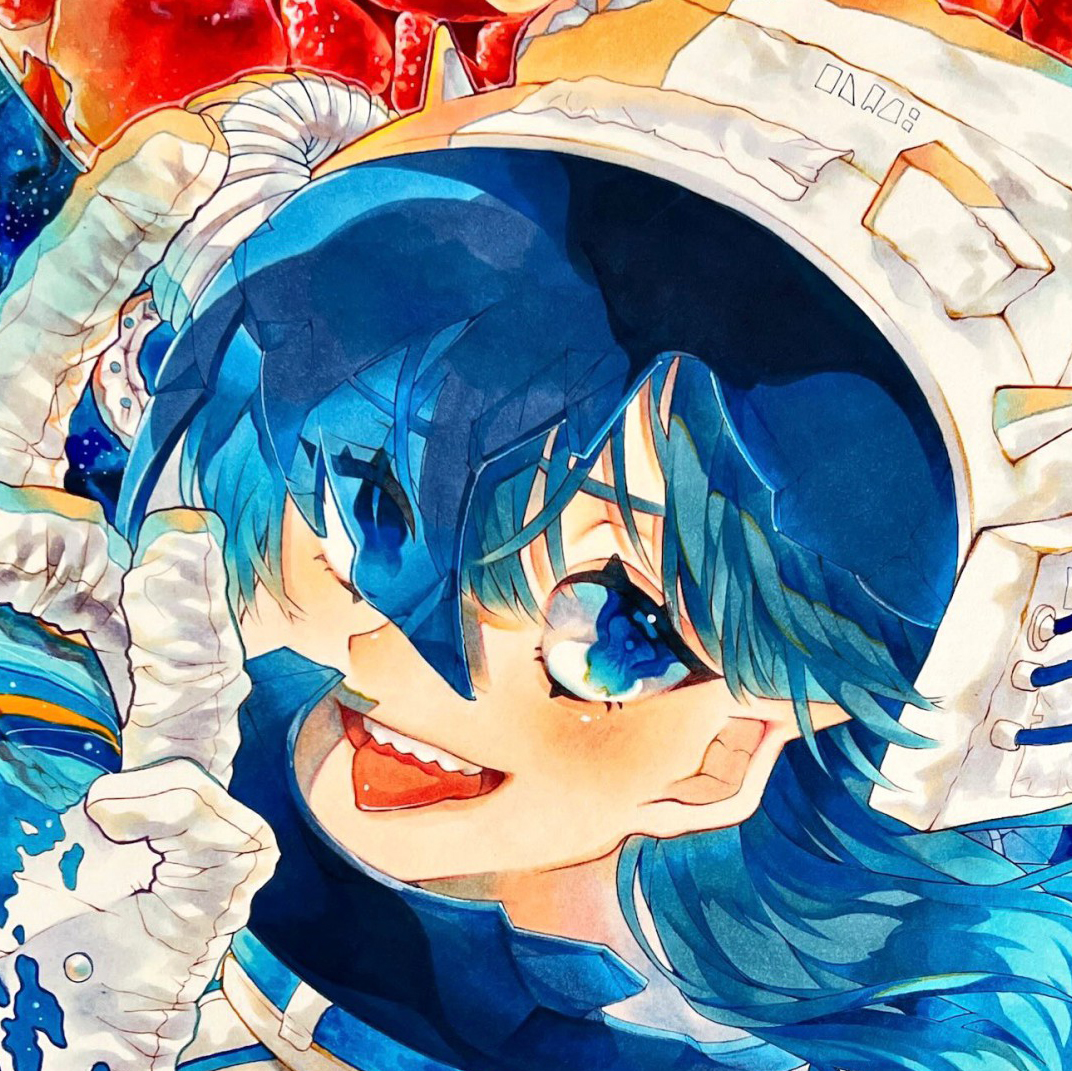 Of course it's a little more difficult than in digital art, but that's precisely what I like about it. When I draw, I feel a sense of tension, and I think that's one of the good things about traditional art.
Also, even if I make a mistake and feel like giving up, I feel like I'm being told to keep drawing because the artwork is still there, and it's not going anywhere. (laughs) Perhaps that is what motivates me to keep drawing. Even while working on this award-winning piece, I had drawings hanging on the wall, taunting me.
── What advice would you give to someone just starting out with Copics?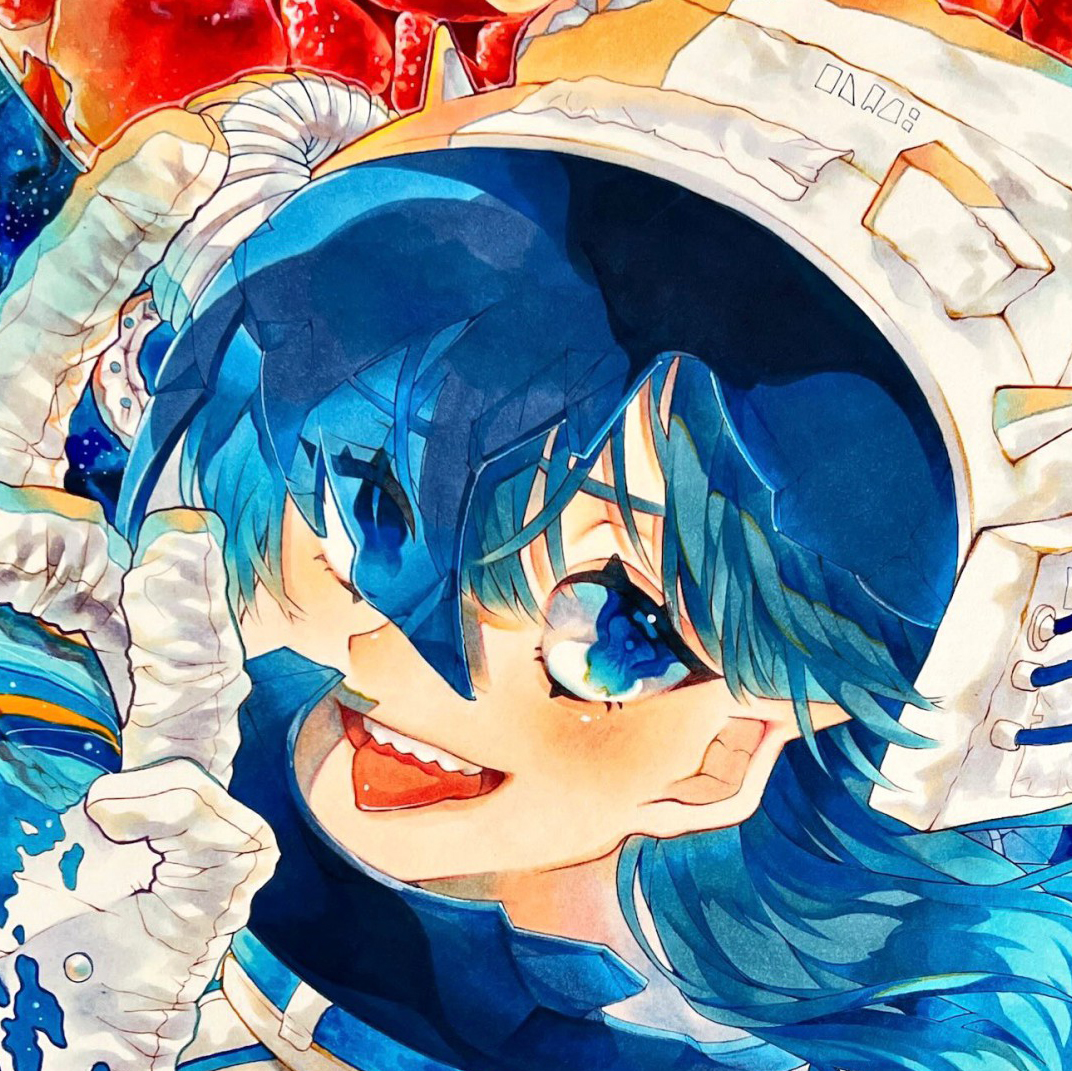 If you're buying Copics for the first time, I'd suggest starting with light colors. Dark colors can only be used as regular markers, but light colors make it simple to create gradients.
The more zeros there are, the lighter the color number of a Copic, so B0000 is lighter than B000 for blue. Use Copics with color numbers that have more zeros to get to know the colors you use most often before purchasing darker colors. I think this is a pretty efficient way to collect Copics.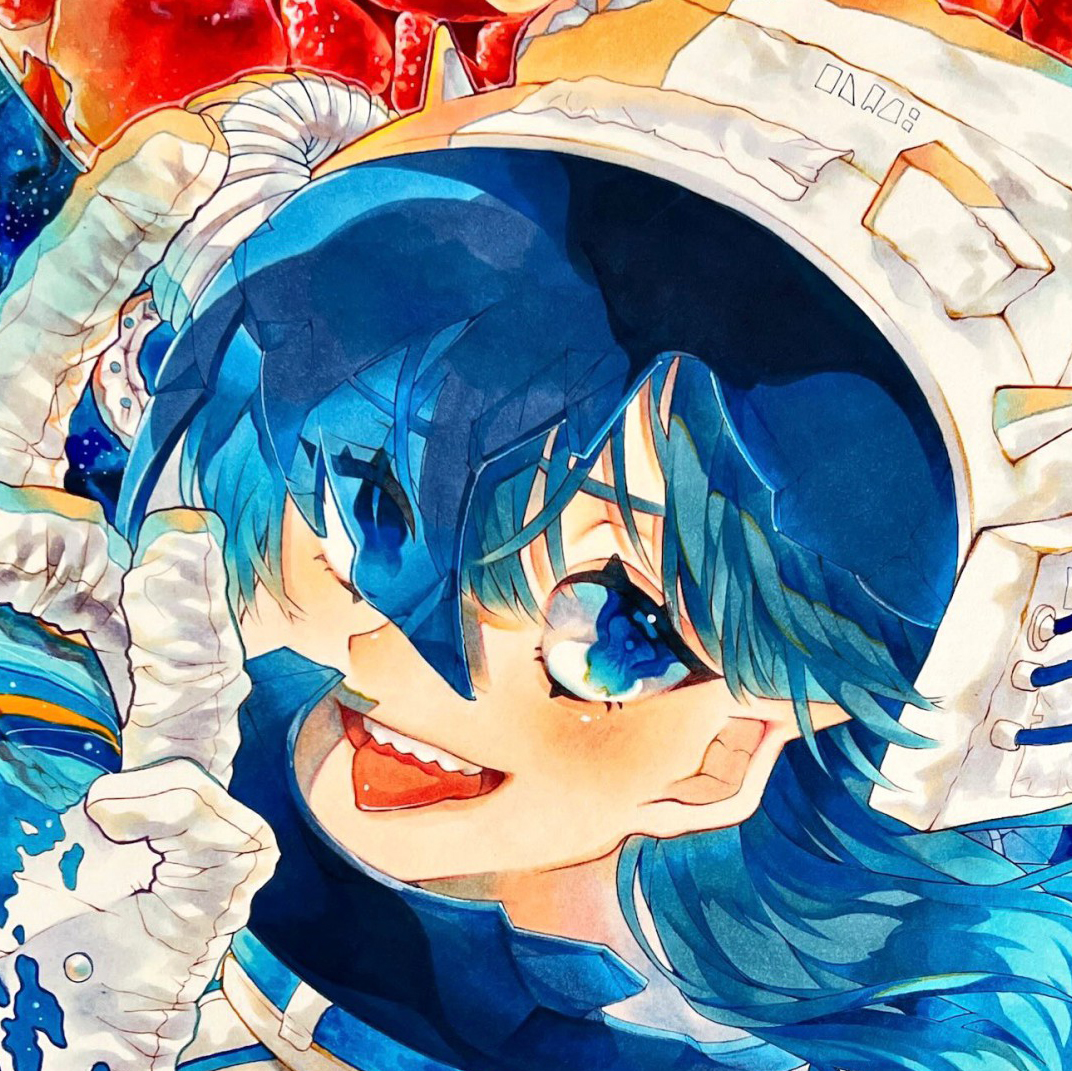 Also, I think it's a good idea to refer to books on how to draw illustrations using Copics, such as the SS Illust Making Book series (SSイラストメイキングブック). There are videos on TikTok and YouTube nowadays, but I prefer to learn from books. I spent so much time practicing with them that the pages are a little battered...
I also recommend finding a Copic artist you admire. I myself was very influenced by artists like Karin and Uguisu.
I was surprised to discover that many of the previous pixiv Award winners, such as Pu and Umezakura, are also artists I admire. I am ecstatic to have received the same award as them.
── I'm glad to hear that! Finally, what are your goals for the future?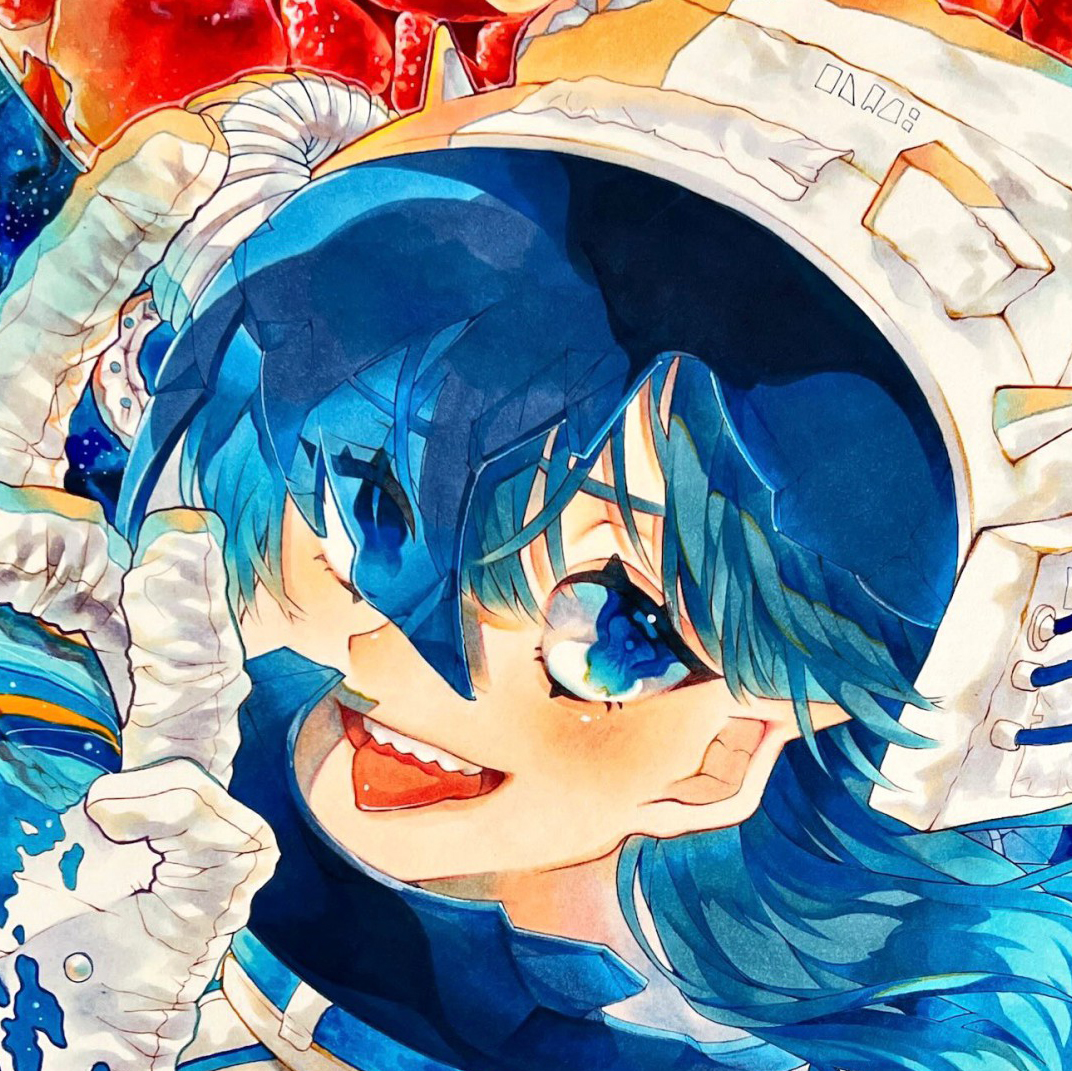 I'd like to participate in the COPIC AWARD contest again. I heard that someone who received the award for the second time was told that their work had become more powerful than before, and I'd like to hear the same thing! (laughs) That is what drives me right now.
── Will you enter another work in all shades of blue?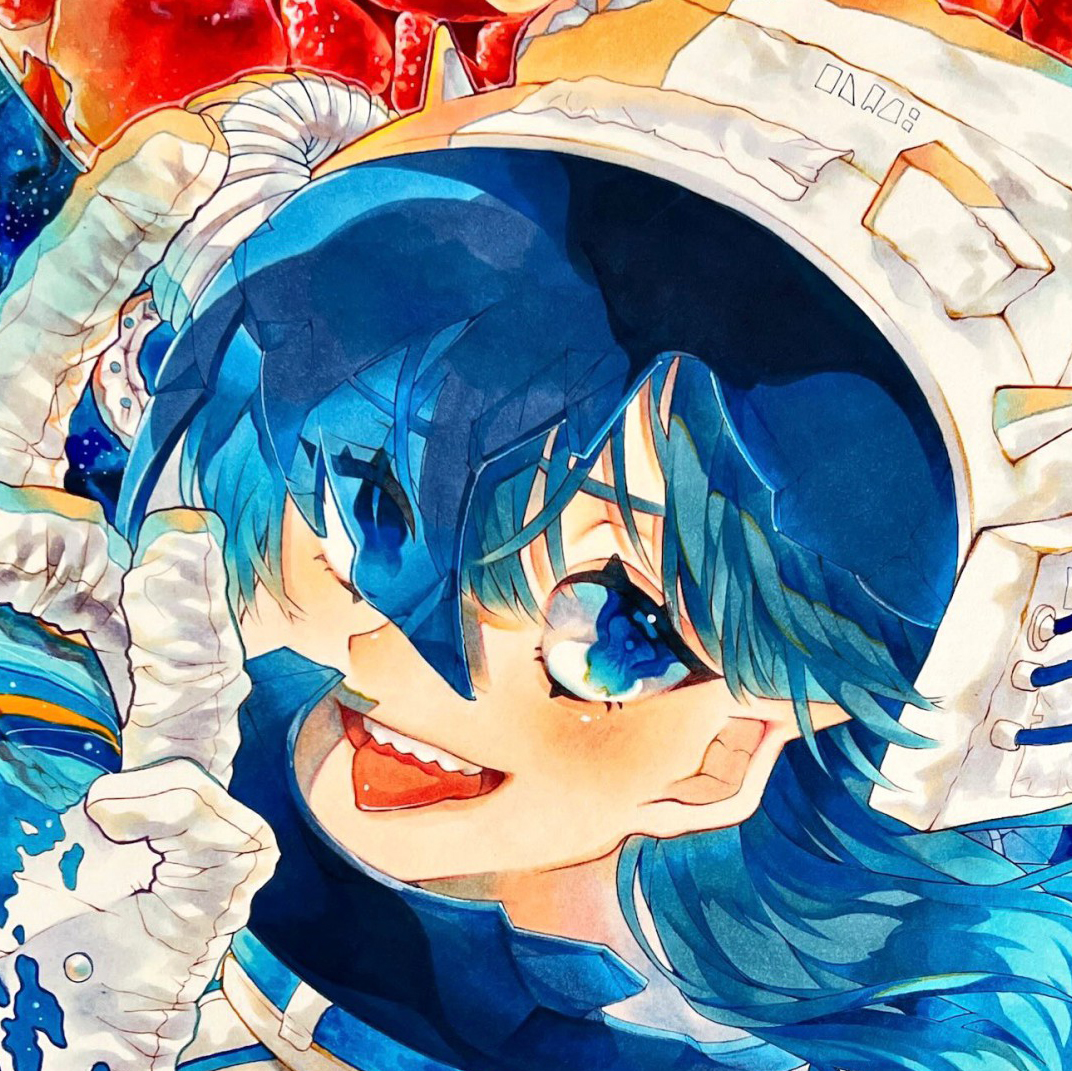 I'm not sure yet, but I would like to use blue. When I told people around me that I had won an award, I was happy to hear them say, "That's your blue!" when they saw my work. Although it's still in its infancy, I believe I am beginning to create work that is recognizable as my style. I want to treasure it and use it as inspiration for my next pieces.
The COPIC AWARD 2023 contest starts on April 3rd!
The entry requirements, awards, and judges for the COPIC AWARD 2023 have been announced!

Entries can be submitted after May 10th, but applicants can register starting April 3rd!
Once again, a distinguished panel of judges will be participating. If you're a Copic markers enthusiast, you should definitely check them out!