[Takuma Terashima's Illustration Literacy #4] Assignment from Mangaka Shirow Miwa - Drawing an Original Illustration!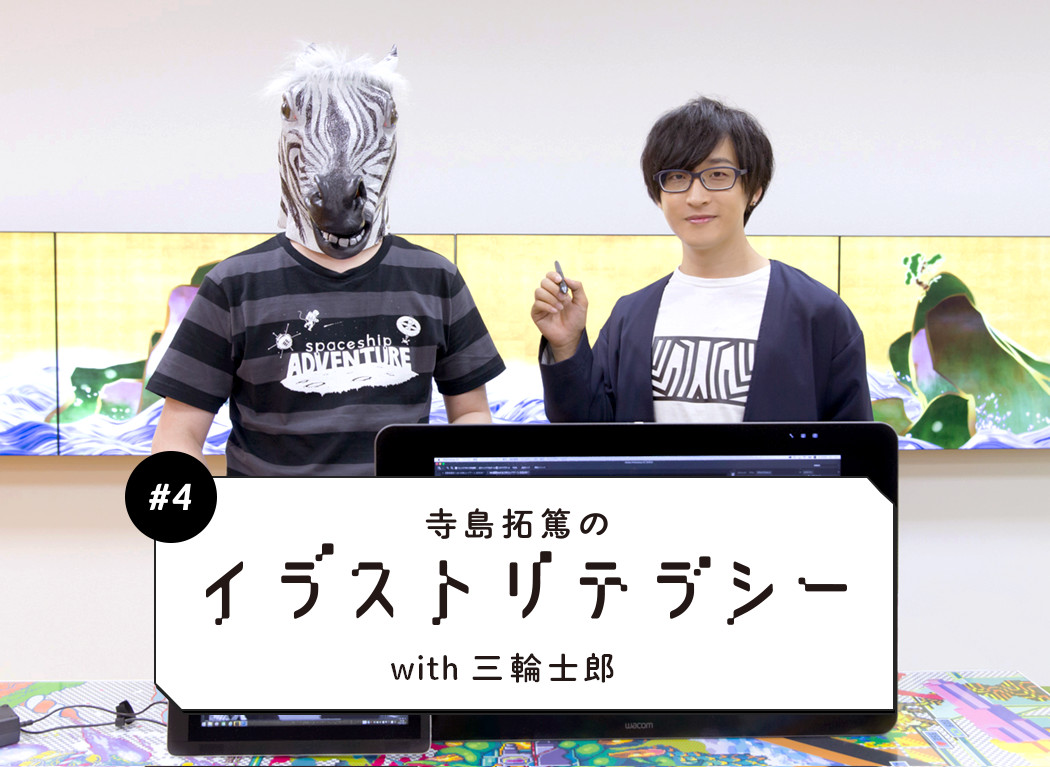 Interviewer, Author: Yohei Ogawa Photography: Hiroyuki Yamaguchi
Pen Tablet Provided by: Wacom
In the 4th installment of his drawing chronicles, "Takuma Terashima's Illustration Literacy," after having successfully created a pixiv profile picture, Terashima's next task is to create an original illustration.
After last time's lesson, Shirow Miwa, acting as instructor, gave out a piece of homework: Complete a full-body sketch of an original character.
This is the picture he handed in for the assignment. It's supposedly a ninja girl based on the Red Warrior from SD Gundam, a series which he enjoys.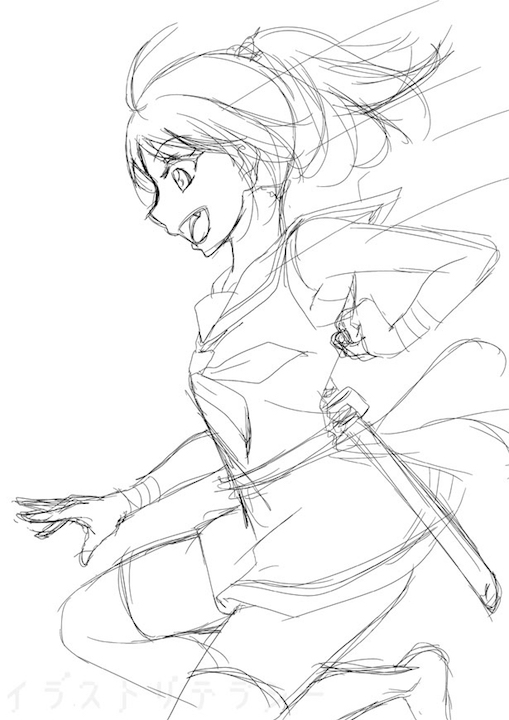 Now we go into the full inking, coloring and finishing of this rough sketch. We delved into what happens from the basic sketch to the finished work, so Terashima moved forward with the process thoroughly, while asking for tips and tricks from Miwa along the way.
We've put up that exchange in Q&A format for you!
Take something you like and raise it to a fetish level
- (To Miwa) What kind of drawings do you like?
Drawings that are cool. It's why I emphasize the silhouette whenever I draw a person. No matter what style or genre, I think conveying what you think might be awesome makes for a good drawing. That's my mindset whenever I draw.
- How do you think up the pose and composition of the drawing?
There are a lot of times after seeing a photo or watching a movie when I think, "This is a nice pose." Especially for movies, I can visualize some good scenes as animations. My advice would be just to see and watch lots of things for inspiration.
- Are there any tricks when you personify?
The key is to draw out the essential elements of the desire theme. Not only capturing the outwardly visible elements of the reference model, but also taking into consideration intangibles like the history, biography and reputation of the person when drawing them. Like if you were anthropomorphizing a machine that was poorly handled, you would give it a slight distrust of people, or something like that.
- When drawing girls, are there things that make you go, "This is it!"?
I would say the things that draw out my own interests.I heard you like active girls. And you emphasized that you like girls who look good in short hair or ponytail with leggings, and their underarm…. (*You can see the detail in KIKI's video)
Then you want to go from liking those features and raise it to a fetish level. If you have trouble with it, then you can use works of other people as a reference.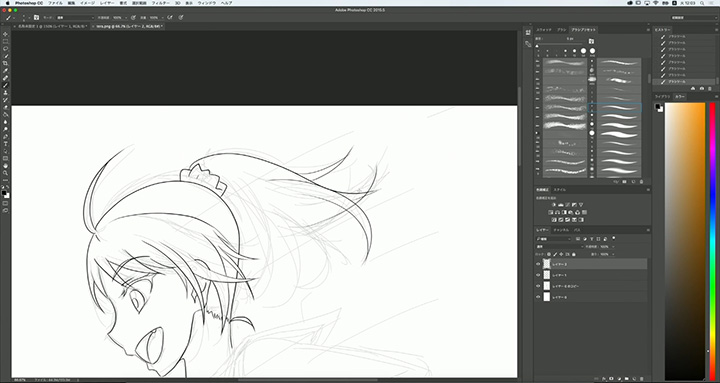 ▲He picked a ponytail for this drawing, too. We get a rare look into Terashima's personal tastes (!?) from this drawing!
The purpose of roughs are to focus and lay down borderlines for the ideal drawing
- How big should I be drawing, anyway?
You can draw however it fits on the sheet when drawing on paper, but I guess it's difficult with digital--the image might look or turn out different on a monitor or printed out.
Let's go with B5 size at 400 dpi for now. It's tricky to draw small and magnify, but the reverse is much simpler.
- How thick should my lines be in a rough?
For a rough sketch, a broad brush size is easy to work with. The purpose of roughs are to focus and lay down borderlines for the ideal drawing, after all.
- Does the broadness change when you're drawing finer points?
I would keep it the same. Again, it's simpler to work with. It might differ depending on what you're actually drawing. You would use what you're used to.
- I always get into this situation, but do you have any pointers on keeping balance with drawing the entire body? Especially since I have trouble with the lower body...
For that, the only thing you can do is draw it out first, step back and see if it's right, and fix it if it's not... and repeat. With digital, you can use a resizing tool, so that speeds up the process.
▲Several parts of the rough sketch were unsatisfactory, so they were redrawn.
The eyebrows also left some to be desired and were redrawn.
- Drawing bodies is hard!
With illustrations, there is always some level of deformation involved, but it is hard to know what to emphasize and what to downplay when you don't first have a grasp on drawing.
Ideally, you would practice drawing a real life model, but, even without that, you can get better by using photographs as a reference. It'll give you an idea of how the body is shaped.
- To draw neat body lines, what should I focus on?
Hmm, I would probably say the layout of the muscles. A person's arm isn't just muscles attached to bones, but structured by bones wrapped around connections of muscles. Having an understanding of muscular structure will have a very positive effect on your drawings.
- How about tricks for drawing long lines on, let's say, legs?
Long, smooth strokes with your hand are important. How your arm moves to match your hand, as well as how you grab your pen, are all different from person to person, so you need to find what works for you. 
If you spend some time thinking about your arm and hand joint movements, you might come up with a way to make your pen move more comfortable.
▲Terashima as he rotates the canvas and carefully draws out the leg lines. In doing this, showing considerable signs of improvement?
- I get stuck on how far down to the details I need to draw, like nails.
You should try drawing down to the fine details. If it complicates the picture or if some areas look too cramped, just erase as needed. Illustration is about getting a feel for what to emphasize or not.
Inking complete!
Miwa's Comments
This is a very good drawing that captures what Terashima likes. The concept is clear and easy to grasp.
The composition of a side view, along with the movement conveyed by the ponytail, also adds a strong impression of action in the picture--which we could accent even further during the finishing stage. We'll be actually doing that next time.
Drawing the entire body is considerably more difficult than face or bust drawings, but becoming good at them also considerably expands your skill set, and adds a new level of enjoyment to drawing. You begin to notice things you didn't before, and find the differences between ideals and reality. You realize that it doesn't end with one drawing--it's about continued, daily effort.
Special illustration Miwa unexpectedly drew?!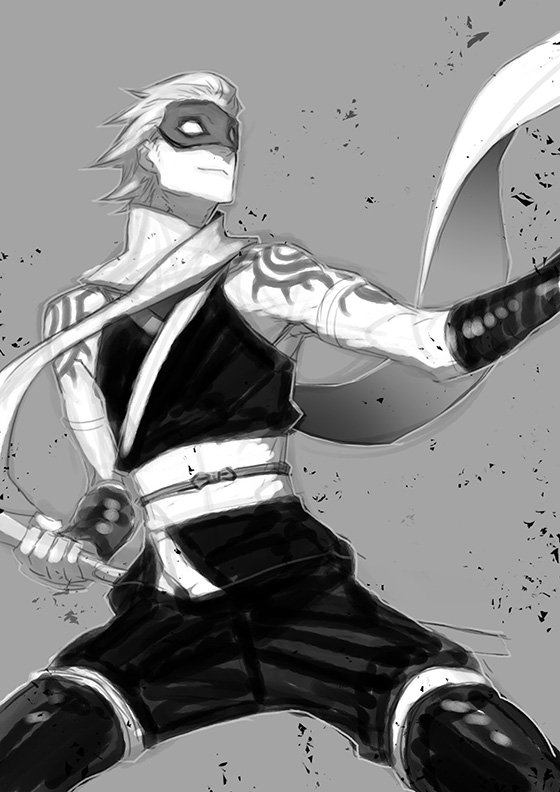 ▲ Image of a character that would ambush and engage in a fight with character which Terashima drew.
Terashima's Illustration Literacy Next is Special Version!
Unfortunately, the time is up after completing the line art. Please look forward to the brush up techniques, effects to make the illustration look dynamic and what is required to bring out the texture in the next update in October in KIKI!
In the next pixivision, we will introduce our special lecturer Shizu from the Kagerou Project! Update is scheduled on November 28th!
Pen Tablets used in this Episode
Wacom Interactive Pen Display 13.3 Full HD DTK-1301/K0 Cintiq 13HD
This is Takuma Terashima's tablet!
Wacom Cintiq Companion 2 DTH-W1310T/K0 Windows Pen Tablet Cintiq Companion 2
And this one's Shirow Miwa's tablet!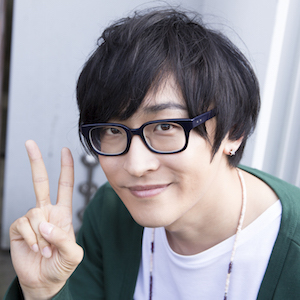 Takuma Terashima
Born December 20 in Ishikawa Prefecture. Affiliated with Axl One agency. Appeared in "Uta no Prince-sama" series as Otoya Ittoki, "SUPER LOVERS" as Shima Kaidou, plus many others. His 6th single "sunlight avenue" releases Wednesday, August 17, 2016.
Shirow Miwa
<ul><li>

Mangaka and illustrator.

</li><li>

Debuted in 1999 with "BLACK MIND," serialized in "Ultra Jump." His "Dogs" series is ongoing, with "DOGS/BULLETS&amp;CARNAGE" in current serialization.

</li><li>

Also the illustrator for the independent music group "supercell" since 2008, designed the album jacket for their major debut single "Kimi no Shiranai Monogatari," and character designer for April 2016 anime "Kiznaiver."

</li></ul>
<Takuma Terashima's Illustration Literacy Series Index>