[Takuma Terashima's Illustration Literacy #5] Let's draw Shintarou from Kagerou Project!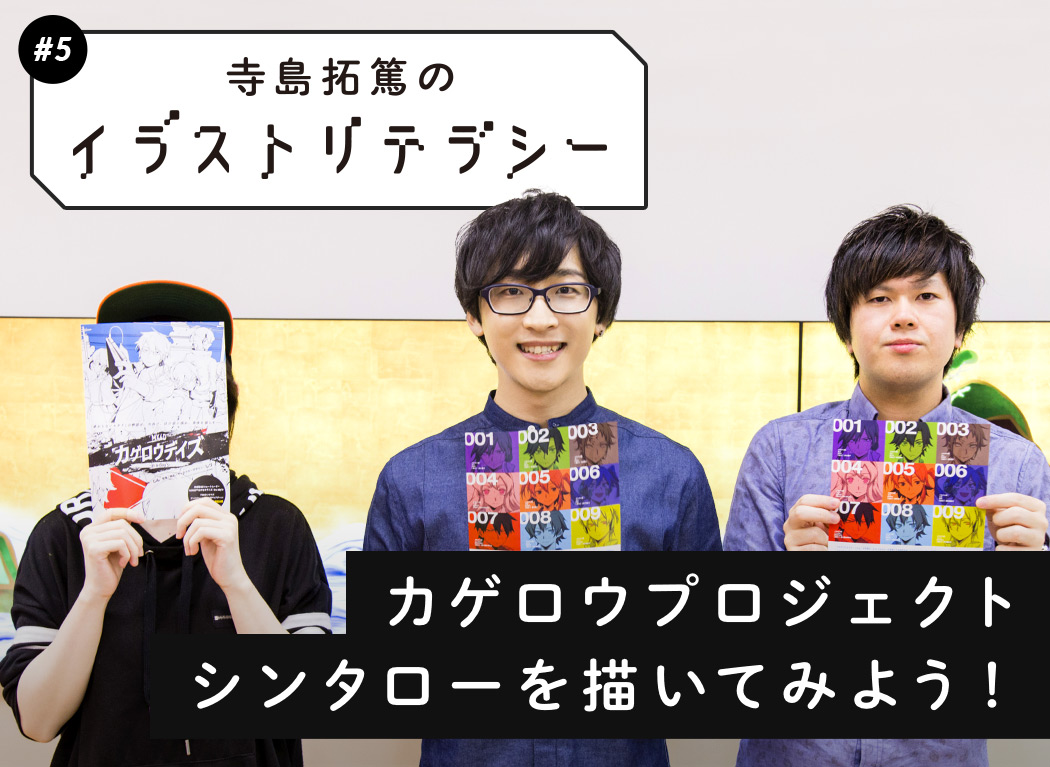 Author, Interviewer: Youhei Kogawa Photography: Ryouji Fukuoka
Pen tablet courtesy of Wacom
The topic for our 5th installment of "Takuma Terashima's Illustration Literacy" will be to draw Shintarou! With a new instructor for this episode, Terashima takes on another 2-D creation challenge: drawing fanart of the protagonist Shintarou of the well-known series, Kagerou Project.
And what a surprise! The instructor we have today is none other than the lead character design illustrator, Shizu; not only that, but also appearing as a guest host is the original series creator, Jin!
That's right; today's challenge is not only to draw Shintarou, but to draw a Shintarou that will be officially accepted by the creators Shizu and Jin.
The day we taped this is incidentally just when production of the MX4D Kagerou Daze-in a day's- short film was wrapping up, so it was a busy time for our guests. Shizu, having come directly from the production studio, told us that her "language functions would have some irregularities," and so she would defer speaking duties to Jin. Check out the full lesson on the video.
For starters, let's draw freely without looking at anything!
Nothing will happen if we don't start drawing, so we had Shizu, Terashima and Jin all draw Shintarou without looking at anything as a reference.
Even with characters they're used to drawing, there's bound to be some fine details or unique parts that'll trip them up when faced with drawing them on the spot.
Terashima, having voiced the character himself, starts off confidently proclaiming "I got this, I got this," but you can see him begin to struggle when he starts drawing...
Check out the Shintarous the three drew without any reference here!
As expected of the original illustrator, Shizu. She managed to draw him well down to the fine details in a short period of time. She says she likes to draw in a square, proportional frame whenever there aren't any definite specifications for the drawing.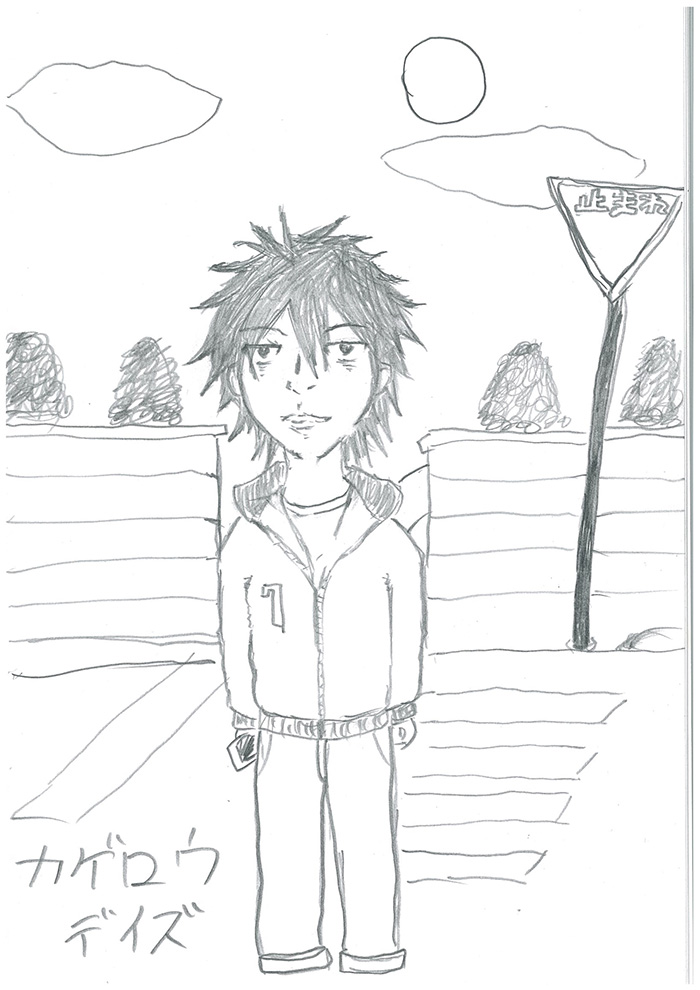 Jin's drawing seen here. "No fair using elements from the series that aren't part of the character!" joked Shizu. It clearly looks off, but there's also something that gives you the feel of it being Shintarou. As an aside, Jin was the only one who used pencil and paper to draw his.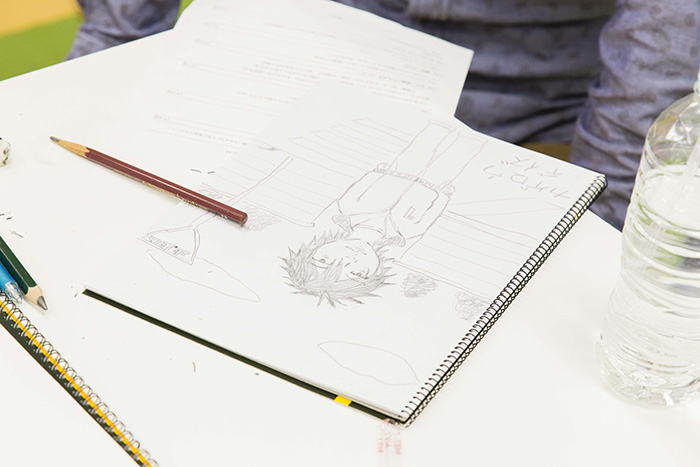 Key points to drawing Shintarou: "eyes" + "hairstyle"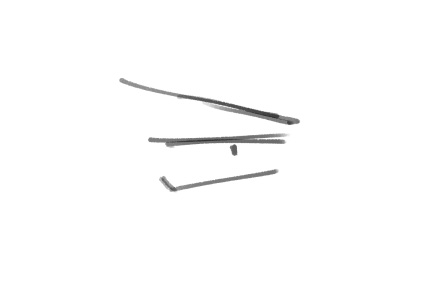 Shintarou's eyes are shaped as pictured above.
This alone evokes the imagery of Shintarou
.
According to Shizu, she drew his eyes (that are nothing like those you would see on a protagonist) this way because "drawing them normally would make him look like any other light novel protagonist." Since he was supposed to be a recluse and a good-for-nothing bum, she wanted to go for a slovenly and uncool feel, also explaining her choice to give him narrow eyes--since she would draw characters with wide eyes out of habit.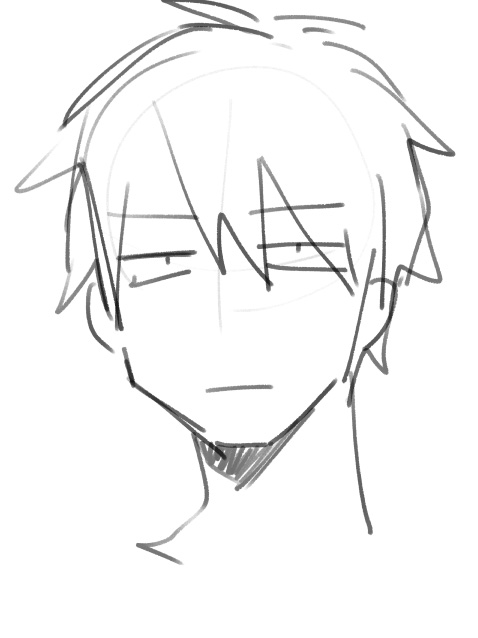 As well, Shintarou's hair is not voluminous, but rather is supposed to sparingly drawn strand by strand. As well, the back near the neck is short, giving a neater look.
As an aside, the reason that Shintarou is wearing a track suit is because when Shizu first met Jin at a Project Kagerou meeting, apparently,
he was wearing a track suit
.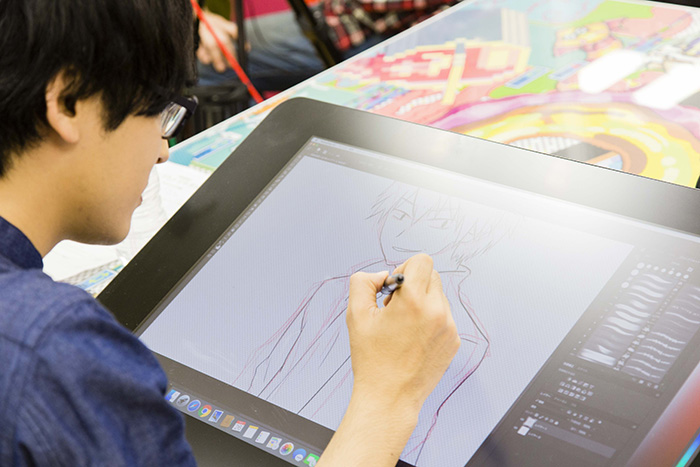 Next time, we'll finally get to see Shintarou being drawn with all of Shizu's tips in mind. As well, we'll bring you Shizu's grading of Terashima's illustration. Don't miss it!
Pen tablet used for this episode
Wacom Cintiq 13HD Interactive Pen Display
The pen tablet Terashima used for this article!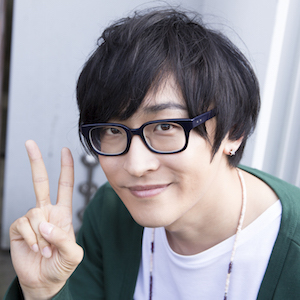 Takuma Terashima

Born December 20 in Kanagawa Prefecture. Affiliated with Axl One agency. Appeared in "Uta no Prince-sama" series as Otoya Ittoki, "SUPER LOVERS" as Shima Kaidou, plus many others. His 6th single "sunlight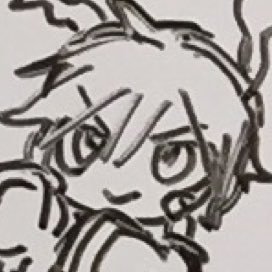 Shizu
Born in 1993. Female. Animator working chiefly in music videos. Headed the music videos for Kagerou Project. Also known for working on music videos for "Enmei Chiryou/Neru" and "Setsuna Drive|Yoshimitsu Taki (9mm Parabellum Bullet)." Illustrator for light novels such as Avatar by Yuusuke Yamada, Kagerou Daze-in a daze- by Jin (AKA Shizen no Teki P), and Handou Hotaruko, Nichijou ni Akiaki by Aki Jinzai, and others. Also works on album covers. Lead character designer and illustrator for anime adaptation Kagerou Project, in addition to storyboarding its opening sequence and working on animation for its ending sequence.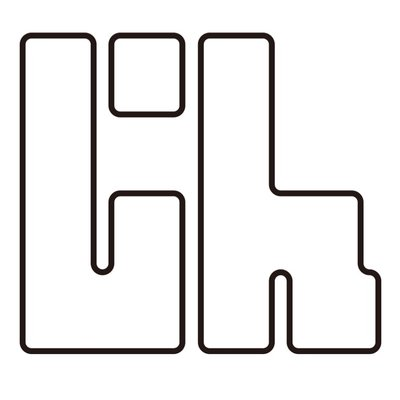 Jin
<ul><li>

Musician, novelist and scenario writer; born October 20, 1990 on Rishiri Island, Hokkaido.

</li><li>

Has a unique style that seeks to go beyond what's been done. Began uploading works to video sharing sites in 2011.

</li><li>

To date, 8.5 million copies of his work Kagerou Daze, including the original novel and adapted comic, have sold. In addition, over 700,000 copies of associated music have also sold.

</li></ul>The anime adaptation, Mekakucity Actors, was broadcasted worldwide, widening Jin's popularity globally.