Who's the most popular character!? 2017 pixiv Valentine's Day Event results!!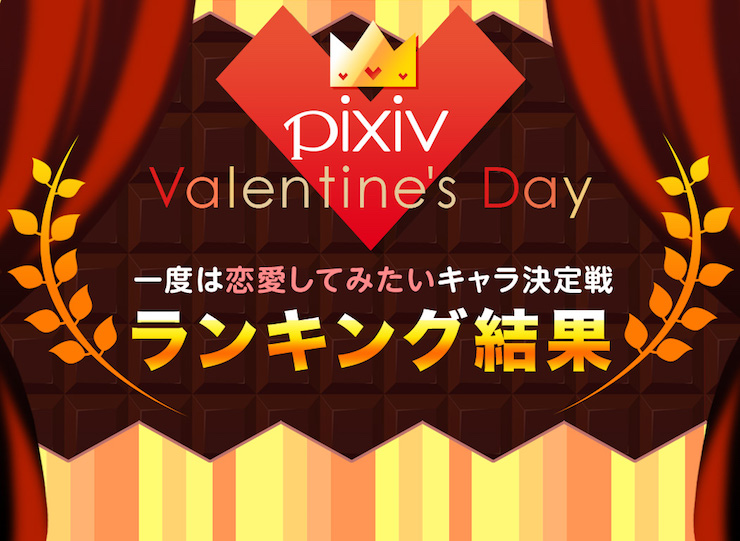 On Valentine's Day, people give chocolates to their beloved ones. It's a day that both boys and girls look forward to, and we're sure you too have many memories related to February 14th. Recently, it's become more and more common to give chocolates to popular anime and manga characters as well!
One of the many ways to enjoy Valentine's Day is to make sure your favorite characters receives some of the chocolate you prepared with love. However... What if you could receive chocolate from your favorite character...!? Without any doubt, it would be the best Valentine's Day ever. 
This is exactly where pixiv comes into play. In our Valentine's Day limited event, we reverse this popular trend and have your favorite characters give you chocolate!
The total number of chocolates delivered in that 8 days period is
over 430,000
! We finally finished counting and the
"Character I Want to Be In A Relationship With RANKING"
is now ready!
Which character gifted the most chocolate on Valentine's Day? Who's pixiv all time favorite!? You're about to find out! Hasegawa from pixiv's staff, who took care of the event, will also leave us a comment on the artworks they liked the most!
Let's start from the male characters!
2017 pixiv Valentine's Day - Top 10 Male Characters
Here's the rank, from the 10th to the 4th position...
#10 Choromatsu (Osomatsu-san) 1,684 votes
#9 Kokichi Ouma (Danganronpa V3: Killing Harmony) 1,919 votes
#8 Jyushimatsu (Osomatsu-san) 2,041 votes
#7 Ichimatsu (Osomatsu-san) 3,052 votes
#6 Shokudaikiri Mitsutada (Touken Ranbu)  3,080 votes
#5 Karamatsu (Osomatsu-san)  3,947 votes
#4 Tsurumaru Kuninaga (Touken Ranbu) 4,028 votes
It looks like the most popular between the swordsmen of the Touken Ranbu series was Tsurumaru Kuninaga, who ranked 4th. Four characters from Osomatsu-san found a place in the top 10, while Kokichi Ouma from the brand new game Danganronpa V3: Killing Harmony ranked 9th. We can't help but wonder if his popularity will increase even more in the future!

Are you ready for the Top 3?
BEST 3 Male Characters
#3 Kagamine Len (VOCALOID) 5,037 votes
Hasegawa says: "The fact that he's licking his finger and his nude neck are just the best! I wish he would share his chocolate with me..."
#2 Victor Nikiforov (Yuri on Ice) 5,059 votes
Hasegawa says: "His eyes looking this way and that piece of chocolate in his mouth... I accidentally reached out to the screen of my PC!"
#1 Yuri Katsuki (Yuri on Ice) 5,523 votes
Hasegawa says: "The fact that Yuri is averting my eyes made want to stare at this illustration for quite a long time."
Even after the anime is over,
Yuri on Ice
 is still on fire!! So much that two of the protagonists,
Yuri Katsuki and Victor Nikiforov
ranked at the top 2 positions of our chart. These are some results to remember!!
Also, VOCALOID star Kagamine Len ranked in like a meteor after the disappointing half-time results! It's quite surprising how this character could compete with grown adult men at the young age of 14.

Now, without further ado, let's proceed to the female department!
2017 pixiv Valentine's Day - Top 10 Female Characters
Here's the rank, from the 10th to the 4th position...
#10 Kumiko Oumae (Hibike! Euphonium) 5,998 votes
#9 Jeanne D'Arc (Fate/GrandOrder) 6,829 votes
#8 Mash Kyrielight (Fate/GrandOrder) 7,270 votes
#7 Yamakaze (Kantai Collection) 10,371 votes
#6 Jeanne Alter (Fate/GrandOrder) 10,508 votes
#5 Kanna Kamui (Miss Kobayashi's Dragon Maid) 10,596 votes
#4 Miku  Hatsune (VOCALOID) 12,439 votes
Three characters from Fate/GrandOrder are making an appearance in our Top 10, and the most popular seems to be Jeanne Alter. This year's new face is Kanna Kamui, from Miss Kobayashi's Dragon Maid. Although Kanna loves to eat, so we're kinda worried she might end up eating all the chocolate before gifting it...

Let's move on to the Female Top 3!
BEST 3 Female Characters
#3 Kashima (Kantai Collection) 14,737 votes
Hasegawa says: "Kashima looking sexy with her thighs out! I'm too overwhelmed with excitement. "
#2 Mysterious Heroine X Alter (Fate/GrandOrder) 18,176 votes
Hasegawa says: "Looking so cute with chocolate held close to her in the snowy cold winter day!"
#1 Hamakaze (Kantai Collection) 18,281 votes
Hasegawa says: "I was convinced that the expression of shame just before handing the chocolate is the real deal of Valentine ...! "
We're sure that all the admirals among you were really happy to read about these results, as
Kantai Collection
 popular character
Hamakaze
actually made it to the top position!
Hamakaze is really good at cooking, so her hand-made chocolate must taste really good. Are you looking forward to opening the box? There's another KanColle character which made it to the Top 3: we're talking about Kashima, who ranked 3rd! They basically monopolized this chart!
Fate/GrandOrder popular character Mysterious Heroine X Alter loves sweets and likes to do things at her own pace. Maybe you could eat your chocolate together?

Top10 Characters Ranking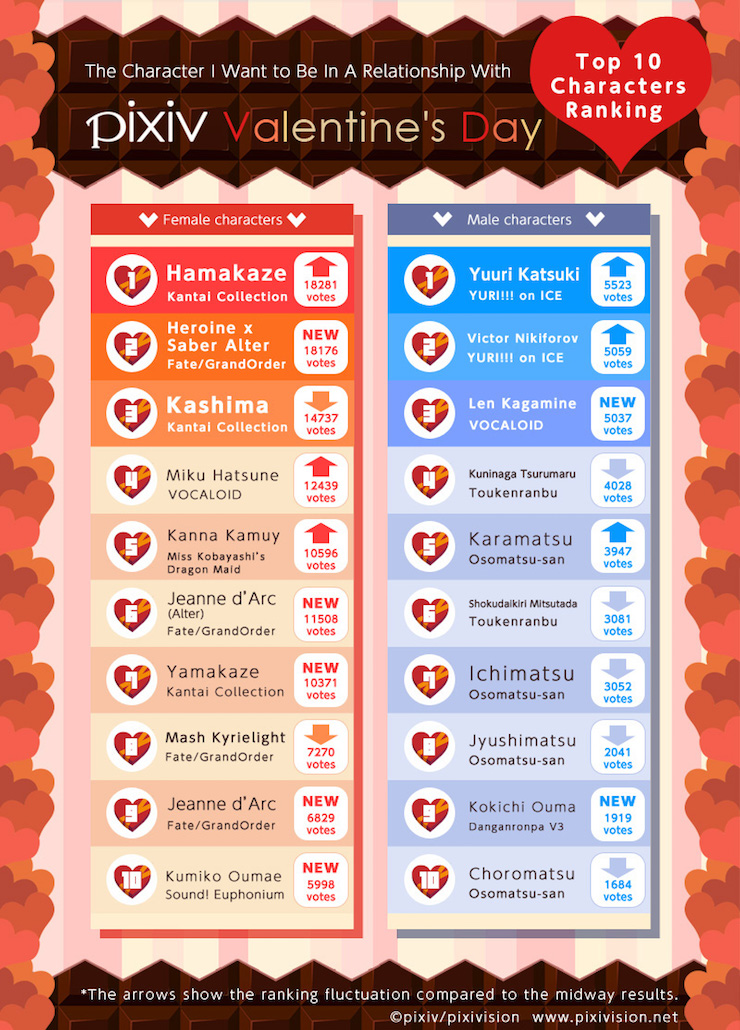 Popular characters who unfortunately didn't make it to the Top 10
Male Characters #11-#50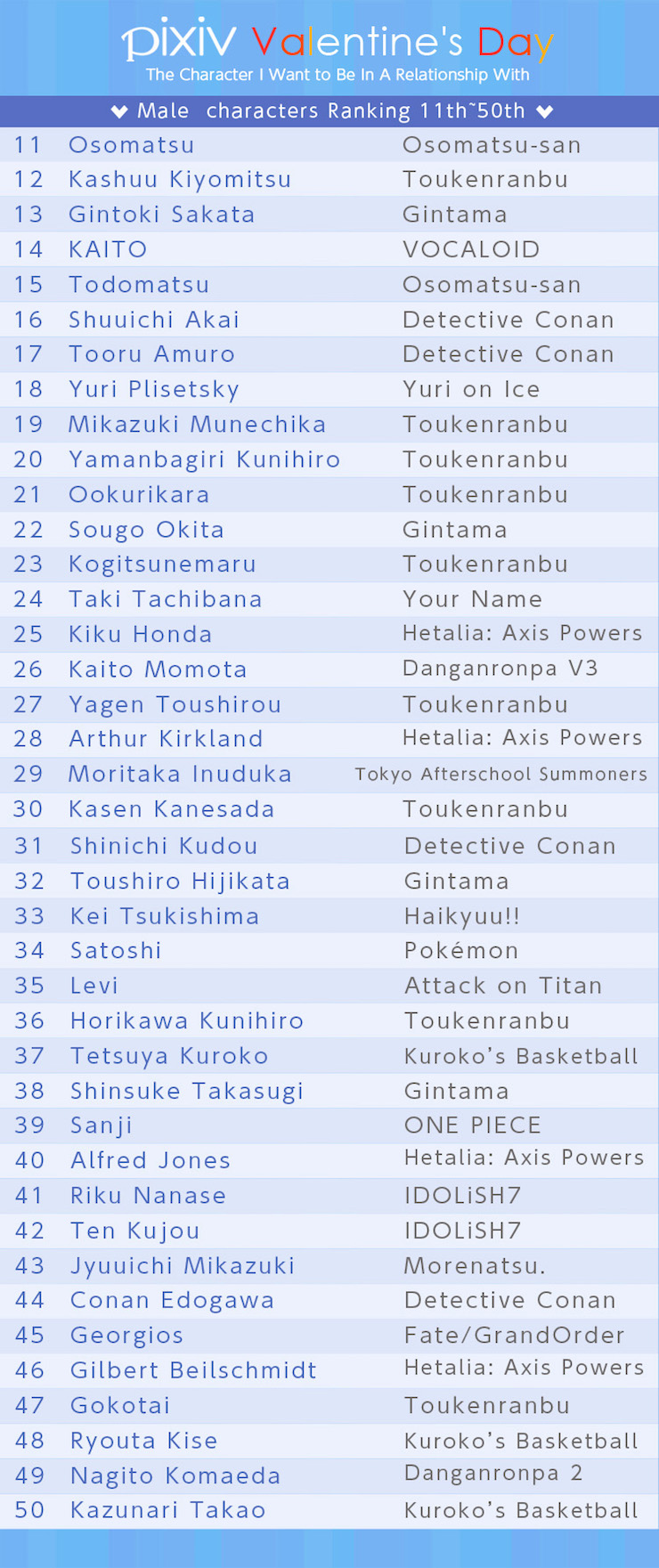 In the male characters category, Gintoki Sakata from the anime Gintama came 13th. Two popular Detective Conan characters, Shuuichi Akai and Toru Amuro ranked respectively 16th and 17th.
Female Characters #11-#50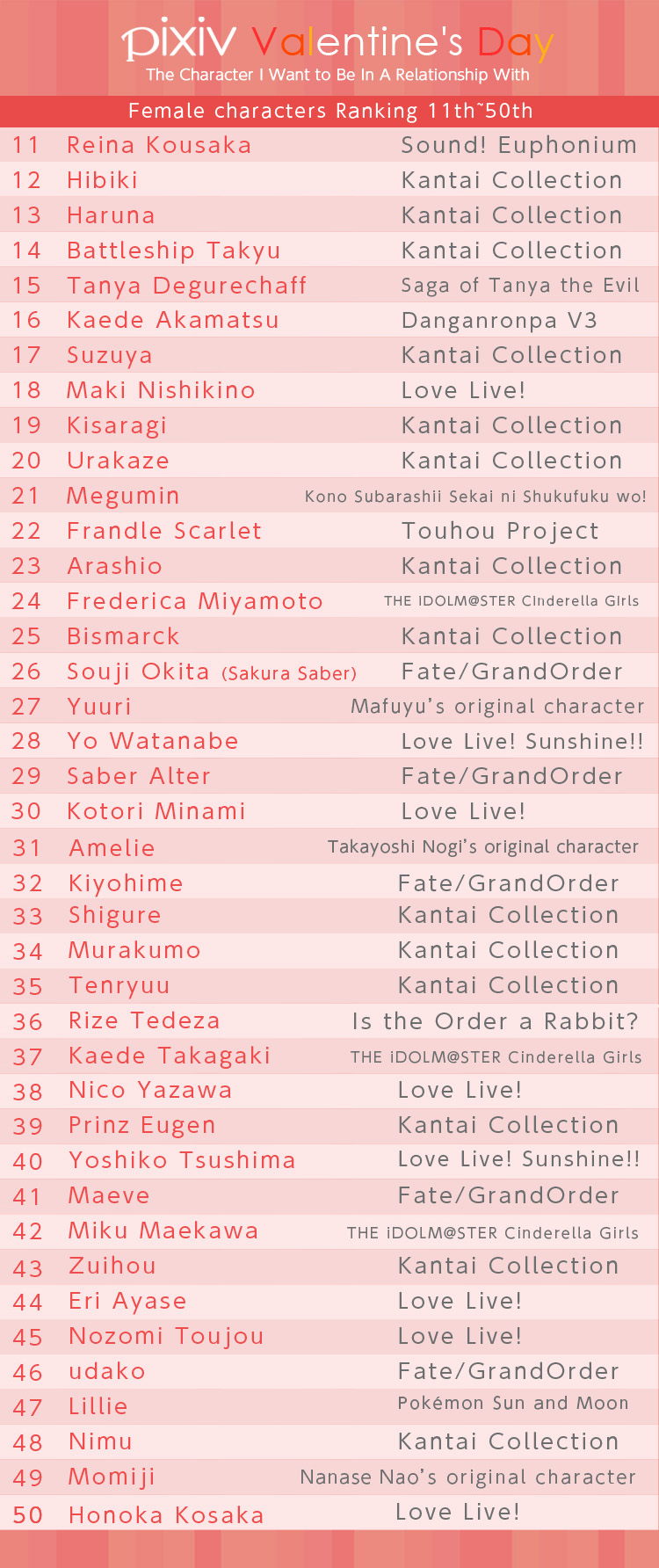 As for the female characters category, apart from the ever-popular characters from the KanColle and Love Live! series, we feel the need to mention Kaede Akamatsu from Danganronpa V3: Killing Harmony and Megumin from KonoSuba. 
On the other hand, multiple original characters were included in the Top 50 as well. It's nice to see that it's not only official characters who can be popular, but also fascinating new ones who were posted on pixiv from various artists!
Who's your favorite character?
Did you spot any character you would like to receive chocolate from? Or a character that you'd like to date one day?
The number of illustrations posted on pixiv for this year's Valentine's Day event was 6524 - a total record! We'd really like to thank all creators and voters who contributed to make this one a great event.

Please look forward to our upcoming projects too!