What's behind cosplay armors and weapons? Interview with Professional XL Props Maker & Cosplayer GyakuYoga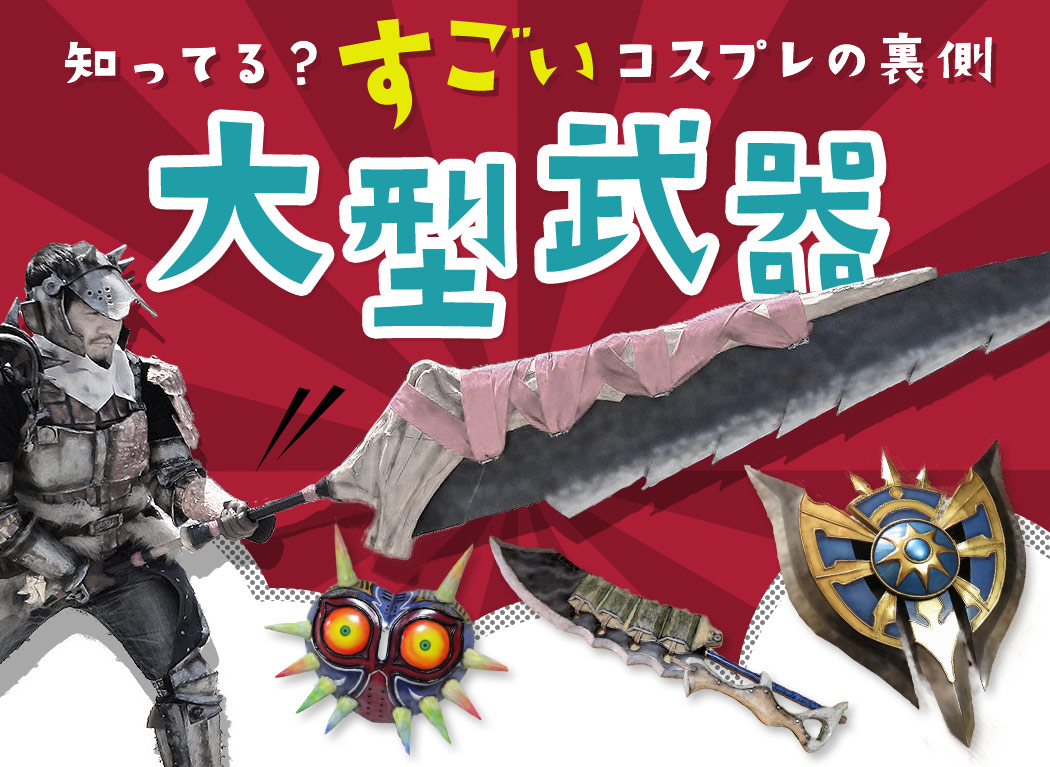 Interview, article by Hitomi Sakuma
If you've ever attended to Comiket or to other anime fairs, you have probably spotted
some super awesome cosplayers
. Sometimes, the weapons they hold are so big that they leave the viewers completely shocked! This time, we interviewed
a cosplayer who specializes in large weapons and armors!
Let's take a peek at
some secret cosplay-making techniques!
The subject of our interview was GyakuYoga, owner of the cosplay making website Cosplay Zōkei no Tsukurikata - GyakuYoga (How to Build Cosplay Models - GyakuYoga). He also attended the NicoNico Chokaigi fair, exhibiting his own weapons and equipment directly from the Fate series and from Touken Ranbu.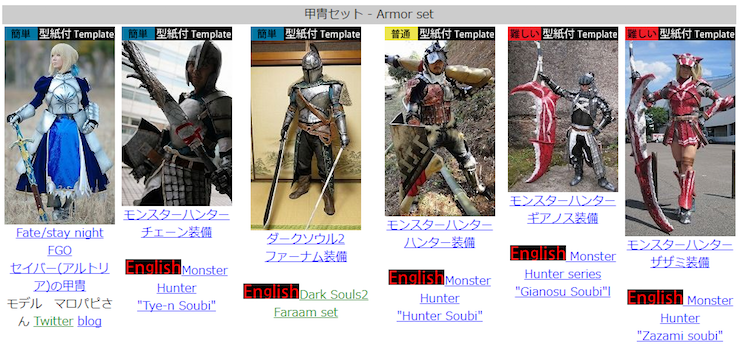 His collection already features 400+ templates! Let's see some modelling techniques, directly from the master himself.
Cosplay making is all based on "plastic models"
-- Thank you for being with us today! How did you start molding your own pieces?
After I saw The Lord Of The Rings - The Two Towers, I decided I would cosplay as Legolas. 

I started creating my own models because I wanted to wear the costume he was wearing in the final battle scene, which comes equipped with many weapons. By the way, that was my first cosplay ever.

-- That sounds pretty hard to pull off for a first cosplay! What kind of resources did you use?
I used internet boards and my knowledge of plastic models.
I've always enjoyed building plastic models, even when I was a high school student, so I applied the techniques that I used to know to cosplay.
-- I see! Plastic modeling means to create three-dimensional solids starting from a plain surface, right?
Exactly. You can also use your knowledge of coloring.
Apart from that, I remember going to Tokyu Hands and looking for some random props that I could use.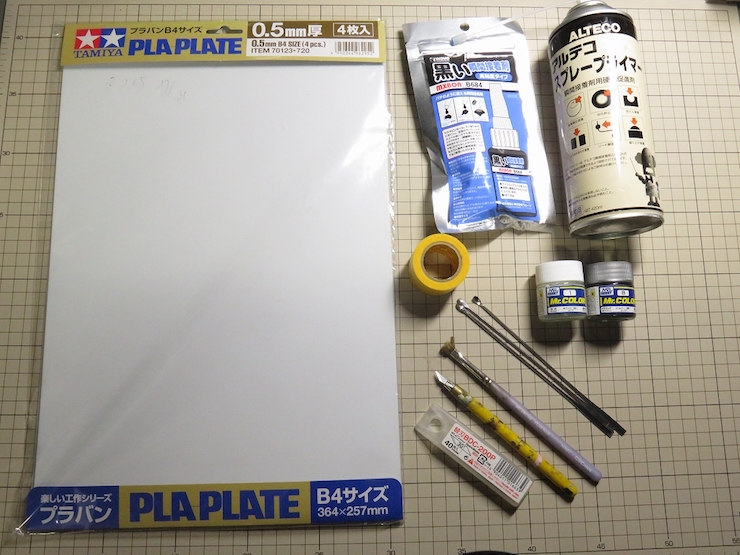 -- What's your favorite between the weapons/models you built so far?
It must be Majora's Mask, appearing in The Legend of Zelda: Majora's Mask.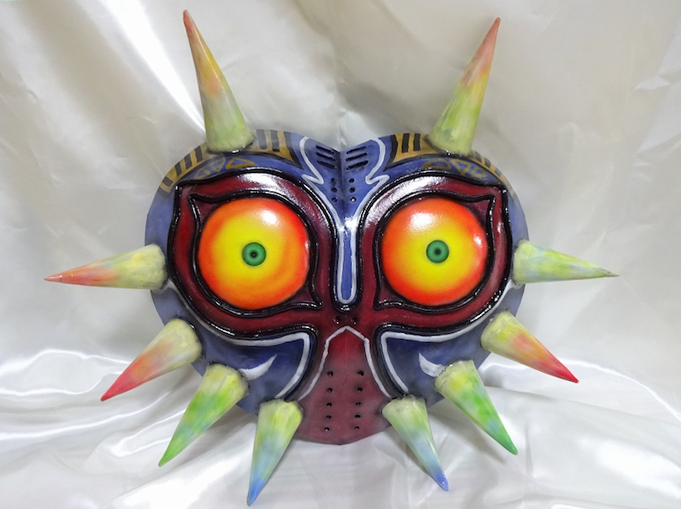 Those from the Zelda series are my favorite games, and (I'm sorry for saying this myself) I think the shape and colors came out great.

Even though most of the props I modeled are in my warehouse, this Majora's Mask is decorating my room, serving me just like a guardian.
-- It looks like a guardian...! You're right, both the shape and the colors look amazing.
I actually built this while looking at the character on the game screen.
I was especially careful to replicate the eyes gradation. If you look closely, you'll notice I used many different techniques, such as blurring out the contours of the eyes by using many different airbrushes.
Although it's a small model, the painting process took almost 15 hours.
Introducing the place where models are born!
-- Where do you usually build your models?
I remodeled the warehouse next to my house and made it into a workshop.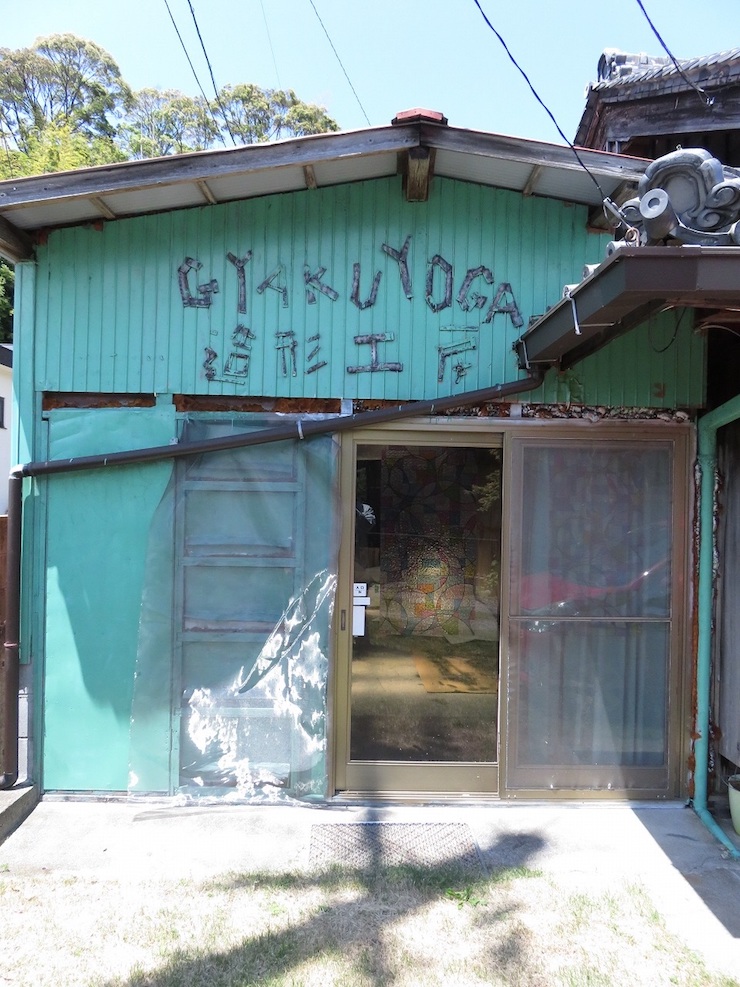 This space was originally a 20mq junkyard, which I reorganized. I can spend up to 10 hours a day in my workshop.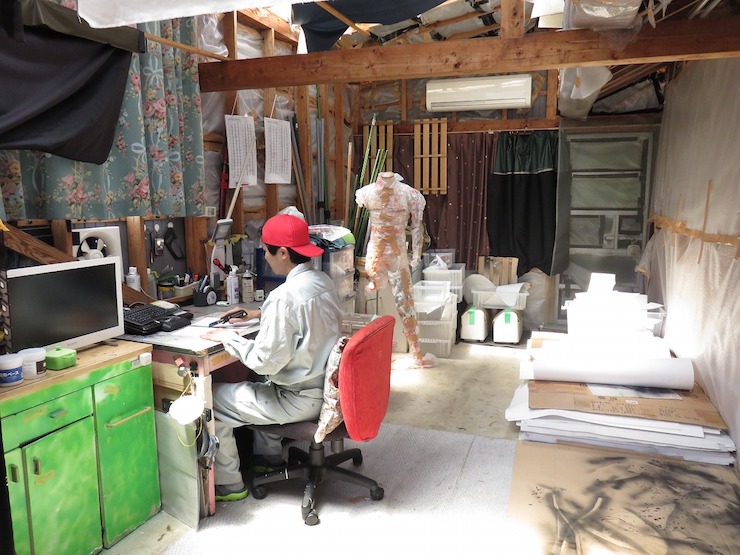 -- Why did you decide to build a workshop?
I decided to do so after modeling became my job. I used to be a system engineer, and I thought of it after quitting my job and coming back to my parent's home.

Initially, I had no space to work. I put a desk in my garage which I used to model, but it was cold and it didn't have much storage space (laughs).
I often use airbrushes and sprays, so I added a ventilator and an industrial fan to make the space safe to work into.
Models are made with unexpected materials!?
-- What material are you using to build armors and weapons?
Personally, I like to use EVA foam, a soft material resembling of that of ofuro mats. There is a 100 yen shop near me that sells it, but if I'm not in a hurry I tend to use a special kind of EVA foam called "Lion Board"※.
This material bends and can be deformed with heat, and it makes it very versatile. You can make round shapes by warming it, and pointy shapes by cutting it.
-- How heavy is this material? How much do your armors and weapons weigh?
It's considerably lighter than real metal. A sword weighs around 320g (like a can of juice).

An armor can weigh up to 2~3kg, while particularly heavy ones can reach 5kg. Real armors would be around 20~30kg. Even heavy-looking cosplay costumes are in reality quite light.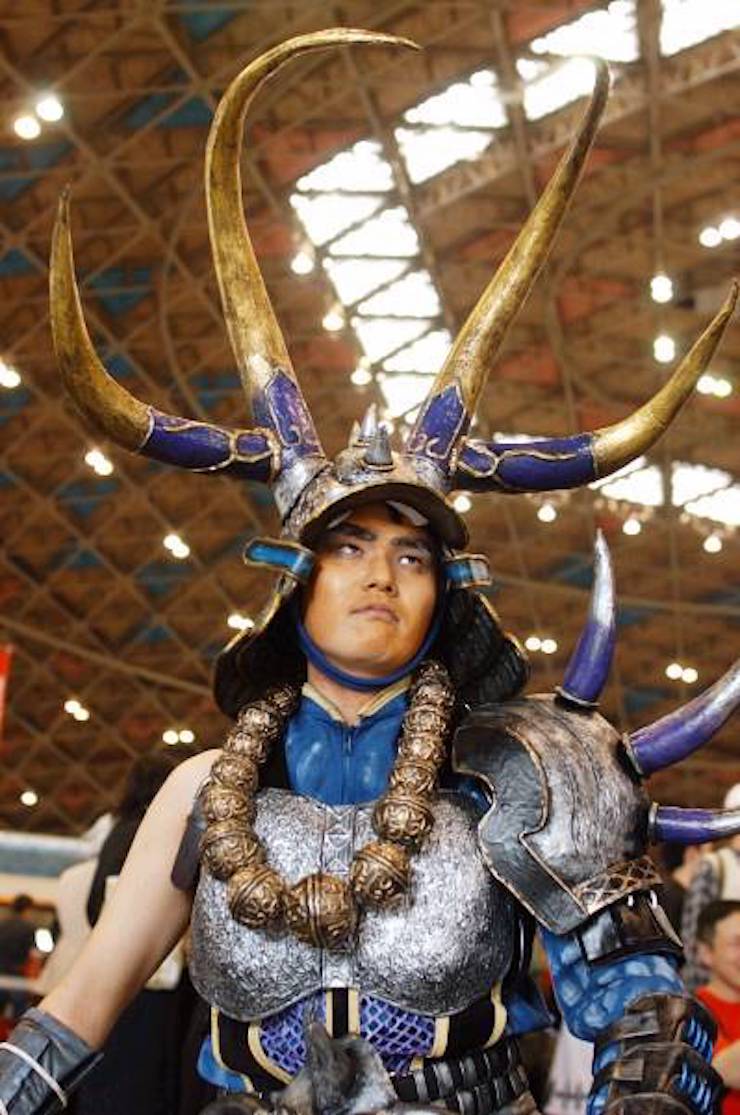 You can create fine patterns with 100 yen shop goods!
-- How do you create complex patterns like one on the beads in the picture above?
Generally, I use a glue gun. It's a tool commonly used in handicrafts, for example to melt resin. You can buy one at a 100 yen shop.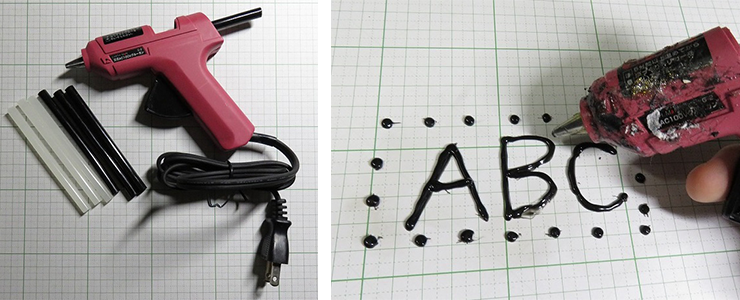 -- What was the most complicated pattern you worked with so far?
It was the one on Dark Souls 2's Faraam waistcloth.
The pattern on the waist cloth has many different patterns repeating in it
. 
I drew a sketch on the pattern paper, copied the picture with charcoal paper, drew it with a glue gun, fixed it... And repeated the process over and over again.
-- That must have taken forever!
Yeah, it took exactly one day. It was hard.
Using paper in a way you'd never imagine!
-- How do you make anime and manga characters into 3D models?
First of all, I use drawing paper, cellulose tape and duct tape to fix the 3D shape roughly. I increase the detailedness of the prop from there.
For example, if you are a creating a piece of leg armor, wrap the paper around your leg, stop it with tape, and shape the circumference of the calf directly. Cut off the part of the paper that is wrapped around your legs with scissors. Then cut it so as to be symmetrical, and use the paper as a pattern.
-- Watching the video, I realized you absolutely do not hesitate when using your scissors! You're very fast.
I agree.
I've gotten used to this process, so I am working almost unconsciously.


People who browse my website sometimes ask me "how do you know where to cut?", and my answer is: even if you're not sure, just try! Move your hands! If you fail, you can fix your mistakes in a second with tape.

More complex shapes usually combine different simple solids, so you can work with them in the same way.
-- What an impeccable craftsmanship!
Some props can test even a pro!
-- What is the prop that took the longest time to make?
It was Origami Cyclone, from TIGER & BUNNY. It took me close to 300 hours.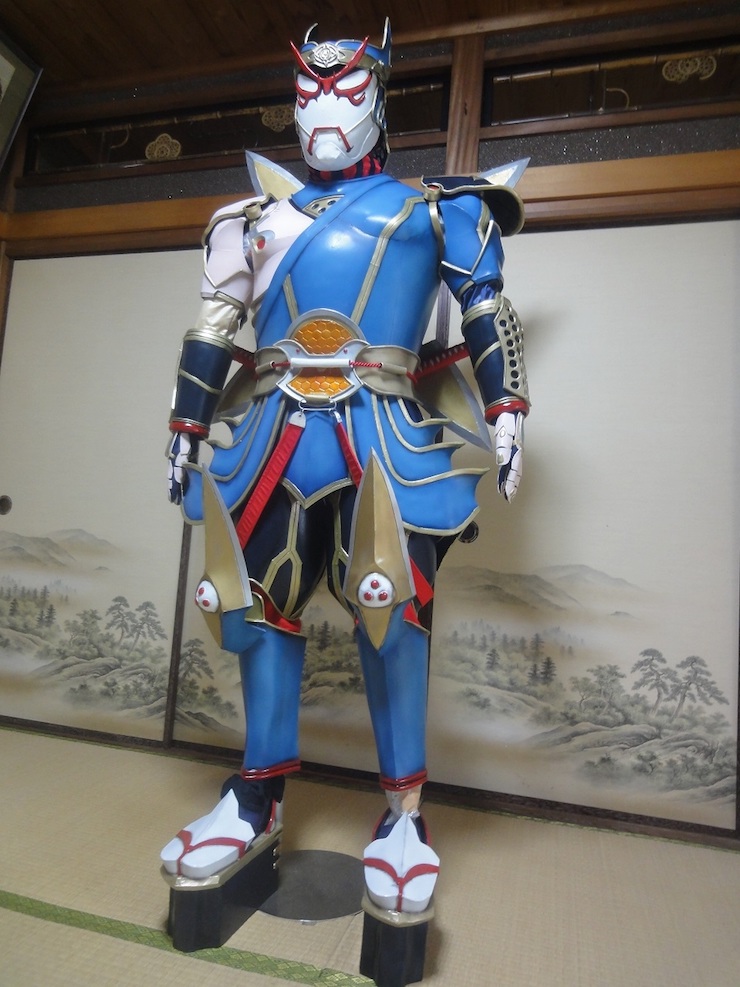 -- What!? 300 hours!? What was the hardest part?
The shuriken on the back. If I made it using only Lion Board, it would collapse under its weight - so the core was made of wood. I had a hard time creating the structure.
-- The making process is kind of complicated, and we summed it up in 3 pictures to make our readers understand just how hard it was.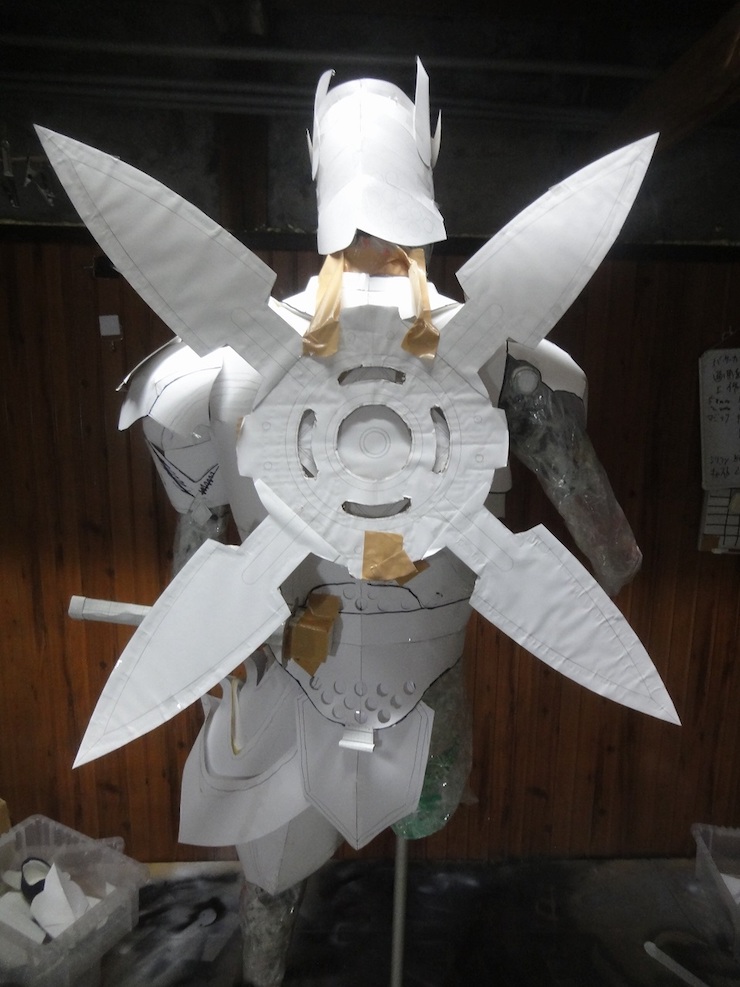 ② Became this
(=combined the cut Lion Board and the wood core to create the overall shape and fixed the structure to the back of the armor using Velcro)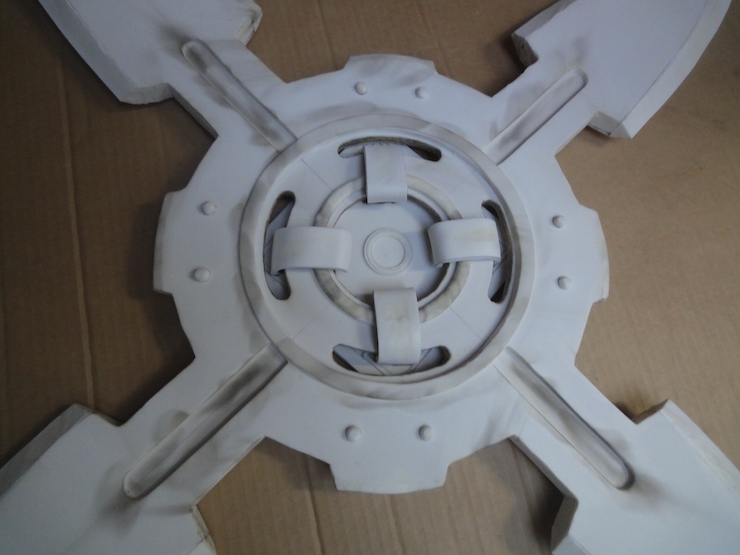 ③ And then this!!
(=after painting it and completing it)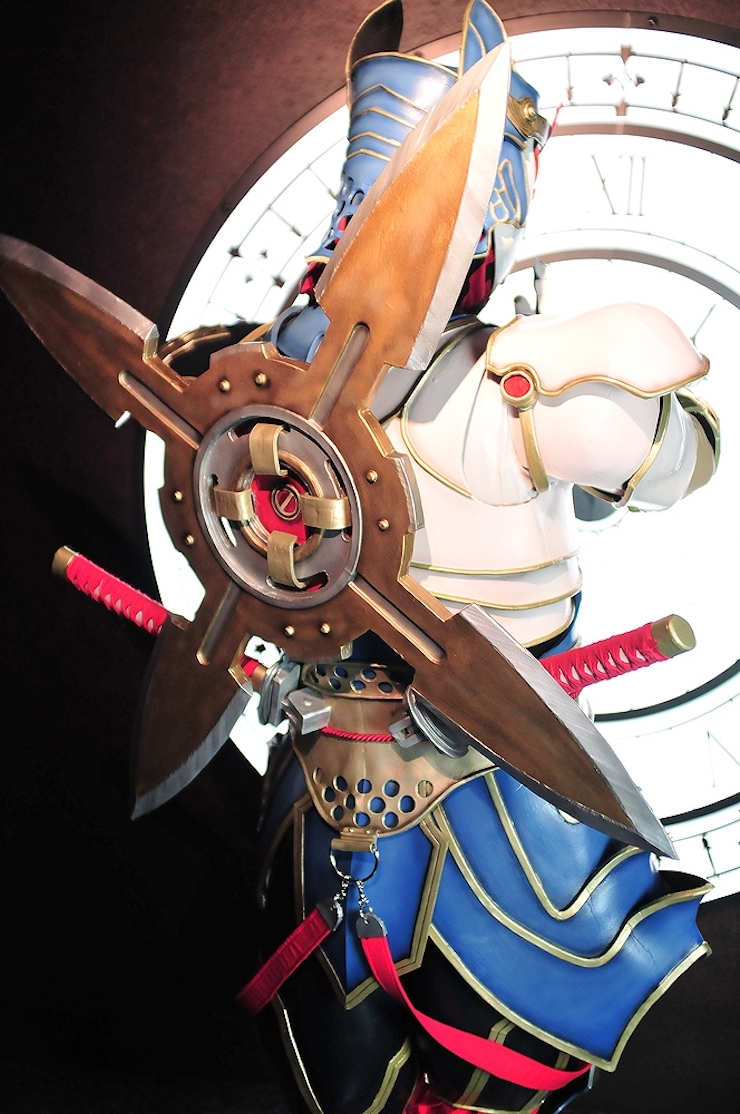 -- I know, it's kind of hard to understand. I'm sorry, it was hard to explain all the process with only three pictures!
Don't mention it, it's a difficult process even for those accustomed to modeling (laughs).
If you want to see how I did it in detail, you can take a look at the video below.
-- What was the hardest prop to design?
It was the Grand Star Axe sword&shield set from Monster Hunter.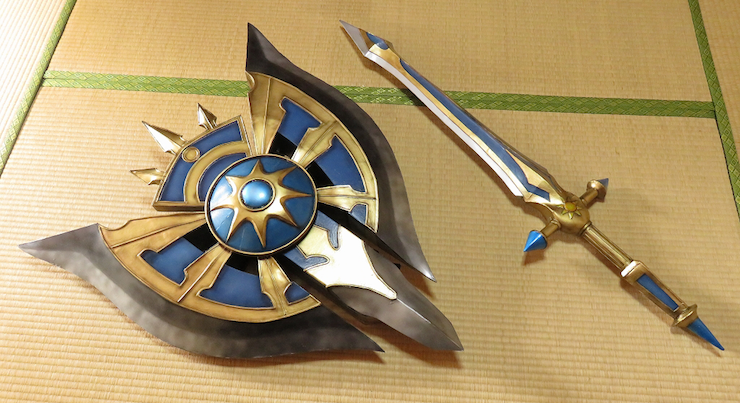 The final weapon will be an axe (in the game it's called Axe Mode) which combines both the sword part and the shield part into one. In order to make this transformation possible, I had a hard time making a robust structure that wouldn't rattle.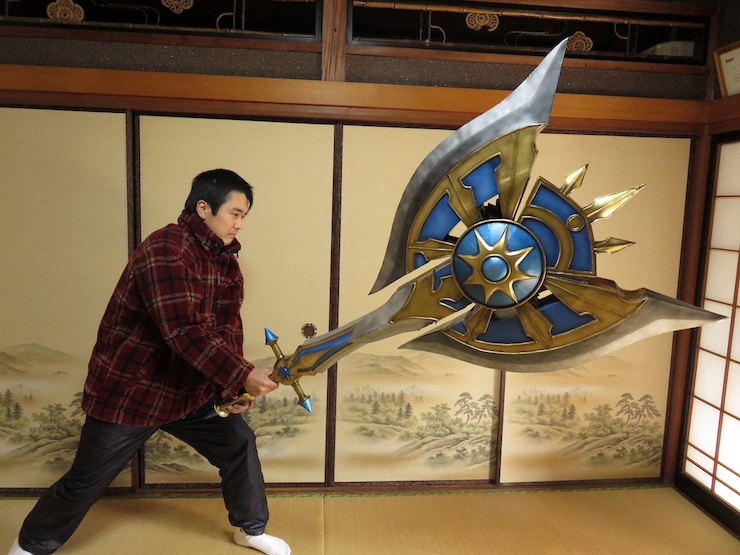 -- The gimmick looks amazing, and the design does too! Very 2.5D!
First of all, I created a prototype. At first, I made only the sword. I attempted to attach to it materials that were heavier of the shield, and tested if it could support them. It took around 100 hours.
-- How do you transport these huge weapons when you attend conventions?
By car. I design big weapons so that they can be disassembled and transported. If you just think about a disassembling method after you complete your weapon... It's gonna be too late (laughs).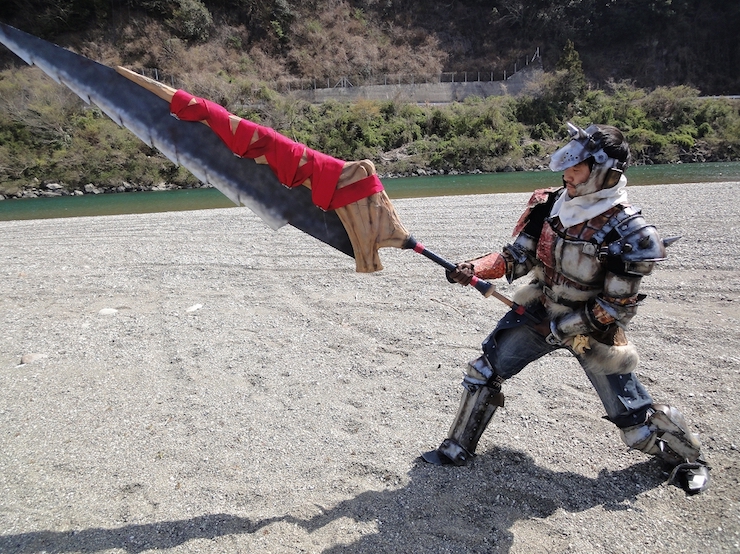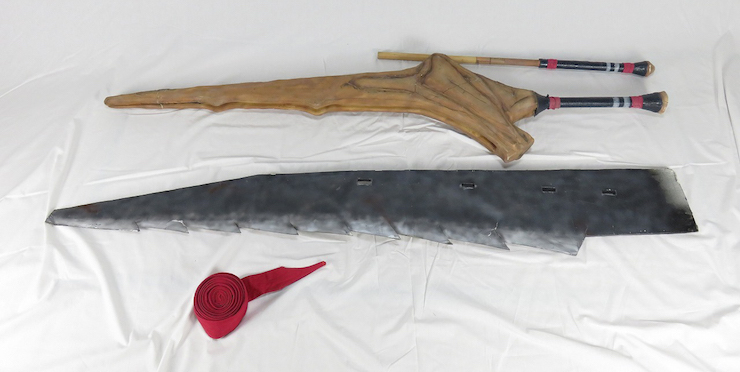 -- How do you wear your armors?
My armors make big use of Velcro straps, which makes them really easy to put on and take off. I also have to be careful about the joints and if they move smoothly or not.

This is how I wear my armors.
A creative circle expanding thanks to a website and some videos
-- You post many of your works on your website. Many people use your paper patterns to replicate your costumes!
Yes. My website is mainly about cosplay, but you don't have to be a cosplayer to find something interesting. You can also build weapons as a hobby!

Recently, people have been using my models for theatric plays and costumes for local heroes.

I'm glad that my website is so versatile. I hope you can use my website and videos to take the first step towards the world of model making!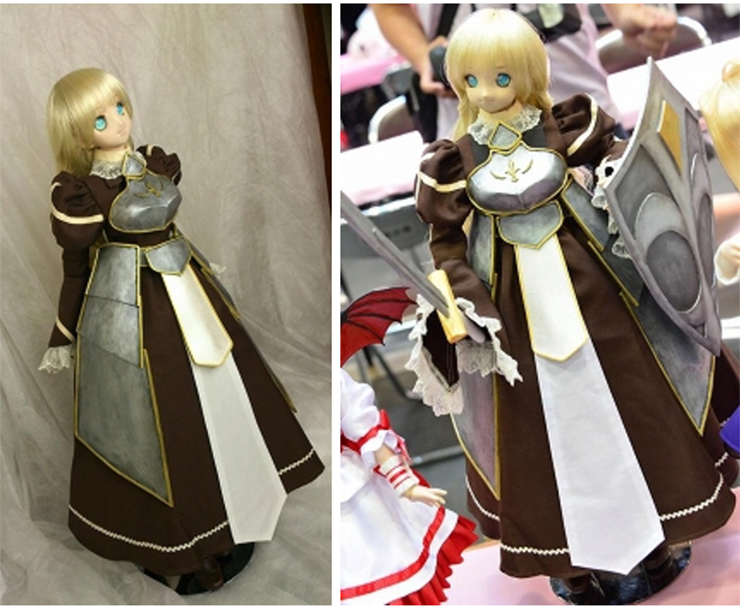 -- What's the most fun part of creating cosplay models?
It's definitely having so many people seeing what you're doing and responding to it.
Recently I've been actively managing my YouTube channel, and since I uploaded an English version of my video, I started getting followers from overseas as well.

I'm proud to be a Japanese person who has always taken an interest in manufacturing, and I want people from all over the world to say "Japanese cosplayers are amazing!".
Even if you're not a cosplayer yourself, take a look at GyakuYoga's modeling videos! You'll definitely find them interesting!
By learning how they're made, you'll be able to enjoy huge weapons and sturdy armors even more, every time you attend an anime convention.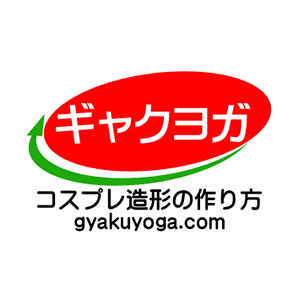 GyakuYoga
A cosplayer who specializes in XL props modeling.
He's the owner of the website "Cosplay Zōkei no Tsukurikata - GyakuYoga" and of the YouTube channel "GyakuYoga", where he introduces how to model and create cosplay weapons and armors.