Fetish Talk vol.3 - Pursuing the crudeness of salarymen. Interview with illustrator ma2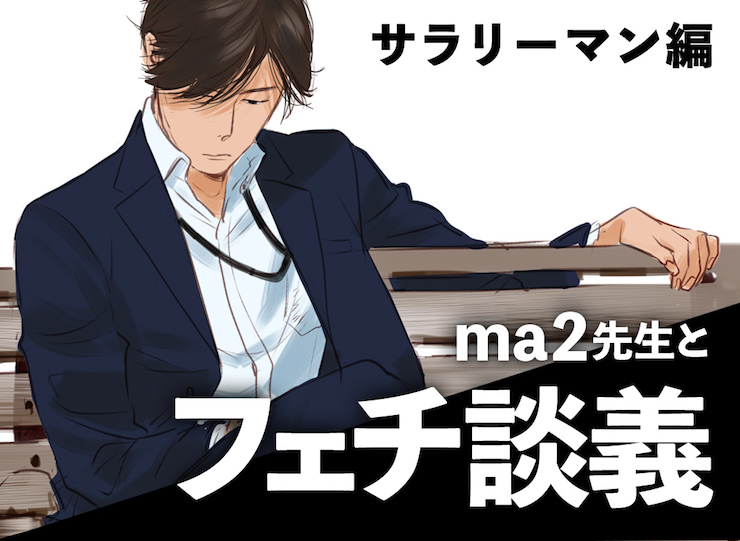 Interview, article by Sena Kondo
Editing by Hitomi Sakuma
Ugh, he's so hot I'm gonna get a nosebleed...!
Raise your hand if you've never felt this way about an attractive male character. It's no use to hide it: we all have one or two particular characteristics that make our hearts race and heads spin.
In Fetish Talks, we will cover various forms of fetishism, and try to understand what girls love by talking to creators of moe contents for women.
In this third installment, we interviewed ma2, an illustrator who specializes in portraying fascinating middle-aged men and suit-wearing salarymen (Japanese white-collar workers).
An awakening dating back to elementary school! ma2 and her hardcore fetish for salarymen.
-- You draw a lot of men wearing business suits. Does it have to do with your personal fetishes?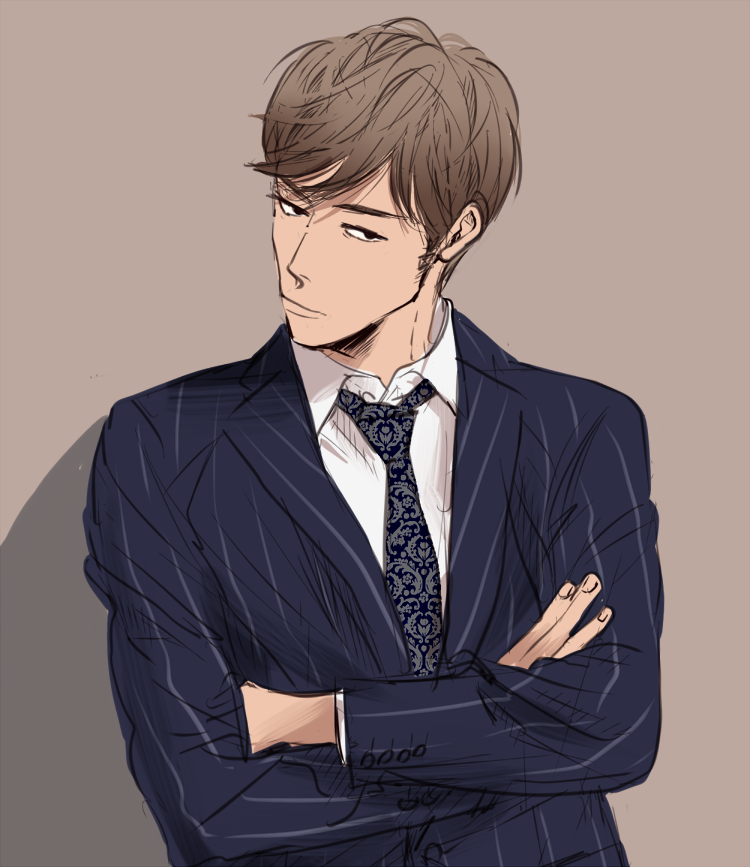 Absolutely! I have a fetish for Japanese white-collar workers. I love drawing salarymen wearing suits!
-- Oh, you certainly don't mince words! What made you fall in love with salarymen?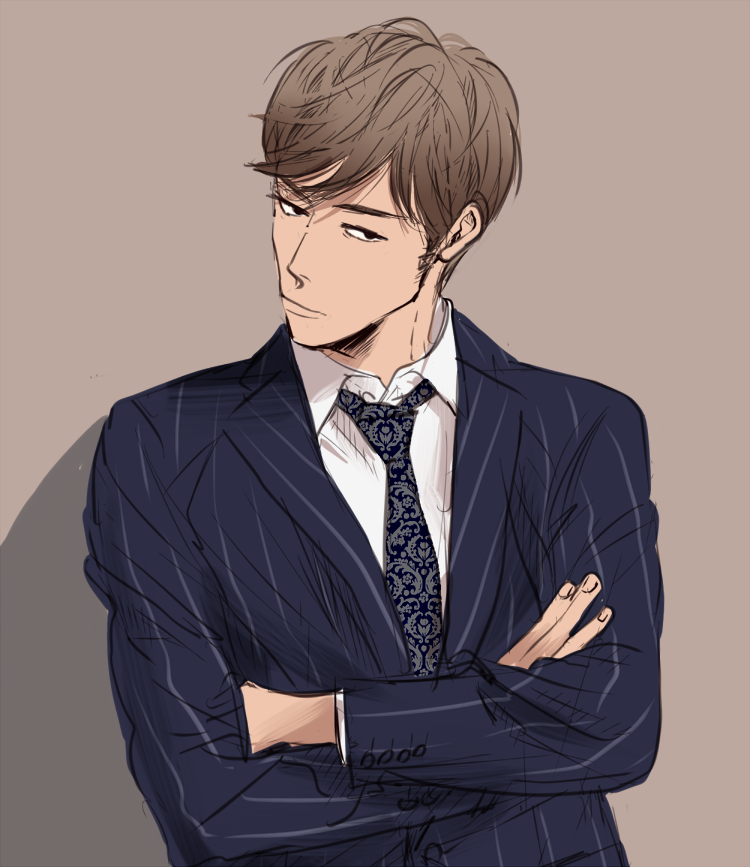 I was probably influenced by my father. He was a white-collar worker, but he used to wear a properly tailored suit every day. Looking at his clothes every morning, business suit became a symbol of manliness and adulthood.
-- You've fallen for the charm of adult men. Let me guess: did you have a crush on one of your teachers too?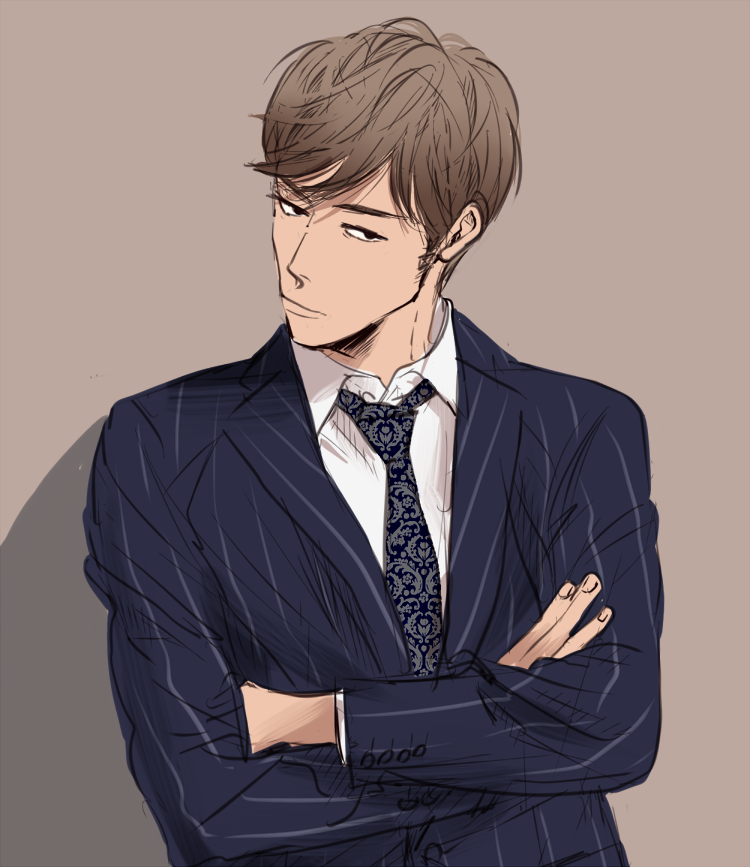 Hmmm, school teachers felt quite different to me. Actually, I can track the exact moment when I started being attracted to adult men. I was in elementary school, and a few boys from a foreign sports organization lived in my same town. Just before they went back to their country, I gave their middle-aged coach a goodbye-hug... And the feeling of being held by a man so much bigger than me was a proper awakening.
-- What a peculiar experience! What do you find especially fascinating about salarymen?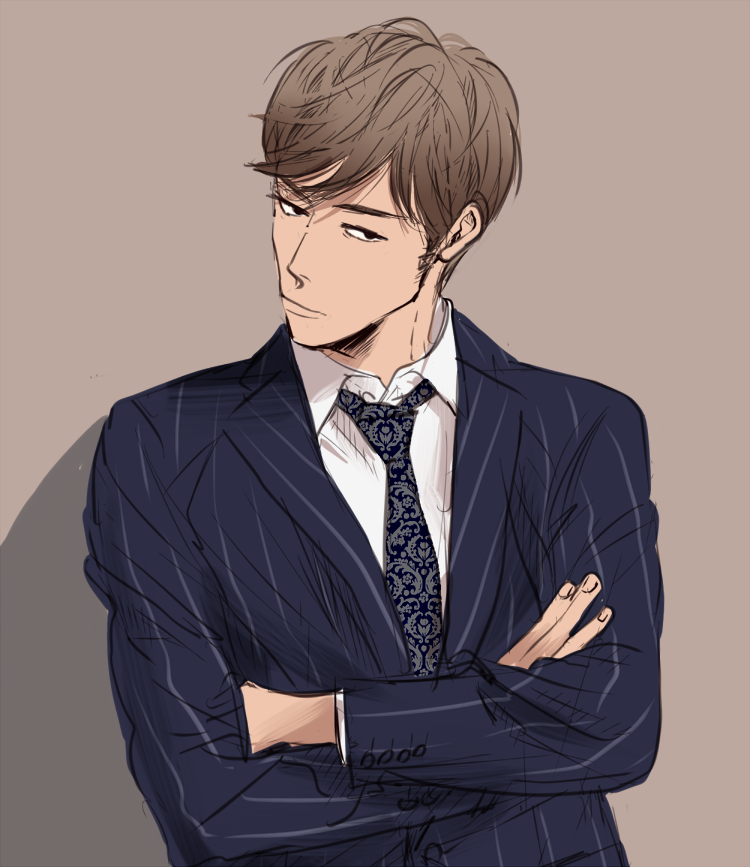 They show different faces according to the people they're with. They behave like completely different persons depending on whether they're talking to their boss, to a colleague, to a business partner or to their family... I like observing how their expressions change.
-- It makes you want to look at them from a distance, right?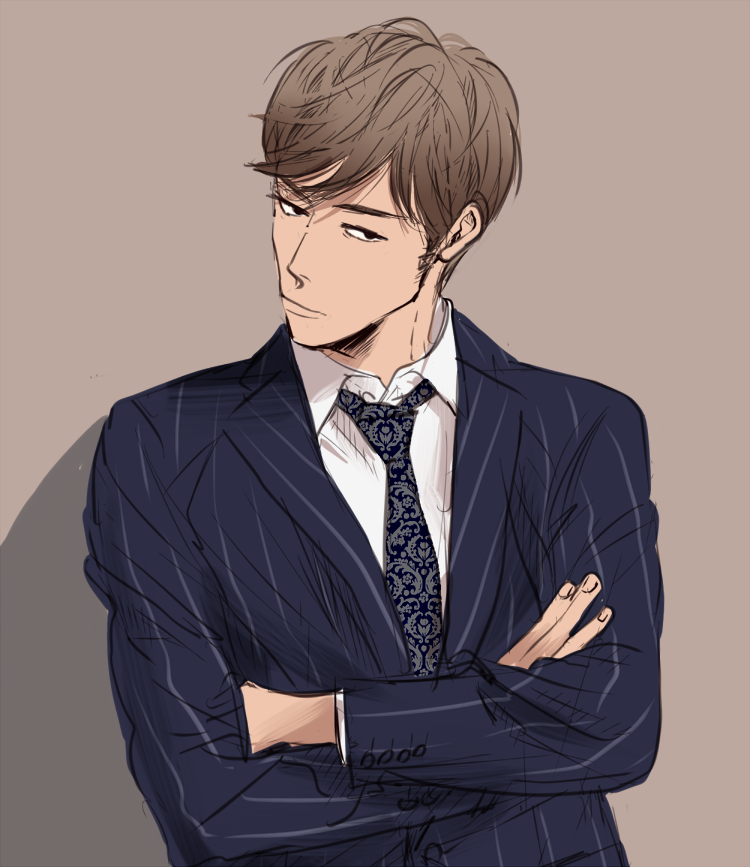 At my previous workplace, I was always observing my crush sitting a few feet away from him. It would be amazing to find out that someone has a particular face that they only show you.
-- Among the various kinds (?) of salarymen, do you have a favorite one?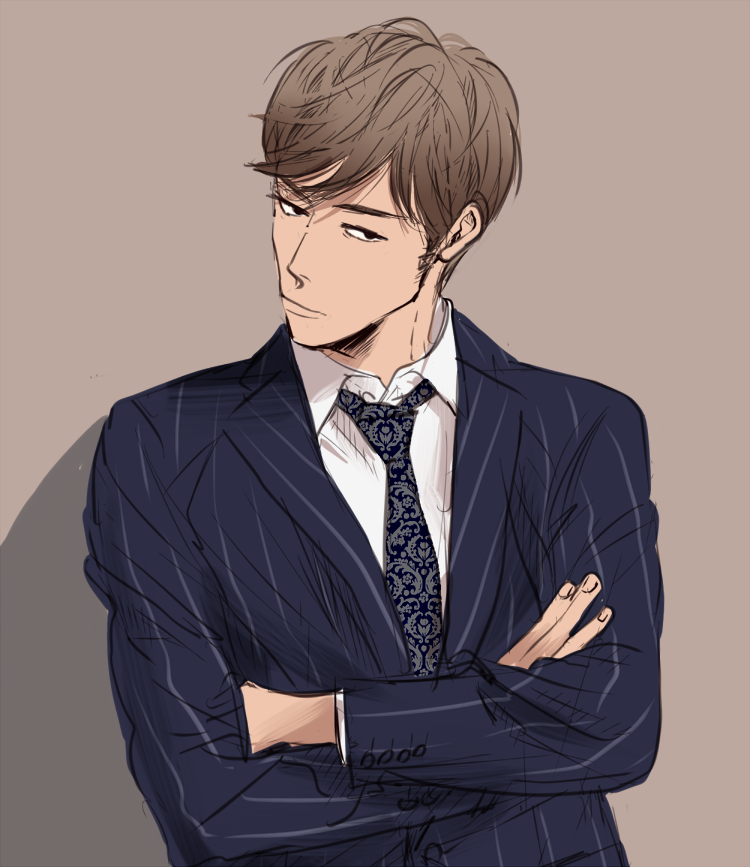 My personal favorite is "THE salaryman". A plain suit, a simple shirt and a necktie. I also like the civil engineer version: works clothes on top of a shirt and necktie.
-- Now that you mention it, your Twitter icon (at the time of the interview) also portrays a civil engineer salaryman!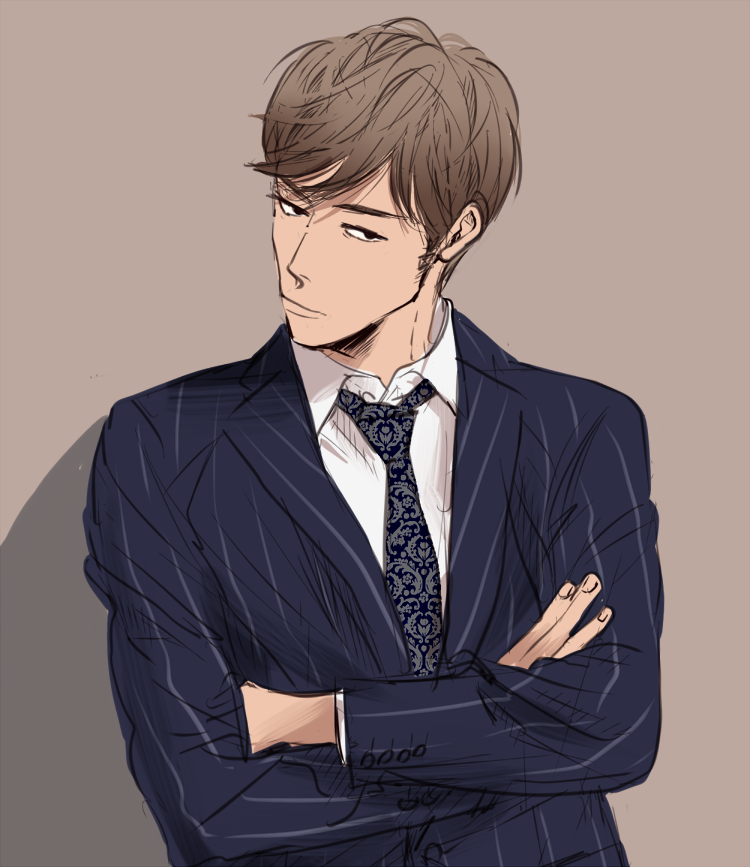 Working clothes make a person look like they're living for their job. Pair them with a shirt and necktie, and the combination is irresistible!
-- I see! Do you have any preferences when it comes to colors and patterns of shirts and neckties?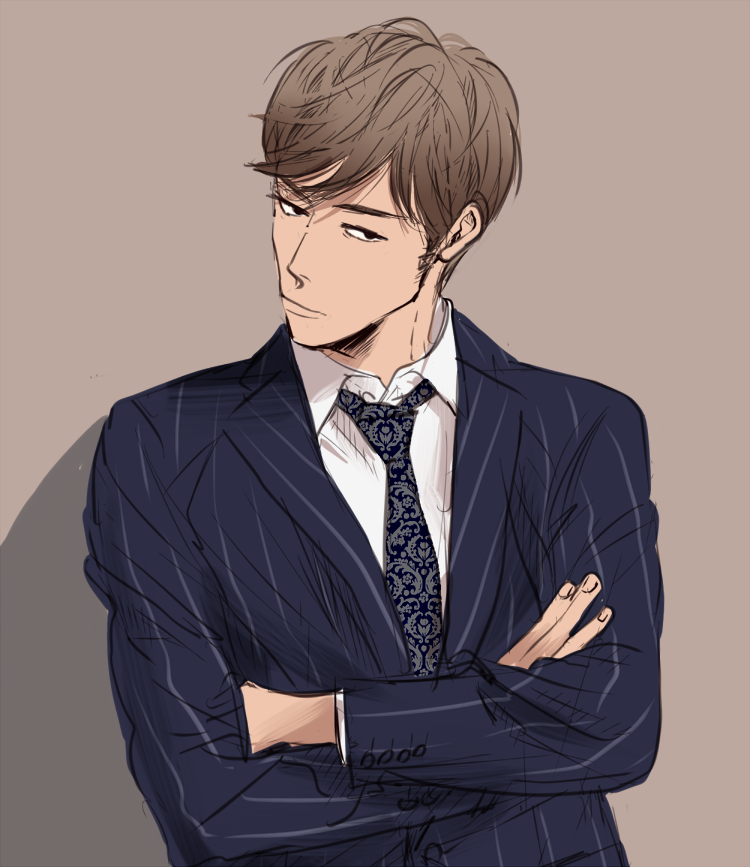 I prefer plain white shirts. When it comes to neckties, I like simple or striped ones. I don't dislike shirred and modern suits, but in the end, I prefer to stick to the model of "THE salaryman".
-- Do you use any reference materials when drawing your salarymen?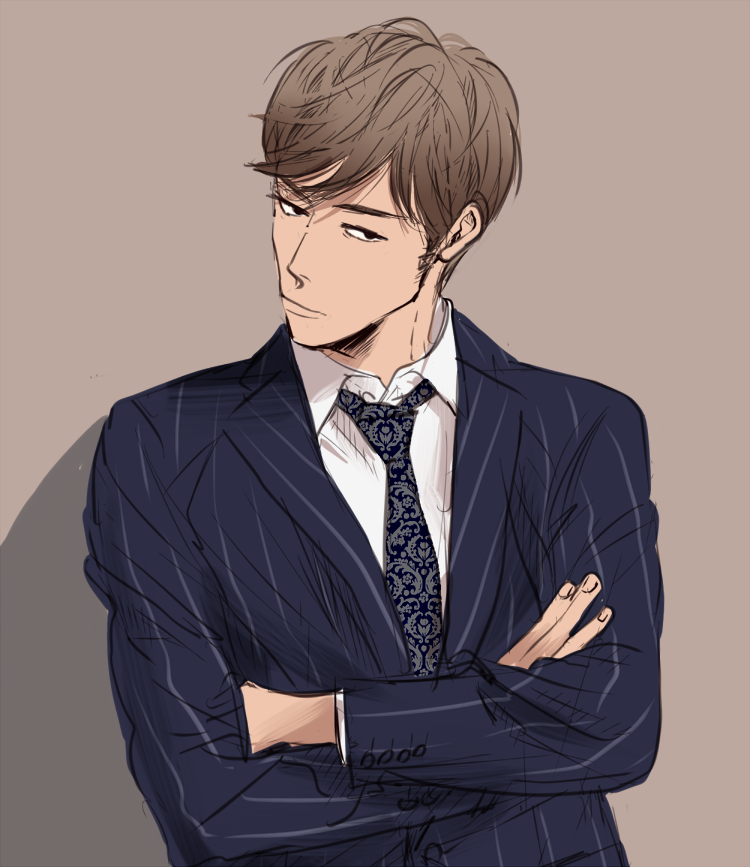 I sometimes use men's magazines and free stock pictures. However, living human beings are the best when it comes to posture and wrinkles, so sometimes I'm inspired by the white-collar workers I see at the park, on the street, and on the train. I secretly observe them and take pictures with my mind. (laughs)
The unique "crudeness" created by withering middle-aged men
-- Thank you for explaining the details of your salaryman fetish. Are there any other elements that make your heart beat?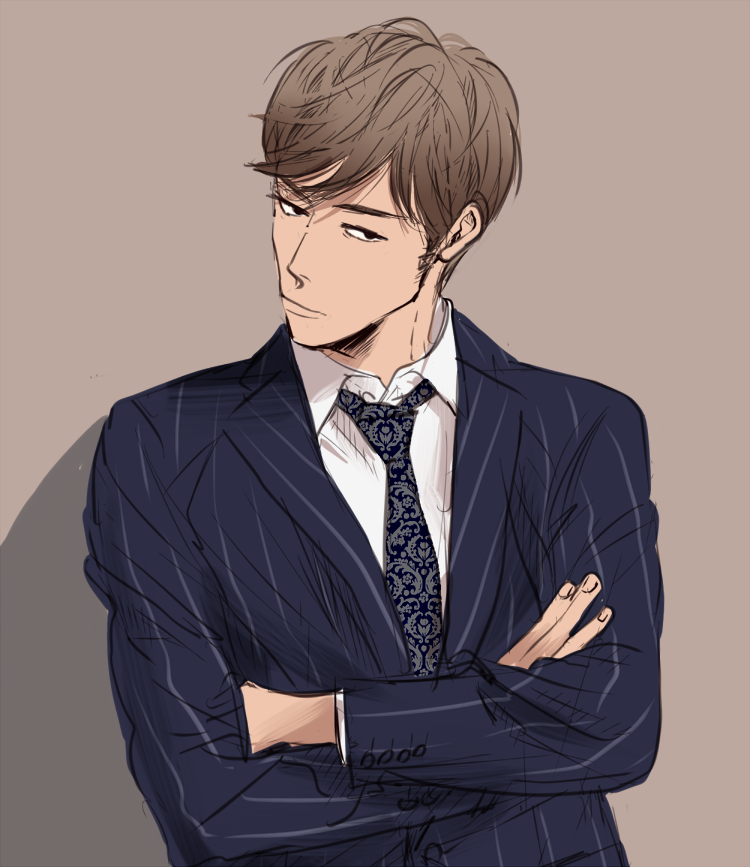 Definitely the
"proof of marriage"
. Whenever a salaryman I particularly like is sporting a
ring
, I feel a certain
crudeness coming from them
. I can't help but imagine them going back to their wives and making out with them. I also like
wrists peeking from a shirt
, and having a glance at a salaryman's
ankles
 when they cross their legs.
It's so moe and for me it definitely represents the zettai ryouiki
!
* Zettai ryouiki: lit. "absolute territory", usually refers to the area of bare skin in the gap between overknee socks and a miniskirt.
-- Crudeness, zettai ryouiki... Those are some strong words! We talked about your fetishism regarding a salaryman's appearance, but how about their personality?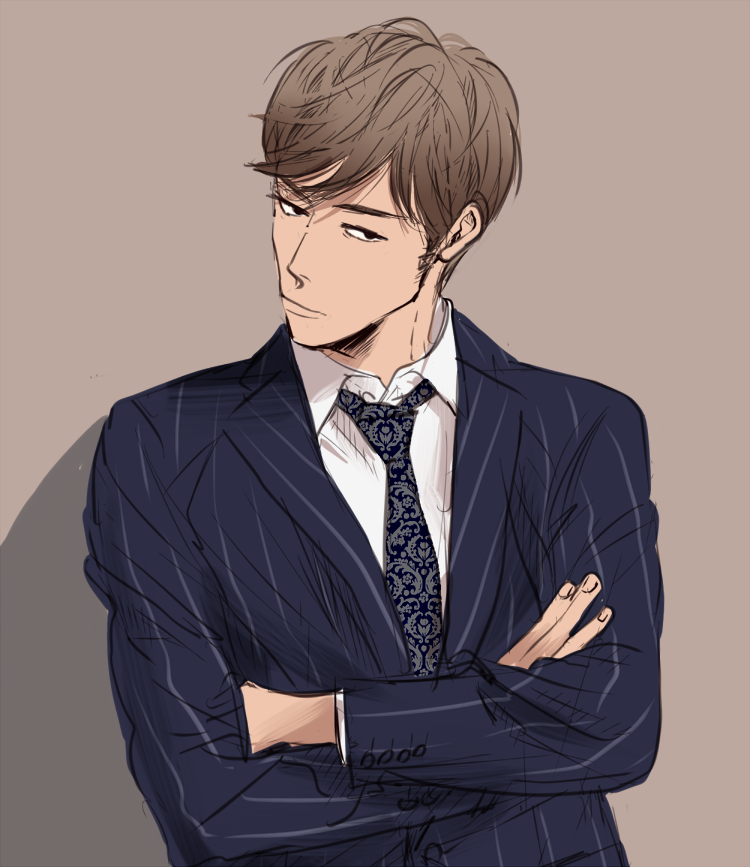 I really like middle-aged men that can't keep their hands off girls, even if they're married...! I know this is a taboo topic, but I really think that a man who can hide his desires is really hot. Even though he's a withering middle-aged man, desire is smoldering in the depths of his heart. I think a man that can always see a woman as a woman is incredibly sexy. I want to experiment that too one day... I know, I'm being delusional (laughs).
-- "Affairs" have become a very popular topic recently!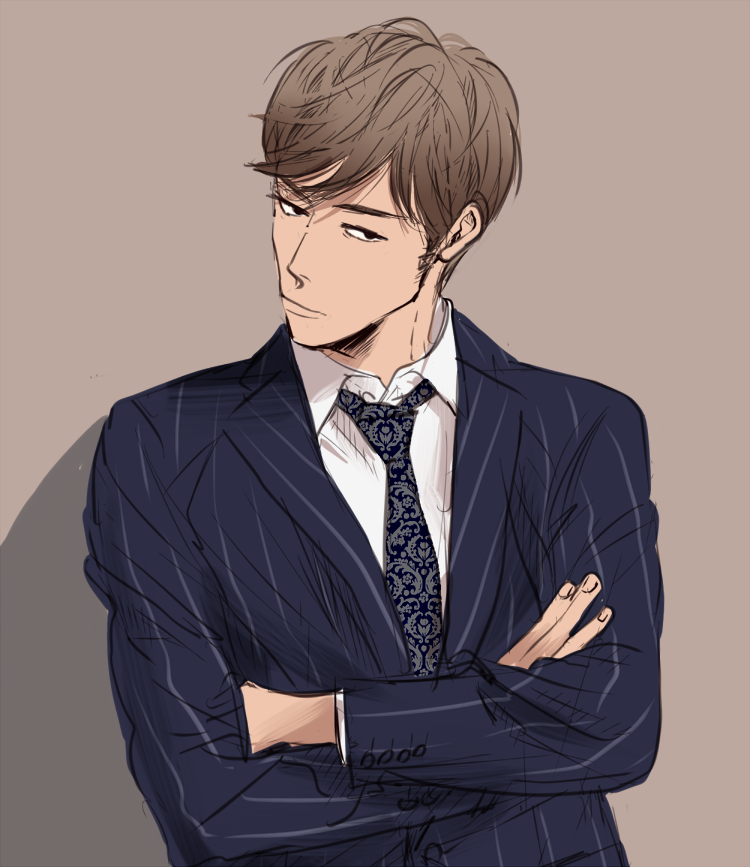 I actually think that salarymen who have a wife or a girlfriend are even more attractive! A sort of "invincible existence". You might think you're going to reach them one day, but you don't... And that's good. If you reached them, that would represent a problem (since they're married), but it's also true that since we're talking about fiction, anything's allowed.
-- What are your preferences when drawing salaryman that portray the "crudeness" you were referring to?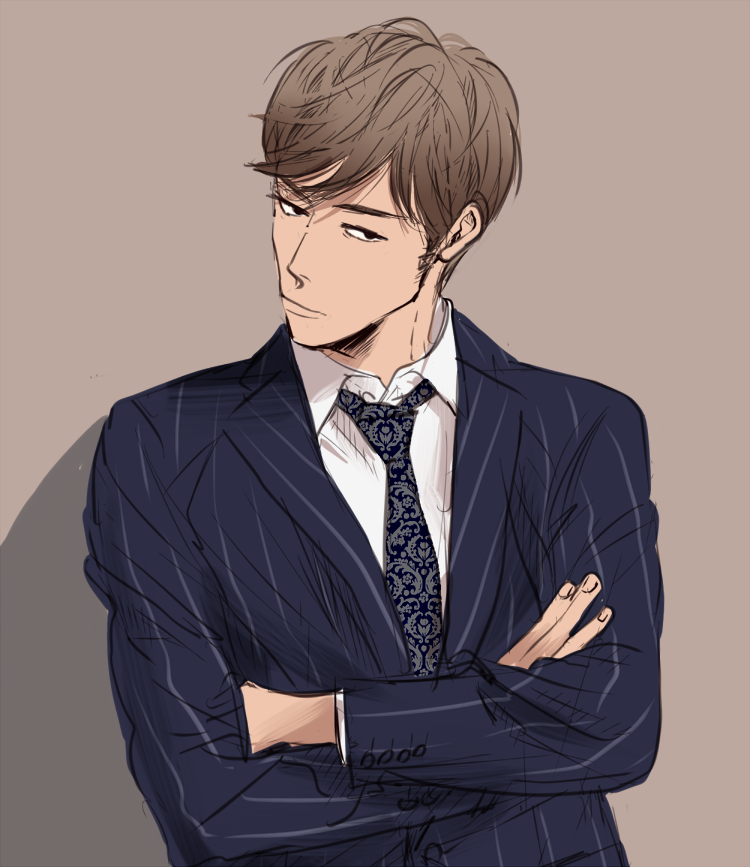 I prefer salarymen that aren't too muscular and that don't have very long legs. It's hard for me to express the crudeness of a white-collar worker with an objectively beautiful body type - if a person is too beautiful, it leaves little space to the imagination. That's why I want to portray realistic moments - sweat, smells. I want viewers to feel those things!
-- You're right, looking at your illustrations I can understand what you mean by "crudeness"!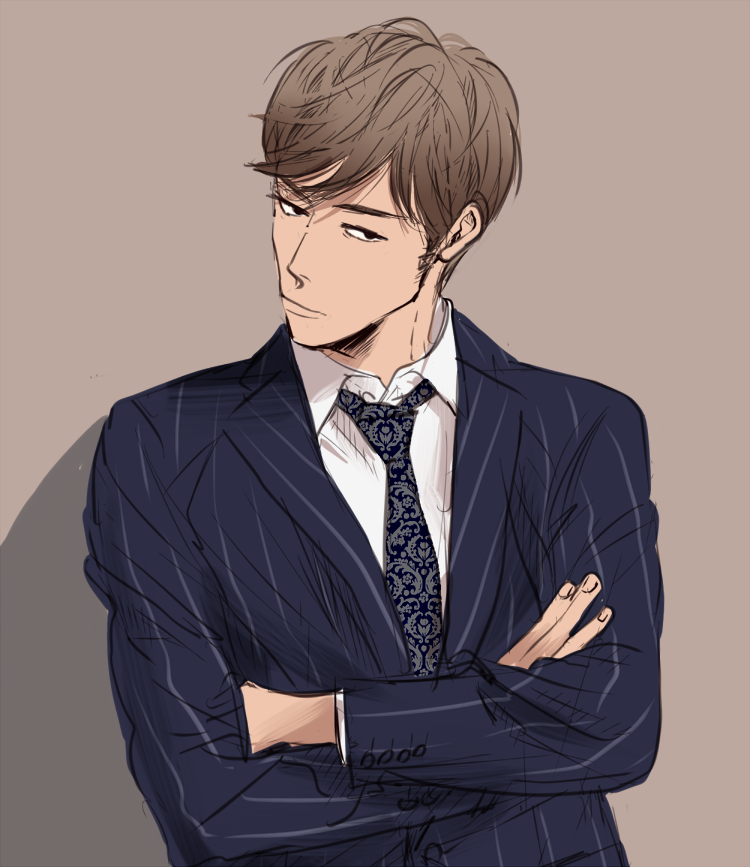 I want to draw salarymen that girls would want to have by their side. If you have a crush on someone who works with you, you're always wishing he looks your way, right? I want to portray the eroticism of the moment when your eyes meet. I want people to wish that the salarymen I draw would pay the same attentions to them.
My job is to express the charm of "THE salaryman"
-- As you grew up, did your fetishism change in any way?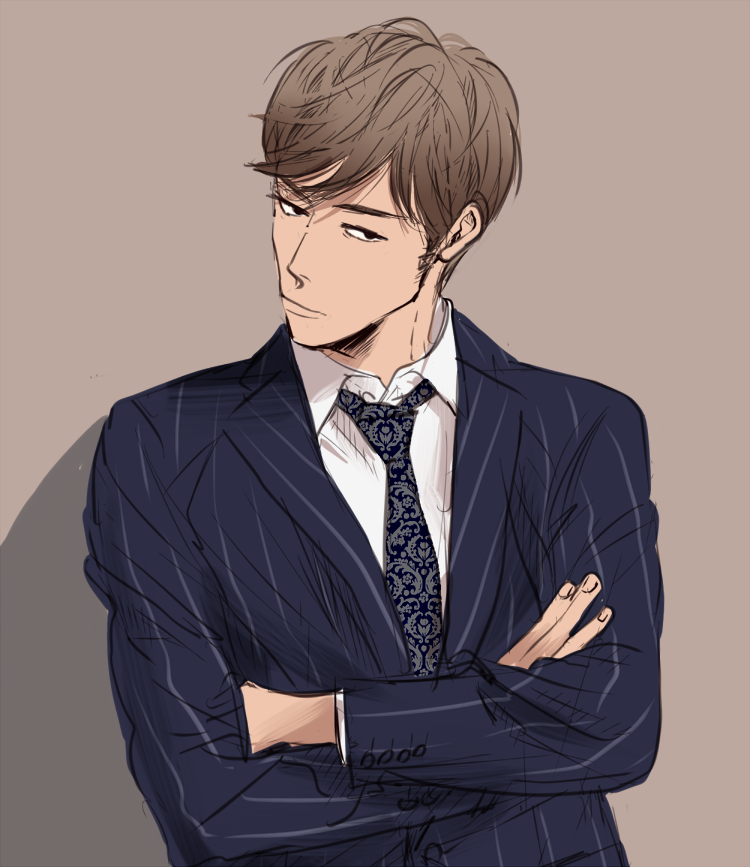 I've been attracted to middle-aged man since elementary school: that hasn't changed. But I feel like I gradually began to appreciate deeper parts. I started appreciating the thin layer of fat gathering around their waistline. I think women want to be embraced mentally and physically, and middle-aged men with a little bit of flesh on them look particularly "delicious" to me.
-- I understand what you mean. A little bit of belly makes you feel more secure compared to a flat stomach.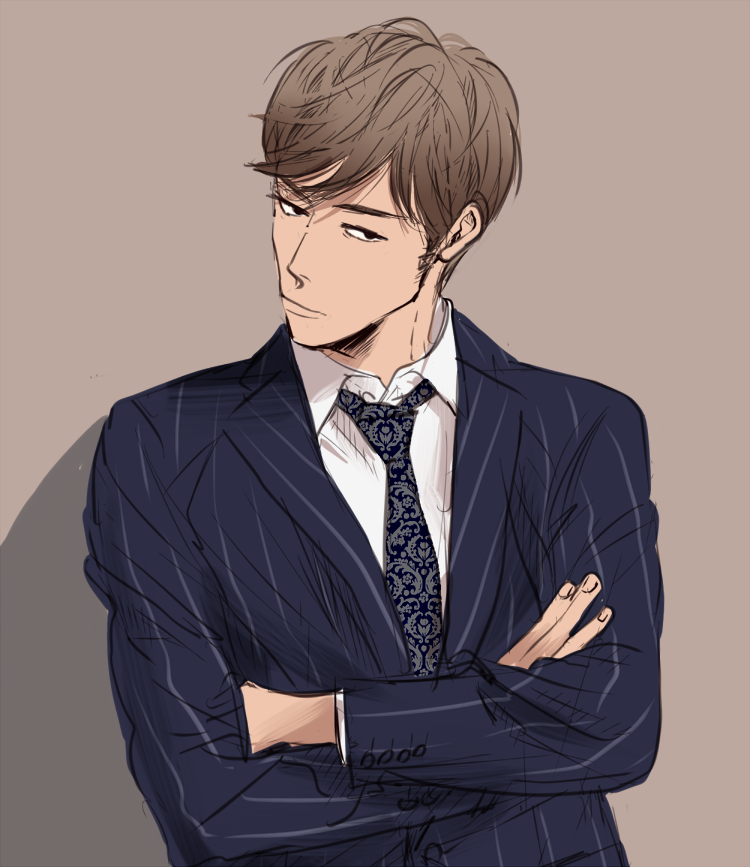 Also, recently I'm addicted to professional wrestling. I didn't really like muscular men in the past, but I gradually came to understand the goodness of some well-built muscles.
-- How did you become addicted to professional wrestling?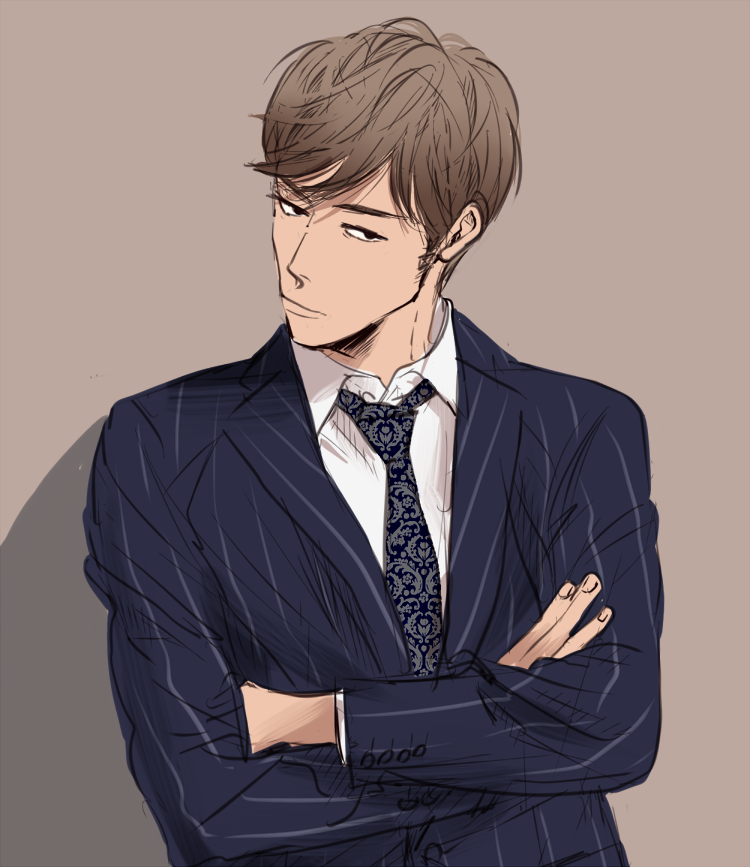 I happened to see a pro-wrestling TV program featuring Tetsuya Naito. He belongs to Shin Nippon Pro Wrestling, but although he's qualified, for some reason he's not very well liked by the audience. Not loved by his own country, he decided to join a Mexico unit and become a "villain without rules". Finally, he got to be himself... His story caught my heart.
-- I hope this means you will start drawing more and more pro wrestlers illustrations! Please tell us your future plans!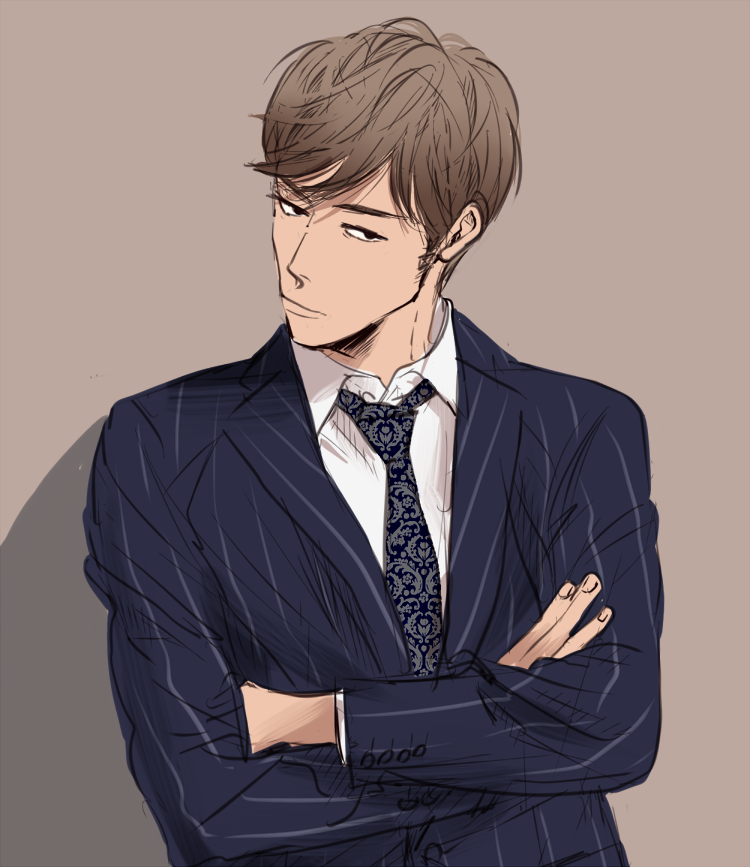 Salaryman illustrations are my life mission, so I think I'll keep drawing them forever. I want to keep capturing the charm of white-collar workers, that usually goes unnoticed. I want to educate people about how attractive salarymen are. Please keep an eye out for them the next time you're sitting next to one on the train!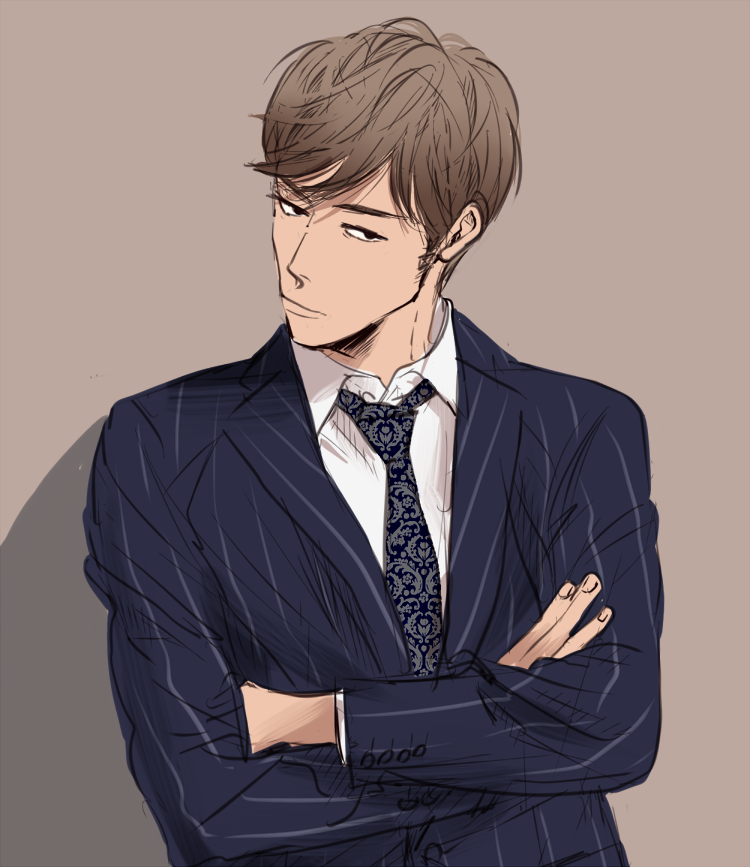 For me, salarymen of the real world are precious treasures. Although the ways to wear a suit are more diversified than ever, I hope the world will never lose the iconic figure of THE salaryman. Expressing their charm is my role.
We fell in love with white-collar workers too!
ma2's love for salarymen was contagious. After her awakening as an elementary school student, she kept observing middle-aged men for the longest time, while deepening her knowledge of them. From now on, she wants to keep enlightening people about the charm of Japanese white-collar workers.
ma2's pixivFANBOX is now open!
ma2 has her own pixivFANBOX! She's publishing the secrets behind their works and illustrations, together with many fan-limited contents. What are you waiting for? Subscribe now!