An interview with Virtual Kitsune Musume YouTuber Ojisan! At pixiv office, with Nyalra!
This is "Nyalra's Fox Ears Model" that Nekomasu built!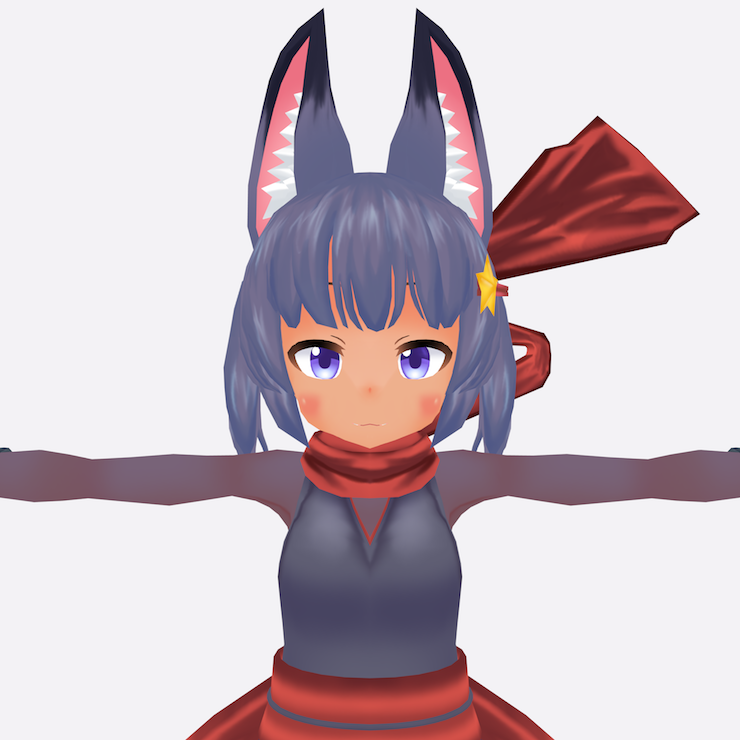 Nyalra:
It's so cute! I can feel your touch.
Nekomasu: I pictured the concept of light and shadow, and since I'm the light I decided to portray you as a ninja of the darkness.
Nyalra: Now that you mention it, I really look like a ninja...!
Nekomasu: The star decorations are definitely a charm point.
Nekomasu: I tried to come up with the typical ninja specs, but I later realized I had no idea about what they are.
Nyalra: Your thinking leaps are wonderful. There usually are katana swords and shuriken, right?
Nekomasu: I can always import katana swords and other weapons from other 3D assets, so there was no point in adding them to the model. For this model, I focused mainly on the details of the costume... I was undecided on the design, but in the end, I realized I was totally ignorant about ninja so I decided to go with stars.
Nyalra: Something tells me you have to re-read Futaro Yamada.
Nekomasu: For the colors, I chose black and white as a base and added a little bit of red. You will also need other colors to make them really stand out, so I used the stars for it. It's the absolute basics, but in art, there are base colors, subordinate colors and accent colors. This is what it looks like when they're distributed proportionally.
Nyalra: Your eye for design is astounding! Finally, we're talking about something remotely related to pixiv. I'm especially happy cause I love ninja, especially Taimanin!
Nekomasu: You're very welcome.
Nyalra: This is truly amazing. But since my model looks quite lonely, let's take a picture of our models together!
Nekomasu: Sure!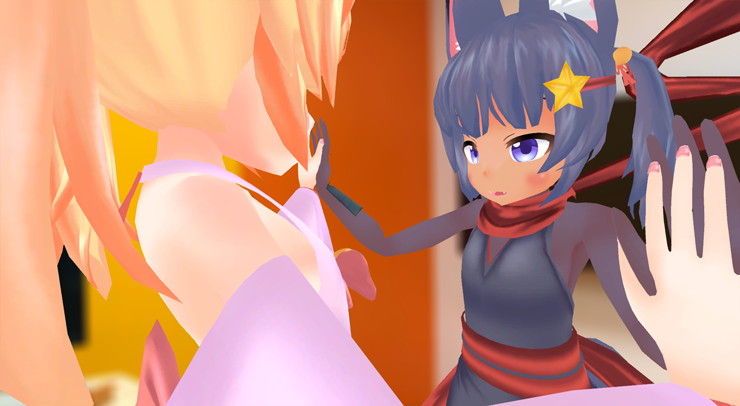 Nekomasu:
Do you wanna have a go at VRChat? I'll show you how it works, so be still...
Nyalra: You're so close! I can feel all your love from here!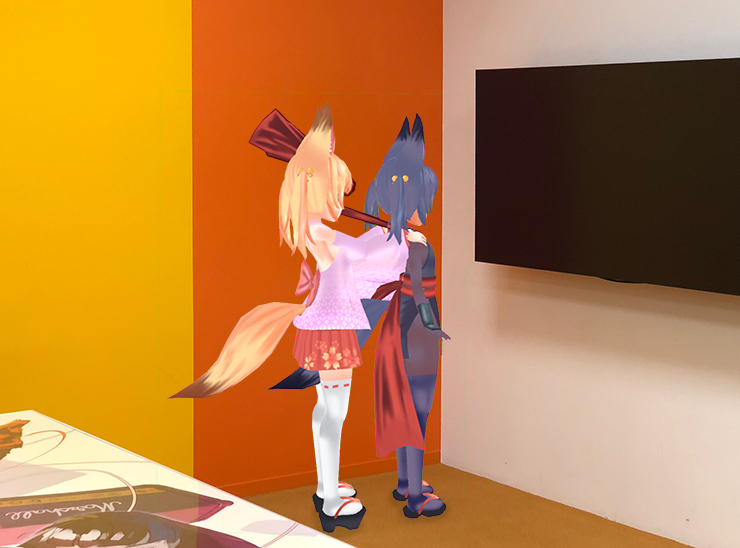 Nekomasu: Because of rights, images inside VRChat cannot be posted in the article.
Nyalra: There's a character from Kamen Rider! No wonder we can't post this in my article... But it's been an exciting experience for me to turn into a beautiful girl and be seen by others like this.
Nekomasu: Your values might change if you stay in this world for over 100 hours.
Nyalra: Surely. In this world, it's not weird at all to hear an old man's voice coming out of a beautiful girl. So that's what people have been doing here! I see...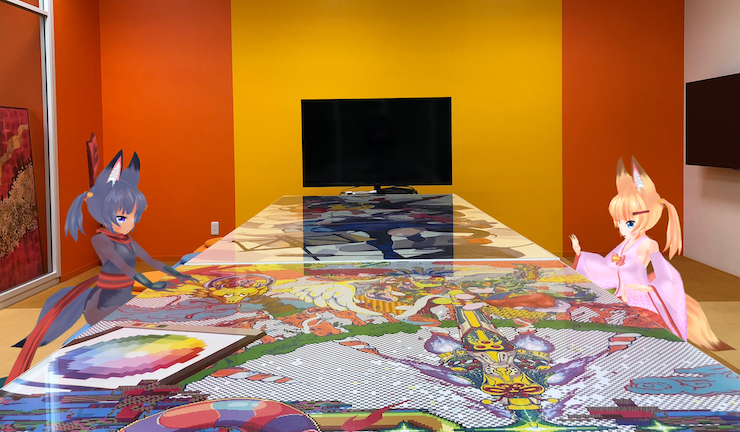 Nyalra: That was an interesting experience...


Nekomasu: I know, right?

Nyalra: VR is a very deep well... What do you think about it?
Nekomasu: I think VR will be the next evolution of TV, in the same way television came from radio, for example. A day will come when VR will not be seen as a geek toy anymore, and when everyone, from high school girls to old men, will play it.
Nyalra: I see.
Nekomasu: I'll tell you more: I think all plain monitors will gradually change to VR monitors. Another important this is the presence of VRChat. Right now it's just a game, but I feel like in the future it will develop into something else.

Nyalra: Like what?


Nekomasu: At the current stage, with platforms like VRChat that provide a space, it's already up to users to create contents that are later shared to social media. For example, certain users developed a wolf-world where they can play with their wolf avatars. A voting system, timers, and an execution board are also already set up. 

Nyalra: Such a world exists...!?

Nekomasu: One day, people will be able to sell goods within VRChat, and it will be just like a second reality... I guess the boundary between reality and virtual reality will fade more and more.

Nyalra: Many VR engineers are already working on that. In other words, that is the ultimate goal of virtual reality.

Nekomasu: I guess a time will come when it will be possible to trace our own thoughts through deep learning and have a second version of ourselves generated on VR. You'll be able to play and talk with your own ego, although the thought itself is a little bit scary.


Nyalra: It's the world of Doraemon.
Nyalra: Our time is almost up. Shall we talk about Virtual YouTubers a little more?
Nekomasu: Sure. I've been doing what I'm doing since the Nico Live era, and there was a person called NoraCat. Well, that same person has now debuted as a Virtual YouTuber! Isn't it amazing?

Nyalra: S-so cute! NoraCat is so cute!


Nekomasu: To speak, she's making full use of speech recognition and VOICEROID.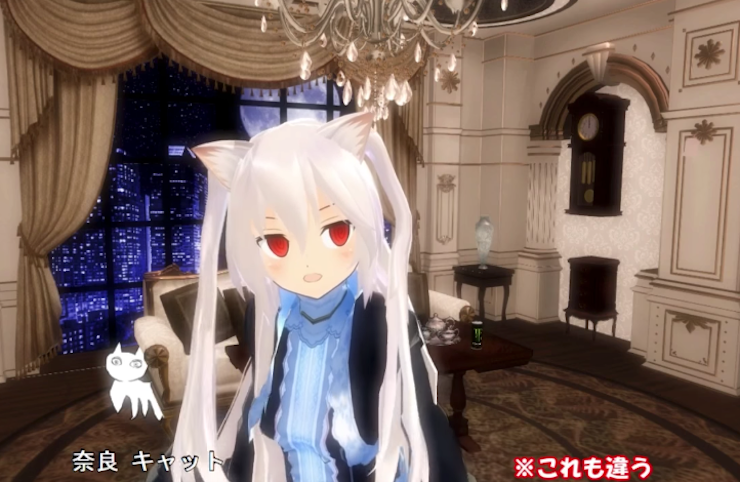 Nyalra:
That's why it happens frequently. That's one of the many cute sides of NoraCat!
(*I ended up being hooked to NoraCat more than I thought I would bit, so let me add something.
NoraCat uses a speech recognition software combined with VOICEROID to produce her own voice, so many times she makes mistakes. As a result, some unexpected words might come up in her videos, which makes them even more interesting and unpredictable.)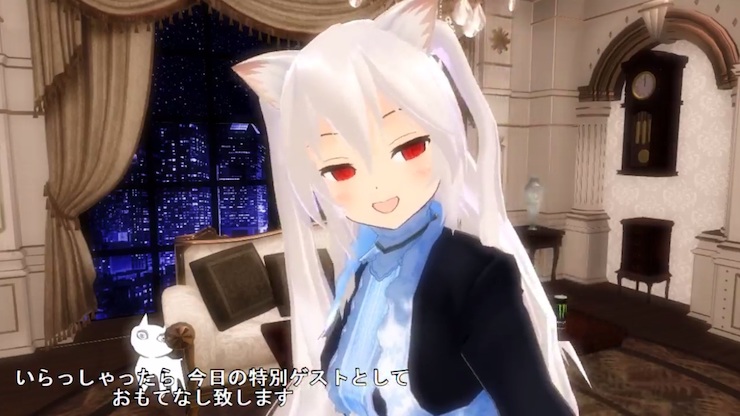 Her highlight-less eyes, the characteristic design, her irresistible awkwardness and her joyous expression when she finally manages to recognize a certain word make this character absolutely charming.



Nekomasu: Since there are so many people that are technically superior to me, I will really have to do my best from now on.
Nyalra: People like you that can talk about the history of virtual idols from the Nico Live era are a very precious resource. And NoraCat is truly amazing! It's some peculiar goodness that cannot be found in a regular company's project.

Nekomasu: I'll do my best.

Nyalra: From the start of your career, you've already frown so much. I know it must be hard mentally, and I really understand that! I wrote my articles about you while praying for your happiness, so I'm really happy that you're finally coming to reach your goals. You be happy too, okay?

Nekomasu: I'm really grateful for your words, Nyalra! I hope we can keep being friends from now on. Thank you so much for today!
Nyalra: Thank you very much. (*After this interview, we had a couple drinks together and we talked much more, but he ended up going home pretty early. Do you wanna know why? Because he had a night shift at the convenience store...)