What is SSSS.GRIDMAN? Why is it a hot topic on pixiv? Check out the drawings!!【Buzzwords】
SSSS.GRIDMAN is an anime adaptation, created by Tsuburaya Productions, based on Gridman the Hyper Agent.

What is SSSS.GRIDMAN?
SSSS.GRIDMAN is an anime adaptation of Gridman the Hyper Agent. The work is created by Tsuburaya Productions, a familiar name for those who love the Ultra Series.




The story revolves around the protagonist Yuta Hibiki who suddenly loses his memories and meets the Hyper Agent Gridman on an old computer. Hibiki later sets out to find out more about his 'mission' and lost memories, but a Kaiju suddenly appears to wreak a havoc and its appearance encourages Hibiki and his friends to form the Gridman Alliance and fight against the threat of the Kaiju.
How did SSSS.GRIDMAN become a smash hit?
The original Gridman the Hyper Agent series is a tokusatsu series created by Tsuburaya Productions. As such, many names and lines in the anime remind people of the original series or the Ultra series. The Ultra series is also a series that is actually airing in the world of the anime. With many depictions of and references to the Ultra series, the anime series becomes a nostalgic entertainment for fans of the Ultra series. Another reason why this anime is gaining popularity probably lies in the fact that it is an anime rendition of the best things in tokusatsu series, such the robots' transformation or combination scenes.
The animation studio TRIGGER, which has worked on Kill la Kill and Darling in the Franxx, is also involved in the production and brings us with not one but two heroines Akane Shinjo and Rikka Takarada. The characterizations of both heroines are so fascinating that people from various backgrounds are becoming their fans.
More and more people on pixiv are getting hooked on this anime!
The anime is a smash hit on pixiv. As of October 22, tags related to SSSS.GRIDMAN dominate the top 3 positions on pixiv's list of Most Searched Keywords among males. The hype is growing and it's unstoppable!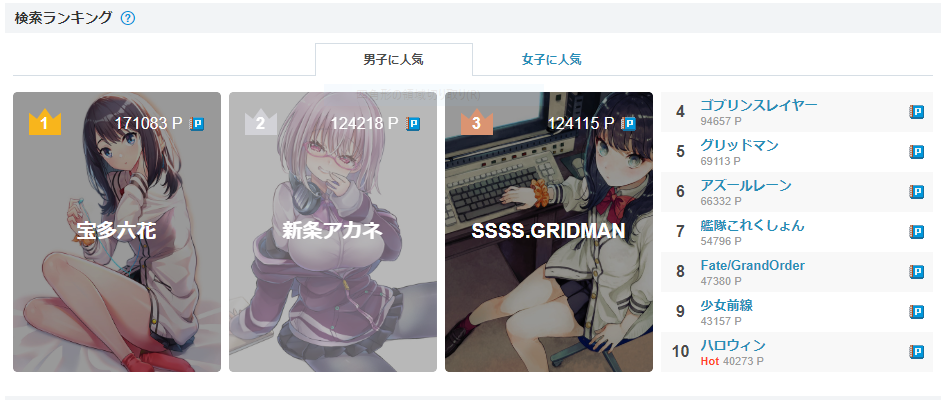 Take a look at these SSSS.GRIDMAN illustrations!!