[Buzzword] Just Who is Tamamo Cross? - She's racing her way across social media platforms!
This horse girl is the talk of the town with her addition as a trainable character in the mobile game Uma Musume Pretty Derby.
Who is Tamamo Cross?
She's a dapple-colored horse girl who speaks in Kansai Dialect.

This fiery lady is quick to get in a fight, but she's also annoyingly helpful. She got into racing to return the favor to all those who helped her in her youth, which was rife with hardship.

She's called "Tama" as a nickname by fellow dapple horse girl, Oguri Cap.




Her inclusion in the game as a trainable character was announced at Paka Live TV Vol. 12 on December 20th, 2021, and she was implemented in the mobile game on December 22nd.
The manga spin-off titled Uma Musume Cinderella Gray, serialized in Weekly Young Jump, follows Oguri Cap as the protagonist. Tamamo Cross is one of Oguri Cap's incredibly fierce opponents in the manga, and she's finally debuted in the game in scenarios with Oguri Cap and Super Creek. Tama's sharp tongue and bright personality quickly won her a great many fans.
When the official Uma Musume Twitter account announced her debut, she rocketed up into trending despite still not having been implemented in the game. Many fans joked that they were saving up for her debut, and タマ貯金 (tamachokin, lit. "Tama savings") was among the buzzwords.
And when she was finally released, she blew up the internet. She ranked first among Creative Ideas popular among male users.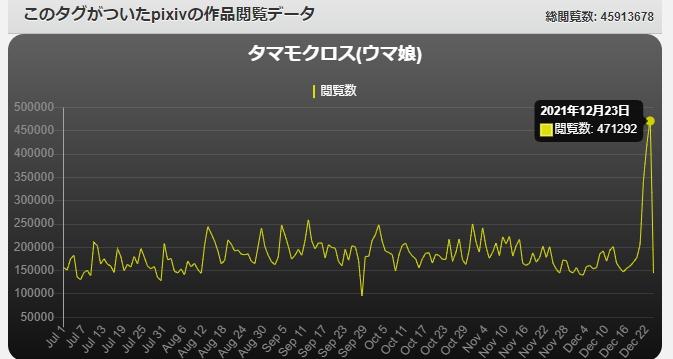 And now a look at the fan art of Tamamo Cross!