Curry Zawa Kaoru's Creative Counseling - "Am I merely projecting my ideals onto my favorite character?" Your stanning is perfectly valid.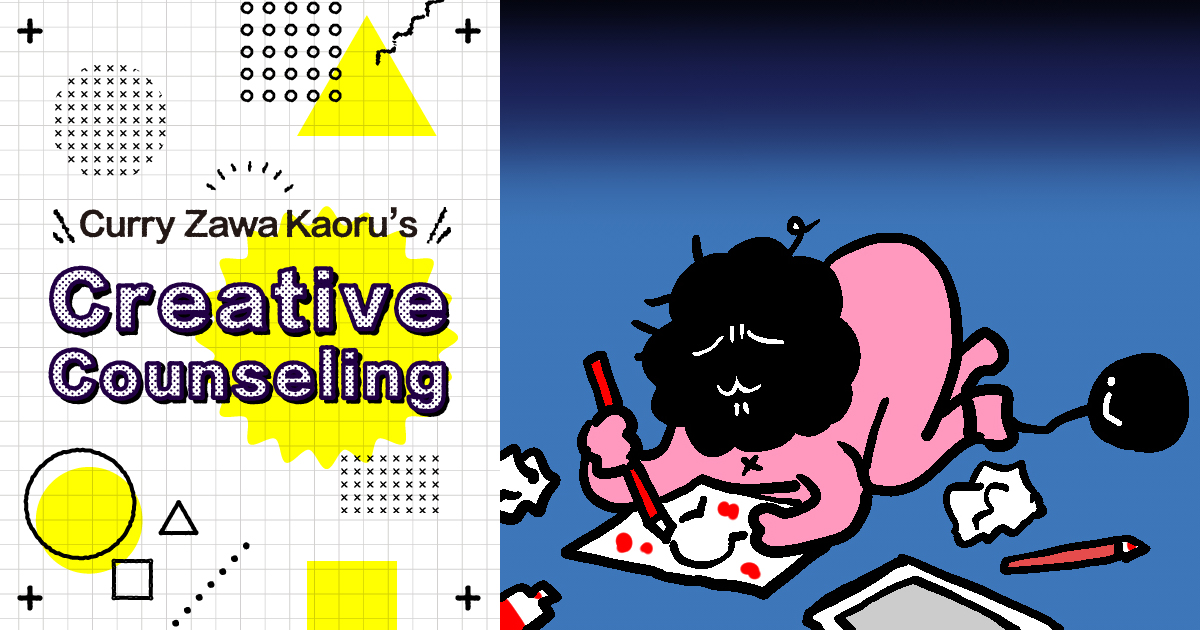 Am I merely projecting my ideals onto my fave?
Hold up, now I really want to know which character from which work we're talking about!
Slide in my DMs later, okay?
Fan work is all about bringing our own ideals and desires for the characters and the story to life.
"Oh, wouldn't it be cool if my favorite character wore these sweet panties, although they're always butt naked in the original work?"
Unless you're a strict copycat who sticks religiously to the original work, most fan artists will venture into the uncharted territory of things that weren't in the original.
In fact, fan work is often inspired by thoughts like, "Hey, the canon skipped my favorite ship's wedding; I'm going to draw it myself!"
It's about spicing up the original work's vibrant material with your own unique sauce. It's like a marriage of the original and your own interpretation, with a dash of extra flavor (likely in the form of a room they can't leave unless they have sex). The end result may deviate from the original, but it's a lovely delicacy that brings joy to the audience. That's the beauty of fan work, my friend.
But sometimes, our dreams and hopes for our favorite characters can become so grandiose that the original source gets overshadowed. It's like having a massive bowl of sauce with only one lonely meatball floating in the center.
And when that happens, doubt starts creeping in. You start to wonder if this is really your favorite character or if you're just using someone from a popular series to show off your best original character idea.
The truth is, when it comes to fan work, there's no such thing as a correct answer. "Am I doing this right?" you may wonder, but the doubt will always linger when you've borrowed someone else's characters and universe. 
Taking this into account, all you can do is believe in yourself and confidently say that, yes, no matter what anyone says, he is indeed your favorite character of all time. Gather your nerve, and serve your best boy in a massive bowl of sauce to your hungry guests. Bon appétit!
There's a line in the ending theme of Manga Nippon Mukashi Banashi that goes like, "The first prize goes to the kid who shows their butt." I guess it all makes sense now. Exposing the soft, vulnerable cheeks of our own interpretation is a very remarkable thing.
It makes no difference if yours is a pretty bubble butt, has a beauty mark, or resembles an Italian beef sandwich with hair sticking out of the crack. Every interpretation has its own charm, which you won't realize until you put it out there. Begin by polishing your interpretation as a fan work as you gather the courage to share it with the world.
But if you find yourself being too afraid or anxious to put your work out there, it might be because your interpretation is still incomplete or you've twisted it so much that you've fallen into the trap of misinterpreting your own interpretation, like a stink bug overdosing on its own scent. If that's the case, you might want to go back to your interpretation and look at it again from scratch, making sure it genuinely satisfies your taste buds.
The above is the solution for those who struggle with interpreting a character who already has an established canon and dedicated fanbase. But it seems like your situation might be a little different.
The freedom of fan work moves me to tears
While it might be a source of concern for you, I'm deeply moved by the scope and freedom of the hobby known as fan work right now. In particular, my latest favorite phenomenon in fan work is this: "Original Character x Original Character."
Perhaps when you decided to stan that character, you were ready to become the first and last person to live on his planet.
That kind of determination is not for the faint of heart. Usually, the prospect of impending loneliness and the realization that their creations may only appeal to themselves is too much for people to bear, leading them to abandon such a lonely exploration into the unknown.
It's truly awe-inspiring that you overcame this fear and decided to cultivate this barren land. When you came across this background character on a planet with no other life forms, you didn't think twice about taking your flag and planting it on him.
It's an odd situation where your best boy is merely a supporting character, and you, the only one determined to love him no matter what, have taken on the role of the protagonist in your efforts to turn him into fertile soil.
Creating countless works in a place where there appear to be few other creators or consumers is more than just the story of a lone pioneer struggling against the odds. It's more like the story of a bountiful deity descending upon a barren planet, generating a wealth of creativity that surpasses the original work by thousands-fold. It's a god-level undertaking so massive in scale that even inhabitants of other planets can't help but be impressed.
When a "deity" (BNF) gains enough followers that insist that theirs is the most accurate interpretation of something or another, it usually sparks a war with opposing forces who disagree with that interpretation. However, in your case, a lack of competing deities allowed you to reach a consensus.
Creating a peaceful haven in the world of fan work, a breeding ground for contention, is truly a remarkable feat.
While anyone can become a deity by choosing an uninhabited planet, I suspect you didn't plan for your favorite character's planet to have no one else on it. This accomplishment is possible because you did not allow yourself to be captivated solely by the main characters and instead found your best boy in a corner of the universe.
Your stanning is perfectly valid
I understand the feeling of being trapped in your own world, wondering if your favorite character even exists outside of your imagination.
It's true, your favorite character has very little official information. If you were to ask the author about the character's first-person pronoun and they responded with "boku-chin," people would start tagging all your works with #WrongFirstPersonPronoun.
However, while the official interpretation may be considered "correct," it's important to acknowledge that there are still many other elements open to interpretation. Since you've spent more time with your favorite character than the author has, there is undoubtedly some truth or validity to your interpretation.
Even if your interpretation turns out to be incorrect, just like there is no wrong way to have feelings for someone you just happen to see every morning on the train, there is no wrong way to stan a character who doesn't even have a voice actor.
Not every love story has to end with the words, "Reader, I married him."
It's perfectly fine to have the kind of love that makes you wonder, "What is that person I never even exchanged a word with for three years doing now?" In the same way, it's fine that your favorite character is one whose first-person pronouns will be a mystery to you for the rest of your life. That is a unique and precious experience in its own way.
Don't forget to DM me!(!!)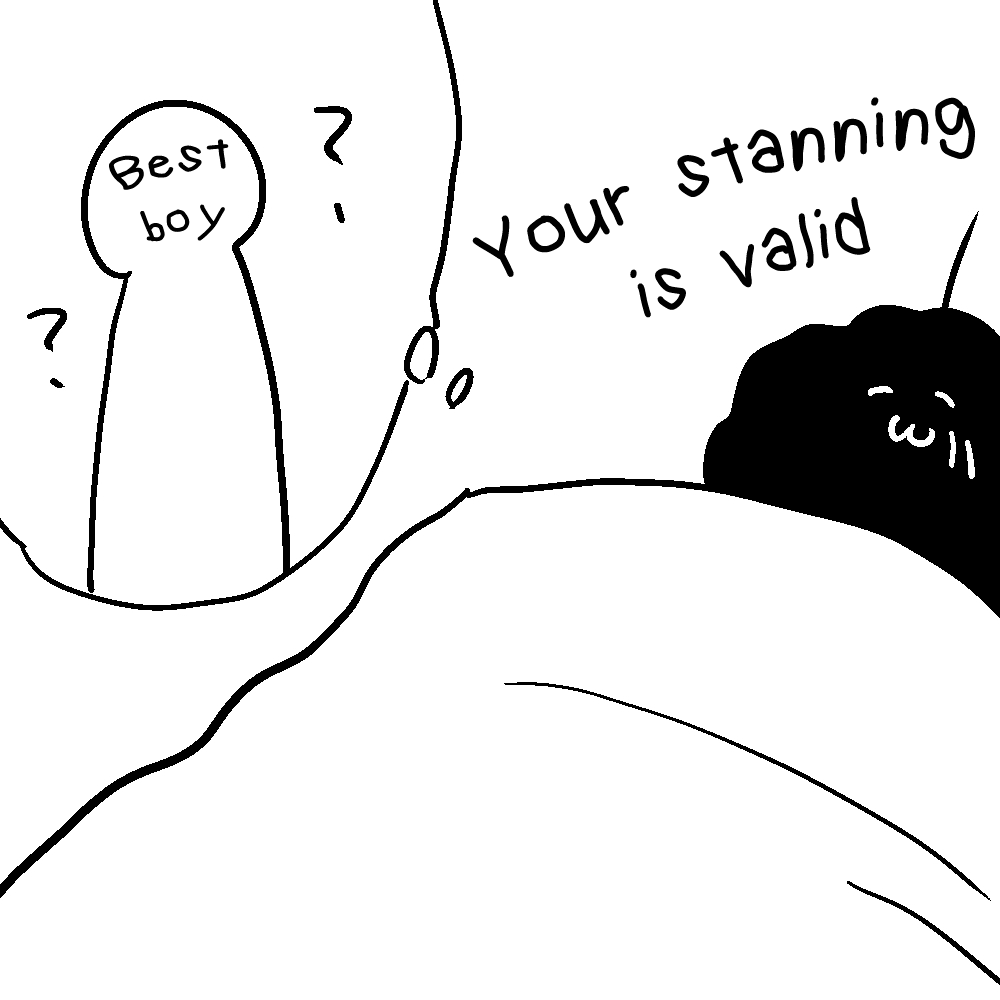 This column was made into a book!
The popular column Curry Zawa Kaoru's Creative Counseling has been made into a book titled Otaku no Tanoshii Seisaku Ron (The Delightful Art of Otaku Creation, Bungeishunju).
In addition to fan-favorite episodes such as "Coping with fanwork taking a little too many liberties", "When you can't get feedback in an underdeveloped genre", "Is 40 too old for doujin events?" and "Understanding the troubles and contradictions of killing off your favorite characters", the book also includes brand new topics and advice!
On sale from June 23rd, 2023!