What are the steps for charming characters and beautiful hues? A making-of and interview with U35!
About Cintiq 27QHD
A sense of stability and ease of use, from the very first moment!
―― You're currently using the Cintiq 13HD liquid crystal pen tablet, right?
I've been practicing on paper for the longest time, so I was sincerely impressed when I noticed how close I could get to that with a LCD tablet. It was just like drawing on paper, so I got used to it pretty fast.
When I went back to my parent's house, I just brought with me my old Intuos 4 (in case I had to do some work). However, I was so used to the Cintiq 13HD that I had some trouble having to use something different. Looking at the PC screen while drawing on the tablet was... I just couldn't get used to it. I couldn't get any work done, so I promised my family I would be back the next day and went back to my place. (lol) I can't go back to a normal tablet anymore, I guess...
―― What was your first impression when you saw Cintiq 27QHD?
It's so big! I was like "Oh look, my whole arm fits on the screen!" (lol) It also gave me a great sense of stability, I wanted to start drawing right away.
My friends who are already using a decent-sized tablet always told me that bigger the better. I tried to use this tablet in a shop several times, but it's totally different when you actually sat down in your room and using it to create an actual illustration compared to trying it out at the shop.
―― What are the differences you found compared to your current tablet?
The step that takes longer is the lineart. I want to draw some clean, neat lines, so I go through a process of trial and error, zoom in to be more precise, zoom out to check the overall balance and so on. Until now I felt I was wasting a lot of time by repeating this zoom-in/zoom-out thing a huge amount of times.
However, thanks to the Cintiq 27QHD large screen, I don't need to zoom in and out that much. I feel like it saved me so much time!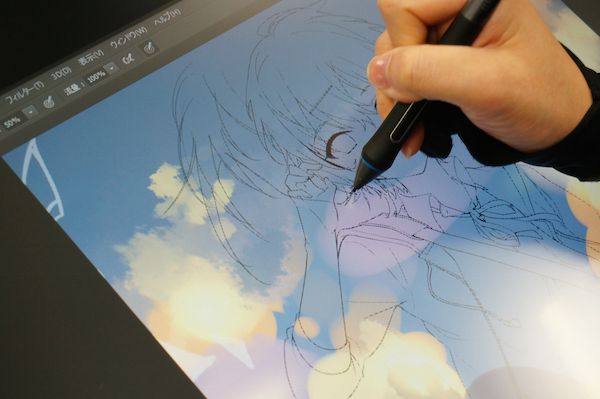 Also, I have this habit of placing my hand and wrist on the screen as I'm drawing, and even if I was worried it would feel uncomfortable or it would hide a huge part of the illustration, it didn't happen. I was surprised! Things like these are really hard to understand if you just try this tablet out at a shop.
―― Which tablet are you using the most, currently? The Cintiq 13HD or the Cintiq 27QHD?
Definitely the Cintiq 27QHD, even if I'm borrowing this from someone. It's way easier to draw on such a big surface.
However, Cintiq 13HD is pretty easy to carry around, and that's a plus. If you have a laptop, it means you can basically work everywhere!
Both tablets are easy to use and respond very well to the pen touch, no complaints of course. Also, the quality of the final illustration is just the same. I guess it just depends on the situation!
―― Honestly speaking, would you like to get your hands on a Cintiq 27QHD?
Absolutely yes!! I'd like to. But for this price, I'll have to work a lot before I can afford it. I'll do my best!
U35's recommended items for liquid crystal tablet users!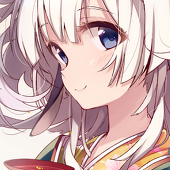 One of my friends posted on Twitter something like "It's on sale!! Yeah!" and I went to check out the website and I ended up buying it. (lol) Until then, I was using a normal glove - I just cut some of the fingers off… However, it was pretty thick and hard to use properly. This one is thin and slides wonderfully - I always use it in combination with my Cintiq! I want to get some more of them, just in case.
We asked U35 about how she became an illustrators and about her work. From working in an office to becoming an artist. What's her story?