Closing in on the manipulator of vivid colors, Fuzichoco's work environment #DESKWATCH - A place where I am surrounded by the things I love.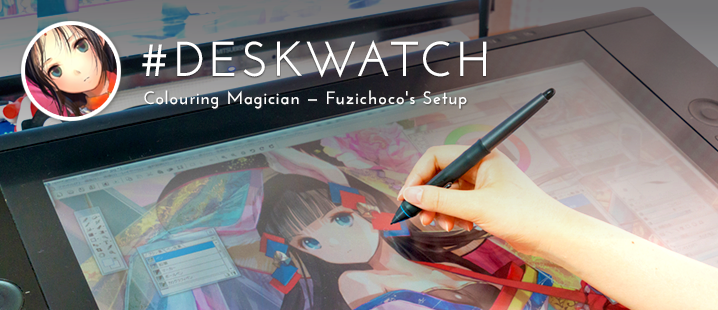 Interview: Momoka Ito (V inc.) Photograph: Takafumi Sekiguchi (V inc.)
#DESKWATCH is a project that shines the spotlight on creators of illustrations, manga, anime, videos, music…. and their work environment. Discover how these gems of creativity are born, and what kind of tools professional creators use through photos and interviews!

In part 3, we have an interview about the work environment of Fuzichoco, the illustrator of light novel Kenja no Deshi wo Nanoru Kenja, as well as the CD jacket cover for Sachiko Kobayashi's Sachihenge. Check out how she is surrounded by the things she loves, and her ultra modern desk!
I don't use shortcut keys at all. My left hand is lazing around when working.
Among the stacks of reference materials, cute figurines and her favorite items displayed as well, making it a uniquely-Fuzichoco work environment!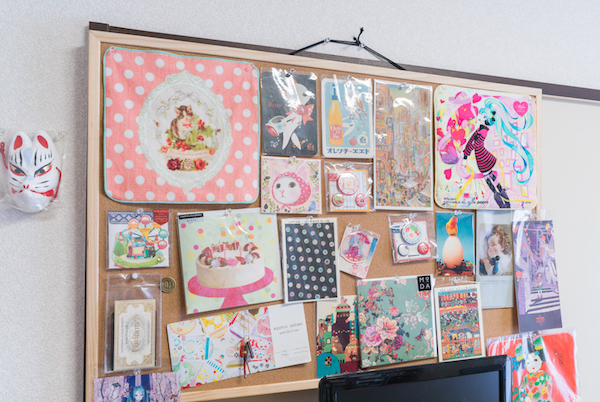 We found out in this interview how she churns out all these detailed illustrations.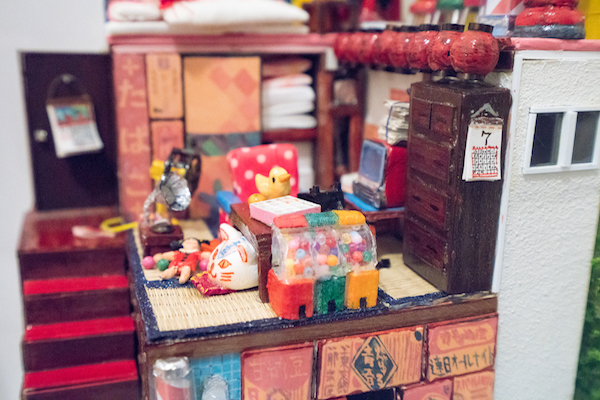 - Tell us more about the specs of the PC you are using, as well as your liquid crystal pen tablet.
My PC is a Windows8 (64bit), and I customized several parts by myself. Corei5-3470 3.2GHz, with 8GB of memory, and my liquid crystal tablet is Cintiq24HD.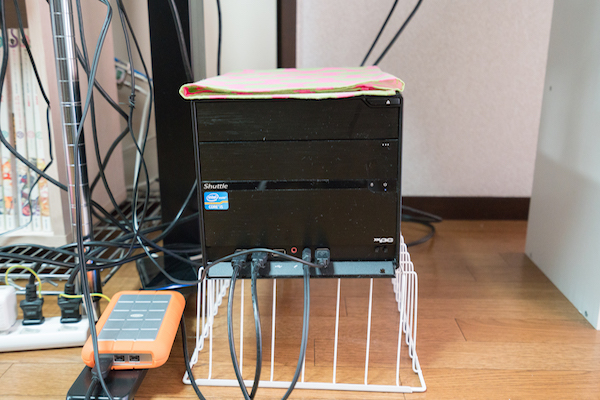 ▲ Her computer is a compact, cube type. It works silently, and also has a back-up HDD beside it.
- What kind of paint tools are you using?
My main tools are openCanvas and CLIP STUDIO PAINT. I use photoshop for the finishing touches as well.

openCanvas offers many options for layers, and it is a gem for the finishing color touches. CLIP STUDIO PAINT has a wide range of default brushes, allowing you to draw with texture.
- CLIP STUDIO PAINT offers many different brushes for people interested as well.
I'm actually not using many of the add-ons, and just mostly the default few. I do think I should try customizing them a little...but I got used at the start (lol).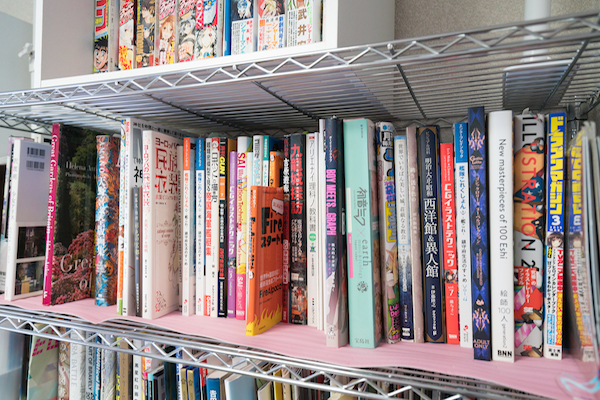 ▲ Many reference materials and manga on her shelves.
- Does your left hand work on any devices or gadgets too?
No, I just use my liquid crystal tablet. I don't even use shortcuts on my keyboard......
I'm not using any shortcuts at all. I switch from tool to tool by pen. That's why my left hand just lazes around when working (lol) There's nothing for me to do with it.
- That's a big surprise. So your left hand is just there to...support it?! Isn't it inconvenient?
Previously, I used to draw on laptops and flat pen tablets, but my table is so small I couldn't fit both the laptop and the flat pen tablet on it. I used to work with the flat pen tablet on top of the laptop, and couldn't use shortcuts then…...But I am thinking of getting used to shortcuts to reduce the time taken!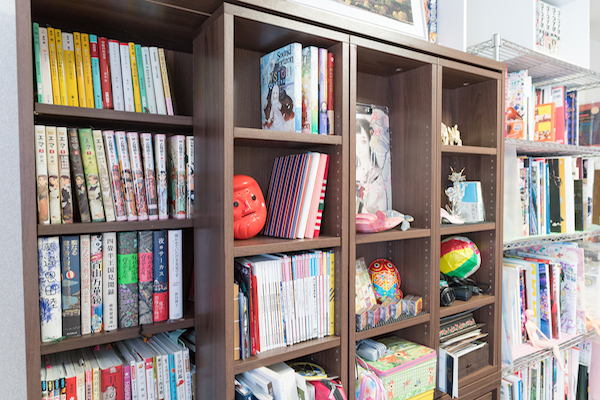 ▲ The small items here and there attracted our attention.
- I see…….Is there something you must have with you when working?
I'm always listening to music. I listen to anime songs, and J-POP, and recently VOCALOID songs as well. I just let the Nico Nico playlist continue, or choose songs that pique my interest from the ranking.
- Are the genre of songs you listen to different according to the illustrations you draw?
Yes. The type of music I listen to changes according to what I want to express in my drawing. I change my style according to the type of work, for example for the translucent feeling, water-color designs, I listen to clearer songs, and heavier, 3D illustrations will suit more intense songs better. And I just match the colors with the songs I'm listening to.
Practice looking for vanishing points to train your perspective skills
- Which of your works on pixiv left you the strongest impression
It also became the cover of an art illustration, and it is the illustration that took the most time in these 2 years. I fit everything I liked into it and drew freely, that's why I like it so much.
- Your work is often tagged as "manipulator of vivid colors", and is also the cover image for its entry on the pixiv encyclopedia. How did you polish your coloring techniques? And are there special things to take note of regarding colors?
I've never thought of my coloring techniques as special, but I received many comments and questions regarding it, and realized that this could be my strong point. So I never really thought too deeply into it.

It is important to decide on the main color first, and take note of perspective. I usually decide on the fine details like the darkness and lightness of the tones as I draw. You will probably find a need to maintain a balance with other colors in your illustrations…….It's like putting a puzzle together.As for the whole image, I don't think I change the colors that much from my initial draft.
*1 Aerial perspective - Creating an illusion of depth by using warmer colors on objects closer, and colder colors to the further.
- Tell us more about your sources of inspiration. Are there references you often look at?
I always bring a digital camera out, and take pictures of interesting buildings and scenery. I stock up on such pictures, and look at them as I plan my illustrations. The pictures I take overseas are especially inspiring. I'm also inspired by photo collections I like.
- What countries have you been to so far?
I have been to China and New Zealand for events. And the Netherlands as well. I got a request from them to exhibit my artwork in an exhibition featuring Japanese anime and manga. I had a live painting session and talk show.
-You've done many live painting sessions before.
Yeah. But I still get nervous. I can focus and draw during events, but sometimes at art schools, I have to explain while I draw, and I'm not that good at drawing as I think and talk (lol).
-Your backgrounds are amazing. Do tell us more about how you learnt your perspective techniques.
I just copied the pictures I liked at first, and looked for the vanishing point (*2) in them.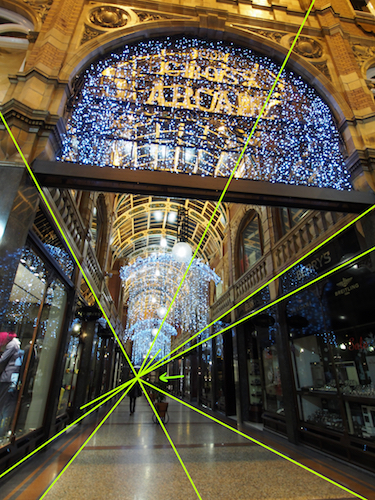 This is one of the pictures I took, and as you can see, the ground and walls follow a straight line and disappear into the distance, so it's like drawing a line across the canvas.

Once you get used to finding the vanishing points, you'll know that drawing this kind of scenery requires this kind of vanishing point.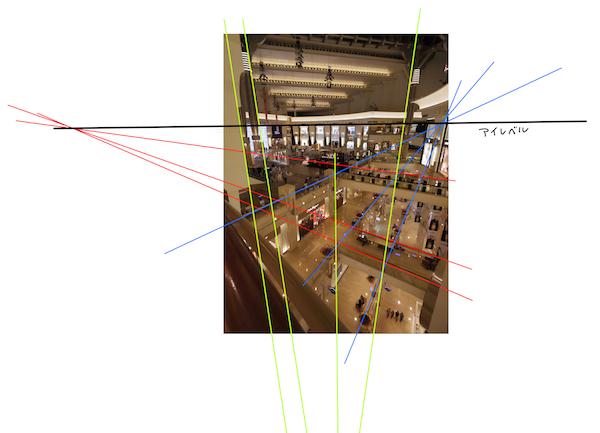 *2 Vanishing point - A phenomena in aerial perspective, where 2 or more lines are not parallel to each other, and their intersecting point
Increasing concentration levels with the new desk!
- Are there bad habits you have when working?
I end up opening Twitter, or pixiv, or checking out the Nico Nico VOCALOID rankings, or simply just surf the net when I lose my concentration. That takes away a surprising amount of my time…….
- Are you the kind that can concentrate almost immediately?
I don't have good concentration. I lose focus very easily (lol). But music helps me get into the world of my art, and listening to music is one way for me to keep my concentration up. About time periods…...I work best at the start of the evening till about when the date changes. But this differs according to the type of work I'm doing.

Coloring is the most fun, and I can keep on concentrating. The finishing touches require a lot of work as well, and I have no choice but to concentrate (lol).
- Are there things you take note of when taking a break?
The liquid crystal tablet tires my eyes out, so I try to drop eye drops consistently. They still tire out easily, so I use the
heat eye masks
to relax them.
Sitting down continuously tires me out too, so I use this standing desk, Swift by Okamura Productions. I try to stand up and work once in a while.
- Wow this desk is really cool!
It seems that it's rather popular overseas now! I get sleepy when I sit down, so it helps me stay awake. Working while standing forces me to stay awake after all (lol).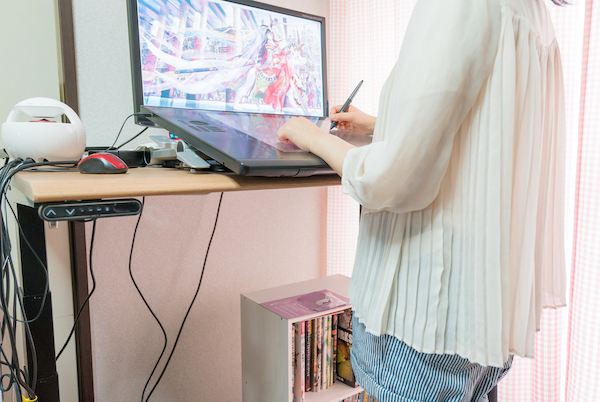 ▲ An electric desk where you can adjust the height of the work surface. Easy to move even with the liquid crystal tablet on it.
- Is there something about your current work environment you want to change?
It's about time I change my chair. The chair I'm using now costs about 3000 yen. I should have bought a good chair before I got Swift (lol).
- What do you think is the most important thing when designing your work environment?
I'd say the liquid crystal tablet. I used to draw analog, and got used to using a flat pen tablet. But the liquid crystal tablet feels close to drawing on paper, and is very important.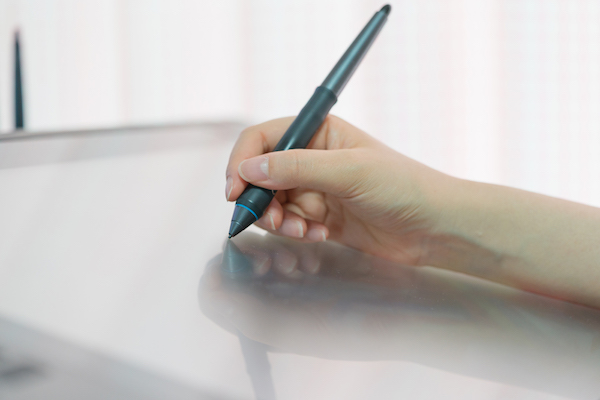 ▲ The benefit of the liquid crystal tablet is that you can draw while looking at the tip of the pen. Extremely recommended to people used to drawing analog!
- Tell us about your ideal work environment.
Firstly would be a good chair I suppose. And maybe indirect lighting. Ceiling lights shine light onto the tablet surface. Having lights from a lower position may make things better.

When looking at photos of the work environment of other illustrators, I find that many of them have indirect lighting, which also helps reflection on their screens, apart from the interior designing aspect.
- I see…! Well then, lastly, tell us more about your current projects!
I'm working on the re-publications of
Gokusai Shoujo Sekai
right now. They sold out last year May, so it's about time. Do grab your copy!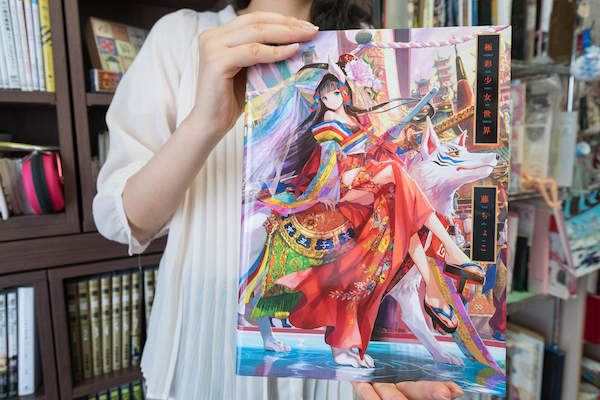 ▲ Collection of Fuzichoco's artwork, published by BNN Shinsha. It went out of stock, but is finally being republished!
Following the work environment of creators
Fuzichoco's work environment is
surrounded with things she likes, and has a standing desk like an IT company's office would have, and is as a result highly practical.

Professional illustrators are human after all, and they get sleepy, or lose concentration while working. However, it is important to overcome such problems. We can see each creator's personality from what they do in such situations.

These work environments are not done up in one day. You can see the efforts made by creators time after time. I'm sure you can trace back to their roots by investigating their work environments.

This serialization watches the inspiring desks of creators, and observes as they strive to deliver the best quality work. Well then, till next time!