The Complex World of Rakugo and its Mannerisms? The Initiation into Rakugo that will Make You Want to Draw!
He loved thinking up stories since he was little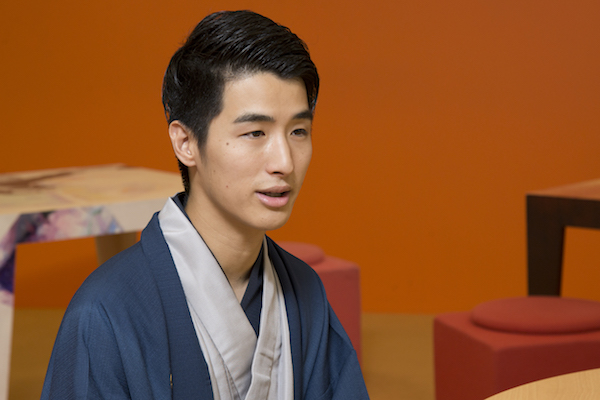 In addition, Keiki agreed to an interview, in which we asked him about how he started in rakugo, as well as advice for first-time rakugo theater-goers!
──You said that you started immediately after graduating high school. What made you want to become a rakugo artist?
I've always loved comedy to begin with. In particular, "Bakushou On-Air Battle"-- I recorded it every week and watched it. There was also "Shouten," the Drifters, Chaplin, Mr. Bean... I watched a lot of different ones.
──And from among those, what made you want to go into rakugo?
Our family ran a business, so my grandparents took care of me. And every Sunday, I'd come home after playing in the neighborhood, and "Shouten" would always be on.
On it, Kikuou Hayashiya (who would later be my master) always had the funniest bits, and they were easy to understand for a kid, too. I thought, "this man is funny." I think that's when I started wanting to become a rakugo artist. If I recall, that was back in grade 3.
──And you've always wanted to be a rakugo artist since then?
I would say so. But the truth is, there was also a time I wanted to be a mangaka. I still have a few manga that I drew somewhere back home. The thing was, I liked coming up with stories more than I did drawing. And then I also wanted to be a movie director.
──Really! You're coming up with shinsaku (modern style) rakugo creations now, but from what you're saying, you've always been creative from a young age?
That's a nuanced way of putting it, but it's true. Since I've always loved thinking up stories way back then.
For a hundred rakugo artists, there's a hundred different styles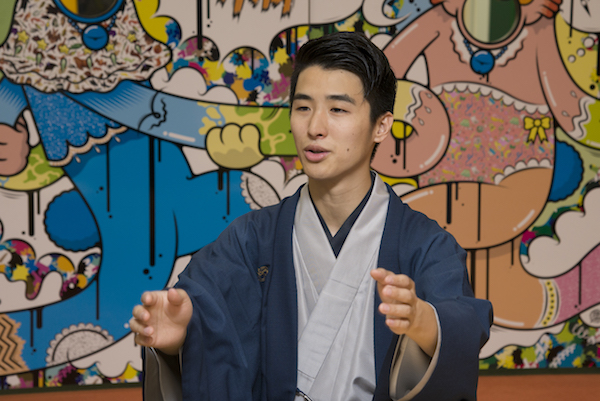 ──When you started training, you must have had to begin with storytelling.
In koten rakugo (traditional style), I now have 30 signature bits, but only 2 of them were ones my master taught me. The rest I've learned from other trainees and my seniors in the school. You can only learn so much from your master without it becoming a copy of him, and everyone has their own different bits.
──What kind of training do you go through?
You perform, one-on-one, and it's recorded, and you study it. You take turns doing this. Then when you graduate from that, next, you perform for guests. When you're in training, you attend shows every day, but I also make a list of what other people do that make me think "I wanna learn that too."
──So people really do have different performing styles?
For a hundred rakugo artists, there's a hundred different styles. There is a format to some extent, but in the end, it is all about originality.

I personally love movies, so I like to take parts of characters in movies, and use it in rakugo to try and accentuate my own characters.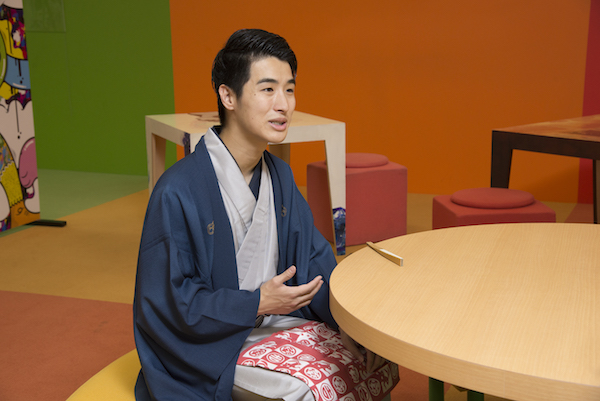 ──Is there a point where you can say "I'm a professional rakugo artist now"?
Unlike school, there are no things like required subjects. For example, if I have to mime eating soba in my stories, I practice that. Then I hope my mannerisms go over well with the viewers.
──There are a lot of different characters to play in rakugo; how do you differentiate them?
With different roles, you change the direction you're looking. We call this technique "kamishimo wo kiru." Usually, the more important person is on the left, while the lesser is on the right. Depending on the artist, they might really emphasize this by turning to each side every time, but I like for guests to see all the expressions, so I do this in moderation.
It doesn't matter what the reasons are, just come see a show!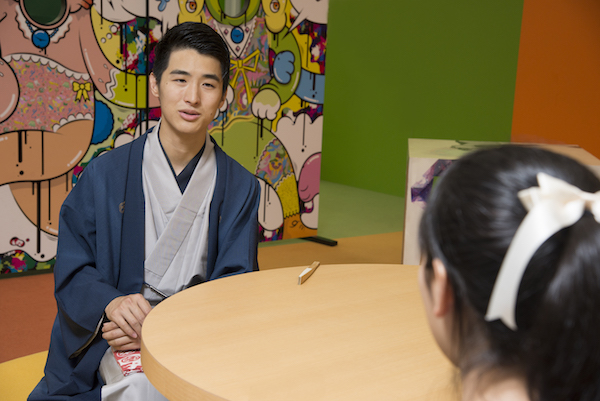 ──When you're watching rakugo for the first time, is there anything you should know?
There are shows put on for primary and middle schoolers, but there's usually something of an introductory lesson on rakugo done for them before they actually see the show. There isn't anything like that for regular shows.
For more difficult stories, it's easy to get lost in what's happening. Still, considering the stories are from the Edo and Meiji periods, there are many parts that are relatable to us in the present day. Plus, there are many guests who even take notes. It might not be bad to jot down something you don't understand and find out about it afterward.
──I see, so there's no pressure?
We can't guarantee every joke we tell will land, so it's best if you simply sit back and enjoy, and laugh at the parts where you get it or you can relate. Personally, I perform especially with people in mind who don't normally watch or listen to rakugo, hoping they'll take an interest in it.
In fact, there are about 800 rakugo events going on in the city every month.
In salons, bars, restaurants with staging areas, et cetera. There's also YouTube, where I have a series too.
──So rakugo isn't just for the halls and theaters.
It would be great if you would start out by attending your local shows where rookies might be performing, then work your way up to the established theaters.
──Is the reason you create your own shinsaku rakugo because you want more people to get into rakugo?
I suppose so. Even though I like movies, I'm also interested in the occult and urban legends. I think a lot of people are interested in things that are "spooky" like that. Then there is what's like in opera, where themes of going off to war are remade into more modern stories of business trips. I think rakugo also needs those kinds of shifts.
──Finally, if you could give us a parting message for our readers who want to try hearing rakugo.
Don't think too hard about it, and please come see a show just on a whim.
It doesn't really matter how you get into it-- you can even pick a rakugo artist you think is your type. Just come and have a laugh.
Rather than seeing rakugo, you're there for the atmosphere of the venue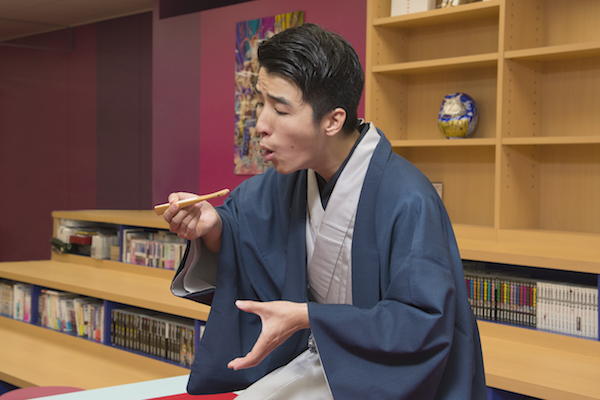 Keiki is still in his twenties. His hope is for more people in his age and generation to grow to love rakugo as much as he does.
Plus, today, he's graciously agreed to perform "Akubi Shinan" and "Toki Soba" for us! Watch show in our very own improvised pixiv rakugo hall!
In truth, as we listen to Keiki's story, we wonder if rakugo isn't a performance more than a stage created by both storyteller and listener. The rakugo artist's perform their art, and the guests "respond" through their laughter. The "atmosphere" born from this relationship creates a deeper enjoyment of the theater, both entertaining as well as cultivating sophistication.
Most likely, rakugo is all about that atmosphere. What's important is to simply make your way there and take in the show. Like Keiki said, it would be best if you just jumped in on whim.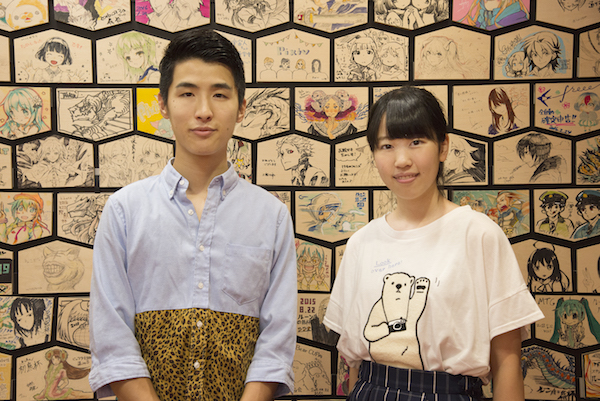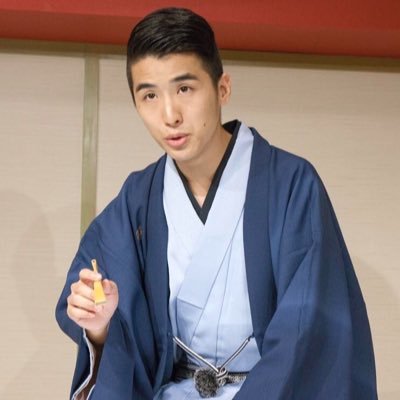 Keiki Hayashiya

Became a trainee of Kikuou Hayashiya in February of 2010; in March, renamed "Keiki." In August, he joined the show as an opening act. Advanced two ranks in May 2015. In addition to halls, he performs at schools, nursing homes, cafes, bars, salons, apparel shops and other places. Performs not only traditional koten rakugo, but a range of styles including shinsaku, kaisaku (adaptation), kaidan (ghost stories), ukulele-accompanied comic routines, impressions, and reporter.
Sawa Shiramori

Tsuku Doll! Official Project Illustrator. Born April 1999. Second-year in high school. Debuted in May 2015, released her first tankoubon "Pixi-bu." Working on creations every day!

<!--[endif]-->[Latest Information]

Shiramori Sawa to Kai Marino no Inokori Sketch Housoubu Tsuku Doll! Illustrator team Sawa Shiramori and Marino Kai begin a live radio show! The serious yet shy Shiramori and the laid-back Kai have a nonchalant "girls talk" while working on drawings.