Learning to Draw Manga from Reading a Manga "Hetappi Manga Kenkyuujo R" -Learning from the Books of Legends
1. Read it as an instruction guide for manga
"Hetappi Manga Kenkyuujo R" is foremost and book for aspiring manga artists, so reading it as a guide would be the default. It's written in manga form, so difficult techniques and tricks are explained in an easy-to-learn format.

For example, in the section about "drawing pictures with impact," he explains about the method of "draw big what you want to be seen."

According to Murata, his plan is simply to draw what he wants seen first, then fills other details afterward.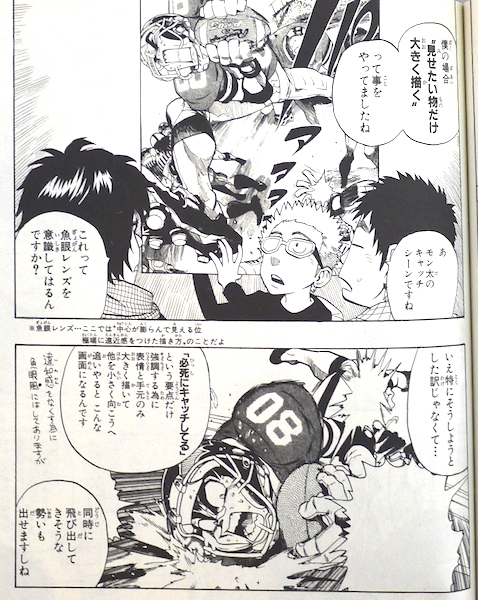 Yuusuke Murata, "Hetappi Manga Kenkyuujo R" (Shueisha, 2011) p. 77
The resulting picture will have the same impact as if filmed using a camera with a fisheye lens. It also sends a clear message from the author to the reader about what s/he wanted them to see.
As well, there are some helpful pointers when it comes to drawing practice.

One of them is on drawing characters' faces. Here, we'll talk about practicing by drawing people passing by on the street.

Since you'll be drawing passers-by, there isn't much time to catch every detail about the subject. Because of that, you need to take a snapshot of their features in your memory.

What Murata recommends is a method he calls "Maru-e" (The katakana "エ e" within a "maru ○ [circle]").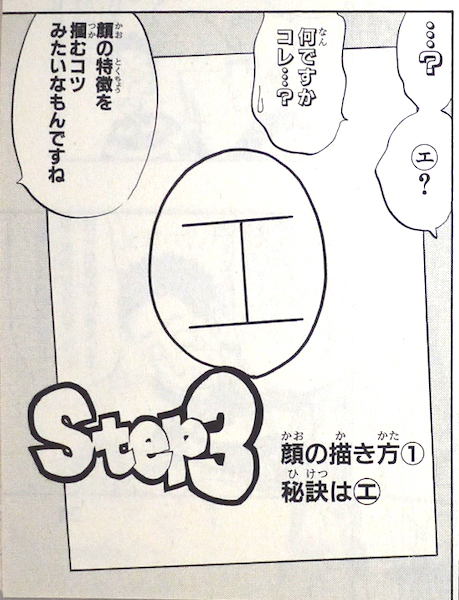 Yuusuke Murata, "Hetappi Manga Kenkyuujo R" (Shueisha, 2011) p. 23
He uses this simple model to encapsulate the features that would fill the face: the contours, eyes, nose, mouth shape and size, as well as the balance between them all.

He states this is good training because by using this method to quickly grasp the features of people's faces, when it comes time to create original characters, it will help you create memorable faces.

It is a common struggle for artists to come up with similar looking faces when drawing characters, yet nonetheless, this must be overcome in order to become a manga artist. When it happens to you, "maru-e" training just might be worth a shot.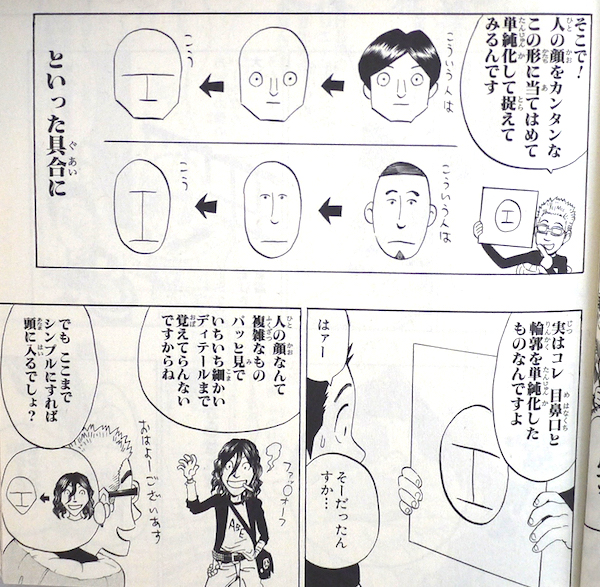 Yuusuke Murata, "Hetappi Manga Kenkyuujo R" (Shueisha, 2011) p. 25
In addition, the entire book is filled with drawing techniques, tricks for deformed-design characters, body-drawing practice methods, and rules for creating appealing characters--all based on Murata's own experience.

It wouldn't be a stretch to call Murata a master of drawing even among mangaka, and so neither would it be a stretch to call this book a must-read if you are an aspiring manga artist.