Fly experienced "The Life of Drawing Outside" and here are her recommendations! - LCD Tablet and Computer in One Body.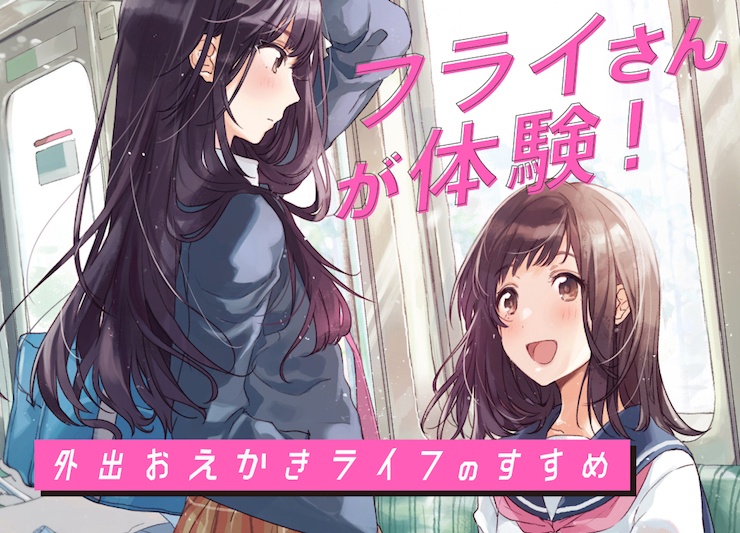 Interview・Photograph / Kazuki Miura
Editing / Hitomi Sakuma
Drawing illustrations at home is all fine and dandy, but sometimes it's probably a good idea to draw in a different place...! This time, the popular illustrator "Fly" (フライ) experienced "the life of drawing outside" (外出おえかきライフ).
Fly is known for her active participation in various genres, including video game and literature, as well as her extensive painting styles; ranging from illustrations with transparent-like color scheme that depict mundane scenes to cute and lively characters.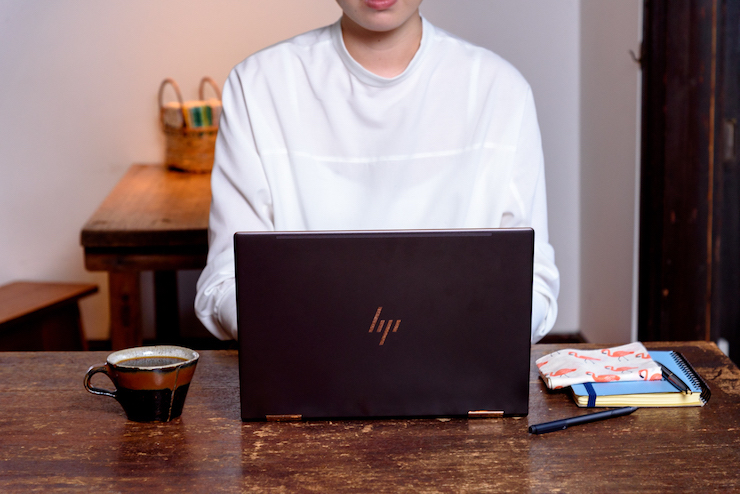 Fly usually draws at home on a computer or with an LCD tablet, but when she is in the mood for a change of pace, the illustrator brings her tablet and touch pen to work at a cafe and the likes.
And so, we asked Fly to draw some illustrations outside using "HP Spectre x360" notebook, which can be purchased from the official website of HP Japan, and Active Pen 2. Fly does not have her own notebook, so we asked her about her first impression of the HP notebook. We also didn't waste time asking Fly for tips of drawing illustrations outside!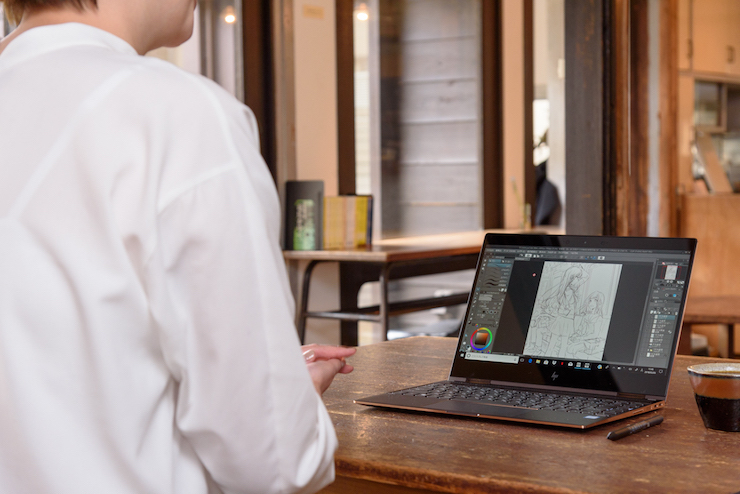 Going outside with a tablet in one hand and trying to focus
── Do you usually go outside to draw?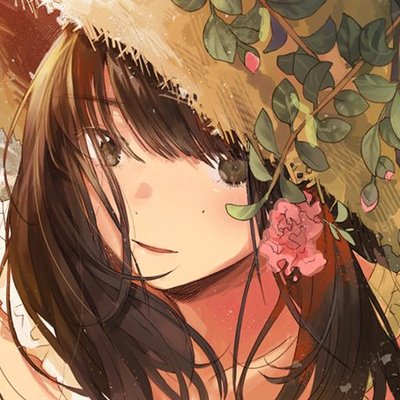 I basically do everything, from rough sketches to the final touches, at home. But there are days when I feel like I want to take things slower or like I'm losing my concentration, so I would pick up my tablet, go out, and work outdoors. Staying at home makes me want to watch movies or play video games instead, so when I really want to focus on drawing I go to some family restaurant or cafe.
── I see. Please tell us something about the tools you normally use!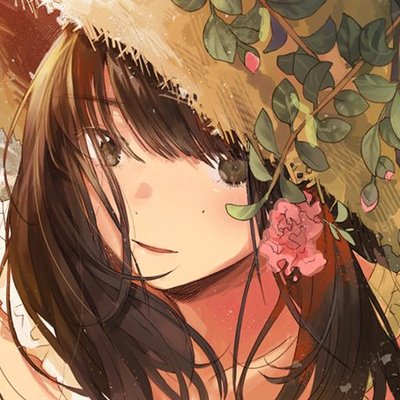 When I'm at home I use a computer and a 27-inch LCD tablet. The software I use is "CLIP STUDIO PAINT PRO" and "Adobe Photoshop CC". When I work outdoors, I use a combination of iPad Pro and Apple pencil.
── What specs do you look for the most when choosing computers and tools for drawing?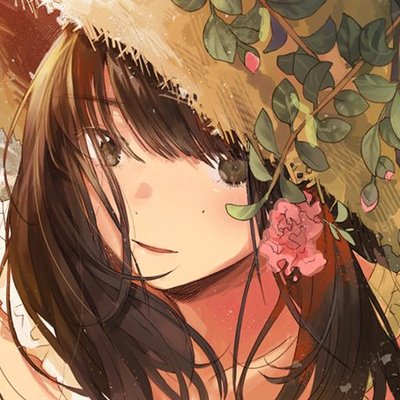 I personally am not that knowledgeable about appliances, so I don't really focus on specific aspects. But I do think it's important to choose tools that will help you feel the least amount of stress when working. That's why I choose stuff with good features that are still within my budget.
Among them, I usually focus on the size of the screen and the resolution. The larger the screen, the more information it can fit in on a single screen and I find it easier to shift my gaze across the screen compared to dual display (2 screens). And the bigger the resolution is, I can just zoom in on the illustration and draw the tiniest detail. That makes it easier to increase the quality of the illustration.
It's thin, light, and easy to carry. It also comes in a stylish design.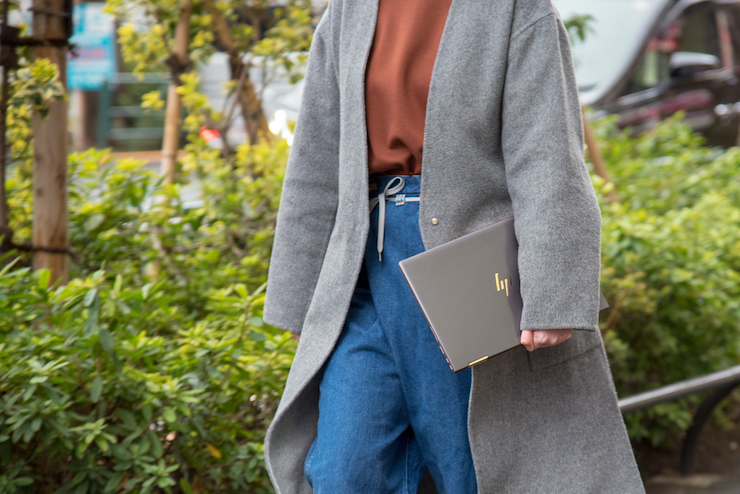 ── What were your first impressions after using "HP Spectre x360"?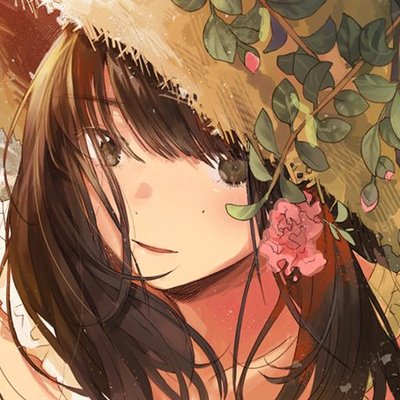 It has a really nice design. It's also very thin and light, so I find it really easy to carry around.
── This time, we asked you to use the notebook in Ash Black.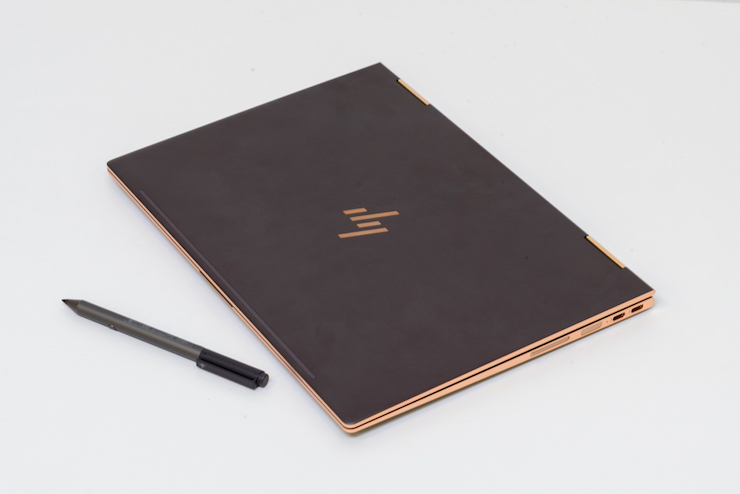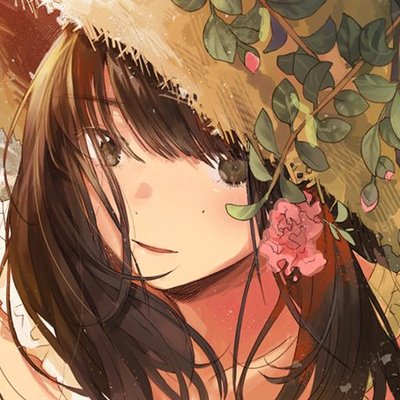 The combination of black and gold makes this notebook look really classy and I personally like it. If I were to purchase this notebook myself, I would probably go with this color. It also has a matte finish, so I don't have to worry about having fingerprints all over it.
── A stylish design can pump our spirits, making us look forward to using the notebook outdoors!
HP Spectre x360 has a 13.3-inch screen and although it has an IPS touch display with full HD* resolution, it's thin and lightweight. Its thickness is only 13.6mm and its weight is only 1.29kg. The body is made of aluminum and thanks to CNC precision machining, it is extremely solid and tough. This is a notebook that not only comes in a refined matte design, but also sturdy.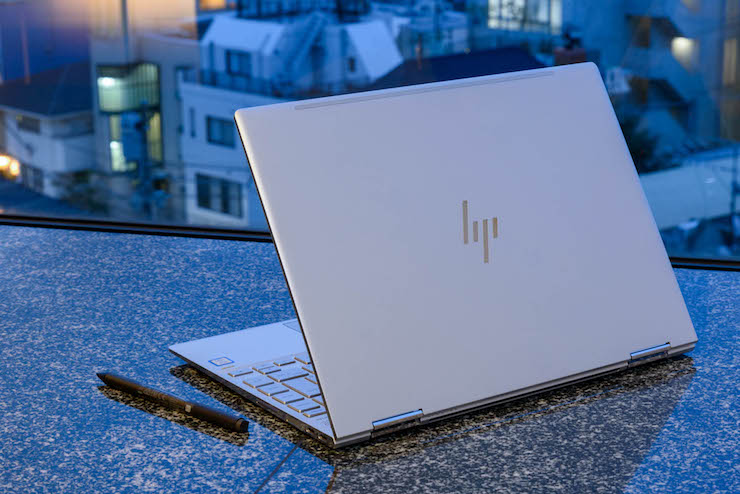 If you rotate the screen, you can use the notebook as a tablet.
── We know that you typically draw with a tablet, so how did you feel when you drew using HP Spectre x360?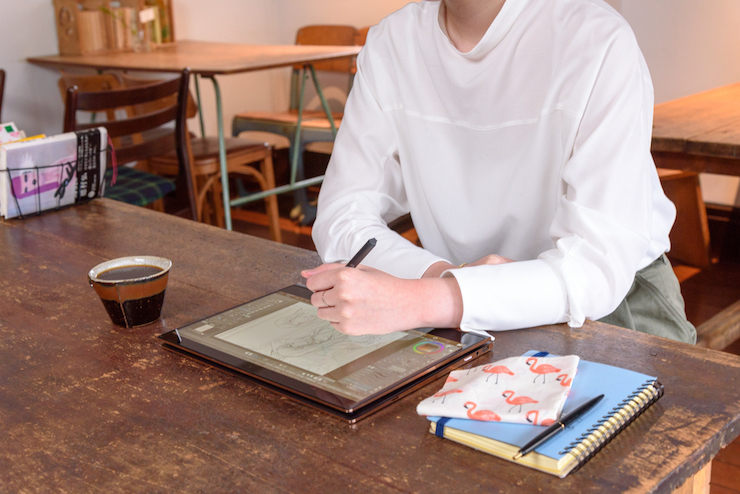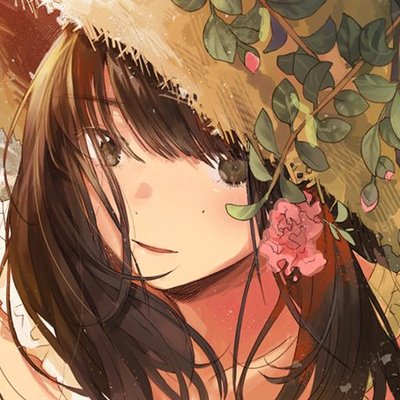 Rotating the screen turns this notebook into a tablet, so I think it is the perfect tool for drawing. Regular notebooks, although they may have a touchscreen, are not as easy to use for drawing.
── Do you feel that these unfamiliar features affect your illustrations?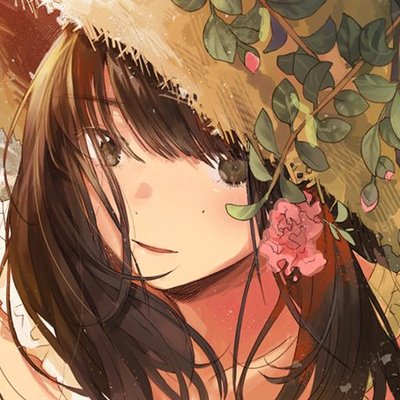 I do. Mostly, I draw my characters from the chest up. But this time, since I was able to draw outdoors and meticulously using HP Spectre x360, I actually decided to draw some background as well. Overall, I think I did a thorough job this time.
The display resolution is 1920×1080 pixels, capable of playing videos in full HD*. The field of vision is spacious and it displays colors vividly. The screen can rotate through 360 degrees, so depending on the situation, user can utilize the notebook's helpful feature which allows it to be utilized in 4 modes: notebook, tablet, tent, and stand. Of course, when you want to draw illustrations, we recommend you to switch to Tablet Mode!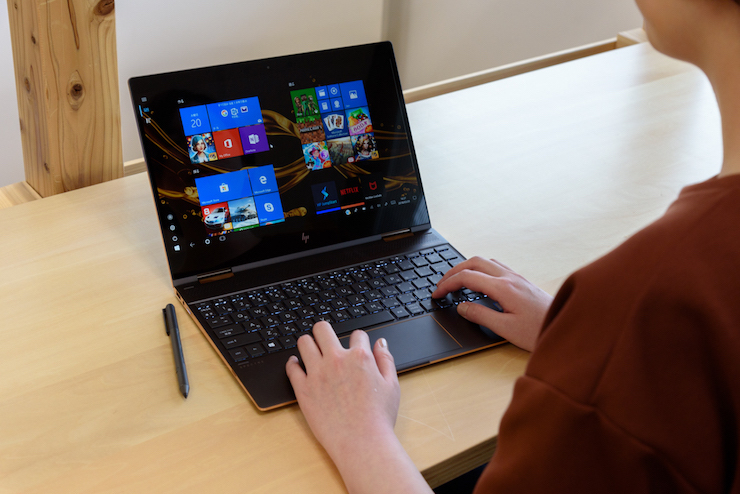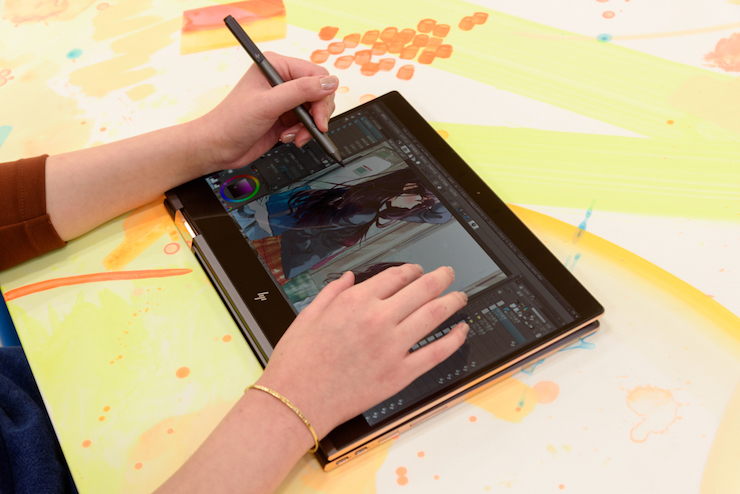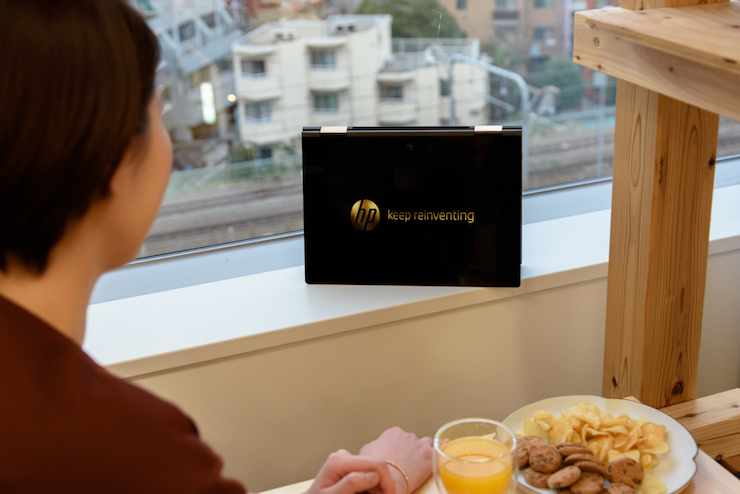 ── We are aware that the ability of a touch pen is essential for illustrators. The Active Pen 2 that you used today is equipped with 1,024 levels of pressure sensitivity. What were your thoughts when you used it?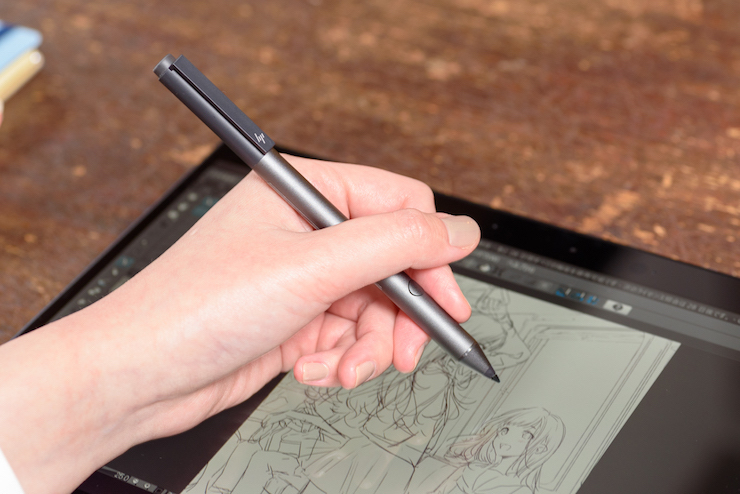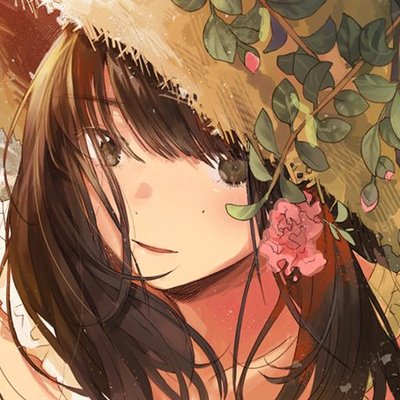 I'm the type who doesn't put a lot of strength to make a brushstroke, so I usually set my pen to be able to draw even when I apply light pressure. And today, I used the Active Pen 2 that I borrowed from you with the same mindset.
This screen is smaller compared to the tablet that I use at home, so I was a bit worried; what if I couldn't draw well or what if the pen wouldn't respond, but when I did give it a go, the pen nailed every point that I aimed at and I'm very satisfied with how it feels in my hand as I draw.
── I see! Do you have any techniques to make it easier to use the "Tablet Mode"?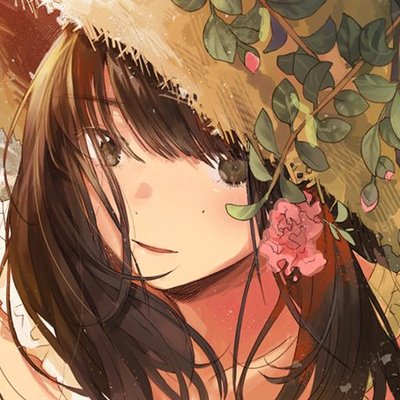 The more receptive the touch screen is, the more likely it is for your hand to accidentally touch the screen and activate some random feature. Besides, when you spend a long time drawing, sometimes you'll feel your hands getting sweaty
I've heard that some illustrators wear gloves or put a paper or a handkerchief in between their hand and the screen in order to solve these issues. Perhaps if you give these strategies a try, they may work for you too.
Use "Privacy Mode" and "Save Battery" features when you work outdoors.
── Sometimes you're worried that other people might catch a glance of your screen when you're working outdoors. The HP Spectre x360 is equipped with Privacy Mode which you can activate by pushing the F1 button to cloud the screen and make it harder for other people to see*.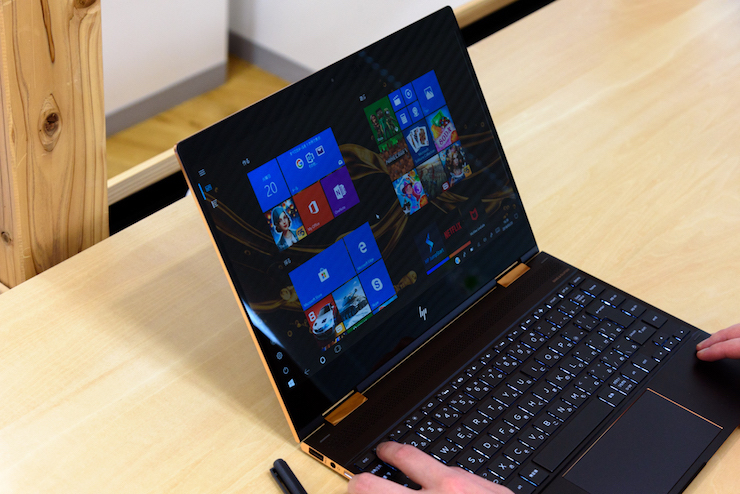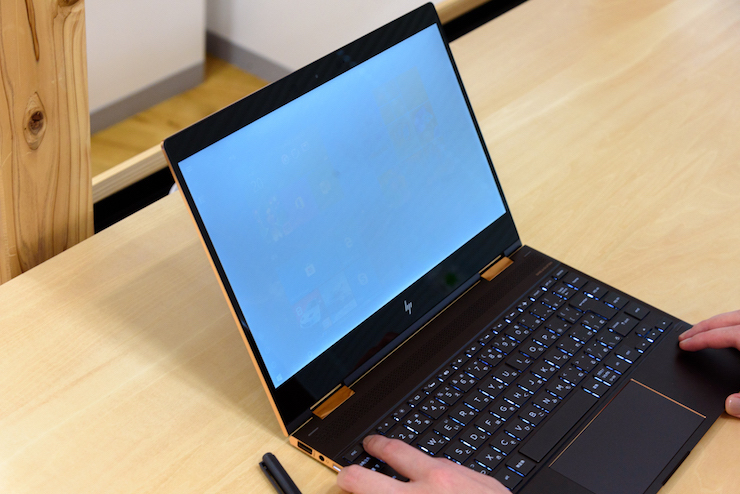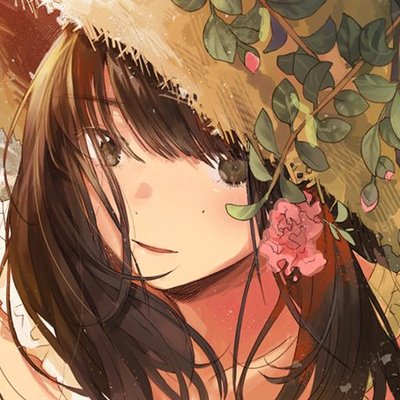 This is a very considerate feature...! I myself am the most concerned with the idea of having strangers peeking at my screen when I'm drawing, so I usually choose hours when it's not crowded or a tiny coffee shop for a location. But with this Privacy Mode, I think I don't need to be so bothered anymore.
── Another issue that people who work outdoors with notebooks face is battery life.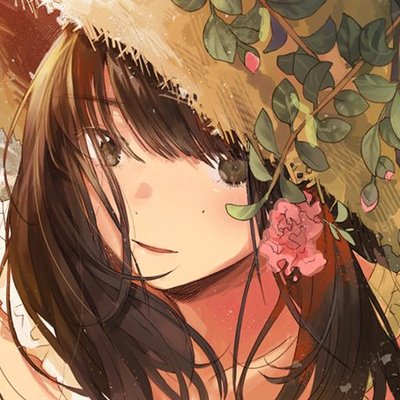 Yes. While using the notebook outside to draw today, I noticed that the battery was really long-lasting. The notebook is built with an Energy Conservation mode, so on days when we want to use the notebook for a long time, we can activate that mode and have the screen darkened. It also has a Fast Charge mode which is a real life-saver when we forget to charge our notebook in advance.
And that is correct because when fully charged, HP Spectre x360's battery life can last up to approximately 16 hours and 45 minutes*. And when you're in a hurry, you can use the Fast Charge mode to charge your battery to 50% in 30 minutes. It is a convenient feature for when you suddenly decide to go outside because you can charge the notebook while getting ready.
The spectacular sound system; developed together with Bang&Olufsen, a manufacturer of high-end audio products.
── Fly, we heard that you often draw while listening to music or watching movies.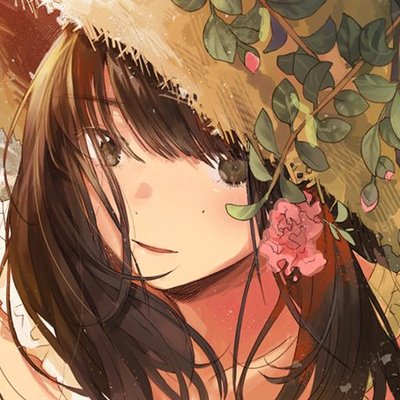 I can't concentrate without any background noises because then the ticking sound of the clock is the only thing I end up focusing on. That's why I can concentrate better while listening to music.
── Did you listen to music while you were using this notebook as well?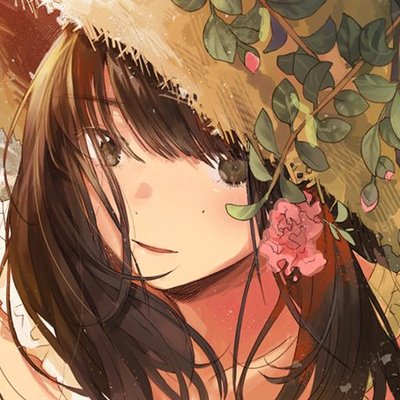 I did. Although the notebook is really thin, the sound is really clear and it packs a punch. This notebook obviously produces a good sound in terms of music, but I have a feeling that movies will sound just as good with it.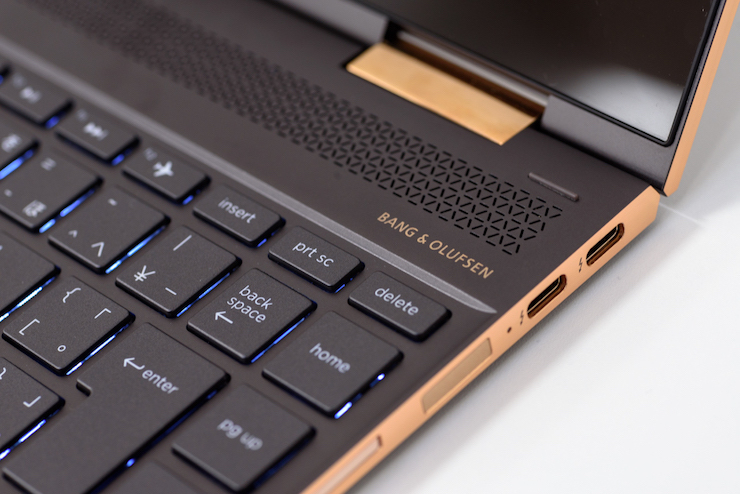 The sound system is the result of a joint development with Bang&Olufsen, a manufacturer of high-end audio products. The body has two speakers on each side of the keyboard and two more underneath, making it a total of four speakers equipped to produce realistic sound quality. We recommend you to use the notebook in Stand Mode when watching videos or movies. Enjoy the full experience of the moving picture and sound!
One illustration speaks a thousand words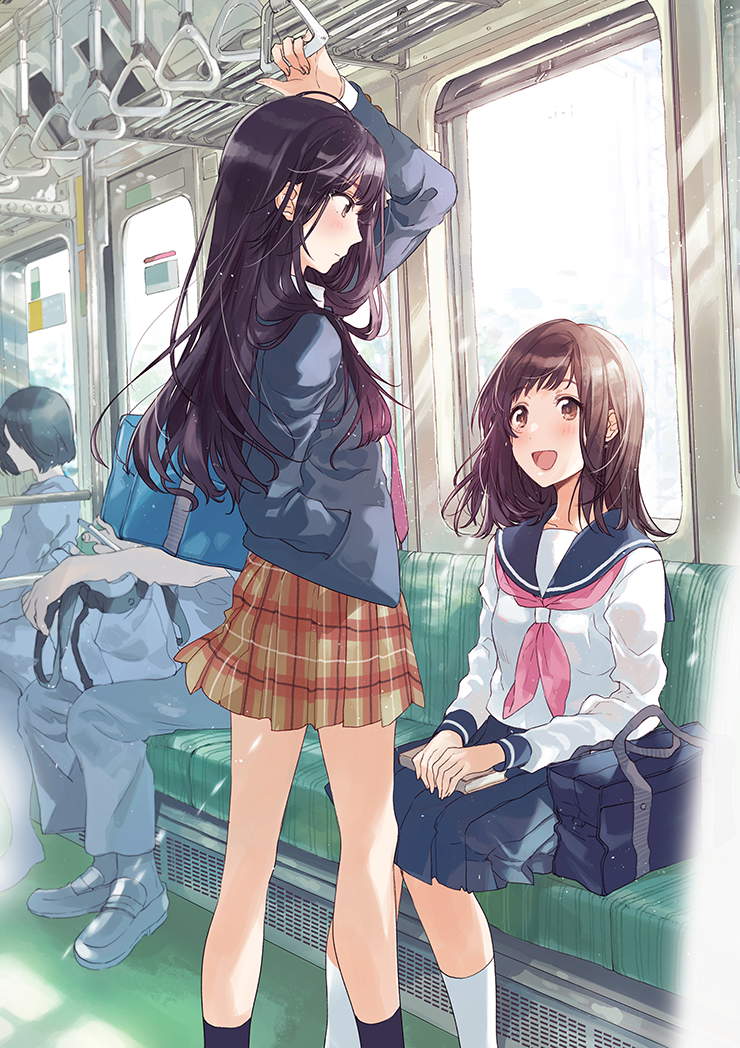 ── Today, you drew us this illustration using the HP Spectre x360. Two female high school students on the train! They are so cute...!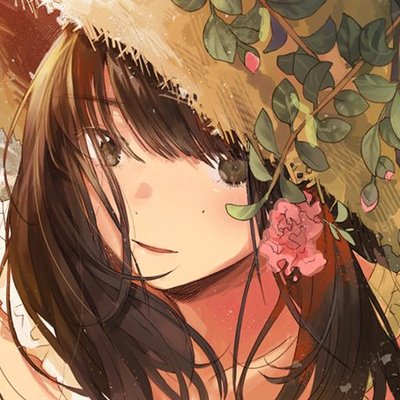 I went to Enoshima to gather materials to be used as references for drawing and this illustration is based on a photograph that I took on the Enoshima Electric Railway. I've always wanted to draw an illustration using that photo, so here it is.
── I see. So you got the original idea of this illustration outside of your house. Look at them chatting with each other! This scene looks like it comes right out of a movie.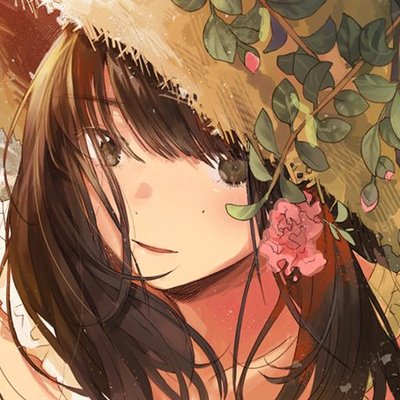 Of course, I try to make my characters look as cute as possible, but I also pay attention to the facial expressions and details that I pick so that those who view an illustration of mine can experience a whole story just by looking at that single image.
The girls' uniforms are different and I also try to distinguish their personalities through my drawing. I incorporate those details in this illustration hoping that it'll be easier for the viewers to start a discussion about it.
── Now that you mention it, the girl with the blazer jacket looks like the cool type while the girl in the sailor uniform has a gentle expression on her face. The contrast is really impressive.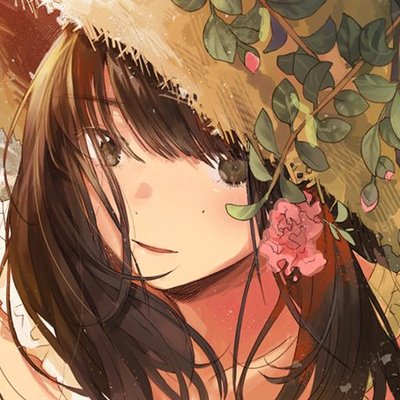 There are many details in this illustration, so in order to direct the spotlight toward the two high school girls, the people and details in the background are painted in a short range of colors.
──  I see. In other words, by not emphasizing on too many details, you've made the main characters stand out...
Fly started drawing because of "Drowning Love"
── Do you have any works that have inspired you before, Fly?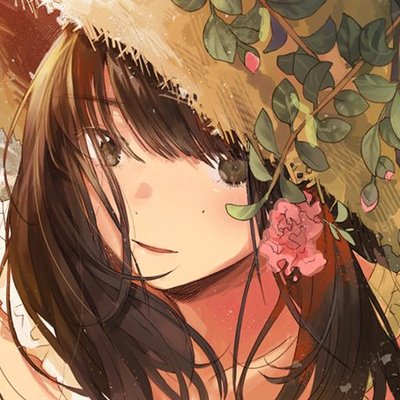 "Drowning Love", which is a manga by George Asakura, inspired me to start drawing. When I was in elementary school, "Drowning Love" was serialized on the manga magazine "Ribbon". I did a lot of copying and tracing when I was a student. George Asakura is known for her unique way of drawing the characters' faces and delicate facial expressions, so back then I used to trace mainly the faces of her characters.
── Is there anything that you pay extra attention to when drawing an illustration?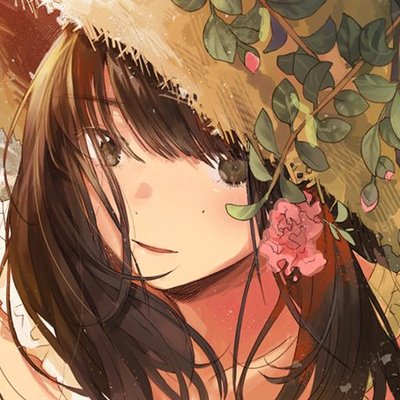 I try to leave some rougher strokes untouched, but at the same time I also try to deliver an illustration that looks entirely complete. And I've always tried to draw light from the shadows, instead of drawing shadows, in order to create a three-dimensional finish. By doing so, I manage to make my painting looks transparent and not heavy.
── Your drawing process begins with a colored rough sketch which is then followed by line drawing and then coloring. When I saw your rough sketch today, the quality was so high; I thought it was already completed and that shocked me...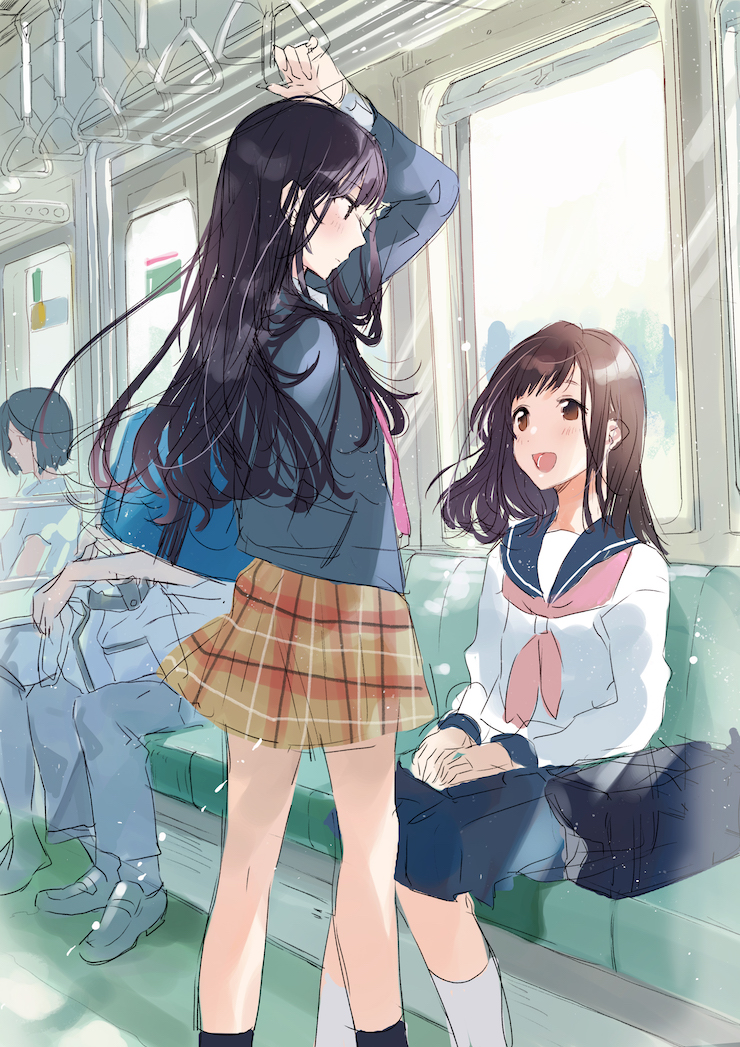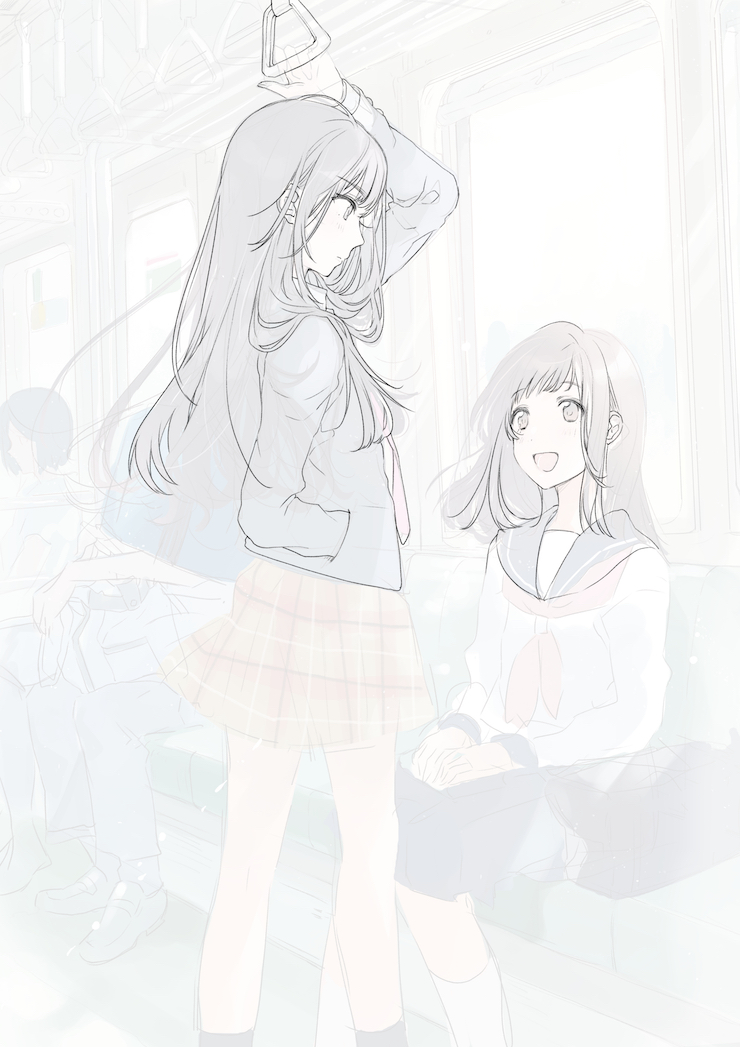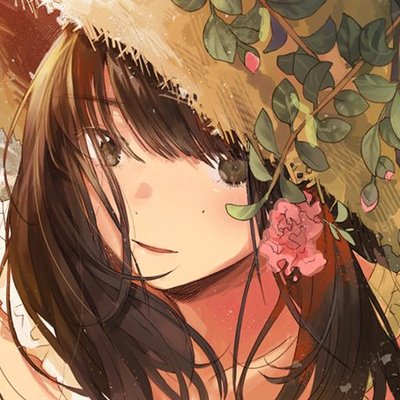 I think the common conception is that drawing a sketch that looks a lot like the final product is time-consuming. But in my case, by drawing a sketch that looks a lot like how I envision the final illustration to be, I won't have to hesitate over which colors to use and I can actually complete the illustration faster. I usually copy and paste the colors from the sketch to a clean copy and then I just do some adjusting.
Using movies and music videos as reference materials to create her own illustrations
── Do you have any advice to people who want to start drawing?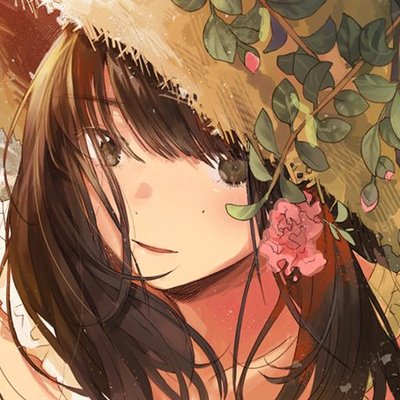 Using other illustrators' artworks as references make me feel like I can never surpass them. So I think it's better to use other objects other than illustrations--such as the scenery, mother nature, and movies--as reference materials because then you can create illustrations that are just you in every way.
── That makes sense... What do you usually use as reference materials, Fly?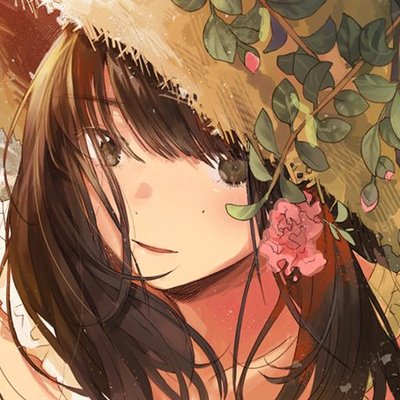 When I am free enough to do so, I often go to the movie theater. I also use music videos as reference materials.
── What kind of a creative job do you want to do in the future?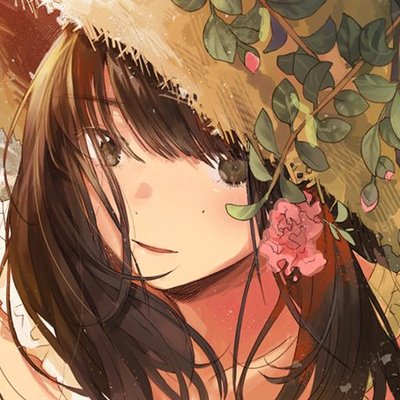 I am very much interested in doing character design, so I would love to try working as a character design in various genres in the future.
── We are looking forward to your future works!
This notebook can be used as a computer and a tablet! It's perfect for new illustrators!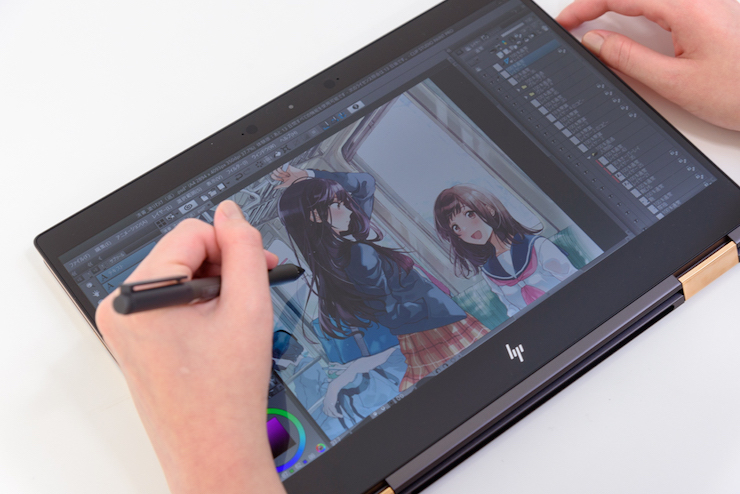 Fly has done many illustrations in the light novel and video game industries. Based on her experience with HP Spectre x360, she will share "things to consider when choosing equipment" with those of you who are thinking of becoming an illustrator!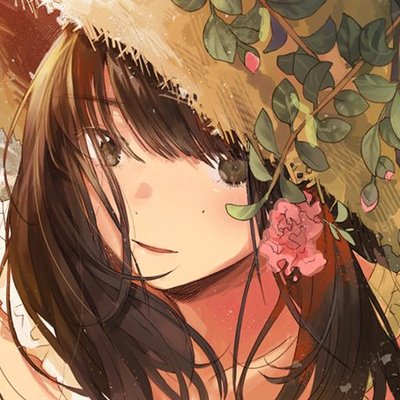 Before you venture into the world of digital painting, choosing the tools that work the best for you may be a daunting task. Should you choose a regular tablet or an LCD tablet? I think it's difficult to assess the tools before you even get to accustom yourself to using them. Of course you can just pick an LCD tablet to begin with, but the price and size are by no means insignificant.
But the HP Spectre x360 that I used today can be utilized as both a computer and an LCD tablet. You can try using this notebook first and if you later decide that LCD tablets aren't just for you, you can use this HP Spectre x360 as a computer and buy a separate normal tablet. I think it's important to take your time finding the right tools for yourself.
And also, the HP Spectre x360 that I used today is a very suitable option that you can consider when browsing for drawing tools. What I felt after using this notebook was that it's a stunning tool that can be used differently for a wide array of purposes. Personally, I know this is a notebook that I'd want to get for myself!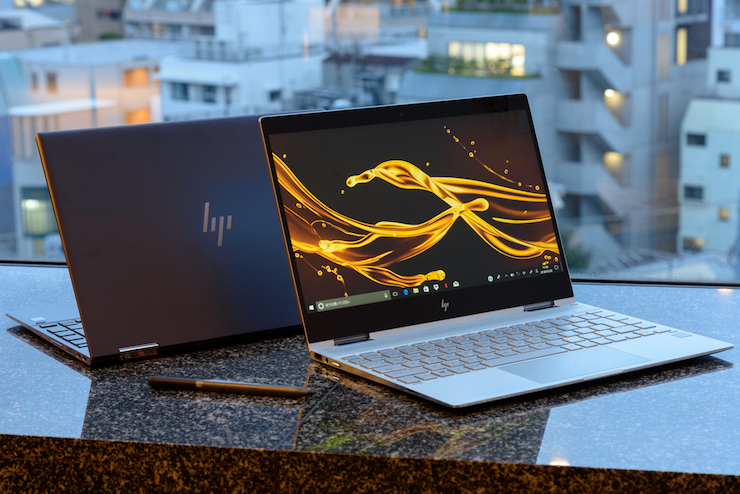 If you're mulling over what illustration equipment to buy, you might want to include "HP Spectre x360" in your options because this notebook can also be used as an LCD tablet; plus, it's thin and lightweight. This fashionable notebook is extremely useful to support your activities as an illustrator and also for you to complete other day-to-day tasks. It's so light and useful that you may find yourself wanting to carry it with you all the time and perhaps it will result in an evident improvement of your drawing frequency and technique.
Here are details of the products
Windows Ink. Enables you to hand-write on the screen with a pen or a mouse.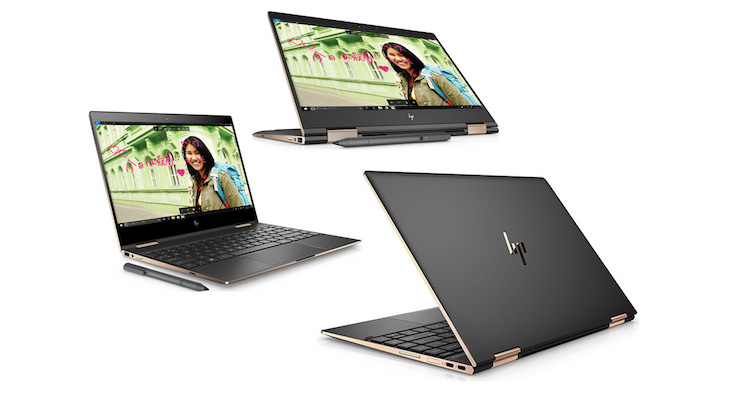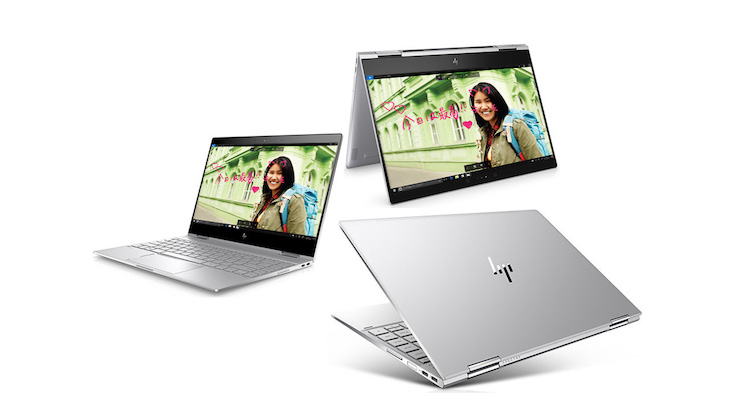 CPU: Intel® Core™ i5-8250U Processor
OS: Windows 10 Home (64bit)
Color: Ash Black / Natural Silver
Price: Starting from 139,800 yen (excluding tax)

Equipped with 8th Generation Intel® Core™ i5

Get it now with special discounts just for students