A Tale on How to Survive Comiket's Common Contingencies - Onoderasan's First Doujinshi: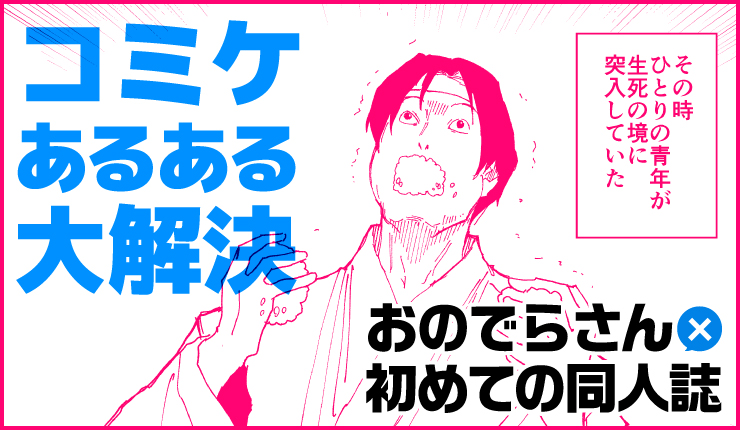 Article: Nobuyuki Kubouchi / Photography: Kazuki Miura / Editing: Hitomi Sakuma
Onoderasan is famous for his 
Comiket Otogibanashi Zenshu - Comiket's Fairy Tales
, a collection of stories set at the Comic Market fair and based on popular fairy tales. It's crazy to believe that even someone as skilled as him was once a beginner...
Today, we're going to chat with Onoderasan about his first doujinshi and ask him his labors!
・Impossible deadlines
・The miscalculated book mountain
・The struggles with the resolution of manga works and the strives of printing
In this article, you'll find these stories and many more! 
Moreover, in the second part of this interview, we'll provide some useful tips for all those who're struggling with the making of doujinshi... Approved by Onoderasan!
Deadlines approaching: it wasn't supposed to go like this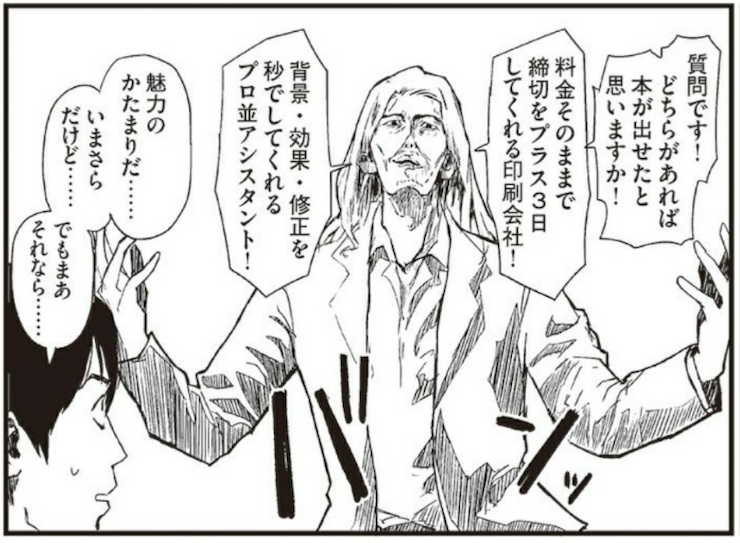 -- When did you decide you'd create your first doujinshi?
Onoderasan: When I was in high school, I had the chance to see the doujinshi that my friends and others used to make. Around the time I entered university, I decided to try my hand at them. I decided I'd make a 32-pages booklet, but my progress was slower than I expected... (laughs)
-- How did you decide your work schedule?
Onoderasan: With all the time I spent on pixiv, I figured I had a grasp about how much time I needed to do everything.
 Two weeks for the storyboard, two weeks for lining... That was supposed to be enough.
And it was a mistake
(laughs)
When I decided to start thinking about the storyboard, I was sure I could figure everything out as I drew the first draft. I soon realized that working on a 32-pages booklet was totally different than working with a single page. I was screwed. I had no idea how to gather my ideas, and before I could wrap my head around it, two weeks had already passed.
Onoderasan: Eventually, I was able to draw a couple of pages anew. Then four. Eventually, I wrapped it up at 10 pages, and decided I would use my previous work to fill up the 32-pages booklet... But alas, the 32-pages booklet turned out to be a 20-pages one. At this point, I was totally panicking. Finally, I managed to get to the lining phase...

-- Did you have trouble with the lining as well?
Onoderasan:
When it comes to posting comics on the internet, I usually draw whatever comes to mind and post it right away. It's quite a sloppy process. However, since I had decided to publish my work in a physical magazine, I decided to
be more precise with my work
. That's when I realized
I didn't really have it in me to be precise
...
Onoderasan: I was late on my schedule since from the storyboard stage, so at that time I had no other choice but to push through.
-- With that pace, there's no way you made it on time...
Onoderasan: Also, at the time, I was a pure young man with no understanding of additional costs*, so I managed to submit my work before the deadline and with no additional charges. However, after finally understanding additional costs, I started thinking "if I can buy one more day with a few thousand yens, then it's worth it" and being late became a habit. I caused so much inconvenience to the guys at the print shop...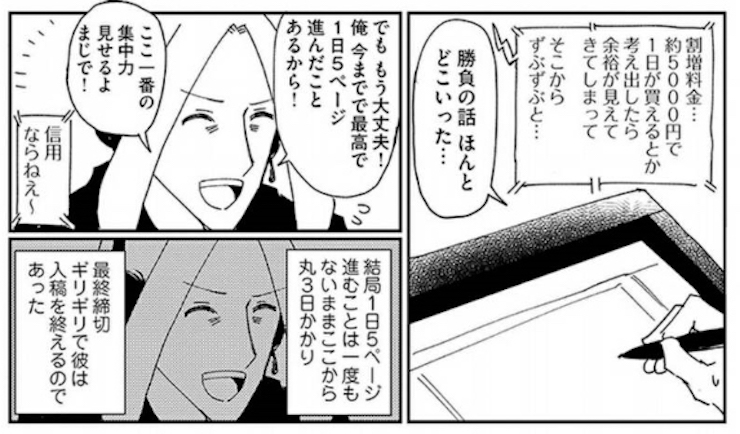 -- If you wind it like that every time, preparing the fliers for doujinshi conventions must be hell...
Onoderasan:
Oh, about the flyers. I always bring them to a convenience store or copying service store
the night before
the convention. I don't know if copying shops know about the conventions as well, because the night before the event they're often on standby. After being up all night I head to the convention venue and can't focus all day...
(laughs)
Another thing that happens quite a lot is forgetting the manuscript inside the copy machine of a convenience store. When you go back to get it, you never know if one of the clerks or another customer saw it... Honestly I just wish they burned it!
The resolution was too low, but it finally took shape.
-- Did you check the results your efforts at the convention after making it through with your first doujinshi?
Onoderasan: I did. I was so excited at the idea that something of mine was finally made into a book. When I finally took into my hands the fruit of my labors, I was in ecstasy. However...
Onoderasan:
The brand new part of the magazine, the first few pages, was still okay. I mean, they still sucked, but that's because of my scarce abilities. I remember flipping the pages, excited because
it was my book
, but when I got to the part of my old works, the ones I used to post on social media, I realized
something was wrong
. The
resolution was too low
, and
overall my 4-koma comics looked like mosaics
. That was the time when I finally understood
the concept of resolution
.
Onoderasan: When I checked later, I found that those 4-koma comics were just about the size of a web banner. When creating something new, you should always think about how it will look once printed, otherwise things can get complicated. But that was my first doujinshi, so the resolution in the first half of the pages was completely different from the one in the second half. Browsing through the pages, I kept thinking "this book sucks...". That's what happens when you try printing something without knowing anything about printing. I just recently understood the concepts of printing gutter and cuts.
The hardships of estimating how many copies to print
-- By the way, how many copies did you print the first time?
Onoderasan: Judging from the number of followers I had on social media, I estimated I would be able to distribute about 50 copies. Also, since I planned to distribute the same doujinshi at about 3 more events, I printed 200 copies.
-- That's... a lot of copies.
Onoderasan: Yes, it really was. I should have taken into count the fact that old doujinshi don't sell as well as new publications. (laugh) I managed to distribute around 40 copies. Regarding the 160 copies I had left... I didn't like the idea of distributing the same low-resolution magazine more than once, so I ended up putting them on a shelf.

All it takes is trying it once
-- What did you make of the experience of creating your first doujinshi?
Onoderasan:
Obviously, 
creating an exchange with the convention participants 
holding your very own doujinshi 
was the best thing for me
. It gave me the motivation to work on the next one.
Onoderasan:
Also, the experience gave me some ideas on how to improve my future doujinshi works. In particular, I wanted to become
better at drawing
and overall
a better artist
. And because of the resolution incident, I decided
I had to learn about printing
. I also understood that your booth gets hardly noticed by people who don't know you, so I decided I had to put more effort into promoting myself.
-- Do you have any advice for those who want to start creating their own doujinshi?
Onoderasan:
First of all, please listen to the advice of those who've done it before you. Ask for advice, if necessary.
If you don't,
you're going to have
troubles with the resolution
 of your comics, or you're gonna get a call from the printing company tell you that you forgot to delete the gray line (=the one that separates the area to be printed from the rest) and you'll have to apologize.
Onoderasan: If you start creating your doujinshi after being selected for the Comiket, you're gonna run out of time and panic just like me, so please apply only after you're done with the manuscript. Only then you'll figure out your production pace. And don't make a habit out of paying the printing shop extra fees!! I'm serious!
Once your first doujinshi is done, you're going to figure out how much time your favorite authors spend creating their works and you're going to enjoy the doujinshi world even more!
It's all set! A strong ally for doujinshi creation
Onoderasan's
Comiket Otogibanashi Zenshu
 is based on his true convention experiences, so it might be a good reference for all those who wish to participate in a similar event.
Based on Onoderasan's common contingencies related to doujinshi creation, Epson offered us advice on how to avoid mistakes and accidents by printing at home.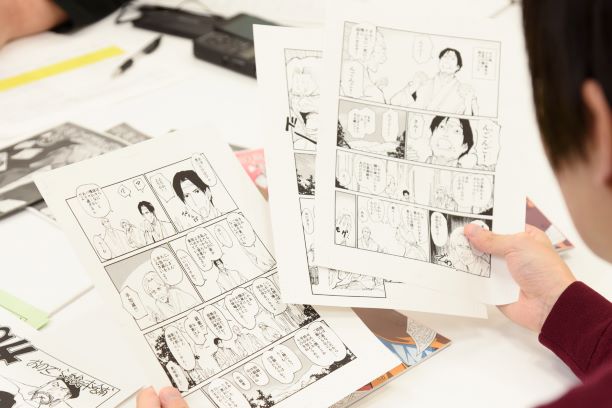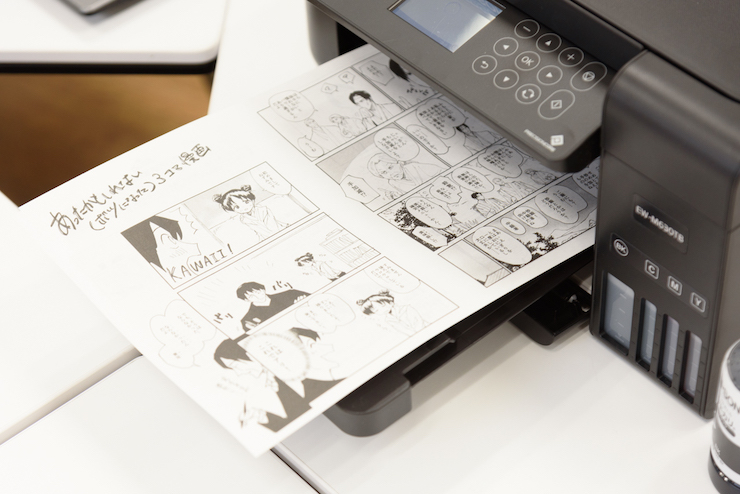 An ally to all doujin artists! Epson EcoTank Model
When you're a doujin artist, there seems to be no end to the things you have to print. And when printing at home, ink quality, paper quality and costs are three of every artist's main worries.
We would like to introduce the Epson EcoTank Model EW-M630TB/TW, which brilliantly deals with all the issues above.
If low-cost home printing has piqued your interest, you can learn more about the Epson EcoTank model 
here
.
Epson's EcoTank model is equipped with a large-capacity ink tank that can print about 6,000 A4 color documents with a single ink refill! In other words, you can print 300 copies of your 20-pages doujinshi without an ink refill. You can already print over 3,600 pages with the ink that comes with the printer when you first purchase it.
Moreover, you can check the remaining ink level from the printer's front window, so you don't have to worry about accidentally running out of ink just before an important event. Furthermore, the eco tank method cuts printing costs by 90% compared to the cartridge method! Black and white documents can be printed for the low cost of about 0.4 yen (excluding tax), so your life as a seller can get a little bit easier!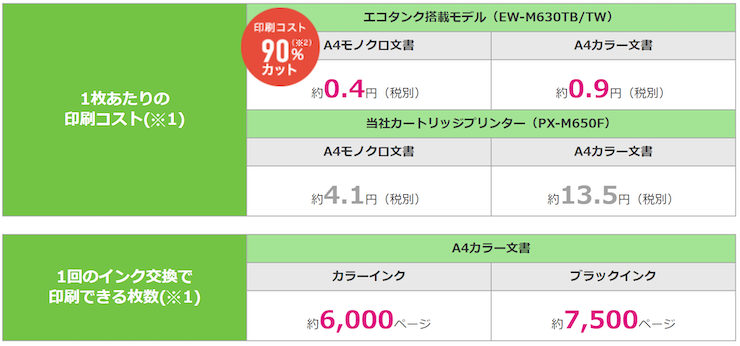 ・6,000 A4 color documents with a single ink refill (*1)
・Clear black for sharp text and tones
・The EcoTank method cuts printing costs up to 90% (*2)
・Print one black&white page in approx. 4 seconds (*3)
Onoderasan gives the EcoTank model his seal of approval
Onoderasan was pleasantly surprised by the quality of his home-printed copy-book that came out, and he was all over the super low-cost EcoTank model which allows artists to print up to 6,000 pages with a single refill.
"I thought printing doujinshi (copy-books and flyers) at home would be a cumbersome experience because of the costs and the hassle of exchanging cartridges. But if I can print so many copies for such a low cost... Does your company really make a profit with this!?" he ends up asking, shamelessly, to the Epson staff.
"All doujinshi creators should own one of these! Why do you keep this a secret!?" he declares, giving the printer his seal of approval. Epson's EcoTank model helps creators to bring their works to the world. Definitely check it out if you want to create doujinshi in a hassle-free way!
Learn more about the Epson EcoTank model here.
Access Epson's Creators Portal website for useful information about manga and illustration creation
Twitter Giveaway Campaign!
Three lucky winners will be randomly selected to receive a EW-M630TB/TW printer for FREE!

To apply,
① Follow Epson's authorized Twitter account "@EpsonCreativeJP"
②Retweet this tweet!
We're looking forward to your applications.