Unravel fans' honest opinions! A meeting about the creation of special dojinshi with Zain!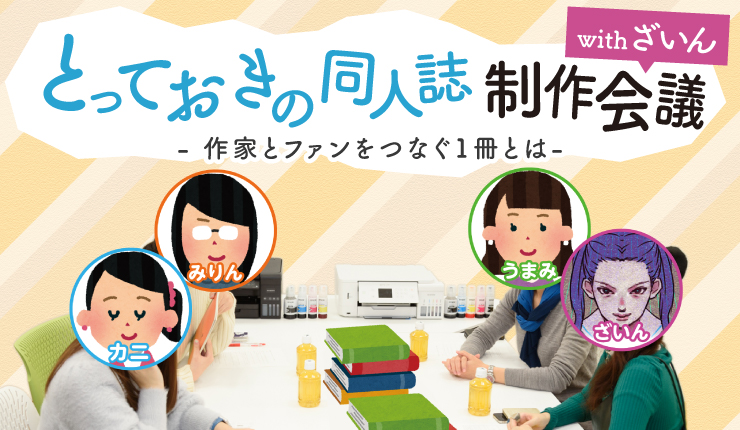 Article: Nobuyuki Kubouchi / Photograph: Kazuki Miura / Editor: Hitomi Sakuma
You come to a dojinshi (fanzine; fanwork) event as an attendee not knowing that on that day, you'll fall in love with a certain circle at first sight.
And that's how you'll become an avid fan of that circle... Fateful encounters happen when you least expect them, but we bet some of you have experienced them. Those who attend dojinshi events as circles too have gone through many trials and errors in order to create new encounters and works that can convey their feelings.
That moment when your eyes land on a dojinshi that leaves such a vivid impression on you and your hands move on their own accord to take the dojinshi that features your favorite characters... Dojinshi is a "fateful book" that connects the artist and their fans, but how exactly does one create a dojinshi? We had a thorough conference with the popular illustrator Zain, her fangirl Umami (who is an illustrator herself), and two girls who regularly participate in dojinshi events, and talked about how artists can materialize their own fateful books!
In this article you will find:
1. What is a dojinshi that captures the hearts of fans?
2. Fans are seeking the color that the artist wants to convey!
3. Special experiences that one can go through only at events
4. How to create a work that conveys the feelings of the artist
And more! We guarantee that this article will be useful for those who are thinking of opening their own circles!
Introducing Members of The Symposium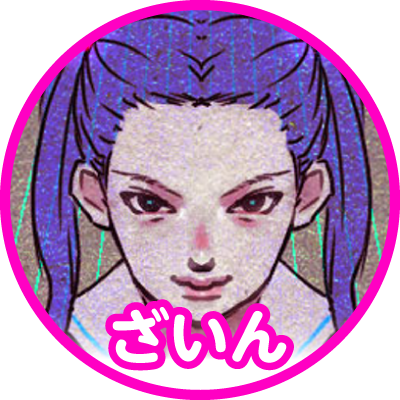 Zain - Here to represent artists. She gained popularity through her Hatsune Miku illustrations and she is now a famous illustrator who is known for her fantastic illustrations that make the best use of vivid colors and analog textures. Back when she was an art student, she used to draw oil paintings. Her pictorial approach to drawing is palpable through her impressive works and she is loved by many enthusiastic fans.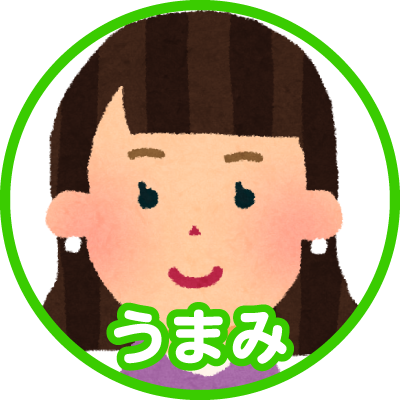 Umami - Here to represent fans. She is an illustrator who is active in various genres, particularly illustration and manga. She also designs cover art of the novels that her friend writes. She is a logical person with a deep knowledge of design and a good taste in art. Being Zain's huge fan, she has been looking forward to this conference.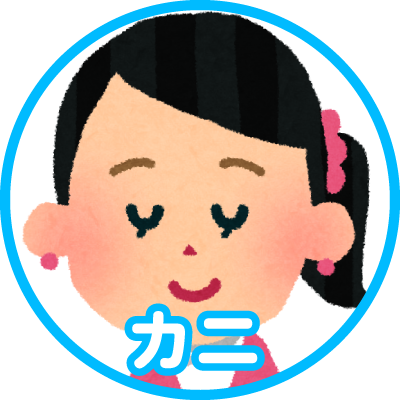 Kani - Here to represent fans. She is a designer and maybe that's why she is extremely attentive when it comes to dojinshi's paper quality and cover art. When she comes across a design dojinshi that she likes, she will immediately purchase it and start collecting more. She draws manually and colors digitally, and she is currently practicing how to deliver interesting ideas.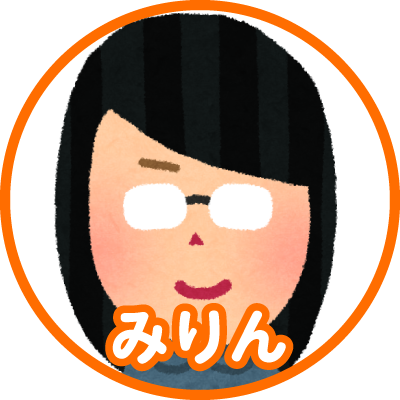 Mirin - Here to represent fans. A hardcore pixiv user who has been deeply in love with pixiv since junior high school. She specializes in reading and viewing illustrations and manga, but she also writes novels. Her love toward her favorite artists is deeper than average, which explains why she can be a little emotional. She's a tried and true example of an avid fan.
A cover that hides an underplot!? Dojinshi that stay in the hearts of fans forever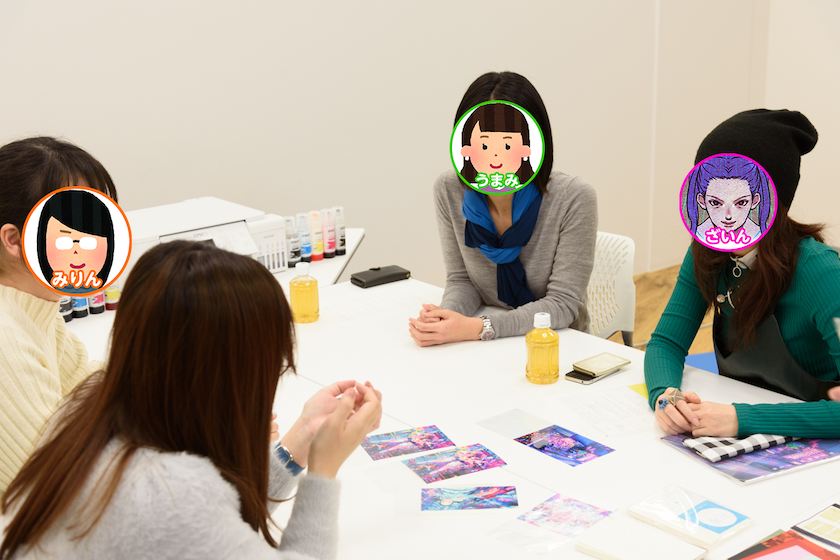 ── A dojinshi event is a place where artists' love and feelings concentrate and it's an exciting atmosphere for fans and artists alike. Have you ever visited a dojinshi event as a general attendee only to stop in your track, right in front of a circle you only met for the first time there and leave the booth after purchasing their dojinshi?
Kani: I do that (visiting booths opened by new circles) a lot! Even if it's a circle I've never come across before, they'll still attract my attention if the cover art of their dojinshi or the layout of their booth is nice.
Umami: But it's not easy to get the attention of attendees. I got into a certain fandom recently but the fandom is still relatively new, so in order to attract those who are new to the fandom and encourage them to reach out to my booth, I try to be more conscious of the art of my dojinshi covers and posters. Sometimes I wonder how to create intriguing contents in addition to interesting cover art.
── When you read these dojinshi works that you purchased spontaneously, did you discover anything interesting about the cover art or design concepts?
Mirin: I actually brought one dojinshi with me today... Some parts of the book cover have a glossy finish. The ambiance of the book is so sophisticated and when you actually hold the book in your hands and tilt it, you'll notice the luster and you can just feel the amount of attention that the artist has put into this book. It's inspiring, really. Also, there is a flyleaf in between the cover and the body of the book and a tracing paper that you can put on top of it to enjoy a new visual and this type of ingenious concept just gives me feels.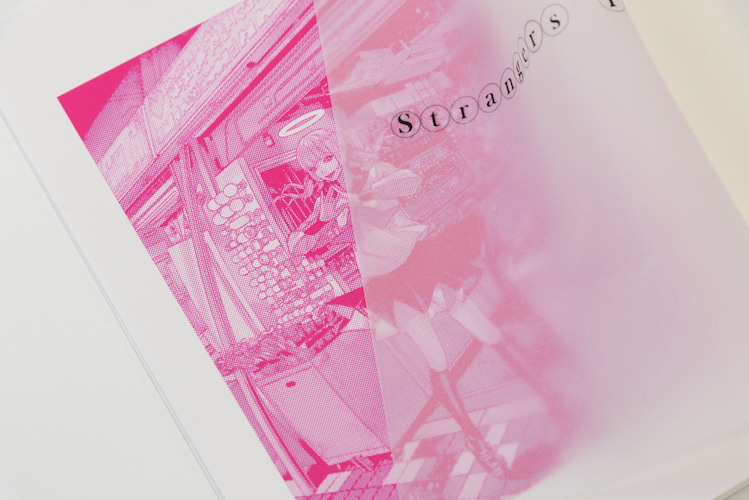 Kani:
The book I brought with me today looks simple at a single glance, but the band of the book is stamped with gold foil.
All: That's gorgeous...
Zain: It seriously takes courage for an artist to produce a detailed and impactful design, such as these ones. They worry about fans not liking the design. As the book's creator, the artist themselves may yearn for this specific design, but maybe it's not for everyone. That's why it takes a lot of courage to pull off these types of design.
Kani: Also, if you go to a print shop, they usually charge really high for detailed designs even when you only want a small number of copies and give you a tight submission deadline. It's just too difficult of a challenge for new circles.
All: That's true... (sigh)
Kani: If you only want to produce a small number of copies, though, maybe you can make a dojinshi that contains photocopied papers. That way, maybe you'll be able to create a dojinshi that meets your standards for a reasonable cost. I got a photocopied dojinshi the other day and it was published in two versions, each one featuring different colors for the illustration and, as a result, entirely different looks of facial expressions. The artist asked me which one I wanted and because I wanted both, I got all of the two versions.
── That kind of concept can indeed leave a deep impression on readers. Do you have any other experience where a cover art stole your heart?
Kani: More and more authors in the novel department nowadays ask for a designer or illustrator to design their cover art, so the book quality has been increasing.
Umami: I've also helped with designing a cover art before. At that time, I knew that creating a cover art that would make people want to get the novel was important, but at the same time, I was actually most concerned about the importance of what happens after a reader finishes the book. When a reader finishes the book and closes it, they will finally understand the meaning of the cover art. I think a cover art that is capable of conveying a message that will linger in the reader's mind and the book's overall ambiance is simply wonderful.
All: Aaaaah!! (cries of joy)
── It's like watching a movie's end credits and discovering the true meaning of the scene at the beginning of the movie.
Mirin: Exactly! When you find a concept that tugs at your heartstrings, it's hard to resist purchasing the book. And this kind of encounter is one of the pleasures that come with attending an event. You'll receive so much happiness when you manage to obtain a work born out of the artist's love.
Zain: I totally agree. When you notice that a book possesses so many of these interesting concepts, you'll want to make the book yours. I myself want to create a book that will encourage people to cherish it.
The joy of obtaining the colors that the artist envisioned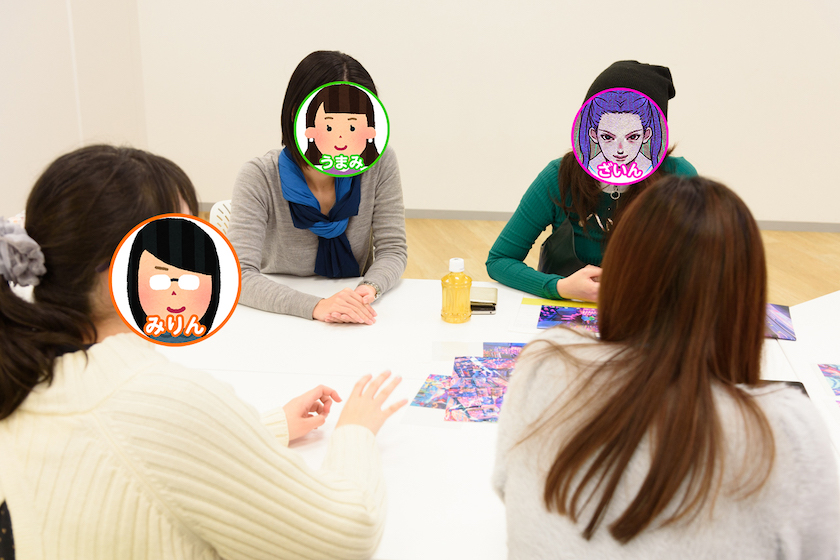 ── We heard that you are a huge fan of Zain, Umami. How did you become her fan?
Umami: I first came across Zain's works on social media, but back then I thought, "Oh okay. I like her style." After that, I read her officially published manga and just when I thought I'd seen this art style somewhere before, I realized that it was her! And I've been her fan since that moment. What I like about her works is not only her usage of vivid colors but also textures, or the depiction of them. I really like how she cleverly uses pencils or analog lines instead of thin lines to produce these textures.
Zain: I tend to create smooth lines when I draw digitally with bright colors, so I deliberately use pencils to make the lines look textured. I find it interesting that my illustrations are colored digitally, but their textures have an analog touch to them. Maybe it has something to do with my oil painting experience.
── As a fan, what kind of works do you want from Zain?
Umami: One that features rich colors, obviously, and allows us to enjoy the textures that are difficult to convey unless the work is printed! For example, a poster or postcard born from elaborate printing ideas. Or an illustration board! It would be just as awesome.
Zain: Thank you so much... I've actually released printed illustration boards before and added some acrylic and oil paint touches to them, one board at a time.
The other three participants and the interviewer: No sane fan would refuse those illustration boards...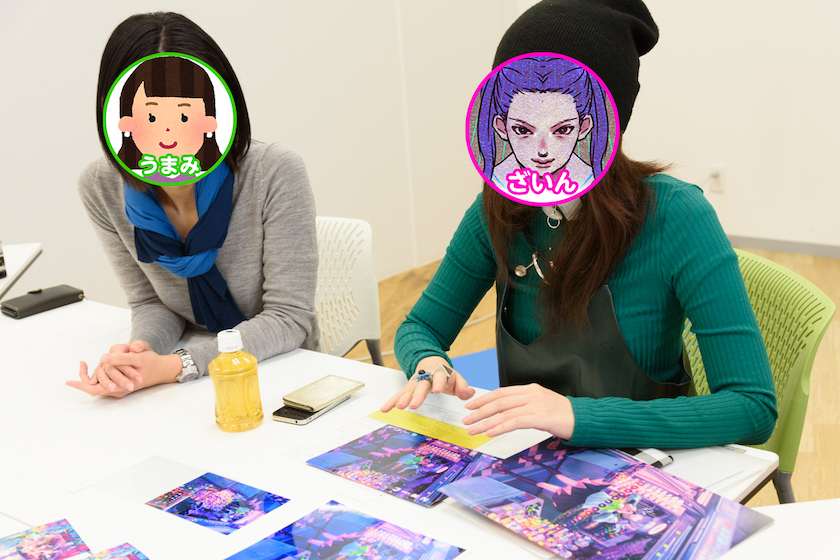 Zain: I've had my fair share of disappointment when it comes to printing. I use a lot of vivid colors and before I can print them, I need to convert the color mode and most of the time, they don't turn out as I envision them. It's true that maybe I should just draw in the printing-friendly color mode from the start, but having my color options limited dampens my motivation--I just want to draw freely. On the contrary, when an artist gets praised for the beautiful reproduction of their colors at an event, the compliment can make a complete stranger like me smile from ear to ear (laughs).
Mirin: (As a fan) knowing that the colors on an artist's work have been faithfully printed to appear exactly like the artist imagines them makes the work shine even brighter, it's like I'll feel the urge to ask the artist to let me pay twice the price.
Special moments that artists and fans can experience only at events
── Having an artist's love and commitment properly conveyed must be a happy thing for both the artist and their fans. Have you ever come across any merchandise or bonus (novelty) at past events that left a deep impression on you?
Mirin: So there was this circle who released their new dojinshi and it came with a novelty. The novelty comes in the shape of an important item that brings the characters in the story together. The merchandise serves as a medium that connects readers with the characters and it was such a happy thing that I got emotional. When I saw the novelty, I told myself I had to get it.
Umami: I agree! A novelty that shares similar characteristics with the dojinshi is just wonderful! Being a bonus, a novelty isn't something that artists are obliged to prepare, but when it is synched with the released work, it makes readers feel the width of the world inside the work even more.
Mirin: A novelty is like that external element, other than the content of the book itself, that an artist can use to depict the worldview of their book.
Zain: Events are like festivals, so it's natural for the participants to want to prepare something special.
Mirin: When I handed a gift to my favorite artist, they gave me sweets and a postcard featuring especially drawn art. It got me all excited like a god has decided to give me a present!
The other three participants: A god has decided to give you a present!
Zain: When your present manages to make someone happy, you feel just as happy. I always fist pump when I go home and find out that my readers have written words of thanks and reviews on social media! (laughs)
Implement the impulse to create and accomplish quality: How does one convey one's thoughts through a work?
── Dojinshi that you complete after spending a substantial amount of time working on them are captivating, but there's also something fun about an impulsive dojinshi that you create based on a spontaneous idea.
Umami: For instance, the official website of your favorite series releases a new piece of information about your favorite character three days before a dojinshi event that specifically targets that character's fans. It happens from time to time and when you see the official announcement, you just have this urge to create something, anything, that incorporates that new information in time for the upcoming dojinshi event. In that case, I usually run to the nearest mini market and print my dojinshi there. And then I'll fold the papers, desperately, all on my own, and voila! I can now release a photocopied dojinshi. (laughs)
Zain: If you have a printer in your house, you can print and observe the result right away. I love printing at home because when you get the impulse to create something, you can create it right away.
Umami: But printing at home doesn't always produce nice results. Sometimes I wish the output would turn out more beautifully because then the dojinshi would look much more impressive.
── Inkjet printers that you use at home are actually compatible with digital illustrations as long as you know how to choose the models and types of papers. We printed Zain's illustration using an inkjet printer, namely the Epson EW-M770TW model which has a built-in EcoTank. What do you think about the quality?
Zain: Absolutely gorgeous. Just look at these colors... They've all come out vividly... I often use vivid colors (RGB mode) when drawing, such as these ones, but often times they would come out looking dull when I print them at print shops. I'm amazed an inkjet printer can display the colors to this extent.
Umami: The printed output of the ribbon's green shade is so beautiful! I can easily tell the difference between this one and the colors (CMYK mode) of the image that is print shop-friendly.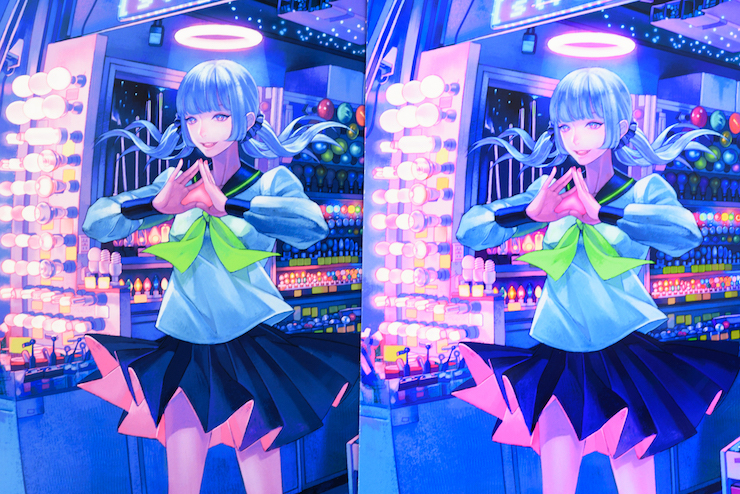 ── Inkjet printers are designed to closely reproduce the color model (RGB) that artists often use when drawing digital illustrations. As such, the colors are comparatively closer to the hues of a display screen. This time, we tried printing the same illustration on media with different textures. What do you think about the results?
Kani: The pencil's analog-esque textures are so visible here and the same textures were so hard to make out when I saw them on the small screen of my smartphone. Now that the illustration is on a paper, I'm starting to understand how this illustration is supposed to look like.
Mirin: I never would've thought that changing the types of papers could influence not only how an illustration looks but also the overall impression! Now that's interesting...!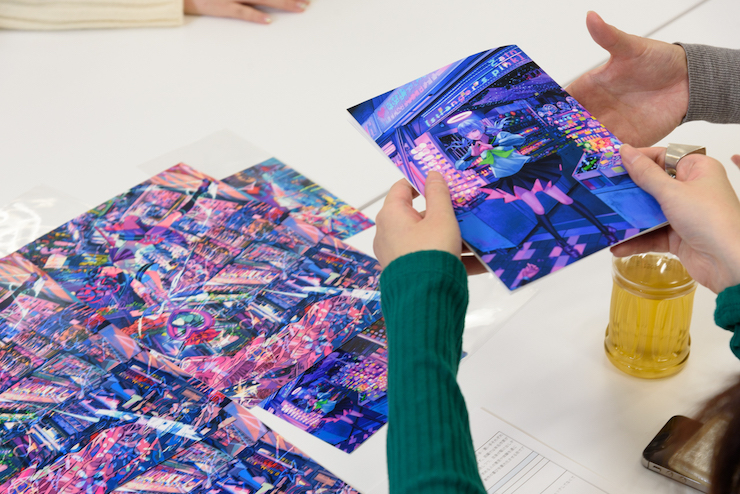 ── There are more types of papers for inkjet printers besides glossy paper. It is worth to try printing at home because if you print on your own, you will be able to manifest the colors and textures that you want to convey to your audience! Printing at home also means that you can print as few as you want, making this option a convenient one when you want to create something exclusive and new as a bonus at your next dojinshi event.
After listening to Epson's explanation, the conversation among the members of the symposium began to grow more animated. They exchanged various ideas, including using scissors that can make a cutting line to produce
ticket-style outputs
, using thick papers to print different parts of a character's costume so that fans can enjoy a novelty that allows them to modify the character's costume, and printing their own illustration of their favorite character to give it as a present to their favorite artist.
The works that you can see online today may not be there tomorrow
── What do you find interesting about dojinshi?
Umami: I think what's fascinating about it is the vagueness of the boundary between a "fan" and an "artist".
Zain: When you find a good series, you will want to create something yourself. Most of the time, an artist single-handedly works on everything related to their dojinshi, from designing it to creating the cover art. In that sense, a dojinshi is an all-out manifestation of everything that the artist is, more than a commercially published work that has all sorts of labor divisions working on it. And I think that's what's really interesting about dojinshi.
Umami: Plus, there's always the possibility of a person who used to participate in events as a general attendee forming a circle of their own!
Mirin: I agree. Knowing that an artist is currently in the process of creating something as we speak is a miracle in and of itself. Back when I was in junior high school, my favorite artist would announce their newest work on social media, but I couldn't go to events or make a purchase due to age restriction. When I got to the age where I could buy dojinshi, that artist had stopped creating. It's not rare to have your favorite artists move on to a different fandom too. I spent six blank years from the moment I got interested in dojinshi to the day I could finally buy a dojinshi and that was tough...
Umami: Works and information that artists uploaded on social media and websites also disappear easily. Which is why the last tangible thing that you can own is dojinshi. A dojinshi is also filled with the feelings you felt when you first became fond of the artist.
── And when you learn that your favorite artist has taken their works down from pixiv, you will feel despair, wondering if you'll ever see those works again.
Mirin: You want to hold these works with your own hands and gaze at them forever. In that sense, every dojinshi that you managed to get at events is a treasure. I think sometimes we'll see people posting on social media saying that they don't know what to do with their huge dojinshi collection because they're moving out or getting married. I want to tell these people to never throw their dojinshi away! I know they may not have any space for their dojinshi, but throwing them is just impossible! Emotionally!
Umami: I agree. After getting a book that the artist has put great attention to detail for, you'll feel encouraged to create a book in the same fashion. Dojinshi has that power to inspire the readers and I think that's why I really like dojinshi.
Zain: I think it will make me happier when someone purchases my book not because of its appearance but because it's a faithful reproduction of what I want to create. A dojinshi is a product of the artist's efforts, so when an artist pours convincing efforts into their dojinshi, I think their readers will naturally be able to sense those efforts.
Summary
The symposium ended up taking longer than the allocated time! Still, the four participants showed no sign of ending their conversation... After the 2.5 hours meeting, they came to the conclusion that the following four ideas will be useful when creating a super special dojinshi.
Epson inkjet printers may be useful for creating a moment where an artist's feelings reach their fans. A special book that will give the reader joy--would you like to make one yourself?
Product Information: Perfect for dojinshi circles! Here is the EW-M770T/TW model with a built-in EcoTank!
1. Print 5,000 pages of A4 colored documents with a single ink replenishment (see Note 1).

2. Reduce your printing cost by 90% thanks to the EcoTank (see Note 2).
3. Print letters and illustrations boldly and clearly with the two black inks.
4. Load thick papers (0.6 mm) in the rear paper feed slot.
Compared to printers with cartridges, EcoTank models can reduce your printing cost by 90% (see Note 2)!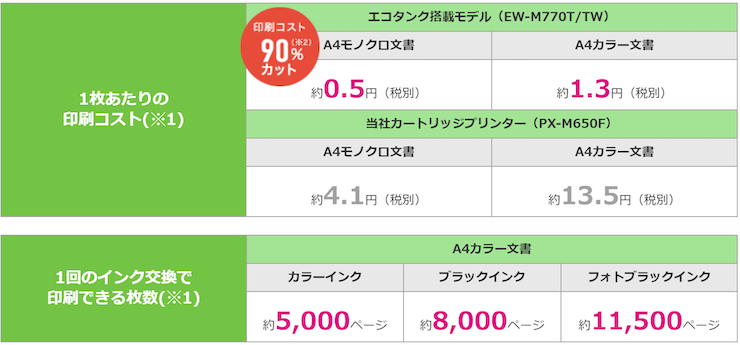 Click the banner below to see other models that are equipped with EcoTank, a low-cost printing solution:
An Epson portal for creators where you can find useful information to create manga and illustrations:
Twitter Special Lottery
We will randomly choose 3 people to receive the EW-M770TW model that we have introduced in this article!
Here are the steps to join the lottery:
1. Follow Epson's authorized Twitter account @EpsonCreativeJP
2. Retweet this tweet and you're all set!
We're looking forward to your participation!
*Epson's Authorized Twitter account @EpsonCreativeJP will notify the winners via Twitter's Direct Message.
*Please make sure in advance that your Twitter account can receive direct messages from Epson's Authorized Twitter account @EpsonCreativeJP.
*By joining the lottery, you agree to Epson Sales Japan's Use of Personal Information.
*There may be a time difference between the release date of this article and the special lottery tweet.
Regarding Epson Sales Japan's Use of Personal Information

Epson Sales Japan will use any personal information obtained in regards to the lottery, including the applicants' Twitter accounts, for the purpose of processing the applicants' lottery applications and other related procedures as well as delivery of the prizes. Please visit Epson's homepage for details regarding Epson Sales Japan's use of personal information.