The underlying power we felt at Japan Expo - My Hero Academia: the new hit in France!?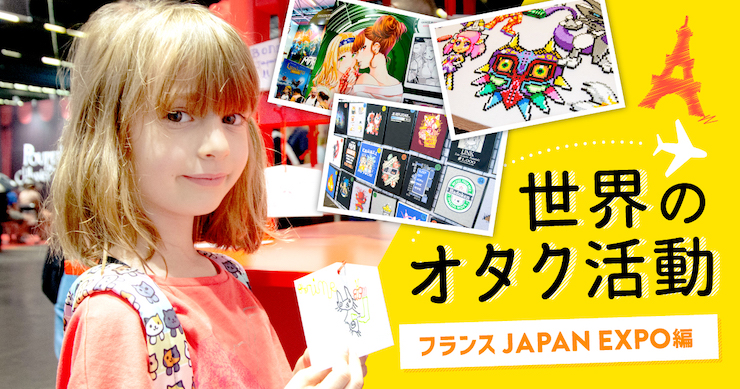 This year saw the 20th Japan Expo in Paris. This event about Japanese culture is popular for enabling visitors to enjoy diverse content, including ones related to popular culture, such as anime, manga or games, but also martial arts and traditional arts.
This time, the pixivision editors' team also participated along with pixiv!
During this event, the biggest of this type in Europe with more than 250,000 visitors in 4 days and about 800 exhibition booths, we could collect data from a wide range of participants, from private creators to company booths. Let's see how Japanese content is received in Paris, the City of Lights!
◼️ Let's check the local trends
The Parisians' favorite topic is "My Hero Academia"
Japan Expo is truly a "Japan Festival", where children and adult fans of Japan gather. From Aomori Nebuta Matsuri to bubble milk tea, from kendo to traditional taiko, visitors are able to experience a wide range of Japanese culture.
What's more, many people see Japan Expo as a place full of loving fans of idols, anime, and manga. Although past works such as Naruto or Attack on Titan are still popular, the most tremendous hit in France is currently My Hero Academia, that along with One Punch Man has many enthusiastic fans all over the world.
Personal booths are also very popular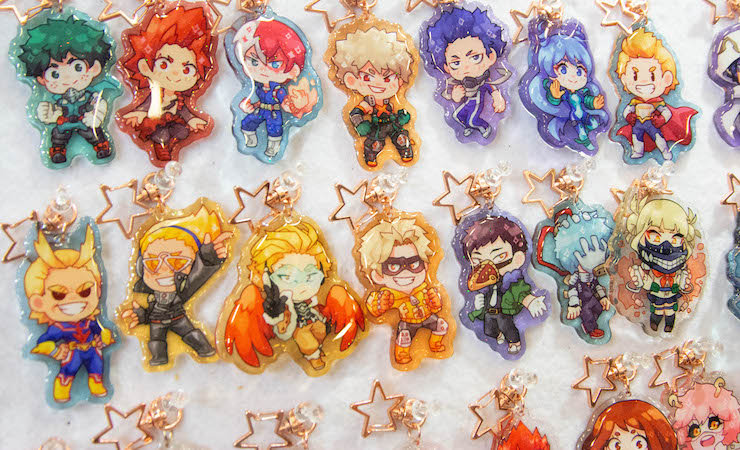 There were a lot of personal booths selling fanart of My Hero Academia, and according to the circles we interviewed, it seems that the fan-made couple Katsuki Bakugou/Shouto Todoroki is particularly popular:
"These two are supported by fans of "buddies" couples. With the growing understanding of the strong bonds between same-sex partners in France, I feel that they are accepted both as friends and as a BL (Boys' Love) couple."
By the way, in France, personal booths are not divided into genres or categories, and most of them are presented as "private artists". Both original works and fanart are sold, and the mood feels more like a "design festival with fanart on the side" rather than what you get at Comiket.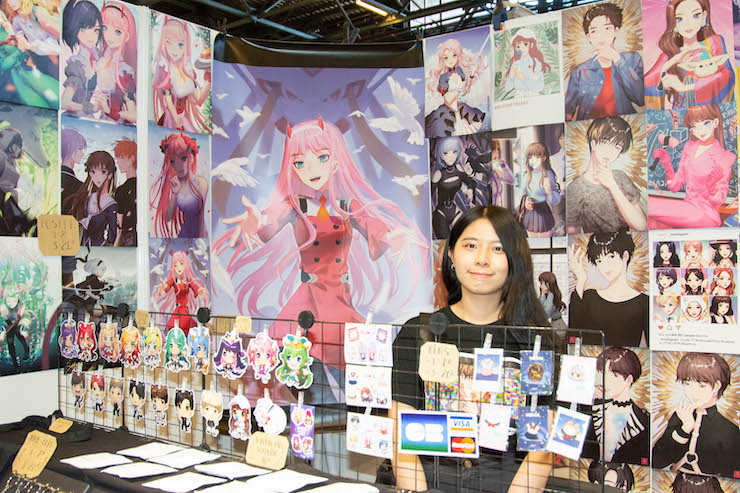 Each booth is unique and different from the others, and the works lined up in them are very diverse, ranging from game controllers to perler beads representing game characters, horns and accessories, realistic portraits or even original manga.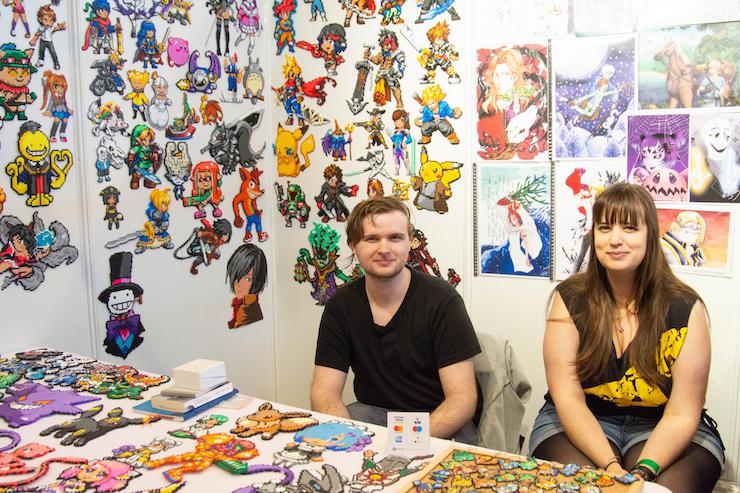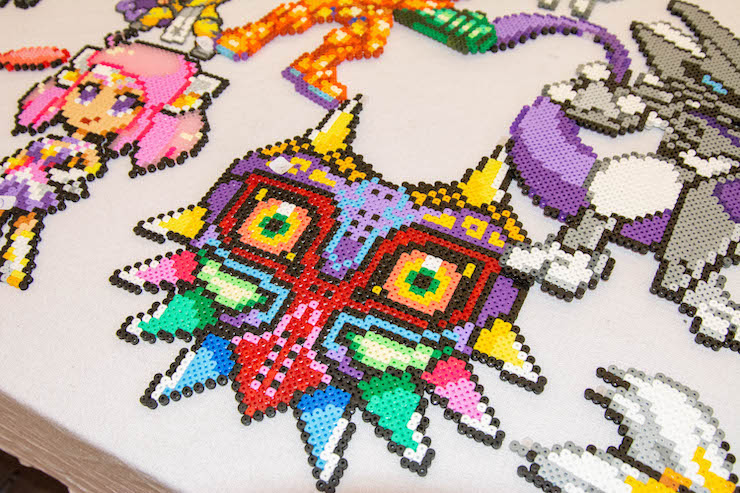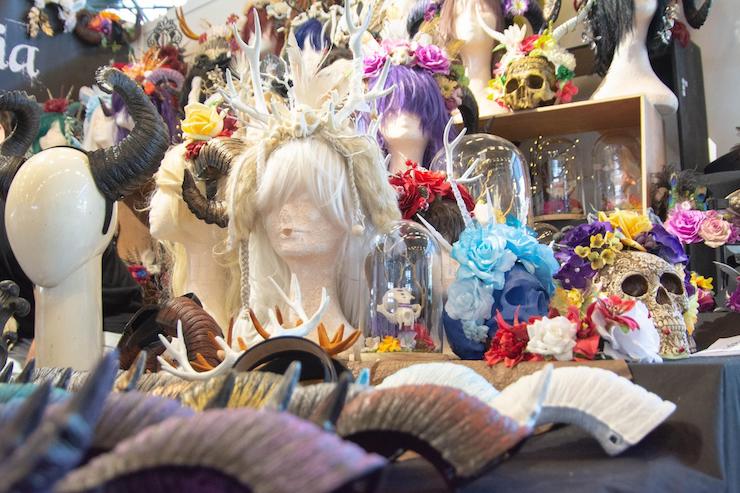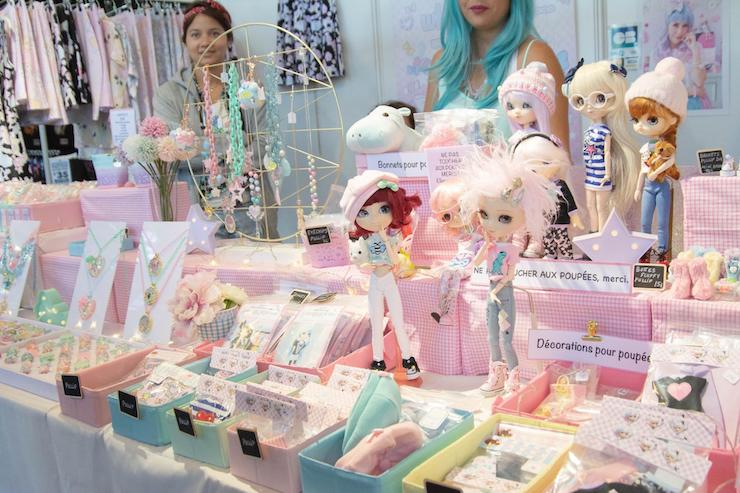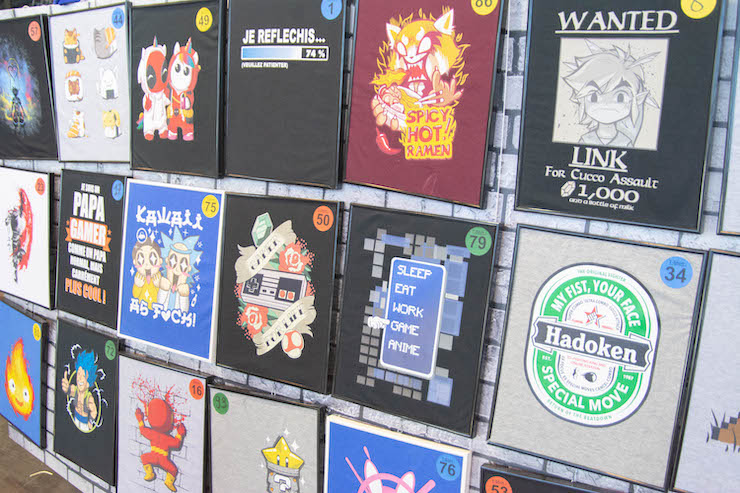 "Straightforward reactions made me happy"
We then found other exhibitors from Japan.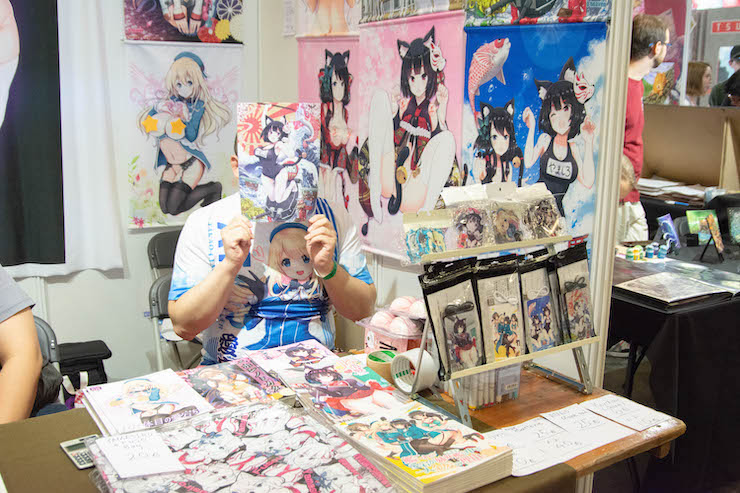 It's the second time that Amanogamidai, whose exhibit mainly consists of books about Yamashiro from the game "Azur Lane", takes part in this event in France. According to this mangaka whose work has already been serialized and published in big magazines: "I decided to participate because lots of fans come to buy my works during Comiket in Japan, so I wanted to go out of Japan and reach out to overseas enthusiasts too."
About the differences with Japan, he also said: "I got more frank reactions than I expected, like lots of passionate declarations such as 'I love this character!'. I'm really glad I came here." says the author who was able to hear the reactions of a new layer of fans.
By the way, regarding the differences he noticed with Comiket, he says: "I was told not to put R18 works at the edge of the booth, but closer to my side of the table as little children may come to visit. (laughs)
I felt that erotic content in general, seem to be ok, but people aren't so keen on loli." A fundamental point!
Suprised by a lot of sexually explicit material
It seems that France is relatively smooth regarding sexually explicit material. Indeed, freedom seems to be important, with manga aimed at adults sold with no censorship, and naked action figures displayed as they are, where everybody can see them.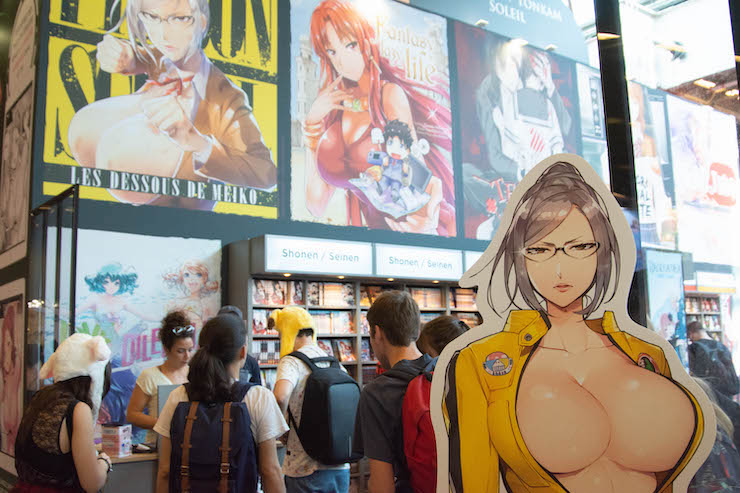 The increasing popularity of genres for women, selling well even before the anime adaptation
◼️ The exploding popularity of BL
Demands are increasing for genres aimed at women, such as BL.
This year, as always, a lot of publishing companies participated in the event. According to them, some works got sold-out on the first day, following unexpected popularity, and there were many questions from visitors about whether they would be re-stocked.
The most popular work at this booth which translates and sales many comics aimed at women is Given, which anime adaptation started this season. Some said that "maybe its particularly neat art is the reason it so popular among French fans", and although one would think that fans generally increase after the anime adaptation, we could see that local fans are getting their information early. (*The anime was not out yet at the time of the interview.)
"Trending genres here aren't different from Japanese trends, ranging from the Omegaverse to more common, happier stories". As this comment states, the image of a Country fond of dramatic love stories, conveyed by French movies, may now belong to the past.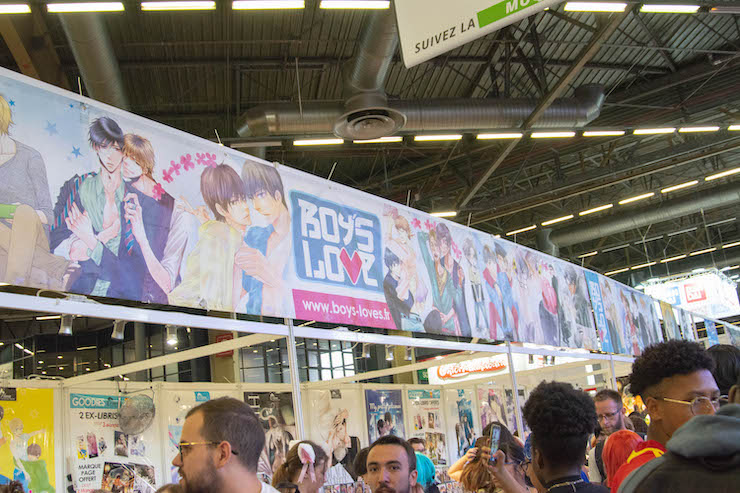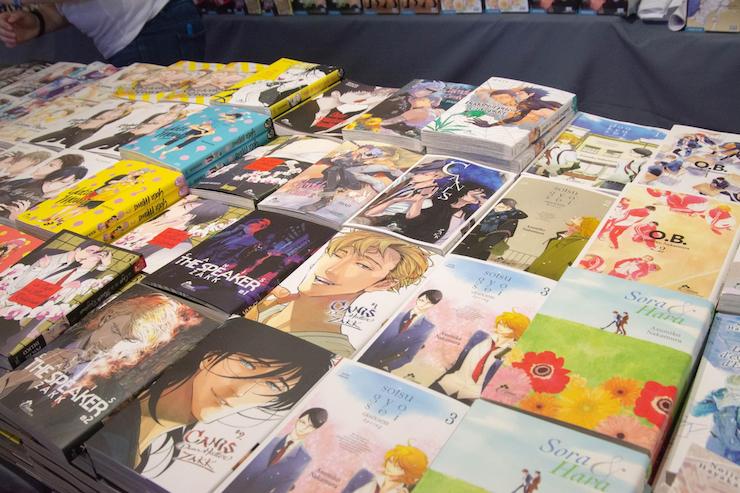 By the way, in Paris there aren't any big specialized chain stores like Animate, but many privately-managed stores. That's why many people looking for abundant product lineups tend to buy via websites and at events. Therefore, occasions of buying a lot of items at once are welcomed very enthusiastically.
◼️ Lots of unexpected discoveries at pixiv booth
Until this point, we discussed the creative side, so now let's talk about the many discoveries that happened at the pixiv exhibit.
This time at the pixiv booth, we made an exhibition in collaboration with Studio Chizu, which produced Summer Wars among other hits. We also brought along a presentation video of "OZ on VRoid" in collaboration with Summer Wars, some contest-winning illustrations, we also provided a monitor allowing visitors to browse pixiv for illustrations.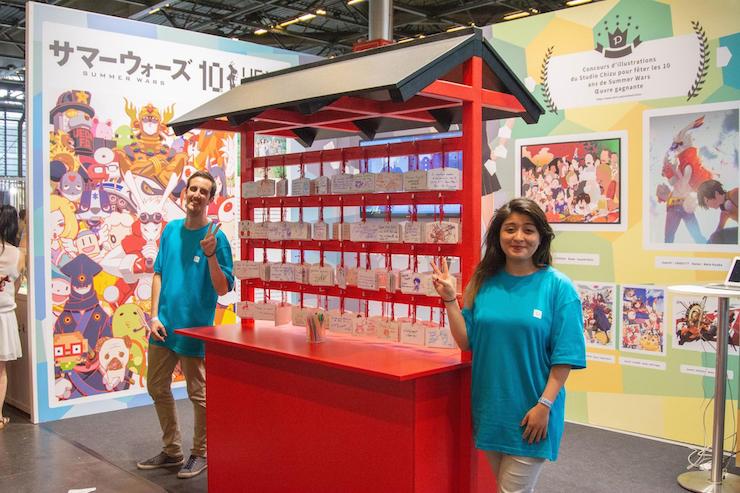 What's more, in the middle of the booth, there was an ema shrine, which pixiv values as a formative experience regarding Japanese drawings. In this space, visitors were able to write or draw anything on these ema (wooden plaques hanging at shrines for people to write their wishes on), from comments to graffiti!
People learn words like "Iromatsu oshi" on social media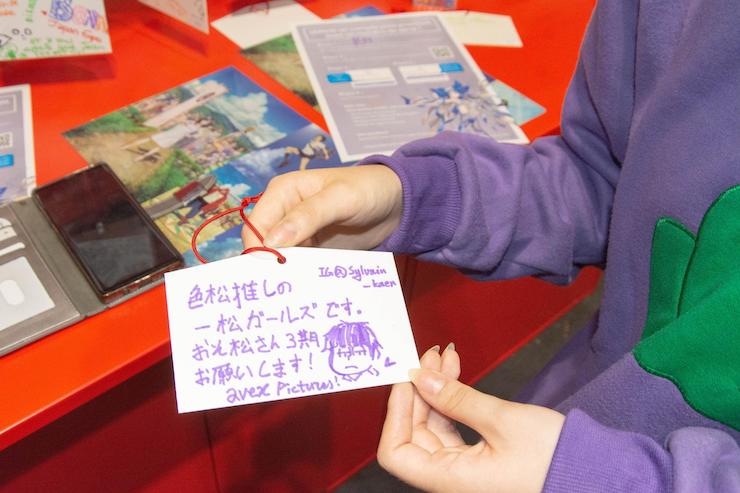 A cosplayer who asked for a third season for the anime Osomatsu-san, along with a cute illustration, said she learned specific category names such as Iromatsu Oshi or Ichimatsu Girls (both terms referring to the Osomatsu-kun universe) on Twitter.
"By looking at the Twitter accounts of many artists I love, I noticed that the same words were often repeated in the descriptions of several works." ... What an incredible sense of observation!
We gave some wonderful Summer Wars fanart to the director himself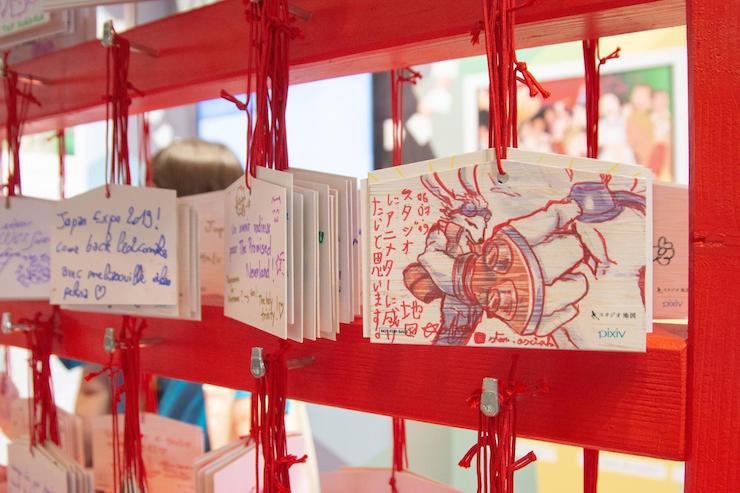 When we saw a visitor painting something with their own watercolor palette they brought, we had to talk to them! They said they had a dream: to become an animator at Studio Chizu! After drawing the first draft with a pencil, this person colored it with paint turning it into a wonderful masterpiece. Later, we gave that ema directly to the director himself, Mr. Hosoda!
The ema were used even more freely than we expected, with a lot of friendly and humorous messages. For instance, someone wrote "I want to marry Hatsune Miku" on an ema, and another person wrote "Do your best" in response. Moreover, a person who spent too much money wrote down their bank account number. Those were really unexpected and interesting ways of using ema!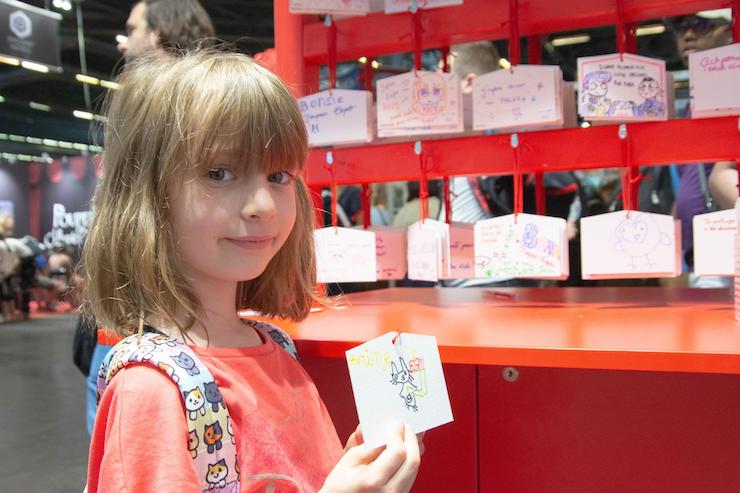 "I would like for artists to write their names in alphabet too"
In the space where visitors could use the pixiv search screen, we saw them deeply appreciating some works. Crossover parodies of well-known works seemed to be particularly well received by the local fans. Even the staff eagerly used the search screen during their free time.
However, it looks like it's still hard for users from foreign countries to search for content on pixiv. For instance, some fans told us: "I want to know the artist who drew this illustration, but I can't read their name". So, if artists would write their name in alphabet, maybe more people would come to look at their work!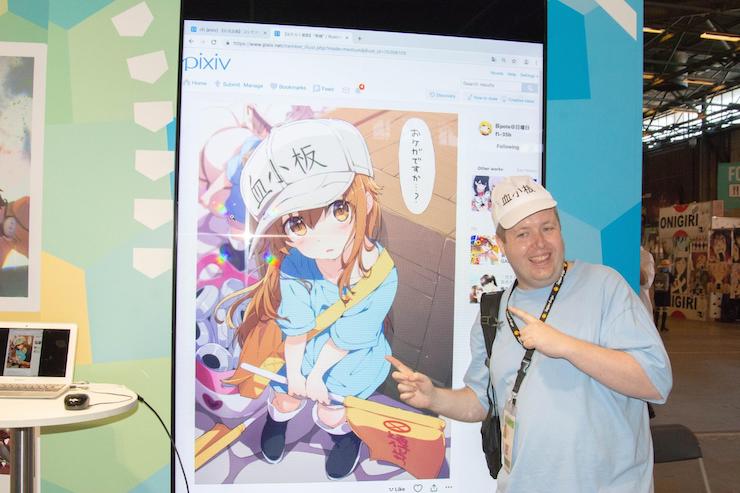 ◼️ A place to receive power from passionate fans
Anime and games cultures are indeed strong
This year was Japan Expo's 20th anniversary, which brought even more visitors than usual, with many interesting things to see. 
Like the projection of an extract of the new movie Evangelion: 3.0+1.0, which will be the final chapter of the series, and Yoko Takahashi's live performance. She enthusiastically sang the opening theme to the famous anime, meeting a particularly enthusiastic crowd. The footage appeared on Japanese news as well.
What's more, big booths about online games, like the Nintendo one, were constantly crowded with people and very busy with live performances and dances.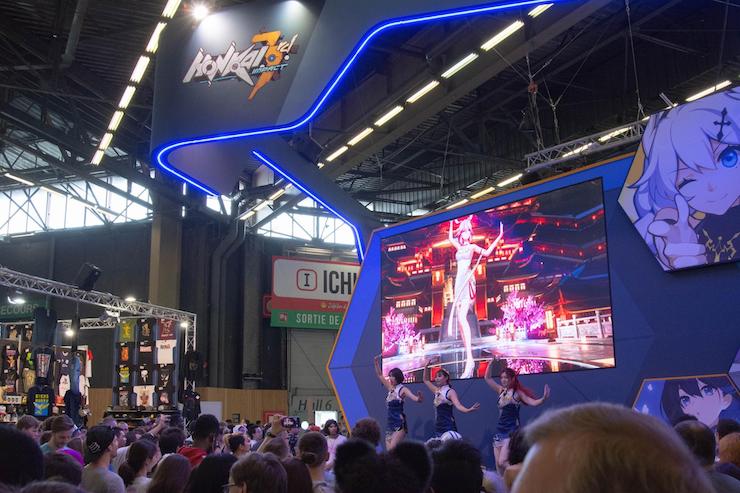 A "festival" where passions condensate
We thought it would have been a French version of Comiket, but we were surprised to see a great number of exhibits and booths offering first-hand experiences. Visitors could, for instance, do a zombie make-up as in a horror manga, or take photos as if they had been transported into a manga world.
More than often, we shared excited gazes with the crowd... 
We highly recommend you Japan Expo, as a place where you can enjoy very diverse drawings, from analogic to digital, and as an event where you can share your love for Japanese content.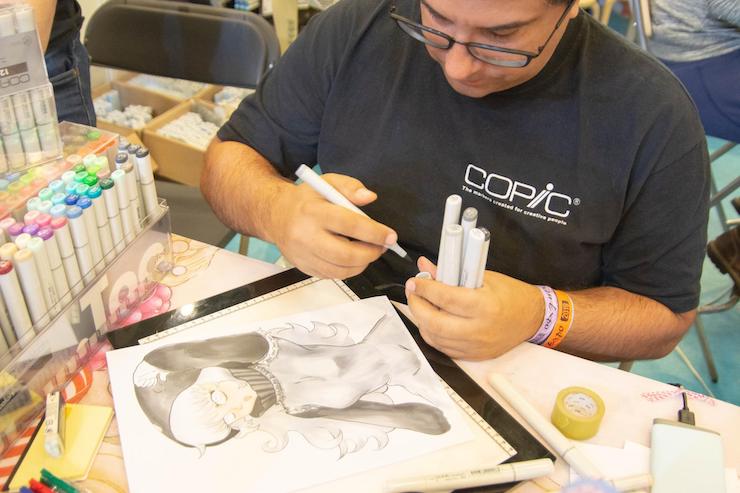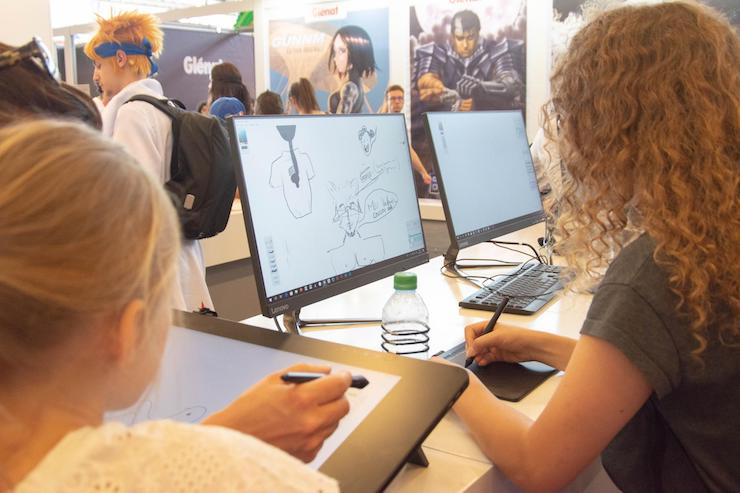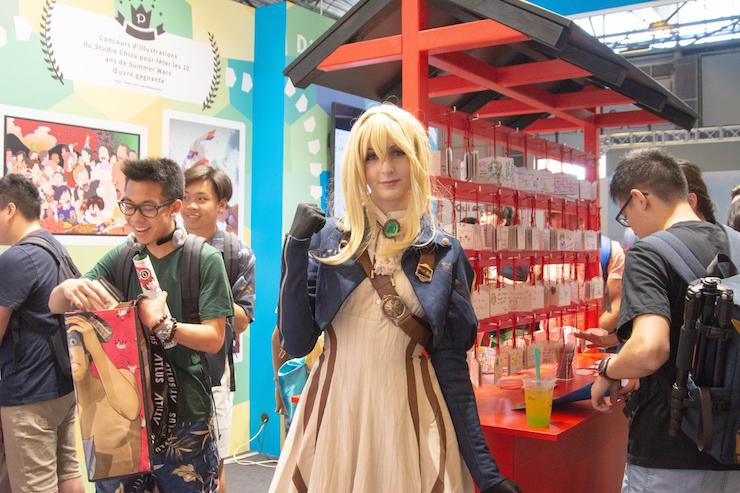 We would like to thank all the people who participated in our interviews and who visited our booth.
In which country are we going to investigate about the otaku situation next? Please look forward to it!