One eye covered: pixiv Tag Search Party by Curry Zawa Kaoru - When your fringe gets in the way for no reason!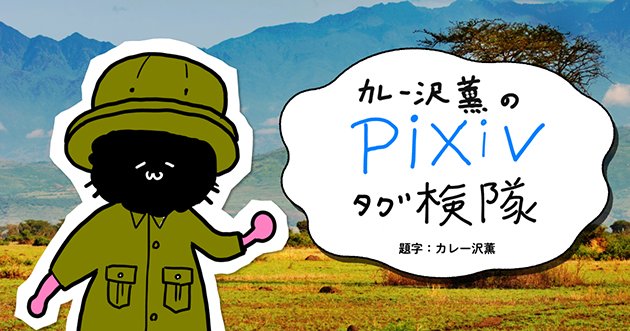 Article by: Curry Zawa Kaoru
The theme of pixiv Tag Search Party this time is "One eye covered (片目隠れ)".
Now although the tag might seem self-explanatory at a glance, know that this and the "Hair hanging in front of eyes (メカクレ)" tag are both actually very popular right now.
I wrote this article on August 5, a weekday.
Last night, the smash-hit social game Fate/Grand Order introduced a character named Bartholomew Roberts.
As soon as he appeared in the game, users assumed that he would be a 5-star character because he's a hot guy. But no. He turned out to be a 1-star character--the least rare. Many users were astonished when they learned that Bartholomew is obtainable through free gacha (actually, he's only obtainable through free gacha) and he became a source of absolute happiness for penniless fans of hot guys.
But there are otaku whose source of happiness lies in the act of offering not their heart but their kidneys (monetarily speaking) to their favorite characters, that's why some users who started "saving up for Bartholomew" felt a little disappointed.
So is Bartholomew a character with hidden eyes? Nope. He is not. But he has been designed to be a character with an avid hidden eyes fetish.
How avid? According to him, "I'll go for any living being of any gender as long as their eyes are hidden." He's not even trying to hide the intense heat of his preference.
In fact, his zeal can easily burn down an entire village of dojinshi artists who take drawing characters with hidden eyes lightly.
Thanks to Roberts, the "Hair hanging in front of eyes" trope has started to gather attention again.
■ Hiding an eye for fashion is surprisingly common
There are two types in the hidden eyes trope, namely "a hidden eye (one eye; 片目隠れ)"--which is the theme of this column--and "hidden eyes (both eyes; 両目隠れ)." When a character's fringe gets in the way of one of their eyes, it's a "One eye covered" situation. And when both of their eyes are hidden, it's a "Hair hanging in front of their eyes" situation.
To be honest, though, I never regarded Black Jack as a hidden eye character until someone pointed it out.
There's a list of characters with one of their eyes hidden on pixiv Encyclopedia. As you read the list, I bet you'll be shocked to discover that yes, some of the characters you're familiar with do have one of their eyes covered.
Why the surprise? It's because there are significant and insignificant hidden eye situations.
Take Kitaro, for instance. One of his eyes is hidden because he only has one eye.
There are also other characters who hide one of their eyes because they have different-colored eyes, secrets, and other equally significant reasons. These characters are easy to remember.
Of course, adolescent characters with delusions of grandeur hide one of their eyes with a bandage or an eyepatch because they have to do so in order to keep their edgelord in control.
On the other hand, Black Jack's right eye is hidden just because his fringe happens to grow that way.
Black Jack hasn't lost his right eye and, as far as I know, he's not a character who's trying to keep his edgelord in control.
And he does make sure his fringe stay out of the way when he performs an operation. He doesn't have to hide his eye in order to prevent him from stabbing his patient in the wrong place with his scalpel--he's not Daisuke Jigen.
In other words, one of his eyes is hidden just for fashion.
Honestly, there are more hidden eye characters doing it for fashion, i.e. for a reason that they can't explain (if there is even a reason).
So, because we perceive the hidden eye situation as just another kind of hairstyle, we might fail to define a character as a hidden eye character if their hidden eye isn't their most important characteristic or their everything.
There are at least six hidden eye characters in Touken Ranbu, a game that I love, but I can probably mention only 
Nikkari Aoe
, who has different-colored eyes, when asked on the spot. 
That shows how often the fringe of 2D hot guys and pretty girls covers one of their eyes for no significant reason.
Moreover, when it comes to 2D characters, they don't have to face the obvious real-life problem of not being able to see what's in front of them if there's something covering their eyes.
These characters might have their eyes completely covered and they will still be able to go on about their days just fine.
I feel like the biggest difference between 2D and 3D worlds when it comes to hair is not hair color, e.g. pink or green, but the fact that 2D fringes are see-through.
You probably think the hidden eye situation is a boring sub-trope, but note that it exists because the 2D world makes it possible.
■ Hidden eye characters are artist friendly
I personally think people should consider themselves lucky if their favorite character is a hidden eye character.
But they should feel that way only if they draw.
And I don't mean it's a good thing for them because drawing one eye is easier than drawing two eyes.
If anything, I wonder if there is any artist who hates drawing the eyes of their favorite characters.
I would say most artists prefer drawing "only" the eyes of their favorite characters.
So wouldn't these people be unlucky because they can only draw one eye? Well, when you draw a human face, drawing balanced eyes may be the most difficult task.
A newbie artist will trip and fail here. I myself have been tripping and failing for 30 years and I still do today.
In the world of hairstyle and fashion, asymmetry might be a commendable concept. But I bet an artist can never bear to see an asymmetrical set of eyes.
In that sense, artists whose favorite character is a hidden eye character don't have to worry about asymmetrical eyes because they won't and can't happen.
Although it is unfortunate that these artists can't draw both of their favorite character's eyes, a hidden eye character can make them feel content with their drawing more than a non-hidden eye character does.
Artists find it painful when they can't draw their favorite character well.
Artists often go berserk, rip their canvas, and shout, "This isn't what my fave looks like!" Just like that scene in the Japanese horror manga Tomie.
This is why I'm jealous of Bartholomew: because he only has to draw one of his favorite character's eyes. He must have it easy, but I don't think he has a hidden eyes fetish for that reason.