Curry Zawa Kaoru's Creative Counseling - How to Reconcile Your Own Feelings With Other People's Opinions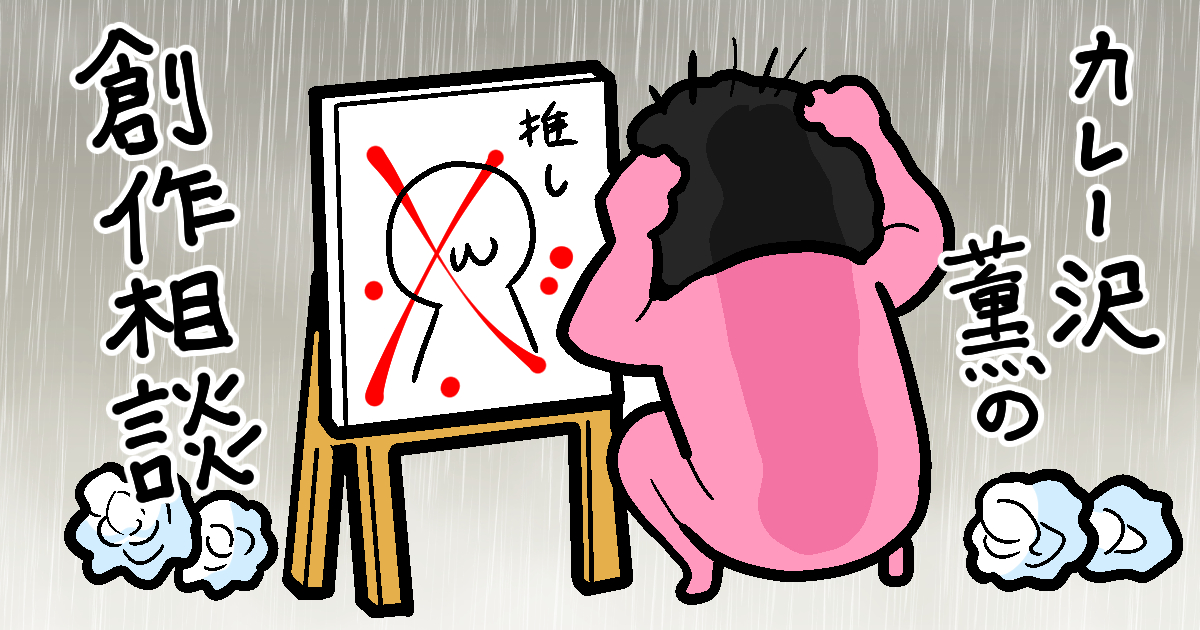 Other people's opinions end up influencing my own feelings
Most posts are introductions to my works, funny fan art, and manga, but every once in a while you'll see a colored illustration of some super serious-looking character, just casually standing there.
In fact, those are the posts that I would like people to check out, and of course, I post them because I think they came out pretty well.
Unfortunately, those kinds of posts often struggle to make it past two-digit bookmarks. Two-digit figures are pretty impressive for a professional artist... impressively low.
A collection of scribbles that could've been drawn in Microsoft Paint by some kid picking his nose, on the other hand, can reach four digits without a hitch.
Do I push my simply-posed ikemen characters onto my followers because it's crucial for me that they see how, in their forever-facing-45-degrees stance, they're undeniably better than their Paint counterparts? No, I don't. Instead, I keep drawing stuff on Paint while mining green gold in my nose, because I agree that those works can be definitely more fun.
What an unfortunate incident, isn't it? You're asking for advice from someone who's an endorser of the very same mentality that you hate so much.
But hear me out: in a sense, the idea that works that go unregarded are scrap is correct.
Moving on from self-satisfaction and drawing for others
Most of the manga "masterpieces" out there are works that have been seen and praised by many people.
Even Dragon Ball would not be called a masterpiece if it was only ridiculously popular with Akira Toriyama himself, and would instead be considered a commercial failure.
However, a "masterpiece" is not only one that is loved and supported by a large number of people; there are also "masterpieces" that are valuable in the sense that some indie subculture nerds will name them as their personal favorites even though they are not highly regarded by the public.

Also, even in a timeline when Dragon Ball never got the public's attention, the manga would still be a work of great value to Akira Toriyama, because even if it didn't sell, he'd still be happy to have brought young Chichi into the world or something.

What constitutes a masterpiece depends on your set of values. If other people's evaluation comes before your own satisfaction, then it is natural and not a bad thing to feel that a work that is well received by others is a good work and a work that is not well received is trash.

Values change from day to day through experience.

When you were drawing for yourself, your own satisfaction came first, but after the experience of publishing your work online, you've come to place importance on the opinion of others.

I think your struggle comes from not being able to accept this change and trying to hold on to your old values, to a time when your works' worth was only for you to determine.
If you want to go back to your old beliefs, then stop posting your work online. If you show your work to others, it's only natural to feel a certain way about their comments and opinions.
Perhaps it's about the way you put it: you say that your feelings towards your own art are now based on other people's opinions, which doesn't sound so good.
Instead, let's put it this way: you've stopped caring about your yeets and you've learned to appreciate other people's oohs.
You have grown up as a creator, you have moved on from drawing for your own satisfaction. Now you want your art to put smiles on other people's faces, too.
Besides, if you ignore other people's comments and keep posting left-facing bust-up pictures of your favorite characters that you believe are super cool, and if the world keeps ignoring them, you'll eventually grow sick of drawing them.
Try to picture this: you are an idol producer, and there's this idol you produced who is your favorite of all time. However, he never gets the spotlight, and when you watch the TV show that he's supposed to be in, you realize that they cut all his scenes. Sad, isn't it?
Still, there's no doubt that he has what it takes (he's your favorite, after all), which leads you to the one possible conclusion: you just don't have the talent to make him shine, so you should leave the job to someone else.
In order to continue to enjoy drawing your favorite characters and showcasing them to the world, you need the support of others. In the idol example above, you need the audience to be cheering and fawning over your beloved one. For that, worrying about what others think is essential.
Talented creators know the equation "Yeet = Ooh"
However, if you seal off what you want to draw and continue to create only what others will like, I promise you'll start wondering what the heck you're drawing for.
I believe that the creators around the world who seem to go viral every other day are not only thinking about what will be popular with others, but most of all, they are drawing what they like.
These talented creators have the skill to take their yeets and cook them up in a way that makes them edible to others, turning them into oohs.
In order to make the equation Yeet = Ooh work for you, please analyze the works that you thought were great but others didn't and the works that, for some reason, got people's attention. Mix them up and do your best to create dishes that will make both you and others happy.
Another thing you could try is drawing to please other people in order to satisfy your need for approval, and then when you get tired of that, draw one of those forever-facing-45-degrees characters for yourself. In other words, switch it up.
If you post a picture after making it very clear that you're doing it merely for your own satisfaction, then you won't be shocked when it doesn't make it past two-digit bookmarks.
Or, if getting two-digit bookmarks makes you feel like your work is trash, you can choose to keep it for yourself without showing it to others.
Creators tend to feed on other people's praise, so sometimes you'll have to please others if you want to keep drawing.
Rohan Kirishibe once said, "How could you even think that I was drawing manga for money and attention!?", but let's face it, Rohan is an eccentric from all angles, isn't he?
There is no way ordinary people like us can live up to his standard. As far as we're concerned, let's just try and live a long life, taking every chance to suck on other people's praise.