Curry Zawa Kaoru's Creative Counseling - "I'm Embarrassed To Show My Work To Others": How To Turn Exhibitionism Into Art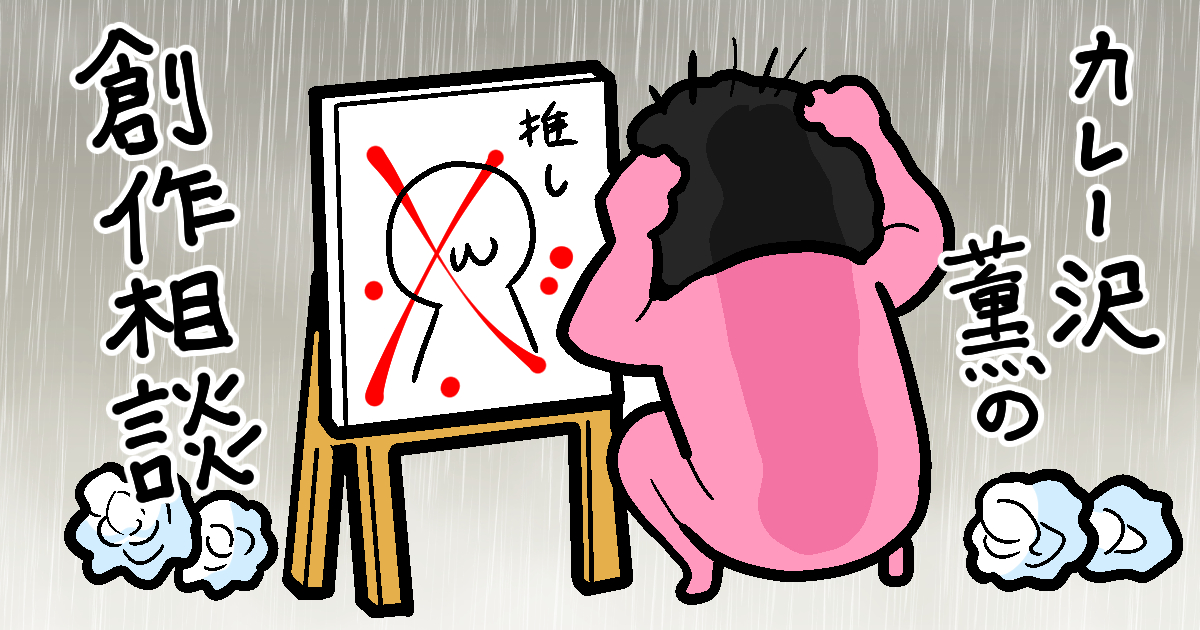 Article by Curry Zawa Kaoru
I'm embarrassed to show my work to others
I think that all creative people, some more than others, feel embarrassed to show their work.
For starters, creativity comes from fantasies that are inside our minds (or delusions, at worst), i.e. things that should not be released to the world.
In a sense, creation and private parts are similar: they should not be put out there for everyone to see. What would you think of someone flaunting their junk around, not even caring if someone sees?
Of course, everyone cleans up their fantasies before showing them to the world, but it's not like you can spray Chanel N°5 between your legs and just go outside to expose yourself without any shame.
And don't forget you're the one making the decisions here.
If a creepy pervert decides he's going to flash an unsuspecting high school girl, but as soon as he does he starts squirming and covering up his private parts with his hands, anyone's reaction would be "then don't flash your junk in the first place!"
If you're embarrassed about your work, you might be tempted to add some notes like "[character name] practice! So hard... (-_-;)" or "OMG this turned out terrible". But whoever sees those notes will ask themselves why the heck you even posted it in the first place.
Also, a good artist self-deprecating their own work sounds exactly like that skinny friend who's always complaining about how fat they are: infuriating.
In other words, when it comes to creative work, embarrassment only comes with the negative side of making the viewer uncomfortable.
Creation is also known as the card battle of human inclinations, the battlefield where the shy one is the first to go, the freestyle competition where shame disqualifies you.
When you enter the great contest that is creativity, you have to deal with all the flashers that were there before you. The game depends on how boldly and technically you show your human inclinations (a.k.a. your private parts).
If you've come this far just to be ashamed, there's no way you can win against the veterans.
As a result, you won't get any recognition, and because you won't get any recognition, you'll feel even less confident and more ashamed.
To break this vicious cycle, you need to find that confidence and cast the shame away.
The importance of self-confidence and having a "style"
The first and quickest way to gain self-confidence is through the approval of others. To be honest, self-confidence is sometimes more about how people treat you than about your skills.
No matter how good-looking and talented you are, if those around never spare a good word and all they do is put you down, you'll end up a cursed living doll ー hunched back, bangs longer than the back of your hair, wearing long-sleeved cardigans in the middle of summer... you know, the kind of person whom Feng Shui would recommend keeping out of your home.
Sure, no number of bookmarks can chase away the feeling of embarrassment completely, but the more people praise your private bits, the more confident you'll get about them (maybe you'll even strike a pose next time).
So, first of all, why don't you try drawing to gain the approval of others?
However, if it were that easy to get so much recognition, I'm sure you'd have already done it, and I have, too.
Next in order of importance is to keep drawing a lot and keep putting your work out there for people to see.
If possible, keep drawing in the same genre, and when it comes to the content, make sure it doesn't range so much that it goes full-circle (like the work by Mr. Big Mikio Igarashi or the song Suirenka by Shonan No Kaze). Try to keep your temperature constant even among different topics.

From the viewer's point of view, it'll be great to see that you're uploading a lot of works of your favorite genre and your favorite characters, and if you keep it up that'll eventually become your style.
Once you find your own style, there will be at least one person who will come to you and say "I like what you draw!"
If you're a commercial artist, you'll starve to death with only three hardcore fans, but if this is your hobby, knowing that someone appreciates your art style rather than the genre or the characters you draw will give you a huge confidence boost. Your style will then improve, and the number of people who appreciate your work will grow even more.
If you don't show your work because you're too embarrassed, you won't get better, you won't get any views, and you won't find that confidence you're looking for. So keep drawing and posting your art.

Even if you lack technique, you can still have the time of your life
By continuing to post your work, you will get used to the exposure.
To be honest, I'm also embarrassed to show my manga to people, but after 10 years of doing it, you get used to it and reach the realization that no one is actually looking.
I'm still navigating the hell that is worrying about what other people think even though I'm aware that no one is looking, but once I get past this point, I'll hopefully manage to believe that if no one is looking, then I can just do whatever I want. Maybe that'll be the start of my own card battle of human inclinations.
Lastly, there's the power technique called fake it till you make it.
Take Paris Fashion Week, for example: some of the clothes are absolutely nuts, but since the designer sounds so confident about them and the models wear them with such fearlessness, suddenly you feel like a dork who's too much of a peasant to understand the beauty of it all.
In other words, there's a phenomenon where something looks good because the person who made it is incredibly confident, and not because it's all that good in itself.
No matter if you lack technique, if you can showcase your work with no shame at all, proud of having drawn your favorite characters, people will realize how much fun you had making it and even feel a bit envious.
The biggest confidence boost comes from having fun drawing.
If one of your works embarrasses you, just don't post it. But if you decide to post it, do it with pride, and keep going.
This is how you turn exhibitionism into nude art.