Curry Zawa Kaoru's Creative Counseling - A bad guy is messing up my niche! Stay still and don't let the village fire go out.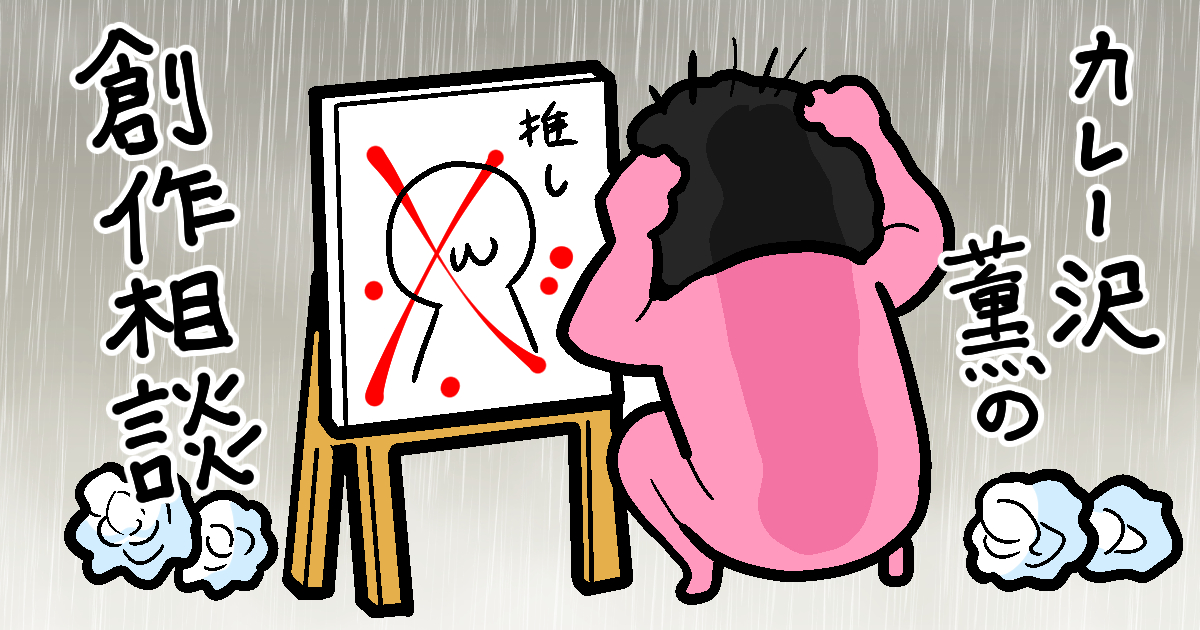 Article by Curry Zawa Kaoru
The newbies in my small niche get harassed and leave
A long time ago, people used to say you were nobody unless you belonged to the Taira niche. The next thing you know, the power and people shifted, the time of Genji came, and with it came the anime adaptations. Now, in the Reiwa era, you stand in front of election posters and shake your head as you come to the realization there's no one you can ship this season.
The entertainment industry changes quickly, with new frontiers popping up one after another, so no matter how prosperous a city is, when the original work is finished and the supplies start lacking, the population migrates to new, richer lands, leaving the once-prosperous town to die like a coal mining town after the mines are depleted.
However, once a town has prospered to a certain extent, it's rare for the population to drop to zero, no matter how desolate it has become. Even in towns that seem to be at the bottom of a dam, once you drain the water you'll still find some corpses waiting to be rescued (or supplied).

Such quiet towns come with some advantages: first of all, they're way more peaceful than big cities.
Metropolises have more crime, and in the same way, the more populated a genre is, the more brawls and harassment you'll come across. Even without being directly involved, it's desolating to see fights happening in your niche every day.
When it comes to creative activities, the number of views and bookmarks spikes in popular genres; you get more feedback, which makes it much more worthwhile to draw.
However, as the number of people looking at your works and having expectations increases, you may feel pressured to draw quickly and create something that will please the people waiting for it.
In small niches, there's always the question of: "Is anyone really looking at this?", but on the flip side, you can enjoy drawing at your own pace, without caring much about the viewers.
In other words, major genres may be lively and fun, but they come with the downside of being unsafe and tiring, while minor niches have the disadvantage of lacking material, but the silver lining is that all the remaining villagers are eagerly waiting for the town's artists to create more of their traditional handicrafts ー in their own time, of course, and for however long they please.
Desolated areas can be wiped out by a single bad guy.
But just like it happens in those horror movies where the monster who's wreaking havoc actually came from a tranquil farming village, in the same way, there are times where the worst of the worst comes to life in desolate areas ー against all odds.
Big cities are the perfect breeding ground for villains, but on the other hand, people are used to the bad guys, and the population is so large that even if 100 people disappear overnight due to a rampage caused by a single bad guy, the number is still within the margin of error compared to the total population.
In other words, if you live in a metropolis you are unlikely to be destroyed by a single criminal, but if a single criminal appears in a deserted area, the whole town may easily go extinct.
This is the situation in your tiny village now: you're hiding in a barn watching helplessly as other villagers are being eaten alive by the bad guy, and you want to do something about it.
However, and correct me if I'm wrong, it's exactly because you never wanted to get involved in such things that you have chosen not to socialize with the other villagers and be a lurker.

Socializing with fellow fans is one of the joys of fandom, but it can lead to trouble and fatigue which may force you to leave the genre due to conflicts that have nothing to do with the original work.
To avoid this, working solo is the way to go, even if it means having to sit and watch with envy as your fellow villagers get excited about creating anthologies together.
The same goes for setting up Marshmallow. Accepting anonymous questions and comments makes it easier to get feedback and support from the good people, but anonymity makes you an easy prey ー Jack Nicholson style.
So if you don't want to get Nicholson'd, you'd better not set it up at all.
Conversely, by not using Marshmallow and not socializing with others, we can say you've done a good job defending yourself this time.

Stay away from disasters and avoid extinction
People who believe that only their interpretation exists and attack others are but monsters longing for disaster. Typhoons cannot be reasoned with, and in fact, you may end up in serious trouble even by standing a bit too close to one.
These days, there are more and more countermeasures against slander on the Internet; if you don't mind going head to head with a hurricane, you can doxx them or even file a lawsuit, but that's only for the directly involved to decide ー nothing you can do about it.
Since you were fortunate enough not to be involved in the disaster, I think it'd be best for you to just lay low and continue your rescue activities, such as secretly encouraging those who were affected.

Yet, even if you managed to escape the calamity, it's heartbreaking to see people from your own village being wiped out, even if you've never interacted with them.
But let's think about this the other way around.
If you take action, the village will succumb.
Maybe you'll be the last survivor in town.
Let's say you prepped and managed to dodge an unprecedented disaster, but you decide to go out and check on the rice paddies, get caught up in the catastrophe, and die. Now you're extinct too. There's no one left.
The village is no longer depopulated ー it's empty.
You can't read the movements of the bad guys (that's why they're bad), but just like with typhoons, if you wait long enough, they may move elsewhere.

If even one person survives the storm, then the village can be rebuilt.
Therefore, what you need to do isn't to take some sort of action, but make sure that you don't get any more hurt, that this situation doesn't make you feel bad about being in the genre.
It may look like you're sitting on the sidelines as the townsfolk is facing a crisis but think of it as preventing the village fire from going out by not getting too involved.