Curry Zawa Kaoru's Creative Counseling - How Can I Get New Ideas? Helping Your Creativity Flow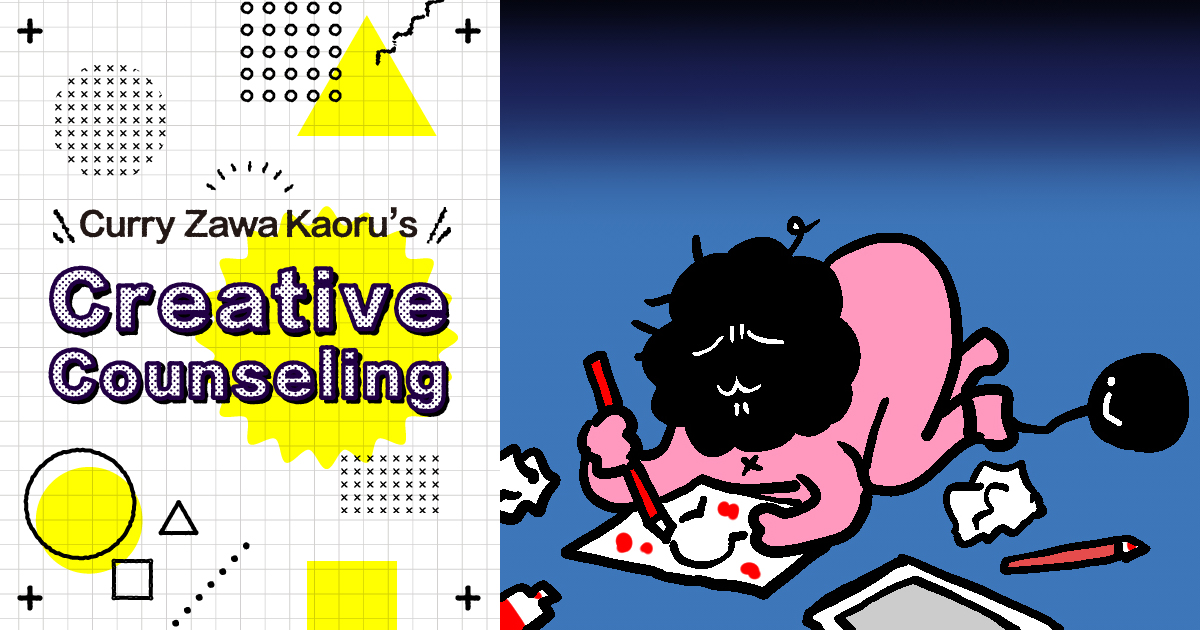 How can I get inspiration to flow?
I really wish I could pull off a big-dick-move like Kenzo Kitakata when he tries to solve young people's problems with a single phrase like "Just go get laid". Instead of giving a long lecture, I'd say something like, "Just go get high".
However, the idea that doing drugs will inspire amazing ideas seems to be nothing more than a measly urban legend, and any story fueled by that kind of dope often conveys nothing but "I was high when I wrote this".
Whatever you write may seem like a gift from God as long as you're high, but once you come down and go back over it, you'll likely realize it's so bad that you realize that the drugs were definitely a bad idea and that you should take things more seriously. This may be what some people mean when they say that drugs and creators go hand in hand.
What doesn't usually go hand in hand, however, are drugs and the law. So I wouldn't recommend resorting to them if you plan to keep up the creative work as a free human being.
In any case, our go-to drug is perfectly legal, and it's called the One True Pairing.
Getting high on that drug can take you on any kind of journey. It's said you can just close your eyes and envision your OTP exchanging a passionate kiss (with much saliva involved) at their wedding. If your experience differs, it might be that you're just not high enough.
If that's your case, maybe you should go through the original work once again. You might think you know the original by heart now, but let me tell you that one extra round might just give you the punch you need; you might even start hallucinating and seeing that wedding scene happening in the blank space between the panels.
When it comes to fanwork, original work is fuel to the motor that's your pen. When you think of it that way, isn't it just natural to add fuel to a motor that's running low? You might wanna try that before calling customer service and hearing the clichéd, "Is the power switched on?"
Dream of your OTP 24/7
That being said, one should also know that no matter how refined the fuel is, it won't change the performance of a motor that's too outdated.
If you want to know how I manage to get ideas out, I'll reply honestly and tell you that 
I sit at the desk and think hard
. Ask some of my colleagues too, they'll tell you that they sit at their desks and think, too. Some of the less sympathetic ones might even add some of the saliva mentioned above — no kiss involved this time. 
There's no reasoning with this, it's like you're sitting on the toilet with the runs but your anus is saying you're constipated. You just have to hold on to your tummy and wait for it to pass.
While that might be inevitable when you're doing this for a living, I wouldn't recommend it to anyone who's just trying to have a good time geeking out over their best
uke
boy. Let your loathing for reverse pairings motivate you in creating new fanwork; there's no reason to let a temporary drought in ideas take the love for the genre away from you.
That said, whether it is a job or a hobby, creation is always a painful process.
Anyhow, while having a hard time is one thing, you should be on the lookout for fatigue. Burnout is the ultimate enemy of creation, so don't force your pen if you just don't feel like it.
That sort of punishment should be reserved for those who thoughtlessly entered the writing profession.
So you want to spread the word about your OTP and change the world? By all means, but don't forget to have fun while you're at it.
Your primary goal is not to come up with ideas for your fanwork, but to let yourself fantasize about your OTP 24/7.
Creation is nothing but the manifestation of one's fantasies, and fantasies are meant to be fun, aren't they?
By the way, if your fantasies tend to lean on the darker side, you might want to get some rest ASAP. Nothing good ever came from wondering "What would it feel like to pierce an eyeball on that loose bed screw?".
Giving yourself the freedom to dream about your OTP and picking the best ideas to develop into fanwork is a win-win situation.
Anyhow, chances are you might be one of the many folks who have those weird fantasies like you're reincarnated in an
isekai
setting with unmatchable powers. It pains me to say this, but it's likely that no one will want to listen to that, so instead of picking up random ideas, you should start by giving your fantasies some kind of purpose.
How to help yourself
Let me introduce you to the "How'd she react if I scored the winning goal?" method.
Having an OTP means you have the characters and the roles set, all you need to come up with is the general setting and a specific situation.
If the situation was her falling for the most unattractive neckbeard guy for no reason, then maybe you should confine that to your imagination, or even start looking for help to get rid of that, because no one will feel any sort of connection to that. Move on.
Say you're starting your title with something strong like "Scoring the Winning Goal"; people will definitely be interested in seeing how that special someone would react to that, too.
No fandom is new to the trope where a couple is stuck in a room and won't get rescued until they have sex. It's old but it's gold as it pulls out the best from every couple. Likewise, you need to think of the best situation if you really want your OTP to shine.
When thinking about your OTP, try and put them in all sorts of places and situations.
And you don't even have to think too much, just pick something that happened to you, like that time your mom walked into your room while you were streaming live — it definitely happened, right? — what would your OTP do in your shoes? Would they keep things going and make the live chat go wild? Are you picturing the situation? Hello?! Are you still there? Your mom's calling!!
Anyhow — if you're back with us — what I meant to say is: rather than staring at the desk and thinking, draw inspiration from your everyday life, start with something you're comfortable with, and ideas will flow. And most importantly, you'll have fun in the process.
Be greedy for feedback
I wanted to clear the air about those, like me, who take commissions as a job: it's not like we're constantly in a drought.
One could say good fan feedback is our drug: the more positive comments we get from our readers, the better our ideas flow.
Conversely, we do tend to lose drive when we get less positive feedback, making the creative faucets more difficult to open.

That's why you should be greedy for comments and feedback every time you produce something new.
Be aware that you're bound to get the casual trolls commenting things like, "that's too lewd" or "you're desperate LOL", but you know what? I poured my heart and soul into this so YES, I am desperately looking for people to read it!
You'd probably lose confidence and drive if no one were to read your work anyways, so you might as well get it out there and shove it in everyone's faces.

Think hard about the tags you're going to use when you upload it and come up with a catchy description for social media.
When you post it, don't forget to attach a screenshot or the hottest panel or line. You have to throw all your lures out there.

Don't be afraid to be tweeting too many times, people are never going to notice unless they're on Twitter 48 hours a day like I am. Tweet and retweet your work many times throughout the day to make sure you get early birds, night owls, and any creature in between.

Even if your work was as good as the next Bible, it won't spread on its own.
Be your own prophet. Get the word of your OTP out there.