Curry Zawa Kaoru's Creative Counseling - "People seem to appreciate my comedy works more than the serious stuff I love to write." Here's why!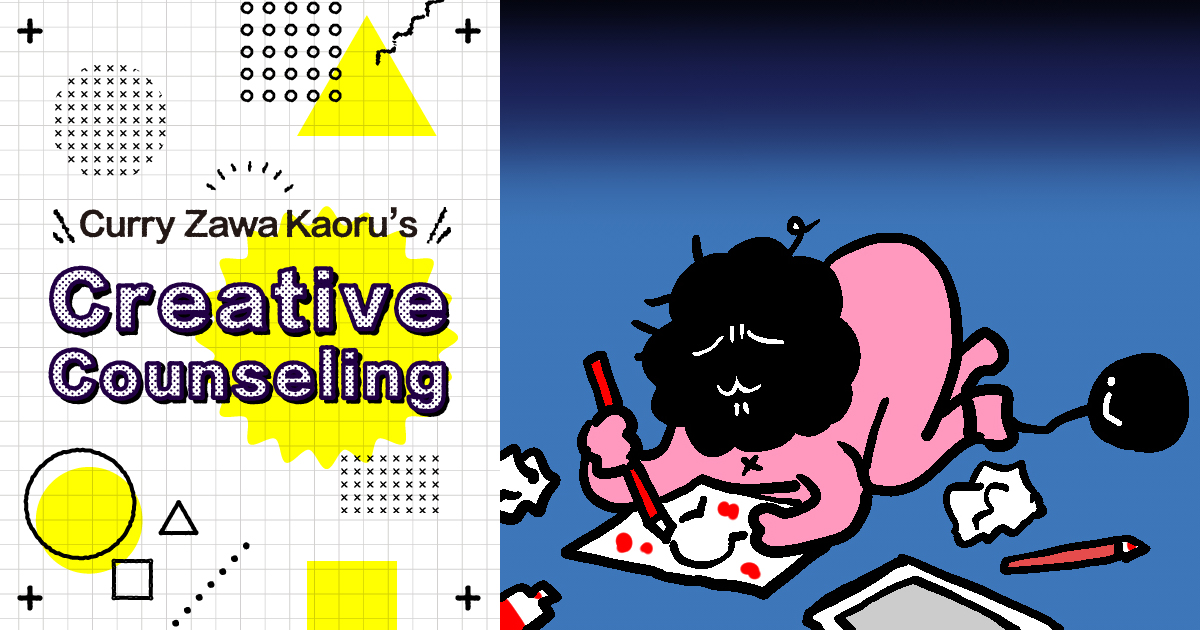 People seem to appreciate my comedy works more than the serious stuff I love to write
I'm not sure if I've already earned the title of comedy mangaka or if that's always been my default setting. I do, however, find myself asking my doctor during my weekly visits to check out my work that'll be featured in the upcoming Shonen Jump+, only to be sent back to the hospital room with "under observation" stamped on my medical file.
Even so, I don't remember going so far as to reveal to my doctor that I'm actually the real author of the manga Phoenix, so I guess I can't even be a serious writer in my imagination.
But that doesn't mean a comedy mangaka is something I've always wanted to be. Some of you may be wondering, "Just what in the heck did you wanna be?" Before, my cobra-like and snappy answer  would have been, "Can't we just live without wanting to do anything in particular?" But now that I'm almost 40, and visions of drawing seme women, but without the pegging and the one-shota tropes, have clearly come to mind, perhaps I'm growing more steadfast as I get older.
And yet, I'm not drawing anything of the sort. Even if I wanted to, I don't have the skills. If anything, I'm not even allowed to carry writing utensils because of the risk of self-injury, and the reason for that dates back more than 20 years.
Once upon a personal website
I was in high school when I first came into contact with the Internet and discovered that even amateurs were publishing their drawings, manga, and other work online. So I wanted to try my hand at it.
Of course, at that time, there weren't any no convenient services like pixiv, so I created a personal blog that now ranks alongside the Horyuji Temple as a historical landmark, and I focused mainly on otome games, which I was heavily into at the time.
Like any high schooler posting their work online for the first time, I was disappointed to see that the view counter on the totally cool, 45-degree-facing sprite of my favorite character would only go up to three (two of which were me). Cute, isn't it? Well, I wish it stopped at that.
Honestly, I wanted people to praise my work and tell me how cool my drawings were.
But even before setting up my personal website, I had already faxed my best 45-degree-facing characters to my friends' houses and I became acquainted with the concept of shame when I was reprimanded for pasting my best home-drawn illustrations on top of other people's drawings in the guest notebook of an Animate-like store. So I came up with this clever analysis: no one would look at or be pleased with a single drawing that I posted just to show off while the Internet was brimming with great artists. However, I thought I might still have a chance with comedy works, so I set up another website where I'd only post comedy drawings and manga from the start.
It got quite a few visitors for a newb high schooler's website, and there were even a few regulars who'd carve their comments onto an ancient tool we used to call bulletin boards.
My depraved mind would sometimes incite me to draw cool, solemn works, with motifs of feathers and chains, and a dance of human sins. I think those were cool too, but the view counter always topped out at three (four of which were me), and most of the comments would be from my regulars, something along the lines of: "So you draw things like this too?" Soon I realized that those comments weren't feedback, but mere facts.
I should have tried harder to acquire the drawing skills I needed for more serious work, but I was more interested in immediate approval and feedback, so I continued to draw only comedy, and this is where we are now.
It's all about audience size
As you can see, I had a similar experience to yours. And many others probably face the same problem: comedy does better than serious work, although authors wish it'd be the other way around.
This doesn't mean that you and others like you are better at comedy than at deeper stories.
Audience size is a thing, and it exists even before someone reads your work. 
When you write open-ended stories, you probably add a disclaimer ("Includes an open ending! Reader discretion is advised!") so that people looking for a happy ending can respectfully withdraw.
And if you're writing about a certain pairing, the number of readers will be narrowed down even further.
On the other hand, comedy authors often jot down a disclaimer or two ("Warning! Out of character!"), but as long as the no-nonsense, hyper-cool character from the original work doesn't start breaking chopsticks with the sheer power of his buttocks in a striking instance of character assassination, comedy is a genre that can be appreciated by pretty much everyone ー more than open endings, that's for sure.
"Warning! Slice of life!" isn't a thing.
If it ever comes a day when people start pestering authors to add a #sliceoflife tag in slice-of-life works, then we'll know our land's intolerance has reached the point of no return.
What I'm saying is, maybe it's the wider appeal of lighthearted comedy and slice-of-life works that makes so many people read them, and their popularity also makes them better received.
Lighthearted comedy works even better for fan creations
Given that serious manga sells better than comedies, you may think this sounds contradictory. What readers look for in fan fiction, however, is different. 
Just as artists sometimes start drawing fan art craving to see the wedding of their favorite characters that's missing in the original work, readers may come to pixiv for the exact same reason.
Readers want to see what's not in the original.
Speaking of things that aren't in the original, first and foremost is lewd stuff. Then, there are people like me, who deep-dived into pixiv after the end of Golden Kamui hoping to see Ogata running around in another spacetime ー his life was at stake! Many people who've seen their favorite characters die in the deadpan original work are surely longing to see them live on in a lighthearted comedy dimension, at least in fan work.
Expanding reach with serious works and open endings is harder than with comedy
Another recent trend is that people tend to prefer more compact works rather than super-blockbusters.
As testified by 2-koma quick punch comics (#即オチ2コマ), two panels are adequate for comedy and erotic manga, but a 2-koma solemn work would still look like a comedy, only highly sophisticated.
Serious works tend to be longer than comedy, which makes some people avoid them.
If someone opens a novel right before hitting the sack only to realize the story is 16 pages long, they may end up picking something else to avoid falling asleep halfway.
Of course, many serious works out there have outshined comedy, so I'm not saying the genre doesn't have potential. It's just that comedy tends to get more reach, which I guess applies to your funny stuff too.
If my hypothesis is correct, then getting more reach with serious works and open endings is harder than it is with comedy.
As for me, while I really want to be praised for my cool pictures and erotic stories, I have come to terms with the reality that comedy gets more praise, so that's all I draw now.
In your case, the same realization hasn't turned you away from writing things apart from comedy, which means your dedication to serious and open-ended stuff overcomes your immediate need for approval.
There are some who create stuff for an audience that's so narrow that if they were a room, you'd have to commando-crawl your way in to avoid hitting your head and dying. Imagine full-length parody yuri novels with genderswapped anti-magic ninjas.
Those who write such works would never even think of getting four-digit views, and they probably realize that not many readers can get past the disclaimers and trigger warnings.
And yet, they still go for it, because they believe that creating what they love is more valuable than a thousand bookmarks. These people must be in very good mental health no matter how deranged the things they write about are.
I can't just ignore the numbers since doing so would result in starvation and subsequent death. This aside, I believe caring about the numbers is a source of illness.
If your life isn't at stake, I hope you won't worry too much about the numbers, write what you want to write and go about creating in a healthy way.