"I'm single, in my 40s and my hobby is making BL fan art" The reason you feel like a failure as a human being is that standards are too high.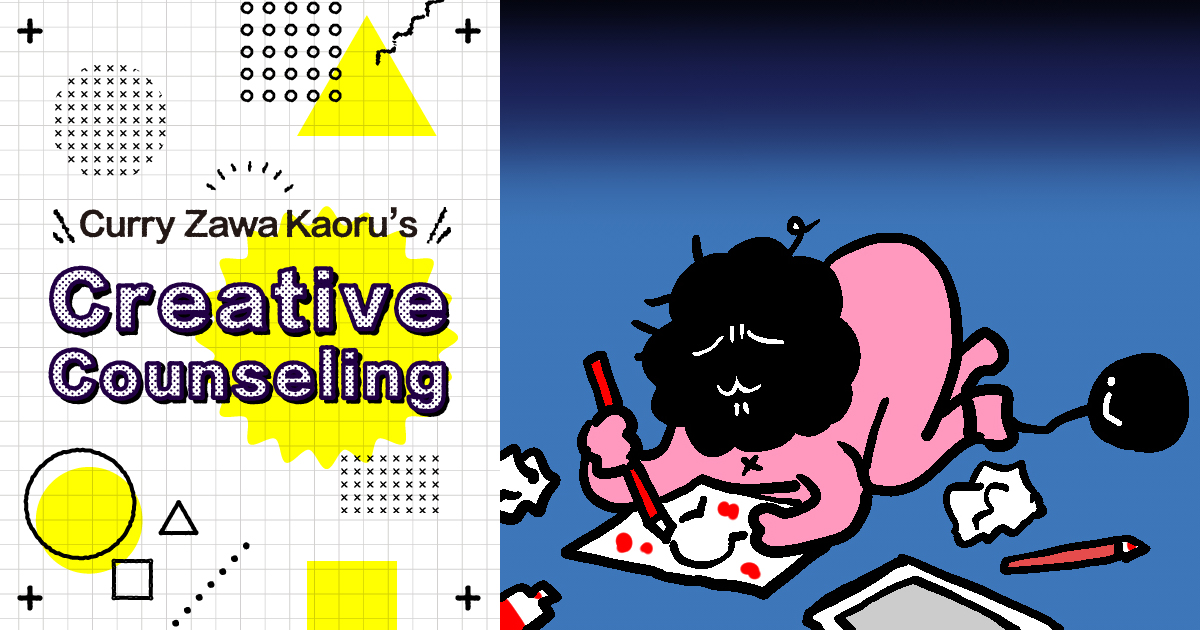 I'm tortured by the thought that I'm a failure as a human being because I'm single, in my 40s, and create BL fan art.
"That grass that's greener on the other side looks like marijuana."
While you're sat in a barren garden wearing an out-of-season sweater covered in cockleburs, the garden of the house next door looks so happy, covered in magical herbs. This is the kind of depressed thinking we've all fallen into at one point or another. In reality, however, more likely that the owner of that garden next door meant to plant mint to add decorative flair, but instead, the plants wound up growing uncontrollably.
I turned 40 this year too and from the outside, you could say I have it all: I'm married with a family and a career. You may be asking yourself, "Just what do you have to complain about then?" To that, I'd mention my nearly constant worries of just how long I'll actually have my job as well as the rising costs of electricity and what I'm going to do when the crazy expensive solar energy they've been selling ends this year. 

Everyone always thinks that every other 40-something has got life all figured out.

There are probably people in your circles who look at you and envy your decision to stay single while regretting the option they chose. But, even though it may look like it on the surface, it's not all like rainbows and butterflies. That Big Hemp Garden is alive at the risk of becoming a noose around one's neck at any moment.

But even if those neighbors are actually happy, it's nothing more than an outwardly perceived happiness.

There's a park in front of my house so every day, from the window of my room on the second floor, I watch over the playing children while at the same time, getting a good bird's eye view of the chatting group of mothers below.
Every time I see them, I get super bummed out, envying how they're having a proper social life outside in a world I feel so far removed from.
I mean, I'm sure that they wouldn't find it particularly "nice" that they're being watched by an unemployed middle-aged woman every day. Even if I were allowed to join their group, it'd probably take about 30 seconds before I'd start thinking "I want to go back to my room and play Umamusume".
As a result, I don't set foot out of this room, and I think that having the Amazon delivery driver being my only form of contact with society is the "best" situation for me.
Say, for example, you were able to become the kind of person you long to be: someone who's balancing work and family while devoting your time to creative work, what you'd feel wouldn't be happiness or a sense of superiority, but more the criminal mindset of "there's so much to do" like that Kindaichi boy. This is beyond my control, but for the time being, let's remove my family and the job that's challenging but worth it from the picture, shall we? I think that by removing all the parts that you can't deal with, you'll return to your "original state".

When you try to do something beyond your capacity or something outside of your wheelhouse, you may wind up not only destroying yourself but also making those around you unhappy.
How about considering your current situation, in which you are doing what you can do while also finding enjoyment in creation, to be the "best" you can do, rather than the "end result" of a poor choice or lack of effort?
Not accepting yourself is the source of your BL shame
And it's usually when someone else's lawn looks like a field of cannabis, that mine looks like a dog's toilet.
Because your self-esteem is like minus 500 million, you feel miserable even when surrounded by people who are mediocre at best, making the act of indulging in the creation of BL fan art seems embarrassing and something that you can't talk to people about.

If you are so hard on yourself, even if your hobbies are playing the koto and tennis, you'll just start giving yourself a hard time like Kosaku Shima, saying things like, "So I can play the koto and tennis, big deal! If I'd spent my youth chasing after men and their dicks then I wouldn't be in this mess."

Coming to terms with your hobby of making BL fan art means accepting yourself.
With all that said and done, it doesn't mean you have to strive for the top spot on pixiv rankings or boost your career just to raise your self-esteem. That's not something easily accomplished and you'll actually wind up even more depressed if you can't make those things happen.
You don't need to change, just accept yourself as you are.
You say, that being an otaku and creating BL fan art is all you have going for you. I personally think it's great that I'm a frikkin' otaku creator. 

And I'm not saying this because being a creative writer is my job now. I've thought this ever since my time as a company employee, making 120,000 yen (roughly $1000) a month while still living at home in my childhood bedroom. 

Since I'm the type of person who left their social graces in my father's balls and spirit of cooperation in my mother's womb before I was even born, I was never one who could adapt myself in school or society and, contrarily, was more of a nuisance to everyone around me. 

But even that kind of person will occasionally receive sincere words of thanks and compliments like "That was a delicious piece of work." and "Thank you so much for drawing this pairing. You've made me so happy." If you make those "creative works" and put them out in the world.
I think if it weren't for my work, the people who thank me like that would be thinking, "please die as soon as possible" if I were a co-worker at their part-time job or something.
In other words, if I weren't this creepy otaku internet illustrator, there would have been this high possibility I would've lived a life as an inconvenient person without anything to look forward to and no one to be grateful for me. It's so horrifying that just thinking about it gives me shivers. 

Imagine how you might've ended up if you weren't an otaku BL fan art creator.
If you do then you can treasure your otaku hobby and see it not as a flaw but as something that saved your ego from collapsing.
The environment of fan art creation is a good one
On top of all of that, your creations can bring joy to others, which isn't an easy thing to do at all and not something everyone can do.
Even if your hobby was making sweets or handmade knick-knacks, you'd need a certain degree of skill to be able to make someone happy by giving these to them, and if you're not good at it, you'll be hated as the "dirty baker" and something like this might even affect your social life.
On the other hand, the results of your fan work creation hobby can be published on platforms like pixiv, where your personality is kept wholly hidden and your real life unaffected.
On top of that, rather than saying something like, "Please have some of these cookies I baked," and forcing them onto people you make your work available in more of an "I made a TamaKin (pairing name) school parody and I'm just gonna leave that here." kind of vibe. Even the unskilled can do this and it allows anyone who's interested to freely look at it. This means that at the very least you're not being a nuisance to those around you and best case scenario, you can improve your self-esteem and get an ego boost from others at the same time.
Don't you think it's pretty hard to find a hobby that you can do on your own, has an established system for getting your work out there for others to see, and is free to use?
You say you don't want to reveal your age out of embarrassment. If you don't want to, that's fine and you never have to. For readers, age is irrelevant so long as you create SSS (smutty smut smut) works of their favorite pairings. The only thing you're going to need is to indicate that your age is "20+" for self-protection.
In fact, having a low-cost hobby not influenced by age and useful for others is probably the perfect choice for middle-aged people who are told that they should have 20 million yen in their savings by the time they retire, worried about the future, and tend to question their very existence,
I even feel that you'd be lucky to be popular with such a hobby, and the fact that it's something you can continue to do until you die is a big plus in this era where life expectancies are in the 100s.  
You're hurting yourself by building this high wall.
Don't you think the bar you've set for how people in their 40s should be is a little too high?
It's not like other people are coming up to you saying, "You're already in your 40s but you're not married, don't have any kids, and reveling in your otaku hobbies. Pull yourself together!" And even if someone came up and told you that, if you just think to yourself, "Even if you've got everything figured out, we're already in the 21st century and that's all you can think to say to others?" Then it'll never go beyond that.
Putting up a high wall and then dying by ramming yourself against it is self-harm and is something a cicada would do, so console yourself with kinder thoughts like, "Ever since entering the working world, I've never had to borrow money from my parents.", "I don't have a criminal record." "I've managed to keep breathing for 40 whole years."
BL fan art creation aside, nowadays anime, manga, and video games are no longer niche hobbies.

They're not that rare, but perhaps the fact that you've treated yourself as something alien and shameful has caused you to spiral into loneliness.
As I was sitting in a hair salon the other day, a lady who didn't look like an otaku started talking about Chainsaw Man with her stylist and proceeded to have a binge session of the show via her smartphone while she got shampooed.
As I watched her rather than think, "What a pathetic adult." I thought, "Oh, how cool."

Everything is shameful to you because you are ashamed of yourself.
If you're truly embarrassed and ashamed then quit your hobby ASAP, but if you're going to continue with it, then do so with dignity.
Even while being masochistic, be so vigorous about it that it goes full circle into self-affirmation where you'll be thinking, "Let's see if there are any other rotten bastards out there who watched grotesque things in their last year of junior high. I guess not, ha ha ha!"