Curry Zawa Kaoru's Creative Counseling - "Should I decide on a style direction now?" Wait until you get some real fans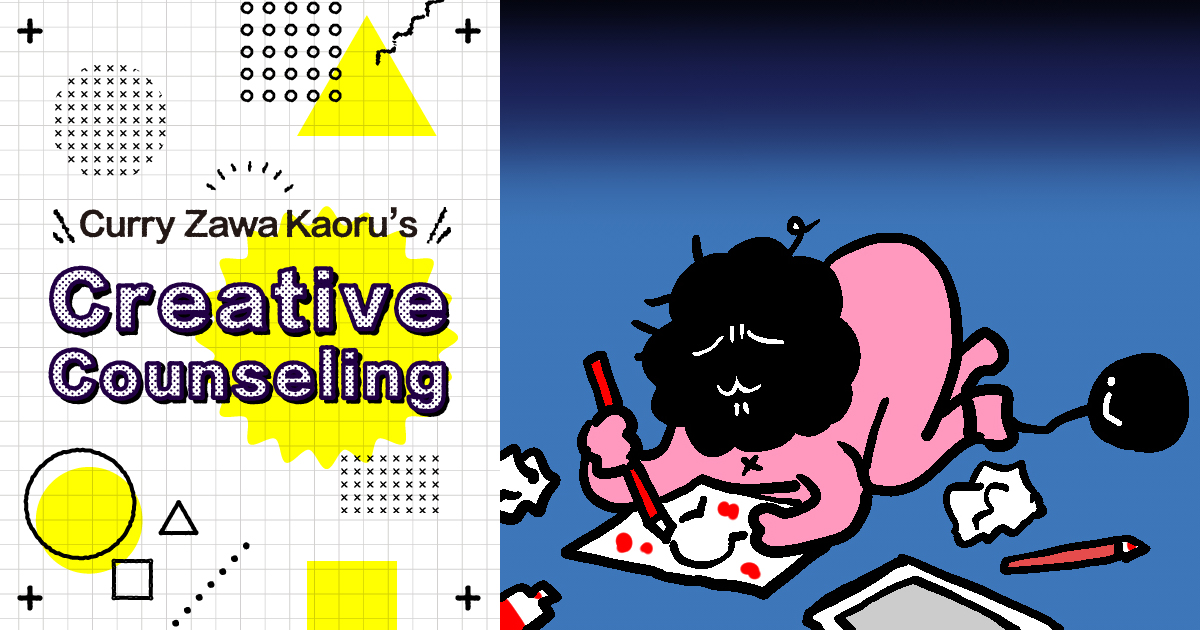 Should I decide on a direction for my style now?
It's a dog-eat-dog world out here these days, where professionals, amateurs, and even fan work creators are concerned about how to sharpen the tools in their toolbox and readying their plans for world domination—AKA their 10-step marketing strategy.
Sure, some might believe that you should just write whatever you want if it's your hobby, but those people are wrong. Even if no money is involved, publishing creative work is a battle cry that starts off a war with other creators for readers who will love and adulate you.
In fact, you could even say that at their deepest, basest self, professionals and amateurs are exactly the same: starving creatures desperate for approval and self-affirmation. Who even cares about money when you're begging at the altar of external validation and attention? I'll destroy anyone who tries to share my spotlight!
Now that I think about it, that means anyone who seeks my advice in this column is my enemy. New policy: the only advice I'll give to anyone who contacts me from here on out is to go and drop dead.
People who say things like, "Just draw what you like without worrying about other people's feedback!" are the same folks who arrive on the battlefield of social interaction wearing their favorite Gelato Pique outfit, only to beat a hasty retreat when they don't get the praise that they want. Then they'll post a tweet along the lines of, "No matter how much I write, it's so hard to get a reaction… Maybe I should just give up…"
Of course, even that last tweet only gets maybe two likes, so no one's there to stop them.
Obviously the ideal scenario for a writer is to be able to write whatever they want, but having no one read or respond to your work is like bringing a pot of excellent pork miso soup to a soup kitchen and having no one eat it. One bowl of piping hot miso-fueled trauma, coming right up!
Yet if that same pot of pork miso soup is so sought after that it causes bloodshed and someone even calls the riot police, you'll be inspired to cook up an even bigger batch next time.
TL;DR: Feedback is the lifeblood of a writer that helps us avoid despising what we like to do and keep writing; and to get the kind of feedback you want, it's critical to find and sharpen your weapon of choice in order to compete in the battle for reader attention.
When it comes to creative work, deciding which path to take is always a challenge
Listen, I've been a writer for over ten years and have written all sorts of things, but I have no idea what I'm doing either. I've picked up a lot of tips and tricks during my time that I was sure would be helpful, thinking I'd found the weapon that would guarantee me success, only to discover they were horse dung.
In other words, asking me for advice is like asking someone who has been lost in the woods for more than a decade for a way out.
To be honest, those who have managed to flee this big-ass forest shrouded in confusion and mystery are most likely in the minority.
For example, Watsuki-sensei found huge success with Rurouni Kenshin, but what else has he even done? Anyone who tries to say, "There was that one series he did with that guy in the butterfly mask!" has just totally missed the point.
Even artists who seem to have found their own weapon of choice and have become masters in their own right end up traveling the sea of trees aimlessly looking for a new one, and occasionally snag a piece of horse poo. Not everyone can be like Yoshihiro Takahashi, who found his dog-shaped Excalibur and sliced down the whole forest with it.
Therefore, you should accept that you've entered the dark, unpaved forest that is creative writing. Resign yourself to the knowledge that you should anticipate being lost for the rest of your life as long as you continue to write.
Even if you find a writing style you enjoy and become popular in your chosen genre, trust me: the more you continue to write, the more you'll spiral.
In addition, if you're creating derivative works, the popularity of your fanworks might be affected by the popularity of the original work. As such, you stand to lose readers when the original work is discontinued, and there may be moments when you feel like switching forests altogether.
Be aware that if you decide to do that, you'll need to find a completely different weapon suited to your new creative home. Godspeed.
Might as well take a few detours
Fortunately (or unfortunately, depending on your perspective), this aimless wandering in search of weapons is one of the best parts of creation.
If you only ever use a single weapon to write, you'll probably get some decent numbers, but you'll also get fewer works that unexpectedly go viral, and eventually, you'll start worrying about trivial things like why you're getting fewer likes than usual.
If you're trying out different weapons, on the other hand, you can always enjoy the anticipation of possibly getting a critical hit, as well as the thrill of trying your hand at, let's say, R18G after a life of writing slice-of-life works. (I'm not saying you have to do it, but if you've even got the slightest bit of interest… Why not?)
If you haven't found a distinct writing style yet, you should simply enjoy the adventure of looking for the weapon that suits you best a little longer.
Don't settle for a tool that prioritizes keeping your (imaginary) fans happy, or you risk missing out on an encounter with a sacred sword that may prove to be a better companion.
Being an all-rounder is good in its own way; the more things you've got in your toolbox, the better in this day and age. An account that posts regularly even if none of it becomes wildly popular tends to get more followers than an account that gets a brief burst of attention and then fades away.
If you can write in a variety of styles, you're in the enviable position of being able to adopt the strategy of shooting five times and aiming for one hit. You'll get way more readers this way than if you zero in on a specific target, and if you fire enough shots, you just might hit the bullseye.
It's understandable that you want to walk down a path already paved. Walking in circles second-guessing whether or not you're on the right track can get quite uncomfortable, but remember that you've entered a creative escape game that you can keep playing for the rest of your life. Why not take a few detours?

Readers come and go
You seem worried that your readers will be confused by your constant stylistic shifts, and it's true that if 500 million people are following you because of your current style, you should prioritize them above all else. If that isn't the case, however, then being consistent in your writing style is likely to backfire.
Besides, even if you keep writing in the same style for the sake of your current readers, some of them will eventually jump ship because they're tired of having to read the same things over and over.
Readers are fickle creatures, like cats, complaining when authors make bold stylistic changes as well as when they keep doing more of the same. Authors, on the other hand, often destroy their readers emotionally with their whimsical portrayal of their favorite characters, so I guess we're even.
If you master the art of style experimentation, you might gain fans simply by being a jack-of-all-trades that produces many works in all genres and writing styles despite generating little to no buzz. Close inspection may reveal no progress in your writing, but the fact that you haven't given up may win you some admirers. So just keep going!
However, if you do become popular, some readers will abandon you, accusing you of selling out.
Essentially, no matter what you do, readers will leave when they leave.

As a result, getting caught up in thinking, "If I post something like this, readers might unfollow me!" is pointless.
While some readers will leave when their favorite slice-of-life writer unexpectedly hits them with ryona, there will also be new readers who will come through the door and thank you. (Just saying.)
Readers come and go. As long as you continue to write, you will have old fans who leave and new fans who have just arrived. So, for the time being, you should continue as you are doing and write a lot of different things.
As you keep writing, you might come across readers who will stick to you like barnacles on a rock and never ever leave, no matter what you write or how much negative press you get.
Those are your real fans.
I think you should wait for those barnacles to show up before deciding on a direction and putting too much emphasis on keeping your current readers.