What are the steps for charming characters and beautiful hues? A making-of and interview with U35!
That one anime that changed my life
―― When did you start drawing?
I've been drawing since when I was a kid. However, during junior high school I joined a sports club and because I had to concentrate on competitions I had to take some time away from drawing.
In the end, I was in that club until I started working in a company. One day I got home after practice and I turned on the TV, that was the day I first encountered the anime that would change my life.
Gurren Lagann
.
It shocked me, somehow. I couldn't stop watching, I was so excited. Then I realized.
"I want to make something that has the same effect on people this anime had on me."
That was also the time I started realizing I reached my limit with the sports activity. I decided to study illustration properly, so I left my company and started attending a vocational school. I was in the animation department.
The only thing I knew was that I wanted to work, something related to drawing, but I knew absolutely nothing about so-called "illustrators". I just dived in, anyway.
―― It must have taken some courage to enter a vocational school after working in a company!
That's what I always say. (lol) Well, you only live once! I really wanted to do something with my life I would enjoy. My parents always supported me, telling me I should do something I like - I'm really grateful to them.
As I said, I entered the animation department. The animator job consists in using pencil and paper to create many layers, and the final objective is to make your drawings move smoothly. Unfortunately, during my second year, I came to the conclusion I would rather paint proper illustrations....
While my classmates were all looking for a job, I used to borrow the PC room in my school after classes and make my own illustrations. Even after graduating, I kept on drawing while working a part time job.
Maybe I joined that school for the wrong reasons, but during those years I was really drawing a lot and I met many inspiring teachers and friends.
It was a happy time, and I could learn the basics of drawing and painting.
Everything starts from 'trial and error'
―― What are the things you studied in order to become an illustrator?
I studied design and animation in that vocational school, but as an illustrator you also have to know how to use colors, I studied that by myself by watching other people's making-of videos and trying to reproduce my favorite illustrations.
Without thinking too much, I would just say "Okay, let's try to color like this". Looking back, I'm glad I could find my own way of coloring through that continuous process of trial and error. That same process is still going on, by the way!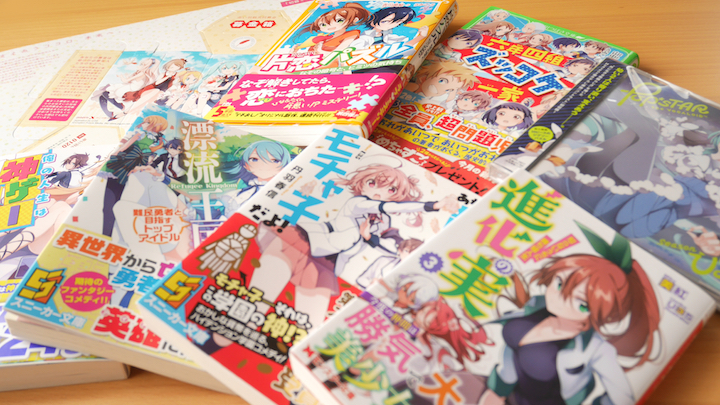 U35's books and CD covers. They all feature really cute and colorful characters.
―― How did you start posting your works on pixiv?
At school, one of my friends told me about this website where you could post your illustrations. It was the time I heard of pixiv! Before that, I used to post on a message board, but I think they closed it already. When I first started using pixiv, to me it was like a storehouse for my Oekaki board illustrations. I didn't own any drawing software back then.
After my encounter with SAI, everything changed. At the time, it was the only drawing software you could get for that price - and I loved it! I'm still using it all the time. I also like CLIP STUDIO PAINT, but I haven't used it a lot until now. I need to fix that asap! 
―― Did you notice an evolution in your creative process after you started posting on pixiv?
The thing that had the biggest impact on me was the fact that so many people could look at my works. I was drawing fan art before, but receiving so many comments and reactions directly was great! Even my first commission was a fan art (Hatsune Miku).
I have the feeling everyone uses pixiv in different ways and for different reasons. It's the place where I can express myself the most.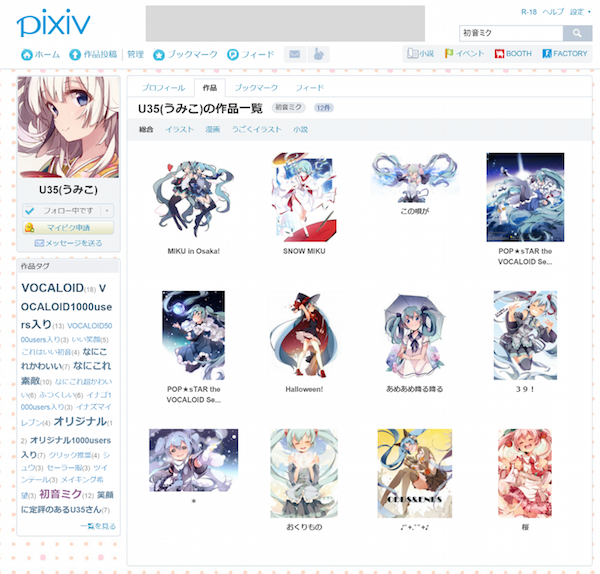 ▲U35's Hatsune Miku illustrations on pixiv.
―― Before we end this interview, leave a message to our readers who dream of becoming creators!
I think all of you draw because you like to do it.
I'd really like you to focus on that word, "like", and keep on drawing.
Also, I want you to know that even if you don't have many comments and reactions under your posts, someone is looking at your work!
If you're passionate about what you're doing, something will come out of it. For me, it was just the same!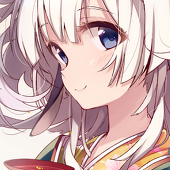 U35 (Umiko)

Illustrator. Born in Shimane prefecture and now residing in Kanagawa. Her works feature Hatsune Miku wo Minna de Tsukurou! in Knowledge Capital main visuals and Shinka no Mi~Shiranai Uchi ni Kachigumi Jinsei~ series. She also worked for book publications, trading card games and as a character designer.