Exploring Guilty Crown character designer redjuice's work desk! #DESKWATCH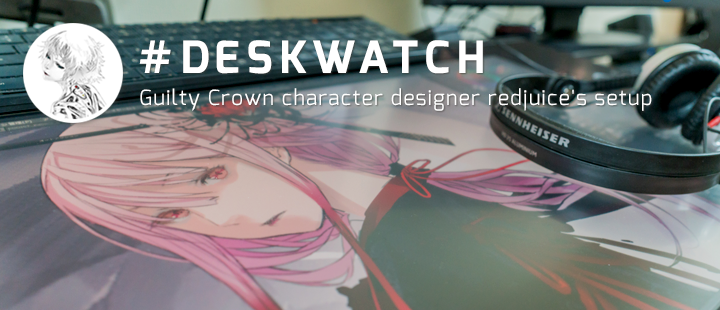 #DESKWATCH is a project that shines the spotlight on creators of illustrations, manga, anime, videos, music…. and their work environment. Discover how these gems of creativity are born, and what kind of tools professional creators use through photos and interviews!

This time, find out more about the illustrator redjuice, the character designer of the anime Guilty Crown, who also designed the CD jacket cover of popular Japanese band EGOIST with his stylish illustrations. Be sure to check out the things he's particular about, and learn about the handmade gadgets he uses!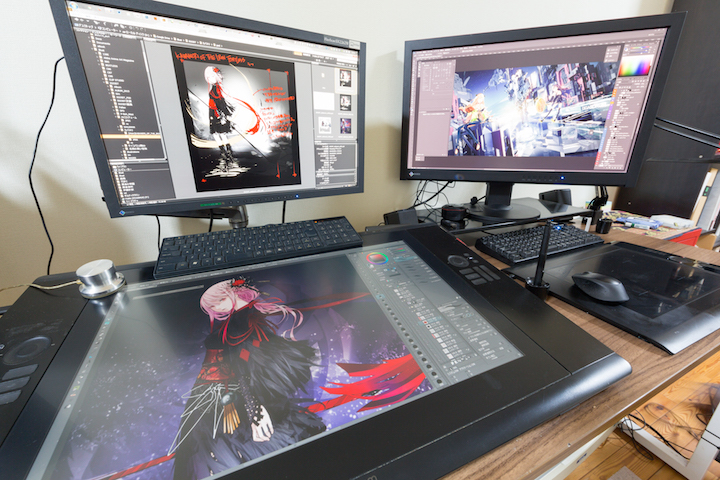 Upon inspecting redjuice's desk, you'll find a large liquid crystal pen tablet,
Cintiq24HD touch
. Beside it is a flat pen tablet,
Intuos Pro large L
, and they are both connected to a monitor. He uses the liquid crystal pen tablet for his main illustrations, and confirms the colors on the screen as he progresses. The flat pen tablet is for the finishing touches, such as unique effects and slight color corrections.
However, there were many other things on his desk that caught our eye. Find out more about his secret weapons in the interview coming up!
Interview: Momoka Ito (V inc.) Photograph: Takafumi Sekiguchi (V inc.)
It ended up like this after customizing it to my liking
── What is your favorite software to use when working?
That would be
PowerMate
(*) And,
my handmade left controller
I would say.
I've tried numerous PC devices so far, but there wasn't really one that I felt was perfect… Working with the keyboard with STUDIO4℃ on
Harmony
was such a painful task (lol). I was looking for a controller that would be less tiring on my hands.
*PowerMate - A USB controller that allows you to control and use applications. Comes with a variety of functions such as expanding and shrinking your brush.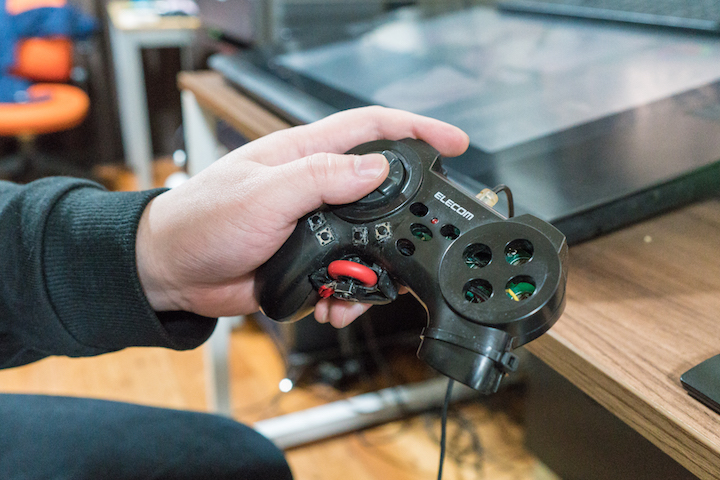 ▲A key item that supports redjuice's work. It's most prominent feature is how adaptable it is!
It actually used to be a game controller. I only used the right grip at first, cutting it out. But it suddenly dawned on me that I could probably make things even easier if I remodeled it (lol).

I got buttons and other parts from Akihabara, and customized it with some solder (a fusible alloy) and it turned out like this.
── What kind of short-cut functions does your controller have?
The down button is the space key (palm tool). The left is undo, right redo, and up to rotate the image. Diagonal up is to zoom, and I haven't registered diagonal down yet.

The L button is the eraser tool, and the L2 button a softer eraser tool. The pointer becomes an eraser while you're pressing the button, and changes back into a pen upon releasing it. You can do the same actions with a keyboard, but it's troublesome… so it's very convenient that I can do it with a game controller.

By the way, the red portion is the mouse wheel. You can change the size of the brush with it.
── By the way, how much did the remodeling cost…?
About 1,500 yen for the base controller. I built PowerMate into it, so a maximum of 10,000 yen (price then). The mouse wheel came from a pretty decent IBM mouse...so about 5,000 yen? The small buttons were about 100 yen each, so maybe about 20,000 yen in total I guess. However, I made 2 test trials, so it actually cost more than that.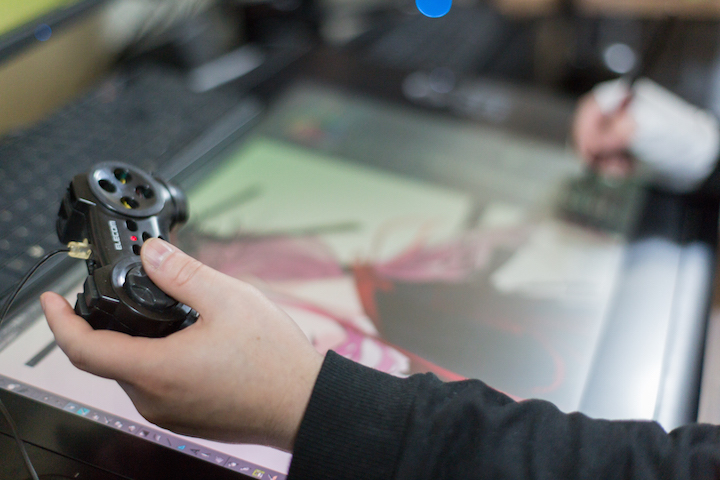 ▲With the controller in his left hand, he controlled it at a fearsome speed.
──The price will probably be around 30,000 yen if released onto the market, is it?
I'm sure there are people willing to fork out that much. I mean I would (lol). I'll buy the right half complete version of the controller if they're willing to put it out on the market!
──Apart from hardware and software, do you have other crucial items when working?
I'd say music.
I almost always listen to music when working. I listen to a variety of music, from game soundtracks to EDM, and even heavy metal because I used to be in a band, but listening to heavy metal when working is a bit odd (lol).

I even created a work playlist, with about 50 songs. I get into 'work mode' pretty quick with these songs.

The song I listen to the most is livetune's cover of "Saihate (The Farthest End)*" that I've played near 2000 times. The second is also livetune's "Fine Day", and "Kimi no Shiranai Monogatari" by supercell in third. I'm sure I've listened to livetune's songs over 10,000 times, and even kz himself called me "gross" when I told him the other day (lol).

* "Saihate" is 4:44 long. 2000 times means that he listened to 158 hours of it......
▲Under his desk is an uninterruptible power supply. It seems that it's saved him several times during blackouts by keeping his laptop and liquid crystal tablet safe.
You should have several 'work mode switches'
──Are there things you take note of to rest your eyes/hands/legs?
Hmmn… I think the
chair you choose
is important.
Currently, I'm using a chair called
Contessa by OKAMURA CORPORATION
, and it's very comfortable. It's really important to have a chair that suits you.
And
to sleep well!
My neck gets sore before my hands and feet do. It gets so stiff I can't even turn it around. It was so bad at a point in time I went to see a chiropractor, and even then they couldn't completely fix the problem.
The main problem then was that I wasn't sleeping on my bed properly. I slept on the floor of my office, or manga cafes for nearly half a year…...that put a great burden on my neck.
It's really important to sleep on a proper mattress!
──Are there things you can't stop yourself from doing while working? Like opening Twitter etc.
Everyone does that (lol)! I'm trying not to though.

For example, I'm connected with an author friend of mine on Google Hangouts. We aren't calling or chatting with each other, but it feels like we're checking on each other so it makes me focus a little more.
I end up procrastinating if I have to do work alone so......

Apart from that, I also use services like Ustream and Twitch, to stream my work process to a unlimited number of people. I get more motivated when someone is watching me work.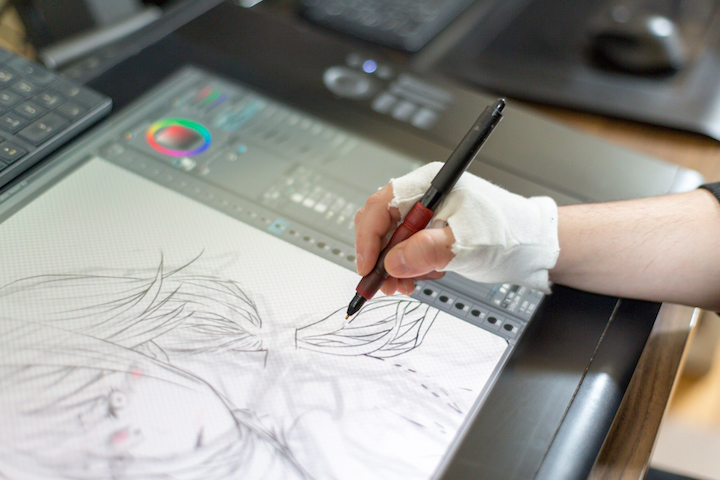 ▲By the way, redjuice's pen tip is made of bamboo stick. He says that he carved it to fit his work the most.
──How long can you concentrate for in one go once you get into the zone?
16 hours if at home. It's amazing how manga artists can concentrate for 3 nights straight. When working on the character designs for Guilty Crown, I spent 2 nights slogging in the studio though......

Of course, I would take proper meals in between. A lack of glucose will cause your brain to stop working.
──Is there anything you do to focus?
My concentration increases once I get down to work. That's natural, so I try not to laze around and rest before I start working.

In my case, things like music and Google Hangouts gets me into 'work mode', so it's important to have such tools that can get you into your 'work mode'.

I do take vitamins and tonics, but those things don't have immediate effects. What's more important is to create a work cycle and habits.
It's better to have paper and pencils even when drawing digitally
──Is there anything you want to change about your working environment?
For inside my room......I want a bookshelf. It's pretty much full in here, and it's hard for me to get new books. I don't mind digital comics, but I prefer reference materials to be in hardcopy.
I've been striving towards the ideal working environment over these years, so there's nothing else that I'm unsatisfied with.

......Ah! I want the full version of the left controller (lol).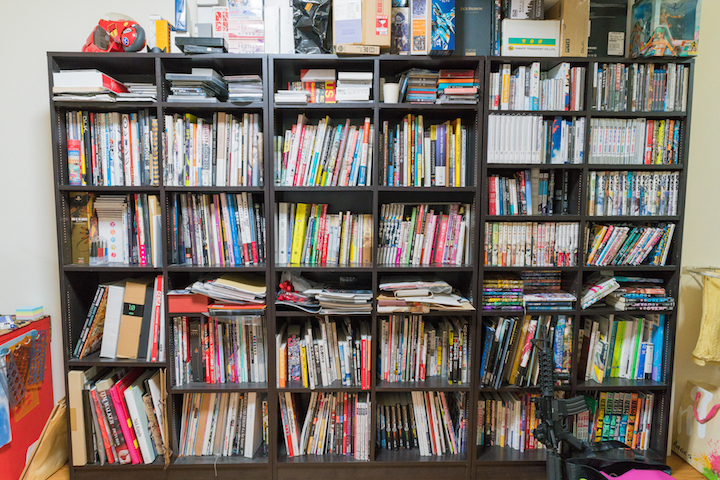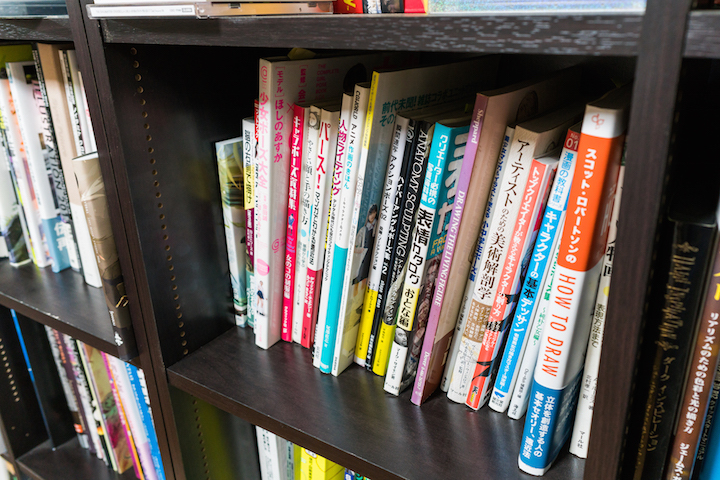 ▲Bookshelf stacked to the brim with research materials and pose collections.
──Any advice for people looking to design their own work environment?
Both laptops and desktops are good for your computer. You can choose any software you like and both liquid crystal or flat pen tablets are good. To be honest, any equipment works (lol)!

However, you should always have paper and pencils with you even when going full-digital. Try to get into the habit of drawing on sketch books or scrap paper.
That's the best form of practice.

Especially for draft sketches and drawing, you will feel a certain distance between the tip of your pen and the canvas on a flat pen tablet… and it feels like my brain isn't getting the right images that way.
That's a different story if you use a liquid crystal pen tablet, but you should always try to use paper and pen, and feel the texture of the paper while looking at the tip of the pen.
▲redjuice's favorite erasable blue-wax pencil.
──Lastly, tell us more about your current projects.
The newest release would be
Project Itoh
. I've been working on the new cover illustrations for the books Genocidal Organ, Harmony and The Empire of Corpses, as well as the character designs of their anime movie adaptations.
The movie adaptations of
Harmony
and
The Empire of Corpses
are on sale in Blu-ray and DVD, so do get your copy. The movie adaptation of Genocidal Organ is in production, so please look forward to it!
EGOIST (*) is in charge of the theme song of
Kabaneri of the Iron Fortress
, an anime scheduled for release in around 4 months, and I drew one of its jacket covers. So check that out too.
*EGOIST - An imaginary band revolving around the heroine of anime, Guilty Crown, Inori Yuzuriha. It ventured out of Guilty Crown, and is now releasing music for other anime series.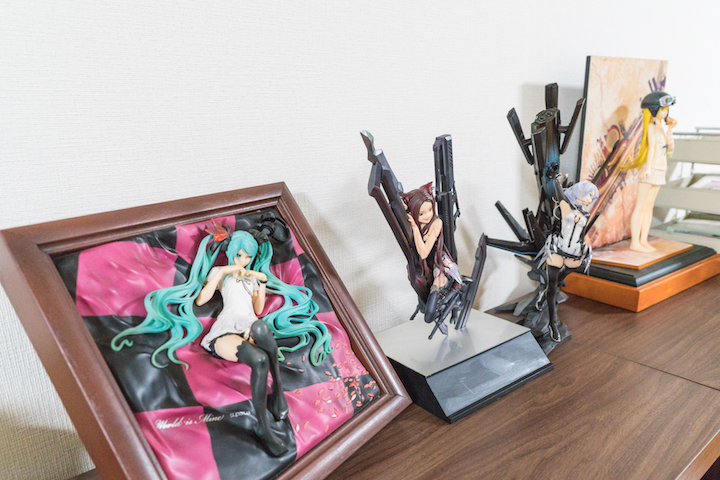 ▲You can find work-related figurines beside redjuice's desk.
The creator's desk is a manifestation of his/her personality!
Apart from the towering stacks of resources or figurines, or the impressive monitors and crystal liquid tablet, what left the strongest impact was definitely his handmade controller! It must have been an arduous task putting the different parts together with solder, but you can't avoid a certain level of customization to create the ideal work environment.

Be it the computer, or devices, or chair, the most important thing to take note of is to find something that suits you! Professional creators have to build an environment that suits their own personality and work style. That's why, we say that the creator's desk is a manifestation of his/her personality!

This serialization watches the inspiring desks of creators, and observes as they strive to deliver the best quality work.
Well then, till next time!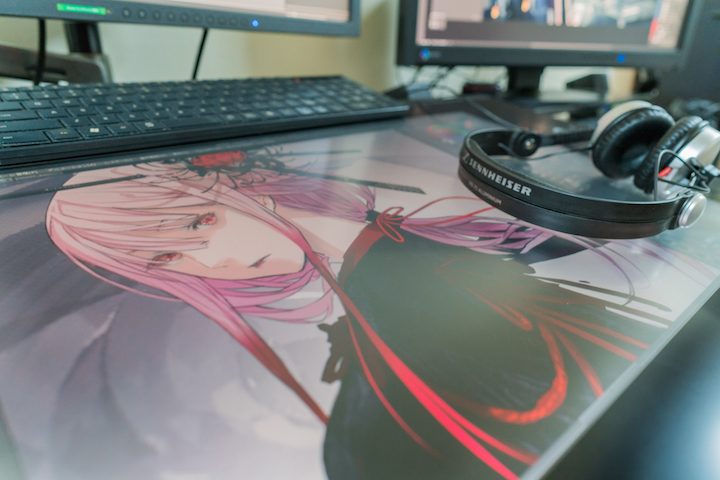 redjuice
Illustrator/designer from Kochi prefecture.

After gaining public attention collaborating with supercell and livetune, he engages in contribution to manga/illustration magazines, character designing of anime/games and planning of character figurines. Was also in charge of character design for all works of Project Itoh (The Empire of Corpses, Harmony, Genocidal Organ).