Animation in the 12th Century ~ Learning from the Legends - Japanese culture with a tradition of 850 years!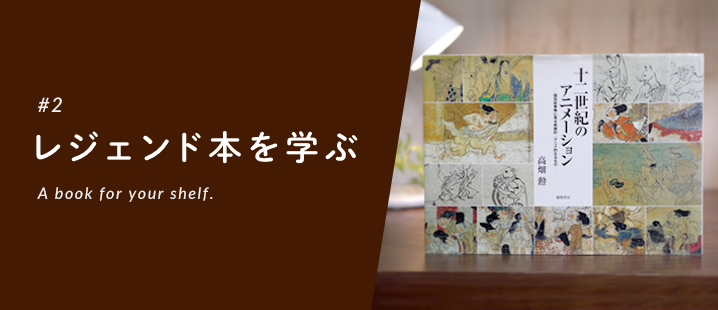 Learning from the Legends is a corner where we learn from legendary creators in various fields such as illustration, anime, manga and videos, and further enjoy the creation process.
This round, let us introduce Director Isao Takahata's Animation in the 12th Century - Movie and Anime-like aspects in the National Treasure, Emakimono (Picture Scrolls).
The name Director Isao Takahata might ring a bell, as he has worked on many famous works, like Grave of the Fireflies (1988), Pom Poko (1994) and The Tale of Princess Kaguya (2013), and is a legend among the legends in the world of Japanese animation. That Hayao Miyzazaki was his junior back when he was working for Toei Doga (Present day Toei Animation).
He is more famous as a movie director, but he also worked on a variety of TV Anime series, such as Lupin III (1st TV Series, 1917), Heidi, Girl of the Alps (1974) and Future Boy Conan (1978), bringing a revolution to the anime industry.
Let us pry apart the mysteries of Director Isao Takahata's Animation in the 12th Century - Movie and Anime-like aspects in the National Treasure, Emakimono, and learn how features observed in anime and manga today have existed since a long time ago, and while understanding the Japanese Culture that has been passed down over the generations.
What does it really mean to have a 'tradition of '850 years'? I'm sure many of you feel that way. Japanese animation actually dates back much further than we think it does.
Japanese animation actually dates back much further than we think it does. Text: Eiwa Ishijima
When did Japanese anime begin?
By the way, do you guys know when anime started in Japan?The knowledgable might say, 1963 with Astro Boy. Indeed, the format of anime we are familiar with did begin in 1963.
There may also be people who answer 1917. This is when the first animated movie using film, Namakura Gatana was released.

According to that interpretation, next year will mark exactly 100 years since the birth of anime. In commemoration of that, the CEO of Aniplex, Masuo Ueda is planning a "100 Years of Japanese Animation Project".Nearly a whole century, that's pretty deep.
However, Director Isao Takahata comments that the history of anime dates back to the 12th Century, or year 1100 on the Christian calendar, approximately 850 years ago.And that is because the roots of modern anime can be found in the emakimonos from back then. But why would the still emakimonos have aspects of animation? Let us find out more about that.
Similarities Between Anime and Manga
Before we analyze the relationship between emakimonos and anime, let us take it a step closer, by looking at manga and anime. In his book, Director Takahata pointed out the following.
Anime and manga is the arrangement of perfectly balanced images and their contour lines, along we words, and the progress of the story along with the flow of time. I think we all agree that these are pretty precise and accurate similarities between manga and anime.
And Director Takahata points out that these features exist in 12th Century emakimonos.
Emakimonos are expressions of images of the previous generation?
Firstly, do you all know what an 'emakimono' is? It is like a vertically long piece of toilet paper wrapped around a tube, that you can pull out slowly. You may have seen such an item in a ninja manga before.

Well then, did you know that there are actually two ways to open the scroll?
The first would be to roll out the scroll to about shoulder-width apart, read the open areas, roll back the right side, and unroll the left side.

(From Animation in the 12th Century, p.13)
This method allows you to read the scroll bit by bit, and will not result in a misalignment of the top and bottom of the scroll, and is better for the protection of the scroll. According to Director Takahata, it is how modern day art gallery curators and experts use it (p.12).

However, this method of opening, then closing, and opening and closing makes it hard to go beyond the level of a still image.
The other method would be to just support it with your left, and keep unrolling it with your right, as if you were continuously pulling toilet paper out.

(『十二世紀のアニメーション』p.13より引用)(From Animation in the 12th Century, p.13)
In this method, the scroll is likely to become misaligned when rolling it back, resulting in a bamboo-like shape, making it easier to damage the scroll, but by sliding the images like how you would with film, you feel like you're experiencing animation.

Director Takahata says, this method that we have ceased to do in order to protect important historical material, is the actually way of looking at emakimonos.
Also, one of the four important emakimonos that is a national treasure, Shigisan Engi Emaki has received the following comments:
It's exactly like anime...with images from drawings, and a movie-like feel.
Emakimonos are not simply just still images, but by sliding the drawings past, you get a feeling of motion, the flow of time, and has aspects of movies and film.
Also, its ability to express "the flow of time", like anime and manga, is able to tell stories through the ages with its different images and colors.
This is what Director Takahata meant when he said the roots of anime lie in emakimonos.
Modern emakimono: Who would have thought!
By the way, the expressions "rolling out the story" actually come from "rolling out emakimonos". You may start to think that the stories that emakimonos, manga and anime express are the same, just as how Director Takahata feels.
Furthermore, some of you may already have realized, but since the length and width of emakimonos are different, it's the same feeling as how you scroll through website on your computer. This scroll is also what emakimonos are called in English.
Emakimonos are not simply rolled-up still images, but something you look as you scroll, and a form of media that express the flow of time.
(You can say that manga you can read on smartphone apps where you scroll vertically are just like emakimonos).