Animation in the 12th Century ~ Learning from the Legends - Japanese culture with a tradition of 850 years!
The expressions of movement in Choju Jinbutsu Giga
We've talked about how emakimonos are the ancestors of manga and anime so far.
Let us tell you about specific expression techniques now, written in the book.
Let us tell you about specific expression techniques now, written in the book.
The analysis will revolve around Shigisan Engi Emaki which appears on page 1 of the book, but our explanation will look at Choju Jinbutsu Giga which everyone is familiar with.Let us look at the images by sliding to the side, just as Director Takahata explains in his theory.
br> Furthermore, Shigisan Engi Emaki talks about a monk uses psychokinesis to fly to a town like a drone, to bring a whole warehouse to the mountains.
Let's look at the drawings from right to left from volume 1, chapter 17-18 of Choju Jinbutsu Giga.

Do try looking at it from the slightly wider end, looking at the image from right to left.

Chapter 17-18 (From Animation in the 12th Century, p.132, 133)
The thing that catches our eye first, are the two rabbits standing on their two legs. From the left of the image, they appear to be saying something. They also look rather excited.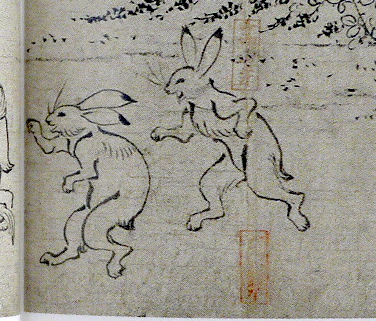 From Animation in the 12th Century, p.132)
Right to its left, is a frog the same size as the rabbits, who is grasping it, like they are sumo wrestling. If you look closely, the frog is clawing on to the rabbit's ears, and has its right foot on the rabbits left, and looks all ready to throw it over.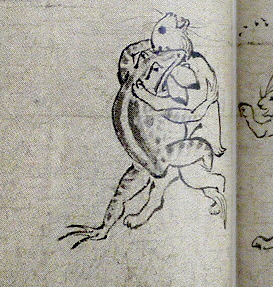 (From Animation in the 12th Century, p.133)
And, if you look to the left again, there is a small gap, and a frog that appears to be posing whole shouting. Further left and you see a rabbit that was sent flying.

Yes, it seems to be the rabbit that was thrown by the frog. And the frog shouting in victory.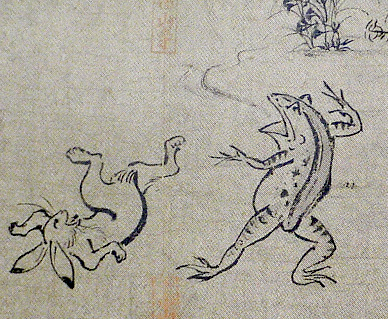 (From Animation in the 12th Century, p.133)
Going further left, you will see the frogs flailing their hands in the air while rolling around laughing. The other frogs must be happy about their victory.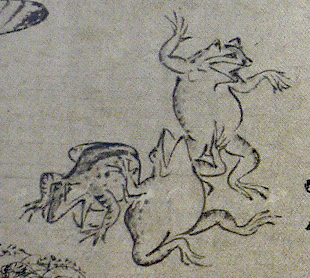 ((From Animation in the 12th Century, p.132)
This frog and the pair of rabbits are the same which were at the right of the image. By moving from right to left, you can see the changes in their relationship. This is called time lapse. It is represented but changes in frames and cut scenes in anime.
In manga and anime, if the same character is shown in continuous cuts or frames, you are likely to see him/her again in another future scene. It's exactly what you see in Choju Jinbutau Giga.
Let's look at a longer scene. From chapter 6 to 10.
If you are reading this on your smartphone, lock your auto-rotation function and turn your screw around and swipe from left to right.


Chapters 6-10 (From Animation in the 12th Century, p.131, 131)
You see a leaf-like structure first, and a fox and rabbit.
The two of them are looking back to the left, and the readers will follow their gaze as well. The fox's gaze directs you to expect something there at the left of the scroll.
The last frame on the left page of manga does that too.
After a while, you will see a group of rabbits and frogs with bows and arrows. You can see reserve members behind them, and it seems that the rabbits and frogs team are having a competition.
Further behind them is a rabbit standing in a higher position, with its fan pointed to the left. It seems to be sending off some kind of signal.
Further beyond it is a group of 2-3 rabbits and frogs carrying some luggage. They seem to be preparing for a meal while battling each other. Seeing rabbits and frogs carrying food and drinks together gives you a somewhat warming feeling.
In this group, one of them is facing the left and seems to be shouting to someone else. In the distance is someone shouting. "Wait for me" as the rabbit rushes over while carrying a bow.


…...How was that?
Doesn't the actions and expressions of the characters remind you of a long scene? There may also be people who feel like they didn't really understand what the story or message was about.
In his story, Director Takahata says the following.
In other words, there's not much of a story or message, but it's just a piece of work about how it's cute and interesting if the frogs and rabbits of the mountains were doing this. Something like the slice of life genre in modern anime where personified animals appear.
Not just motion! What to look out for in emakimonos
The expression of time and movement, according to Director Takahata is how emakimono resembles anime and manga. That's the main point of his book.
Let us tell you one more point of the book. It's something you may already have realized if you saw the emakimonos. That is, the characters drawn are relatable to us even today. That is, the characters drawn are relatable to us even today.
Director Takahata once said that the character designs in anime are drawn brightly with clear designs without shading.
Like the characters in Choju Jinbutau Giga, the frogs and rabbits are all drawn with clear lines and solid color, to create flat images, just like in manga and animes.
This is something that was developed in Western art. Perspective drawing became realistic in the 13th to 15th century, making it possible to express 3DCG, reproducing depth and colorful art without contours.
Furthermore, drawing the frogs and rabbits of the same size is another one of thesepersonification techniques, and the frog's shouts give special effects, which are all techniques familiar to us now.

It is possible that we are still enjoying the format of expression we had from over 850 years ago.
The main idea in this book is that emakimonos contain aspects of the flow of time and motion, but the cute characters, and anime/illustration/manga techniques, along with the background of such culture, is very interesting and engaging as well.
For people interested in learning about the roots of anime and manga, or people interested in Japanese culture and its subculture, do try reading this book.
How to get Animation in the 12th Century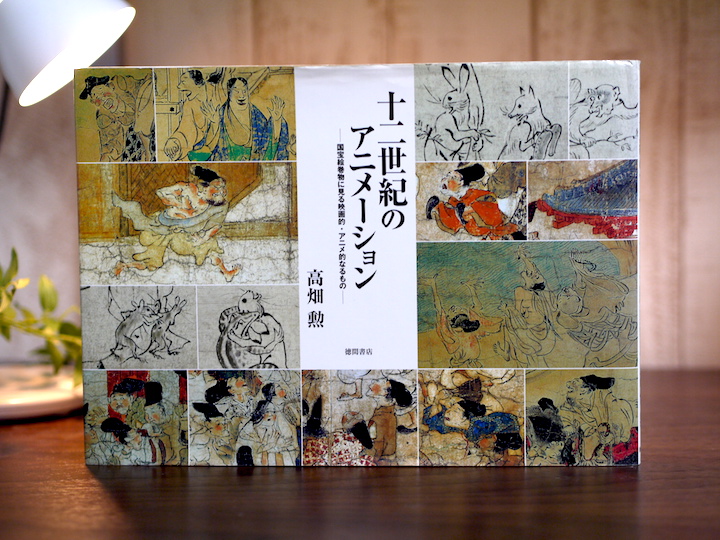 The first edition of this book was published in 1999, and is very hard to obtain now. Do check with large-scale bookstores. It is also available on Amazon, so do check that too.
It is slightly pricey at 3600 yen, so you can check out your library as well.
Furthermore, Choju Jinbutsu Giga and Shgisan Engi Emaki have also been published. However, they are not in the form where you can roll out, making this book all the more valuable.

Lastly, the emakimonos that are national treasures are frequently exhibited at museums, so do check that out.
Say that it's Japanese culture with confidence
Recently, we have begun acknowledging manga and anime as Japanese culture, and this book introduces the core of it.

Not just because its popular overseas as well, looking at their expression techniques and direction of the story, and how it links back to the 12th Century, makes you appreciate it as part of culture even more.
Unfortunately, there was a time when manga and anime were seen as childish and something only for children. There are still people like this now.
For us manga and anime lovers, we can be sure that it is at the peak of modernity of Japanese culture. In that sense, don't you think it's fun to connect with traditional texts as culture as well?
Get it here! (Amazon)
Learning from the Legends (INDEX)