Dive into the World of Shirow Miwa, and His Character Designs for Kiznaiver (with Videos of Him Drawing) - Second Half
Have you guys watched Kiznaiver, which began airing this April (2016) yet? With the name of animation studio TRIGGER backing it up, this series has definitely received its fair share of attention. Every week brings you a new development to the story of 8 youths and the interweaving of their fates, so do check it out if you haven't!
pixiv has opened an
official site
with Kiznaiver. Related news, staff illustrations, character references and fanart is regularly updated here.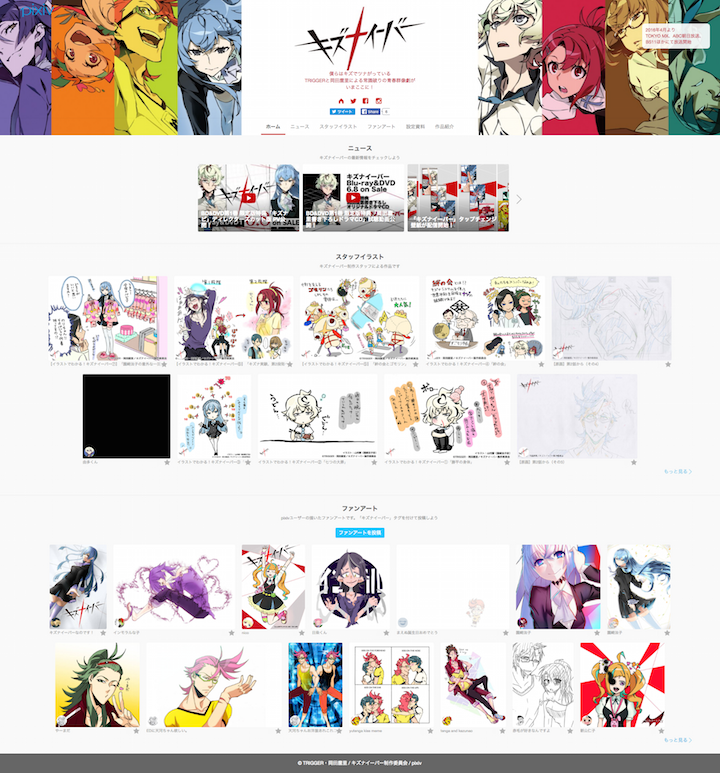 What's more, we now have an interview with the character draft designer, manga artist Shirow Miwa! Split into 2 parts, let us find out more about his work.
In continuation to
Part 1
, let us hear more stories about the behind the scenes of Kiznaiver from character designer and illustrator Miwa, as well as his roots and his successes.
We also have pictures and a video of Miwa sketching Nico from Kiznaiver in his sketch pad during the interview!
Well then, more updates for the Kiznaiver, and Miwa fans!
Interviewer: Kan Sakamoto
I cycled to TRIGGER's office, and ended up drawing there
- We asked about the process of creating character design drafts in the earlier half, but is the color of the characters' hair decided beforehand?
In the case of mangas, the characters are only shown with different tones of white and black. However, after years of experience as a character designer, you will more or less be able to imagine how a character would look like in different colors.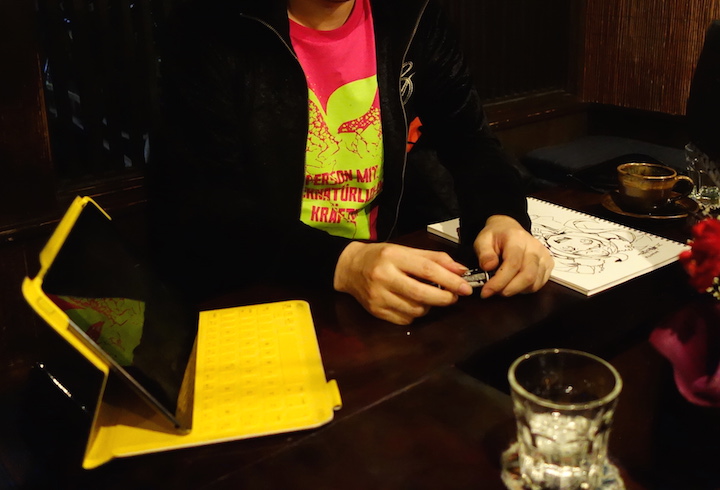 ▲The interview with Miwa was held in a cafe often used for meetings over his manga.
- You have been actively drawing manga, doing work for character designing, and illustrating. Are the points you take note of the same for all of them?
I don't really see a big difference, but I often do them concurrently, and don't really have different 'modes' towards them. However, in animes and games, there is someone who will have to animate my designs after I'm done, so I try to make sure that they are easily animated.

For example, for character designs, I take note of the silhouette more often, so that it is obvious who the character is even if he/she is completely shrouded in darkness. And also to make sure that females don't have their hair fall the same way when wet. Things like that.
- Manga is probably a highly individualized work process, and are there times where you just want to focus on one aspect?
Not really for me. There are times I want to fit everything in too.
It differs according to what I'm working on I guess. In that sense, my work is giving me a sufficient platform for me to express my creativity.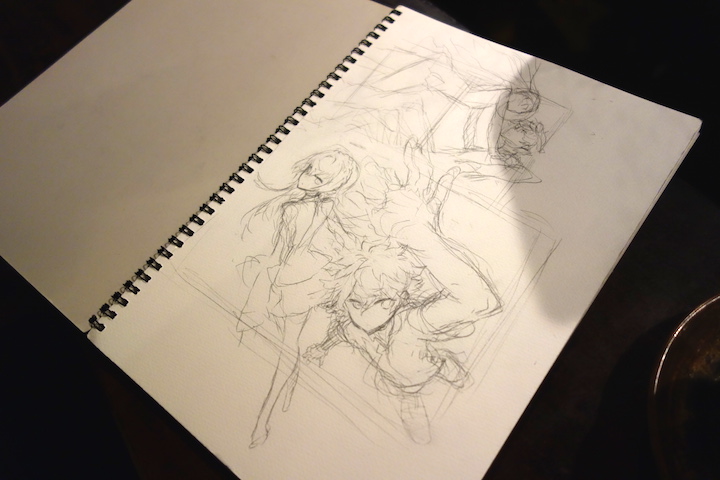 ▲Rough sketches of Kiznaiver characters in the sketch pad he showed us.
- I'm sure the demand for Shirow Miwa-like designs resulted in requests for you in works like Kiznaiver. How would you analyze your own illustration style?
Hmmn. Pointy chins? (lol). I've been told that too, or things like how my silhouettes are recognizable. Of course, these are things I add in consciously. And drawing techniques unrelated to the character designs, such as the use of solid black colors. Perhaps that's what's causing the demand.
It seems that solid black shadows are troublesome in anime production though, how difficult (lol).

There are aspects of my work where I keep animes in mind as well, so I guess there's some 'circulation' going around. For example, I like Guren Laggan that the animators with TRIGGER currently, Hiroyuki Imaishi and Yoh Yoshinari were in charge of, and I have taken some points from Yoshinari's art style before too.

There's a lot of give and take going on here. That's why being able to have Yoshinari draft out the original animation from my designs……it made me deeply moved.
- You talked about 'circulation', but did it affect your other work, like being involved with supercell?
To put things bluntly, it's all about 'connections' (lol), and I've experienced many cases where work I got via word of mouth evolved into something huge. I happened to be involved with supercell because an acquaintance of mine invited me in when that person was setting up the group, and before I noticed, it had already grown into such a large-scale thing. I wasn't really aiming for anything in particular, and I just kinda got a little more serious while having fun, that's all.

I guess it's important to proactively seek out things you have an interest in. It's the same with fate - I learnt to not run away when getting the chance of meeting someone.
- With so much work, and doujin-related events in between, how do you even manage your schedule?
I haven't been managing well (lol…). I can't do them concurrently, so I just have to strike them off my to-do-list one by one. In the case of manga, from the sketches, to inking, before finally completion, each step has its own deadline, so I end up inserting other work in between the deadlines.

You shouldn't really leave that much time between sketching and inking. Your level of enthusiasm will vary.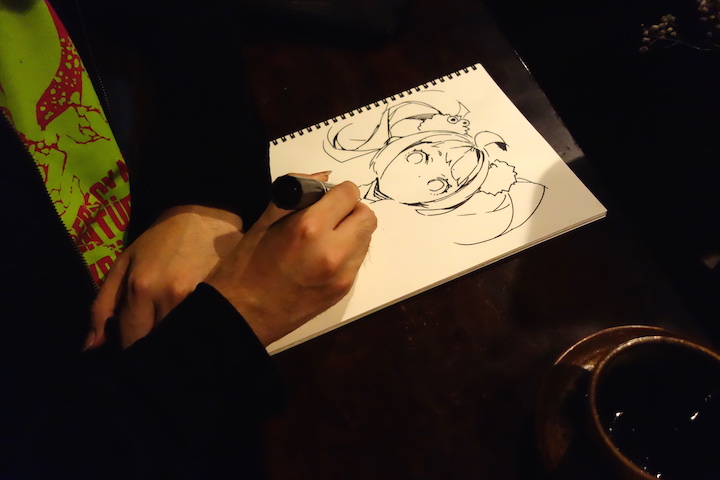 ▲Miwa who began sketching Nico for the shoot.
- How long would you take to draw a 16-page manga?
That's an industry-secret! I guess it really depends on how many days I have left to draw……. There isn't a fixed speed I draw at.

I'd like to focus more on manga, but I have proposals on anime now…...if only it came a season later……(lol).
- Thank you for taking time out despite your busy schedule! Do you take longer to draw highly detailed designs?
I take a long time for inking. I sketch fast though.
- Do you work better if you can erase and redraw?
Nope, I work analog, so it's a one-shot thing with inking.
- For mangas, character designs and etc.?
Line-work is done analog, and colors and the finishing touches digital.
I cycled to TRIGGER's studio and drew on the spot there for Kiznaiver (lol). I live close by anyway.
- I didn't even bring stuff home, but just ended up finishing everything there (lol). When doing that, reviews came quicker too.
That way, I was able to chat with the director as I drew too.
There are many younger manga artists who go fully digital, but I've always been working this way, and I like the way my lines look analog the best, so I mostly work analog now.
- Which software do you carry out your digital work on?
Mostly Photoshop. I barely use tones too.
My work is known for having stark contrast, and I insert solid tones at the sketching stage, and add some grays here and there.