#DESKWATCH - Yuichi Murakami's workspace of beautiful girls. Brimming with love for cats and beauty in utility!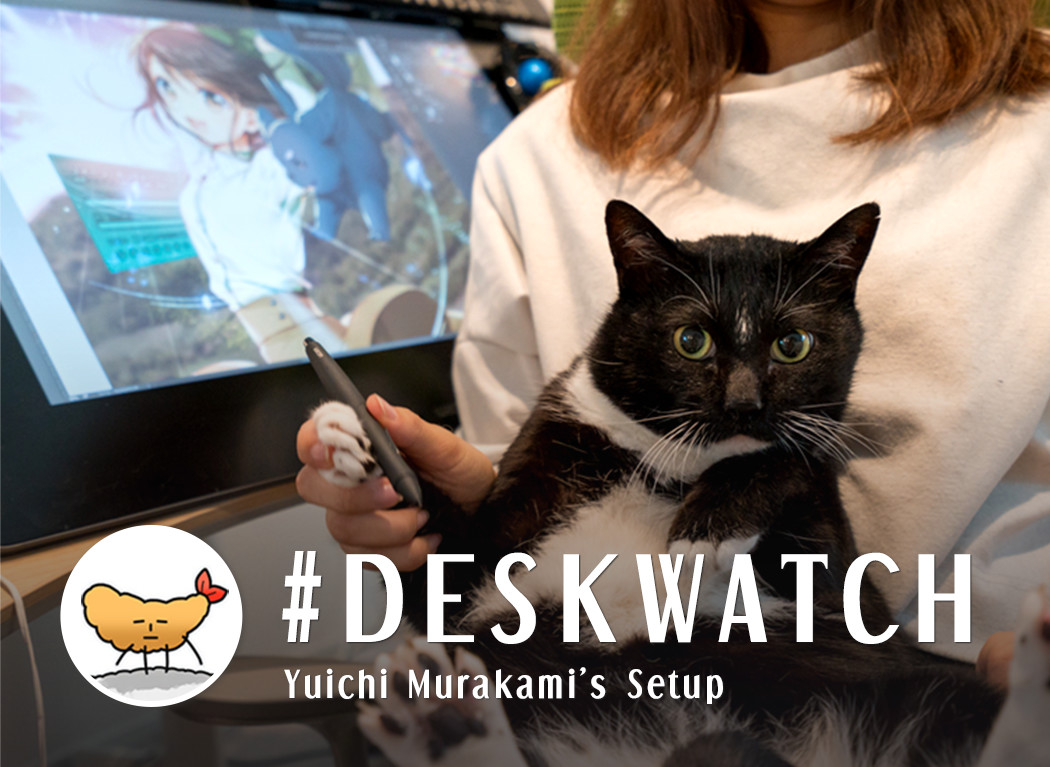 Interview: Momoka Ito (V Inc.) Photos: Takafumi Sekiguchi (V Inc.)
Our fourth serialization brings us up close and personal with Yuichi Murakami's workspace! Active in illustrations, manga, character designs, her workspace is also customized with her beloved partner (cat). Let's begin!
Next to the beautiful girls is a murder scene?! A thriller TV series as a companion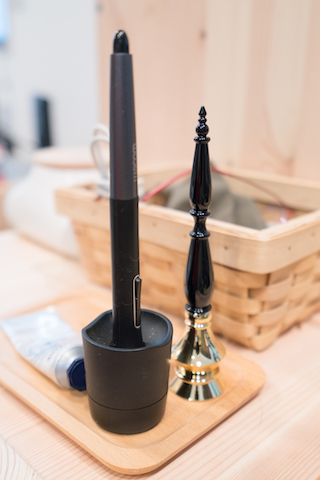 Murakami's home is highly functional with a calm and polished atmosphere. It's not only simple but also a product of ingenuity. This isn't only accomplished for her workspace but also for her live-in partner, Amanosuke the cat.

Our interview begins while also being considerate of Amanosuke's wariness of our cameras!
- Please tell us about your workspace.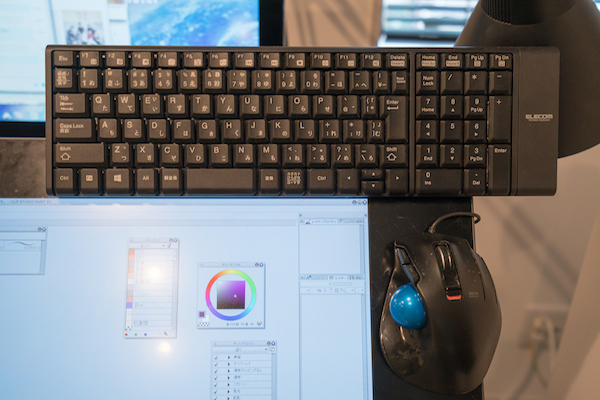 I use an all-in-one 24-inch LCD PC and my CPU is an Intel Core i7 2.50Ghz with 16GB RAM. The internal hard drive is about 1TB and I have an 2TB external hard drive plugged in for backup and work purposes. My pen tablet is a Cintiq 27 QHD.

I use CLIP STUDIO PAINT, Photoshop and SAI. Rough sketches will be done on CLIP STUDIO PAINT, line art on Photoshop with the coloring done on either CLIP STUDIO PAINT or SAI.
- I believe that it's almost unheard of to do line art on Photoshop?
I've tried many softwares but finally went with Photoshop. The lines on Photoshop has an impression of a pencil-sketched texture and rather than having an artwork that feel like it's entirely digital, I think it's best to have a sense of analog work for the line art.
- What tools do you find convenient for your work?
CLIP STUDIO PAINT's paint tool is really handy. As well as the color conversion tool.
With the color conversion tool, you have the option to show the colors in CMYK while you're drawing with RGB. So you would never go wrong before handing in the finished product. That tool is life-saver.

*Color conversion tool - The 'color profile' function in CLIP STUDIO PAINT PRO/EX. It enables you to preview and adjust the conversion between CMYK and RGB (and vice versa).
- Besides these tools, what are the things that you must have while you work?
Water! I drink lots of water.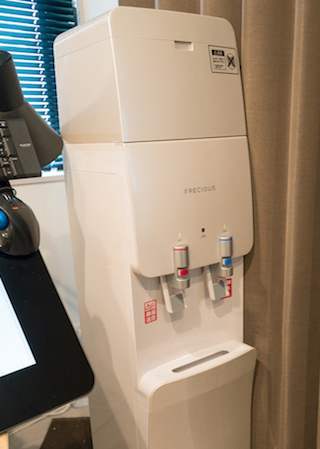 To the point that I have a water server placed right next to my desk. I drink more than 1 liter everyday!
- I noticed the water server also has hot water. What do you use hot water for?
For coffee. I recommend Kaldi Coffee Farm's Mild Kaldi coffee beans!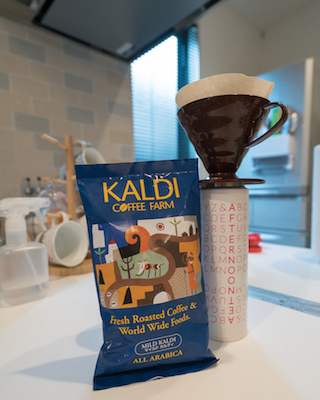 I make it with a dripper placed on a thermos so the coffee would stay hot throughout the day.
- What do you need besides beverages?
My iPod is a must-have. I also use J:COM's smart TV service where I can send the programs to my iPod. And let it play while I work.

And Skype while I am working.
I would chat with my friends as I work. You could call it "Sagyoipu" (working while chatting).
- Would you be distracted with the TV program running on your iPod and chatting on Skype?
In my case, everything else besides my hands and eyes are unoccupied. Since I'm occupying my mind, ears and mouth, they probably won't be in the way. If I'm drafting my name (manga storyboard), it'll be an entirely different story (laughs).

While I draw, I rely on my instincts rather than thinking about it. So chatting or watching TV for me utilizes different organs than what I would need for drawing....

Though I think drawing should never be tangled up with words. Whenever I read proof sheets, I would warn people, 'don't say anything for the time being!' on Skype (laughs).
- I see... What programs do you like to watch?
I mainly use "dAnime Store", "Hulu" and "Netflix". I used to go to video rental stores but it's a bother to return them and you have to change the disks when it's finished. This is why I turned to streaming video services. They automatically play the next episode which is very convenient.

I watch anime but I make very good progress with foreign TV series. The ones with mystery and suspense are my favorites. So to say while I draw beautiful girls, there's a murder taking place on the screen sounds like a whole other world (laughs).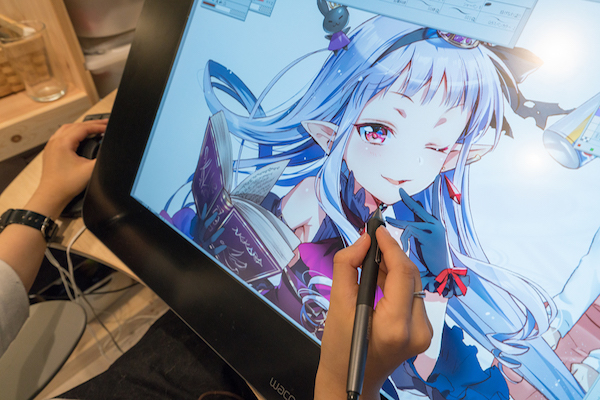 100 Gold Shop "Usagi-ya" 2
Story: Origami Nekonomiya Art: Yuichi Murakami
Published by Famitsu
Bunko/KADOKAWA CORPORATION

Being fast is to try even under uncertainty
- What is that left-handed device* on your desk?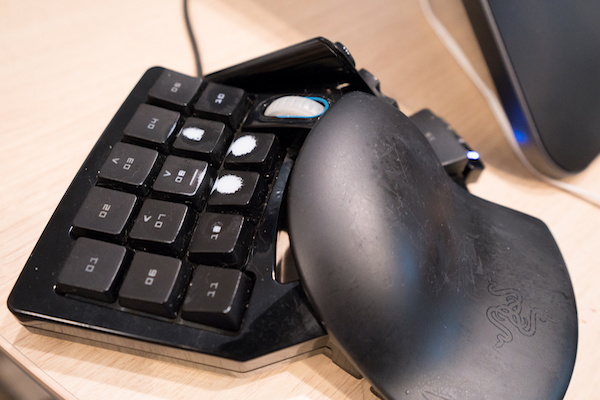 Murakami's left-handed keyboard. You can see that it's quite worn out from erasing paintwork and various tasks.
Yes, that is a left-handed device designed for gamers called "Razer Nostromo Gaming Keypad". I register shortcuts on all of the keys.
*Left-handed device - A multi-purpose input device for your left hand. It's quite efficient to have various shortcut keys on hand while you work.
- So it goes on full throttle while you work.
Yes it does. My friends on Skype would tell me that it's very noisy. With my left-handed device and pen tablet tapping, they'll ask "Is there construction work going on?" (laughs).
A video showing Murakami working on an illustration. The speed of her using the left-handed device will leave you in awe. We've also recorded the sound of the device which sounds exactly as she said!
- We can see that the keys you use often are quite worn out!
That's right. The key in the middle is for my eraser, the ones below are to move my canvas and change the size of my brushes.
They're worn from constant use which makes me sad...

This gaming keypad is the second I've used. I tried four different ones until I went back to this model. It's really the best!
But it's no longer in production. It was about 9800 yen but now they come at a premium price.
- You would have bought more of them if you knew beforehand.
When I bought this, it was only for the gadget maniac in me because I thought the blue light-ups are really awesome. But I couldn't draw with it back then.

I've used it for the past 5 to 6 years. I get cold sweats thinking about what I would do when it's broken.
I have comparatively small hands for someone of my height so new models wouldn't suit me, or that I can't reach the keyboard. That's why if this keypad dies, I'd probably die too.
- Please don't die (laughs). So, tell us the one artwork you posted on pixiv that left the strongest impression on you.
I came about drawing it when I decided I wanted to draw something "Original" (*Original is defined as works that are done and created originally without taking any derivative elements from any existing works which is in another words, the author's own creation.) I remember having a lot of fun.
It's different from my current drawing style and the neck is really thick like a man's. She looks really strong and almost like a gorilla (laughs).

The time I began drawing "Original" illustrations led to me receiving work offers. Which is how I made my debut.
- You draw really fast. Is there a secret to that?
It probably isn't from the use of shortcuts. So what's left is to try even when you're uncertain.
With digital processes, you can still return to the original version even after you've done so much after.

So when I've been told that 'live painting' is really troublesome, I tried doing it and fine-tuned the process from there.
- Are there any favorite parts of the body where you find it fun to draw?
Hmm. It depends on what is required for the process. For line art, I love to draw the hair but I find the skin to be really fun to color.
For the finishing touches, I absolutely love the eyes! Adding all the highlights that I want is the best.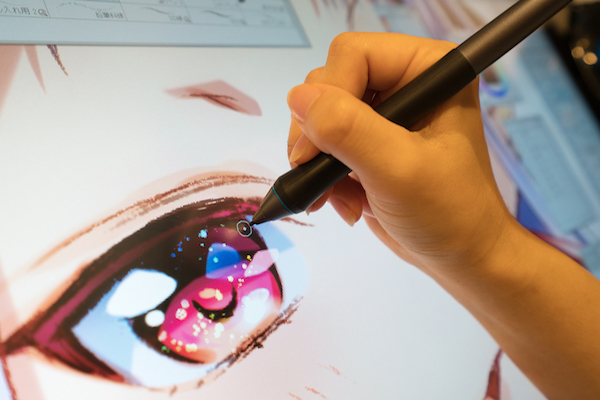 I have my favorites for each process which I think is related to how fast I'm able to draw. It's because I can think of 'doing my best to get to my favorite part of the drawing process'.

On top of that, I think it's good to switch between softwares (CLIP STUDIO PAINT, Photoshop and vice versa). Using the same software all the time would bore you. Like how one has certain tools which makes your drawing process fun - it's a similar excitement to when you choose which toys you'd like to play with.
Your work environment and rhythm have great effect from your cat
- Are there any habits or things you won't do you've developed while you work?
I'm told that I make sounds while I work. But I never realized it myself.

Like I would whistle or go 'shush shush' while I'm in the middle of a stroke ... which were some of the things my Skype friends told me.

There's nothing particular that I wouldn't do. In fact, if I got into a rut, I would do anything to make it go away. Sitting for long periods of time isn't good for my health so I'll go for walks or play with my cat for a change of scenery.
- Would you say that you can concentrate at will?
When I sit down first thing in the morning, I would know whether it'll be a 'great day' or a 'difficult day'.
It'll depend on whether I grab the pen or the mouse first. If I'm holding the mouse, I'll be surfing the internet for the entire day (laughs). I would still be working but I'll make sure to not set my bar too high.

But I really get into the groove when I make coffee.
On top of that, I would wear my glasses during work so coffee and my glasses are like my time card stamps.
- Do you experience fatigue on your hands, legs or stiff shoulders?
I sit for prolonged periods of time so my calves would become really tight so I wear Medi Qtto (compression stockings) or take walks to make it better.

My shoulders are really stiff but that's because my cat would perch itself on my left shoulder as I sleep.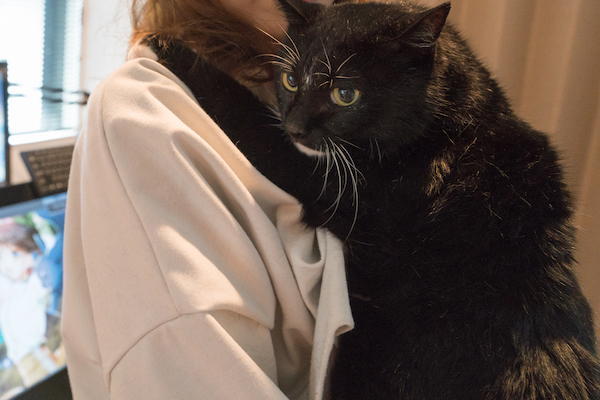 The other day when I went for a 'seitai' session and the practitioner asked, "I noticed your right shoulder is stiff from constant use but has your left shoulder been trying to stay still for long periods of time?". That's when I thought seitai practitioners are really amazing.
- That means you're holding up the weight of your cat (laugh). Does Amanosuke move a lot?
Not really. He feels a strong sense of duty to put me to sleep. If I work till daylight, he would head towards my futon and meow.It sounds like he's telling me, "it's time to sleep!". He does the same thing at night too.
- In a life of irregular routines, it seems like Amanosuke acts as a barometer. Does your workspace affect your cat?
It's important to have a place where it's easy to keep his fur clean! Which is why I wouldn't have many things placed on the floor.

Actually, the reason why my desk is slanted in an angle is also for my cat (laughs). If it isn't placed that way, he would have an "Attack on Titan" look while being sandwiched in-between my pen tablet and monitor!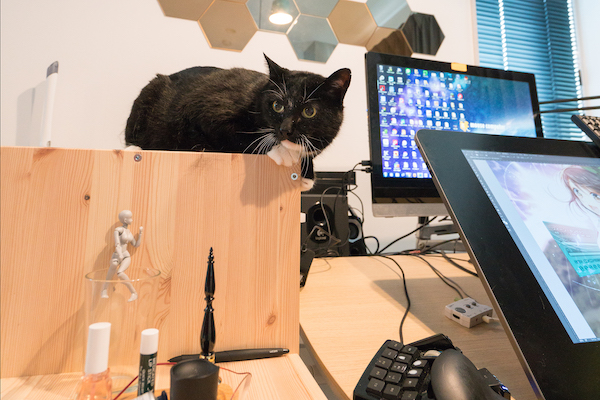 When my cat comes to me for a 'hug', I make it my break time. He comes once every few hours so it really helps my pace. If Amanosuke isn't around, I'll probably work round the clock without rest...
- Would you recommend illustrators to have a cat?
They help you learn how to pace your work and being with them is relaxing! For those who live on their own, I would recommend illustrators to get a cat than a dog.

Dogs rely on their owners and they need daily walks. Illustrators would find it difficult to give them the quality time that they need. Cats are quite autonomous and will come to you when they want to (laughs).
- Do you plan on making improvements to your current workspace?
That would be my display monitor. It has a monitor arm but it's too heavy and can't go any higher that its current position. If I don't remedy the situation, it'll strain my body posture...
- Are you particular about the quality or features of your display?
I try to avoid monitors like Retina displays. It'll give me the wrong idea that my artwork looks prettier than it should be. I feel it's important to be able to draw beautifully with a regular monitor which is why a monitor without any features would be best.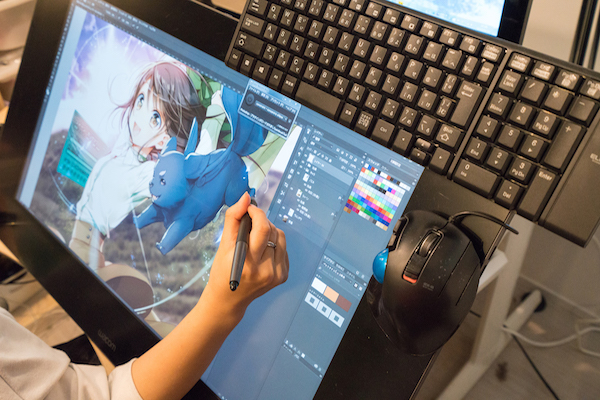 ©Original work by Miya Fujima, manga by Yuichi Murakami/Alphapolis
- Do you have a few words of advice for those who are planning their workspaces?
It's best to have a simple desk. A plank as the desktop and legs alone will be highly customizable on its own. You can add a display arm and all sorts of other things.
- Lastly, please tell us about what you've done recently.
- Thank you so much for your time!
A relaxing workspace combining a space for cats with beauty in utility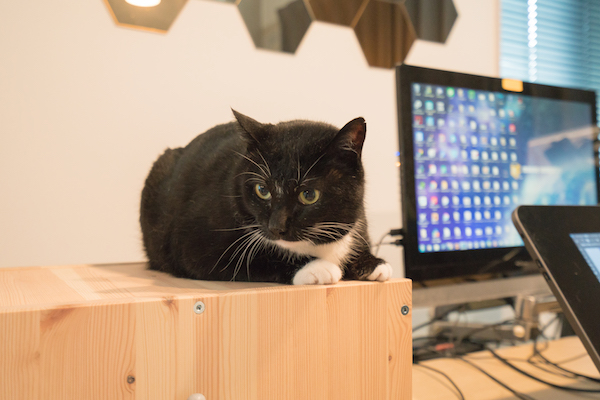 Yuichi Murakami's workspace is simple with traces of customization seen in key areas for her work. Next to her desk is a small platform to make room for her cat.
A love for beauty in utility as well as the love for cats are reflected in Yuichi Murakami's workspace.

This special feature brings you the inspiring workspaces of creators and what goes on behind the scenes.
Well then, till next time! We hope you look forward to our next feature of "#DESKWATCH"!