Having someone you love is why you're able to create things that will resonate with people. An interview with Yuu Itsuki, creator of the "Sunao ni Naru" Sticker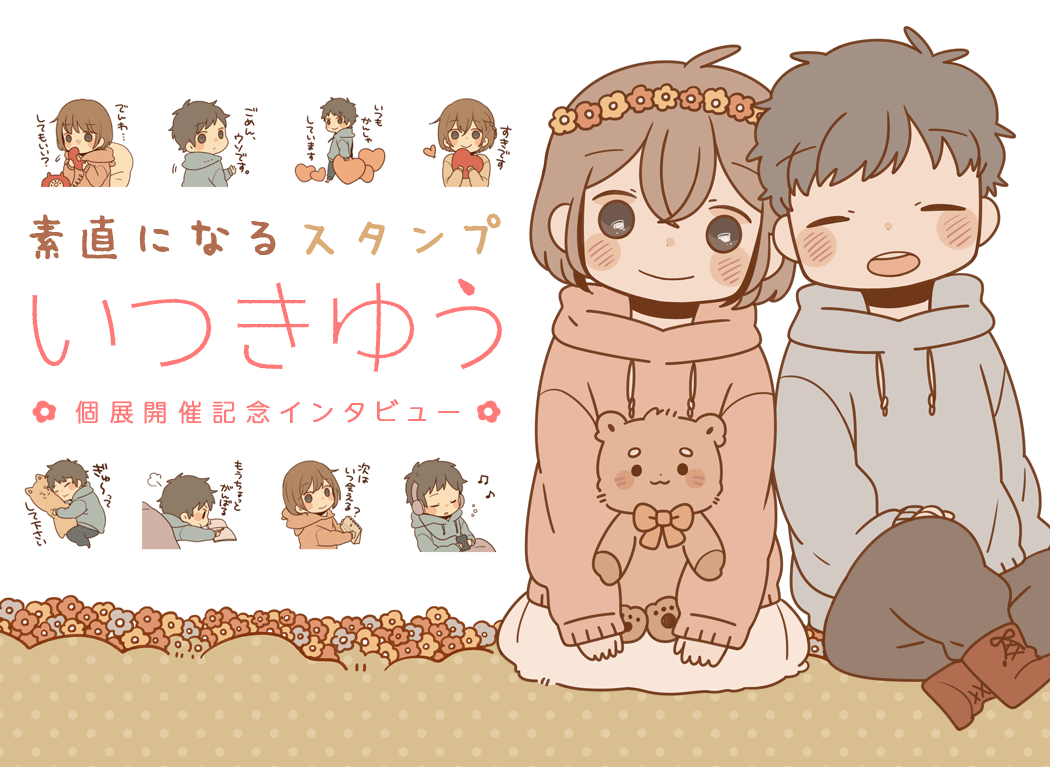 There are some things that are simply difficult to tell your loved ones. "I want to see you", "Thank you so much", "I love you" and so on.
"Sunao ni Naru (Being Honest)" is a popular series of LINE stickers that help convey such tender feelings in a frank manner for cute and pleasant couples!
We bring you the creator of this LINE sticker series, Yuu Itsuki and discuss how her relationship led to the birth of the "Sunao ni Naru" series. Itsuki also tells us how it influenced her creative outlets as well as how one can successfully manage their creative work and love life.
Your desire to create is linked to your feelings about your loved one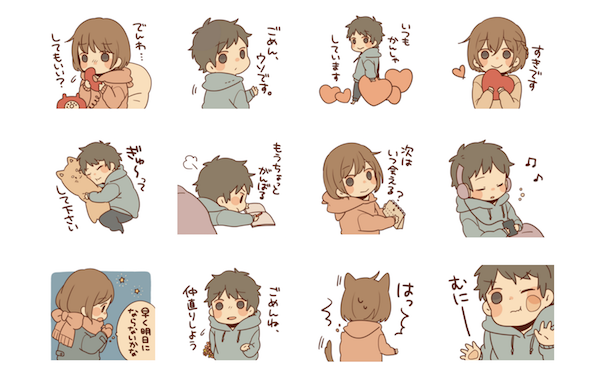 - How did you come about creating the "Sunao ni Naru" series'?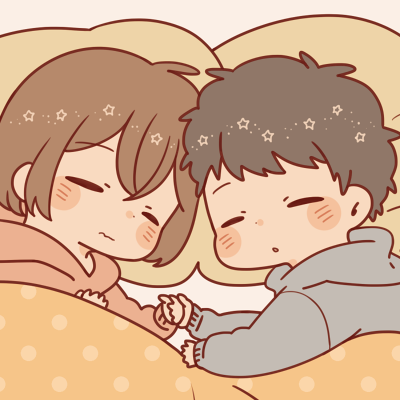 It all started when I wanted to surprise my loved one for our second anniversary but it took six months to be approved so I ended up giving it as a gift on a regular day. So I worked over the past year so the release of "Sunao ni Naru Sticker ~Daisuki na Kimi e" would coincide with our anniversary and this time it's a successful surprise!!
- Would you say the characters are based on yourselves?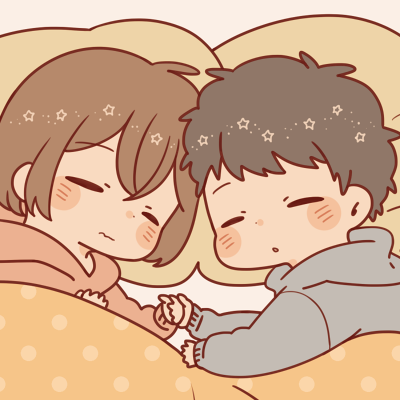 It wasn't made with anyone particular in mind. I thought it's easier to draw a short-haired girl and I wanted to draw a black-haired boy which ended up the way it is. But lately, I'm told that they look like ourselves that I might have unintentionally based it on ourselves... But I didn't decide their names or age so please feel free to use your own imagination!
- It would be lovely to imagine yourself and your loved one in those stickers. You created these stickers as an anniversary gift. Do you usually give things you've personally made to your loved one?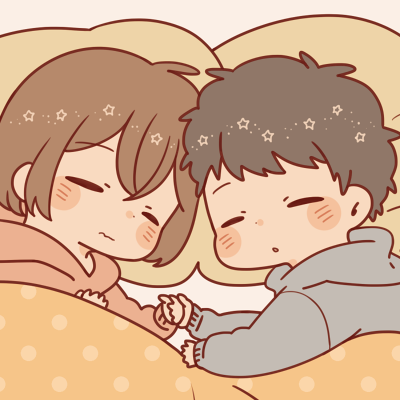 I wanted to do something that only I'm able to do... and I wanted to surprise them completely. Making such things make me really excited and for our first anniversary, I did a picture book of the memories we shared while I made him a mug filled with cookies for Valentine's.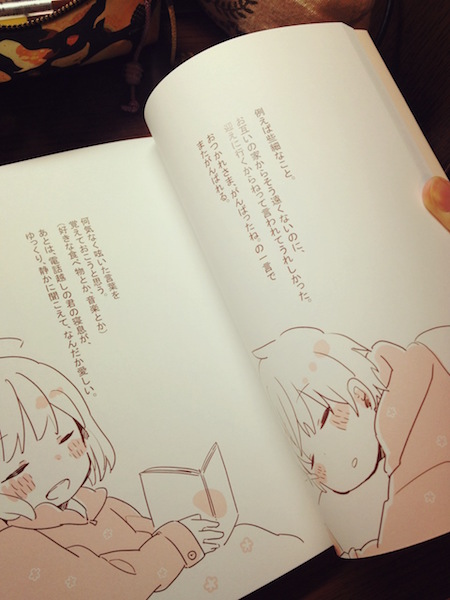 ▲The actual picture book that Itsuki made for their first anniversary. A picture book made up of gentle words and illustrations.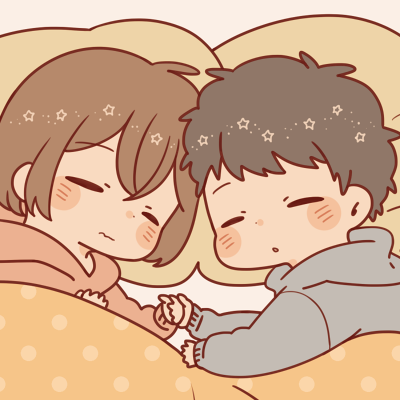 I think it's my mother's influence because she would often give me handmade presents.
- From your "Sunao ni Naru" stickers, it made me feel that you have a loving relationship.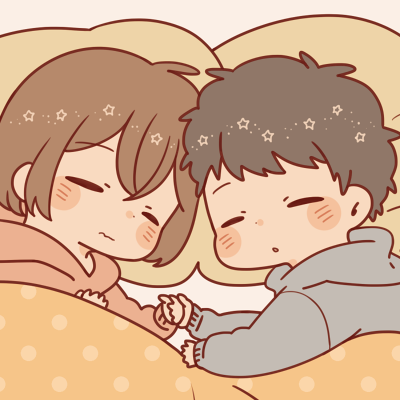 This is actually my first time in a relationship and I'm starting to acquaint myself with the feelings that come with it. Like finding sides of myself that I never knew I had... I feel really happy yet a little awkward at the same time. So when I finally realized this, I unknowingly based many of my works revolving around 'love'.
- So your relationship has a positive influence in your creative work.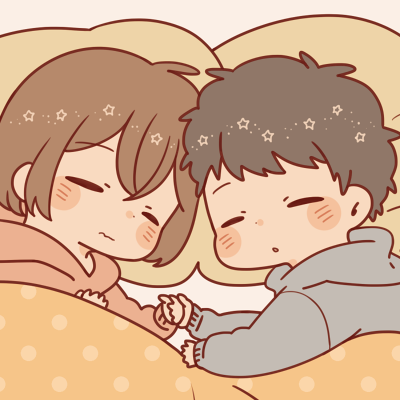 I don't have much experience in themes that revolve around love so it's been eye-opening for me. These days, illustrating is outlet for me to express my feelings; it made me cherish the things in my life more than ever.
- Your illustrations exudes a sense of warmth from everyday life. Do you think other creators are also able to incorporate their experiences in love into their work?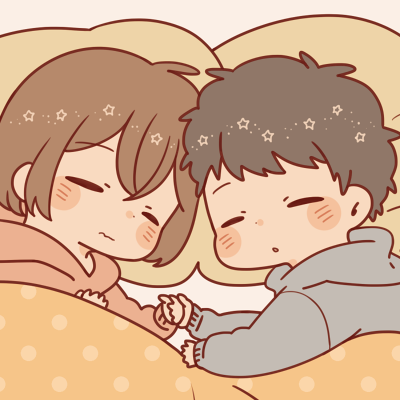 I do think it's possible but even more so, I have a strong intention to see more of such works. Incorporating your own experience into your work makes it easy for people to relate to. Our experiences have an impact on our creative output which in turn reflects how we feel in reality. 
- On the contrary, have you ever felt the difficulty in keeping up with both work and relationship?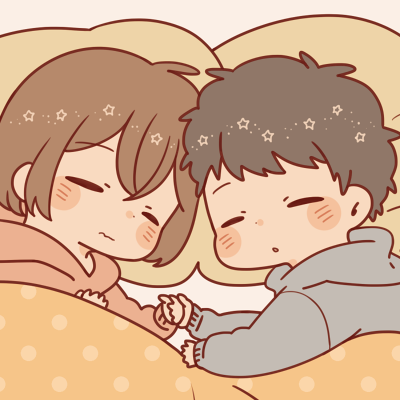 I was still an art student when our relationship began and there were many design and illustrating assignments. Being able to have a relationship with someone I love and having him as my first boyfriend made me really excited but I struggled to put some sort of boundary. Being in love and creating are really fun that it's possible to forget how fast time passes... I slept even lesser back then and got sick often.
- It sounds like a very busy time in your life. Have you ever quarreled over your work with your boyfriend?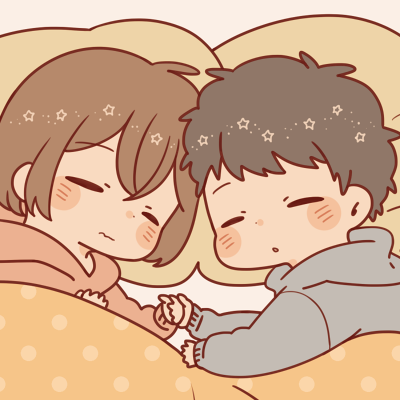 When my work doesn't go well, I would cry and sometimes take it out on him. He would often scold me when I behave poorly but this is also my boyfriend's first relationship and I feel it's because we have trouble figuring out what sort of distance we should have with each other. We often have difficulties trying to be upfront after an argument which is why we cool off then apologize on the phone or on LINE.
- What does your loved one mean to you?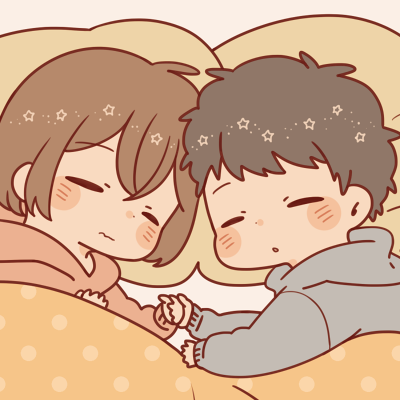 He knows me even better than I know myself. Lately, he's helped me create stickers, appear at events together so he's my partner both in my working and private life. We often argue but it's also because it's the first time where we could speak frankly with someone. Which is why we try to enjoy things together, like delicious food, beautiful music or breathtaking sceneries. I'm really happy that we're be able to share such joys in life together.
Adapting actual experiences is why people are able to relate to them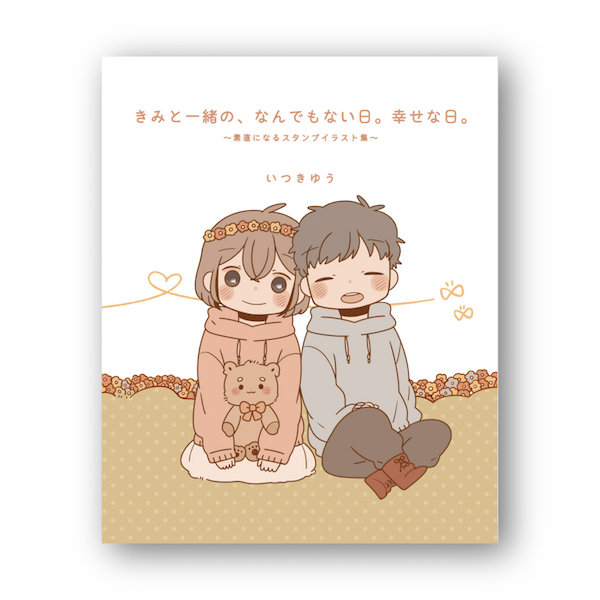 - You have many work based on 'love' at the moment, can you tell us about the work in prior to this?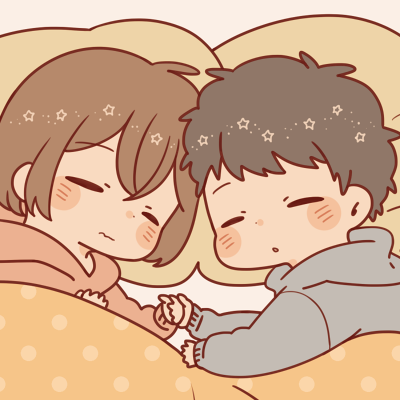 I've loved drawing ever since I can remember. Back then, I drew Pikachu non-stop and only began drawing people at the art club during my middle school. Animals aren't my strong suit but I've started practicing.
- Please tell us what works made you feel strongly on that influenced you.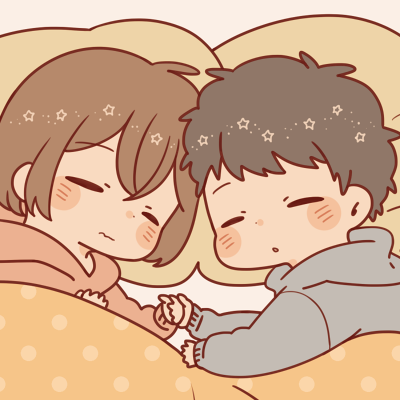 I really admire Naka Fukamachi! Her view of the world is amazing. My goal will always be to draw in the way that would give a sense of happiness to the person looking at them.
- On top of your illustrations, you also post manga on pixiv and Twitter. How do you come up with ideas and stories?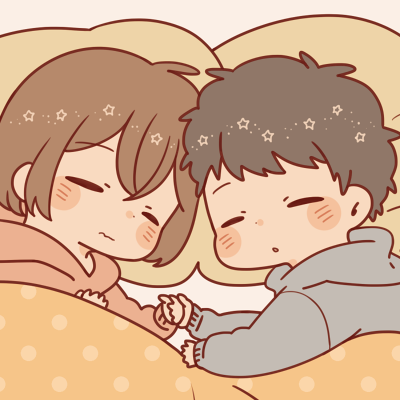 I have many instances where I directed the exact things I thought and felt into my manga. If I jumped right in and say 'Yeah, let's try thinking about this!', I'll end up trying too hard... which makes me feel unenthusiastic. Lately, I'm curious about how guy would feel about things and asked my boyfriend lots of questions. Some things I found out were also carried over without change into manga.
- So you often adapt your experiences into your work.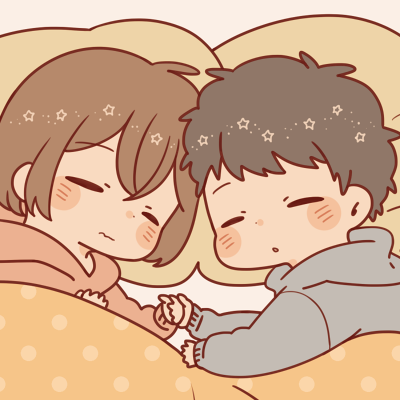 Which is why I'm really happy to see many comments saying 'I felt the same way'. Then there was one who said 'I've made it a daily routine to draw me and my boyfriend' or 'We relate ourselves in the illustration on the stickers' - each and every comment I receive encourages me greatly.
- Were there any particular comments that left a strong impression with you?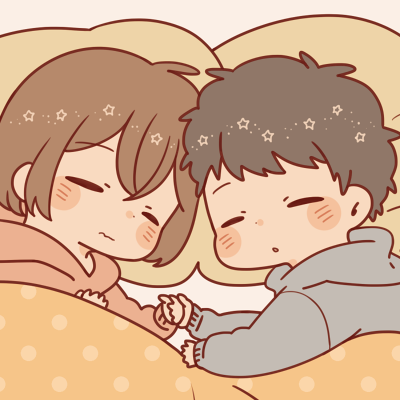 Probably when I was told, 'It became the start of a moment to speaking with someone I liked'. Also hearing that the "Sunao ni Naru" stickers are used everyday in conversations with family and friends also made me really happy. I was really surprised when a friend of my boyfriend's used my stickers without realizing I made it. One more thing I found out during the events is that the majority of people who liked my work are surprisingly men.
- Oh!? I thought most of the fans would be female instead, as the stickers has such a cute style.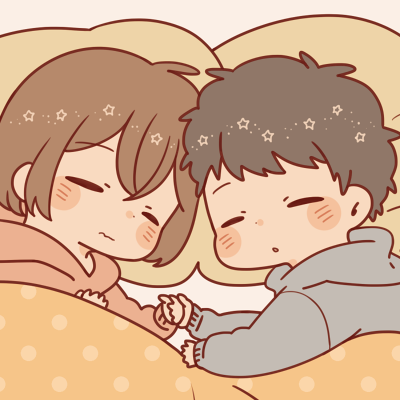 I didn't know until I met them at events and I was really surprised. There are many couples that came by too. From then on, I would come up with designs that would be easier for men to use or even paired items that couples can use.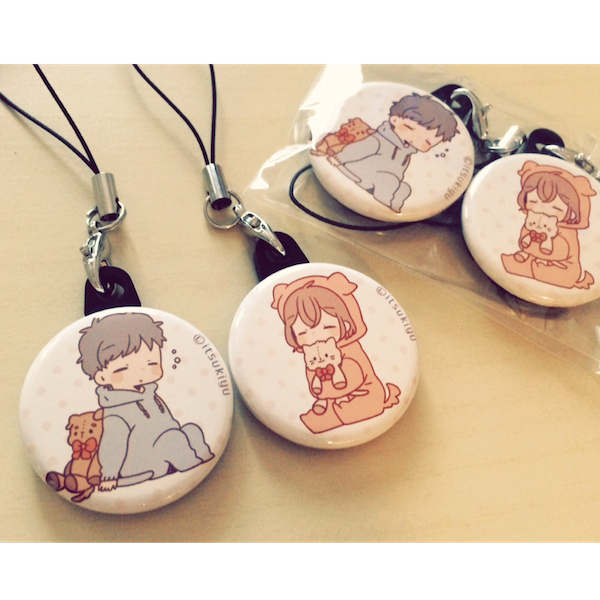 ▲Pair straps that couples can use together
- Your solo exhibition starts on September 8th, what would you be exhibiting?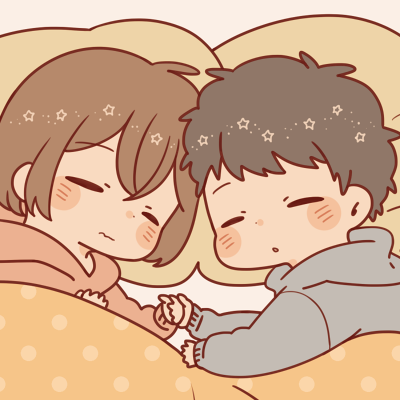 I'll be exhibiting illustrations I've done in the past and present, as well as merchandise and old works along with rough sketches of stickers and manga that were never published on pixiv or Twitter. It feels like my home is on display (laughs). Like the couple in the illustrations, I hope visitors can view them at their own pace and enjoyment.
- Lastly, please tell us what are your plans in the near future!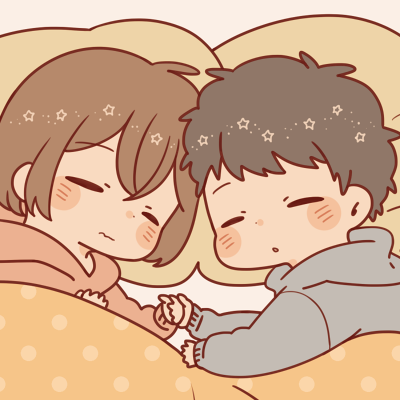 I've drawn many short stories and would like to try my doing long stories. After making some animated stickers, I became interested in making videos. Also, I want to put more effort into the work that I began with my boyfriend.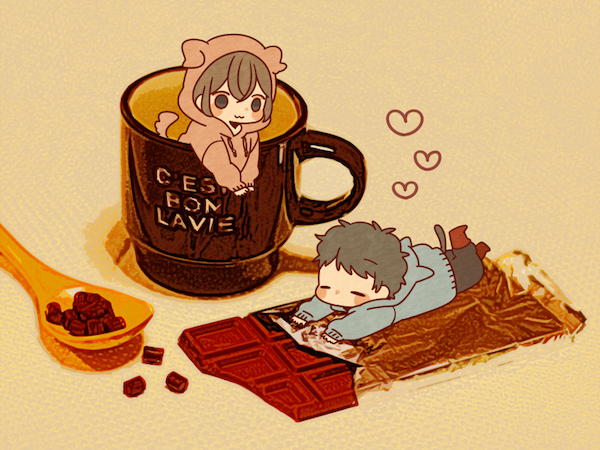 ▲One of the creations that Itsuki and her boyfriend made together. It's a combination of photos and illustrations.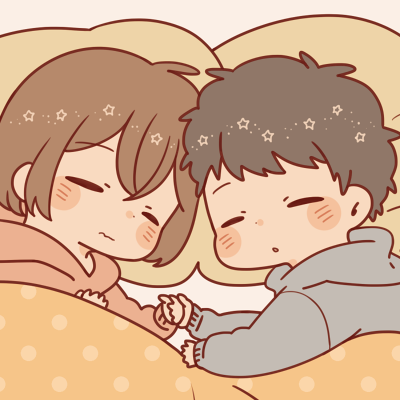 I am still learning a great deal and would like to try my hand at all sorts of creative pursuits!
- Thank you so much for your time!
Treasuring your own feelings is how you can make things that people can relate to
People from all walks of life use Itsuki's "Sunao ni Naru" stickers to convey their feelings and surely this is because she cherishes the feeling of being loved and carefully channels them into her work.

Love and creative pursuits are something you will enjoy and become absorbed with which is why some might feel it's difficult to have both in life. But like Itsuki, who is positive-minded and enjoys her relationship, if you're able to channel your experiences into your work, you might be able to create something that many people can relate to as well!
A solo exhibition of Yuu Itsuki's works!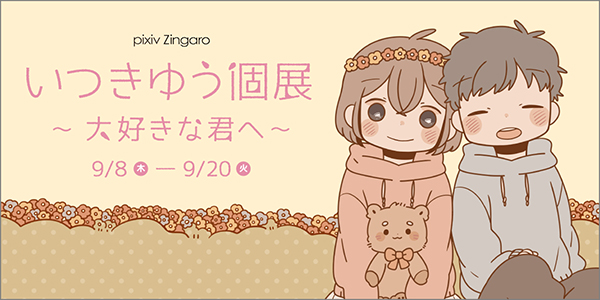 Yuu Itsuki's solo exhibition will be held at Nakano's pixiv Zingaro gallery from September 8, 2016 to September 20, 2016. There will be an autograph session on September 17 from 13:00 to 18:00.


Yuu Itsuki Solo Exhibition - 'Daisuki na Kimi e'
Opening hours: September 8, 2016 - September 20, 2016
*Venue is closed on Wednesdays.
Venue: pixiv Zingaro (2F Nakano Broadway, 5-52-15, Nakano, Nakano-ku, Tokyo-to)
Entry: Free of charge
Details about the exhibition here.
Autograph Session
Time and date: September 17, 2016 (Saturday) 13:00 ~ 18:00
*The time of entry would depend on the voucher received.
Venue: pixiv Zingaro
Event information: Visitors who purchase 2000yen (tax included) and above at the exhibition's merchandise corner will be given a voucher for the autograph session.