Must-see for beginners! 4 easy steps to master illustrating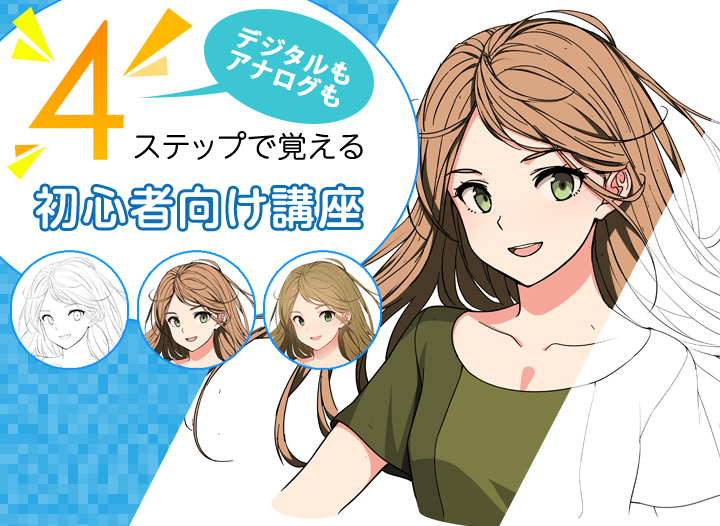 Have you ever thought about illustrating, but became at a loss for where to start? Today, we have a simple tutorial for beginners at illustrations, where you will learn about the difference between analog and digital drawings, as well as how to draw the faces of characters.
1. Analog? Digital? Two types of illustrations
2. Characteristics of and how to draw analog illustrations
3. Characteristics of and how to draw digital illustrations
4. The fundamentals of drawing
Apart from learning more about drawing, your actual skill will improve with these tips that are easy to understand and image. We highly recommend it to beginners who want to grasp the general flow of drawing.
1. Analog? Digital? Two types of illustrations
You may have heard people who illustrate say things like "I'm pretty bad at drawing analog", or "I prefer using digital tools". These terms may be a little confusing to beginners.
Illustrations can be split into two broad categories:
-Analog
-Digital
To put it simply, 
It is considered analog if you do not use electronic devices like your computer or mobile devices, and digital if you do.
Let's find out more about their characteristics by examining artwork uploaded on pixiv.
2. Characteristics of and how to draw analog illustrations
What are analog illustrations
It's when you use paper and pen, and not electronic devices. Typical tools include pencils, color pencils, markers, water color paints, oil paints, ink etc. You can draw anytime you like as long as you have a canvas and tools. People who draw on normal paper with a mechanical pencil are also analog illustrators. There is no need for you to learn how to use digital tools, and you can illustrate whenever you want to, making it one of its special features,
What makes analog illustrations attractive and what doesn't
The ideas expressed will vary very much according to the tools used or the quality of the paper and its balance.
As you are unable to undo your work, every move is decisive, but another way to put it would be that the final product will not betray you. It's interesting to see how the slightest differences in color can portray such different things. 
However, a lot of care has to be put into your tools. Markers and paint that are oil-based do not fare well in dry and hot environments, and it is important to cover them up and store in suitable locations. Also, there are times where you find yourself unable to restock the tools you need, and it is crucial to always check your remaining stock.
Types of analog artists
Let us show you the various types of ways of expression through the work of analog illustrators uploaded on pixiv.
You can use them like you use pencils, and is very easy for beginners to use. By changing the force used, you can either create a very light feel, if not impactful one.
It's hard to mix colors to create a new one, so you may want to prepare the standard 24~48 colors to increase your ability to express. From the grainy texture to a smooth flowy texture, there are many ways you can use color pencils.
Oil-based markers are able to bring out vibrant colors, making them very popular. There is also a wide range of colors available, and also thin tip markers that are good for sketching and a wide range of details, and the convenient thick tip. By changing the tip of the pen to a specialized one, you can also use it as an airbrush. Markers are not only used in illustrations, but also in the architecture and fashion design industries. As you can go over the same area to create a gradation, you can create something very detailed, despite its vibrant colors.
According to the composition of the paints, water color paints can be made into two types, transparent water colors (water color) and non-transparent water colors (Gouache). Transparent water colors are easy to control with the quantity of water, and they help to bring out different shades of the same colors, creating a gradation. In order to bring out the gradation effects, you have to wet the paper before coloring, which is a unique technique only seen with transparent water colors. Being able to trial and error and fully make use of the tool's characteristics is what makes analog illustrating interesting.
3. Characteristics of and how to draw digital illustrations
What are digital illustrations
You can draw digitally if you have:
-A computer, smartphone or tablet
-Painting software
In the past, you had to have a computer in order to illustrate digitally, but you can now do it on your smartphone easily.
When drawing on the computer, you could purchase a pen tablet apart from a mouse, so that you can illustrate digitally with a feel of analog illustration.
Charms of digital illustration and points to be noted
You won't be needing variety of drawing materials and the work can be done easily when it comes to digital illustration.  These one of the good parts about not drawing analog.
The following are the examples of the merit in drawing digital.
-You can redo and undo as much as you like
-Copy and paste the patterns such as complex checkered patterns and laces
There are many free distribution of materials online and you are able to use them in the long-run unlike the analog drawing materials.
The demerits are sudden shutdown of your device or forced termination of your tool will lead to losing your data and should be taken note of in drawing digitally. The data should be saved frequently to avoid such troubles. Computers and mobile devices are rather expensive and the need of learning the usage of these tools are negative points about drawing digital. However, there are free painting tools and trialwares so you can choose the one that is suitable for you.
The types of digital illustration
Let us show you the various types of ways of expression through the work of analog illustrators uploaded on pixiv.
■ Digital illustrations with the computer
You can carry out complicated procedures if you have a pen tablet or liquid crystal tablet along with your computer.
Most paint software come with a function called layers. Layers are like drawing on top of something with a transparent sheet in-between. Many use different layers for their lining and coloring in, or even for the hair and face as it is convenient.
It is much easier to correct something later on if it is properly split into different layers.
Software you can use include Adobe Photoshop, Illustrator, CLIP STUDIO PAINT, SAI etc.
Find out more here to find out more about these software.
■ Digital illustrations with tablets/smartphones
You can now illustrate digitally anywhere you go.
Also, you can sketch analog, take a photo of it and upload it onto a paint software on your phone to further edit it. This makes good use of both analog and digital methods.
Paint software include pixiv Sketch, ibisPaint, Medibang Paint, Tayasui Sketches 2 Pro, Inkboard, Adobe Photoshop Sketch etc.
4. The fundamentals of drawing
Let's find out about the basics of illustrating through a character illustration. We have picked several tutorials from 
sensei
, a drawing tutor system on pixiv. It's just a general outline, so not all of the steps are necessary all the time.
Step 1. Draw an outline
Firstly, do a simple sketch to decide where the face and the body is facing. We call this an outline, and is a good guide to give you a good sense of balance.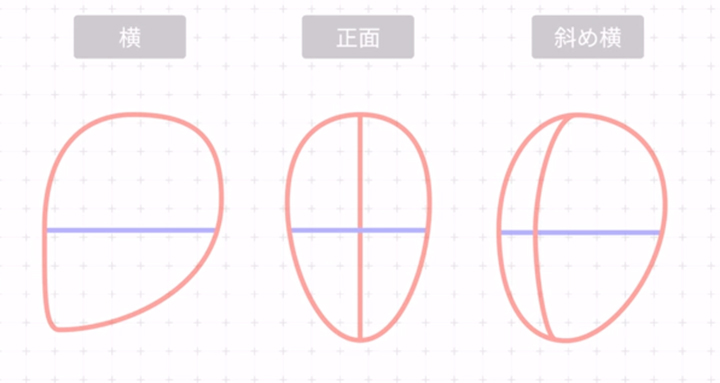 Step 2. Rough sketch
Next, complete your whole character based on your outline. About 70% of the final image will be completed at this step, so do insert the details once you've drawn out the general shape of the body. You will also decide what kind of colors are to be used at this stage.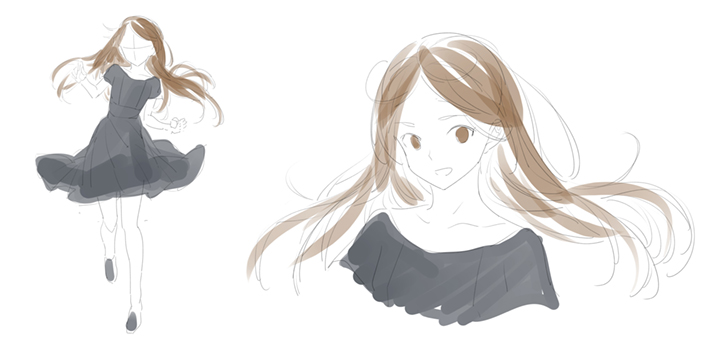 Step 3. Lining and cleaning
Line the drawing according to your sketch. Rub away the sketch here. Instead of just following the lines faithfully here, try to focus on drawing clean lines, and in one swift motion. Instead of bringing your hand to an awkward position, you could try moving the canvas instead.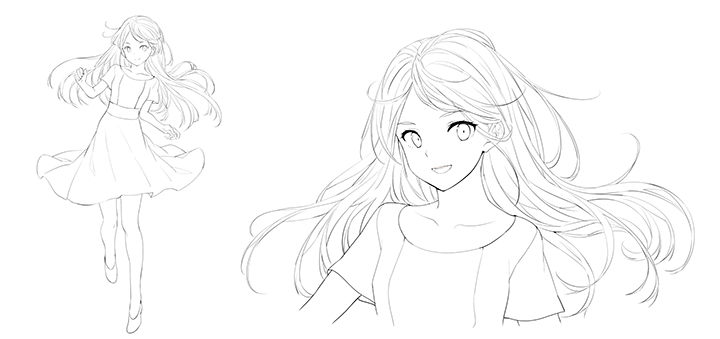 Step 4. Deciding the colors
Next, decide the colors for each part. The image given off differs greatly based on the colors used. 
In the case of anime and game characters, cheerful characters tend to have warm tones, and cool characters more chilly ones, but it's all up to you.
Step 5. Coloring
We've finally reached the coloring.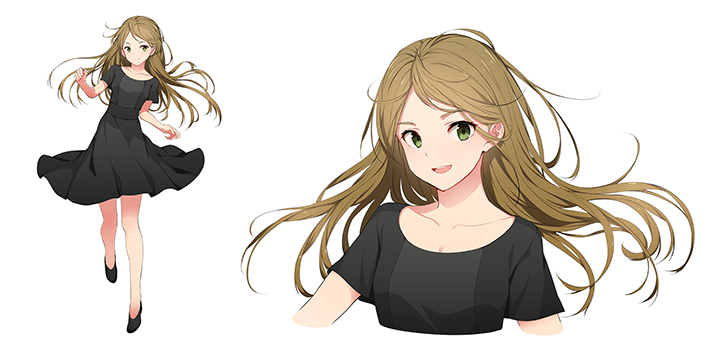 After coloring in the hair, skin and base colors of the clothes, add shadows based on the light source. Think of it as transforming the head, arms, balls or pillars into something 3D, and decide the light balance of the whole picture. Lastly, add in gradation, and highlights.
What makes the coloring so different
The are a variety of ways to color, each with their own intended effects. 
In the case of digital illustrations,
・Anime style as seen on TV
・Bishoujo style that makes skin look soft and feminine
Are two major styles, so do explore and find something that suits you.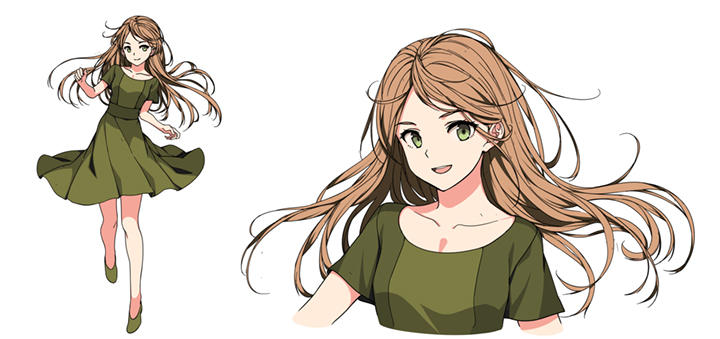 How was that? Drawing and looking at illustrations are two different types of fun. We gave you different types of examples, but there is no correct answer in illustrating, and it all depends on the type of materials and techniques used. Do look for one that suits you.