A making-of & interview with Kitsune: painting fantastic worlds with Adobe Photoshop CC
Her driving force was "frustration"
- When did you start drawing digital illustrations?
The first time I drew something on a PC I was in high school, so I think it was around 10 years ago. At that time I couldn't use Paint Tool SAI yet, so I was using a free drawing software.
- What kind of illustrations did you draw back then?
Character illustrations. I wanted to get really good at drawing characters, and
I learnt by imitating other artists
. But I found it kind of sad to make illustrations with only characters in them, so I started drawing backgrounds as well.
Back then I was a huge fan of "Higurashi When They Cry", and I would draw illustrations and post them on a board of the official website called "Oekaki Republic". However, every day people posted thousands of illustrations and mine (I wasn't really good yet) got lost. It was really frustrating. (laughs) I was really passionate about imitating other people's style.
- Which artists influenced you the most?
There are many of them, but someone who influenced me from the Oekaki board days is
Taiki
. Nowadays he's working with the visuals for "Lord of Vermillion" and "Rise of Mana", but
I remember being shocked of how better he was even though we were using the same drawing tools
! 
However, who I consider my master is without any doubt 
Takashi Konno
.
He can tell incredible stories with just a single illustration
and I admire him very much. 
One artist who influenced me when it comes to landscapes and sceneries is 
Shounen Teikoku
.
I love the worlds he is able to paint
, and I think many illustrators consider him a source of inspiration. If you take a look at pixiv you'll see what I'm talking about.
The brush is the key
- When did you start using Adobe Photoshop?
For a while I just used my favorite message boards' Oekaki tools or free painting softwares, but soon I realized there were many things I could not do with those. I started using Adobe Photoshop when I was in university. It was really hard at the beginning because of its many functions, but I got used to it. Since I was a student, I could put my hands on the academic version - I was really lucky.
- You said there were things you couldn't express with your previous tools, any example?
I wanted to start doing speed paintings, such as video game concept art, and to do this kind of illustration
it's necessary to expand your brush selection and not be afraid to customize them
.
In my case, I often use that hexagonal brush I talked about in the making-of part of this article. It's incredibly useful and versatile, and can draw lines that are difficult to achieve with regular brushes.
When I have to draw plants and rocks I use special textured brushes. This way I can save some time and use it to concentrate on the parts of the illustration I think are the most important.
Many of the brushes I use are free brushes that were shared by overseas artists, and the fact to be able to import and use different sets of brushes is one of Adobe Photoshop big strengths.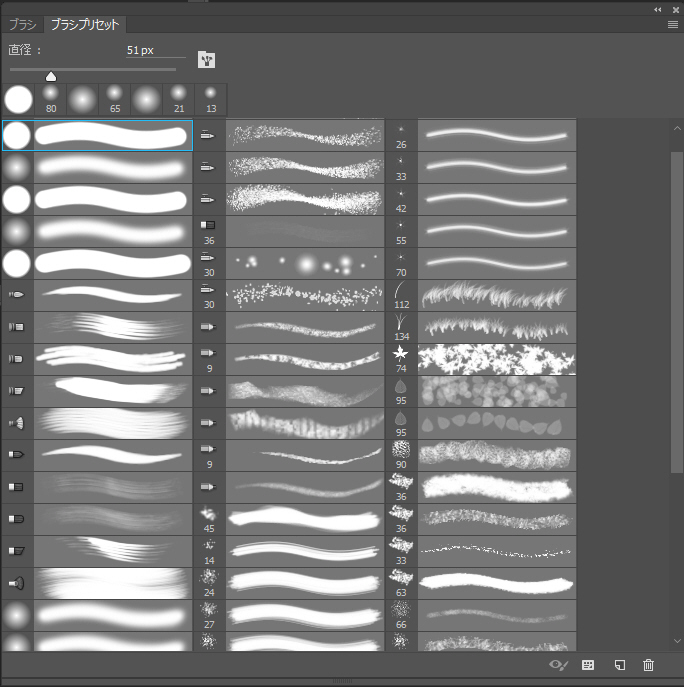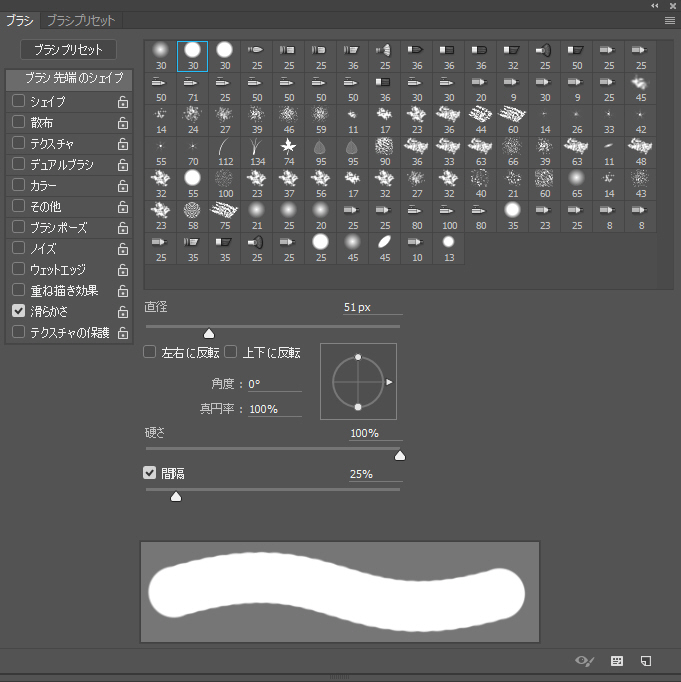 - You're currently using Adobe Photoshop CC. What are some functions you cannot find elsewhere?
The first one that comes to my mind is the "Tilt-Shift", inside of "Blur Gallery". It's a function you can use to blur only the parts you want, and you can pinpoint different sections and start from there to create the perfect blur.

My painting style includes merging the layers many times during the process, and the presence or absence of this blur function can really make a difference. I couldn't live without it.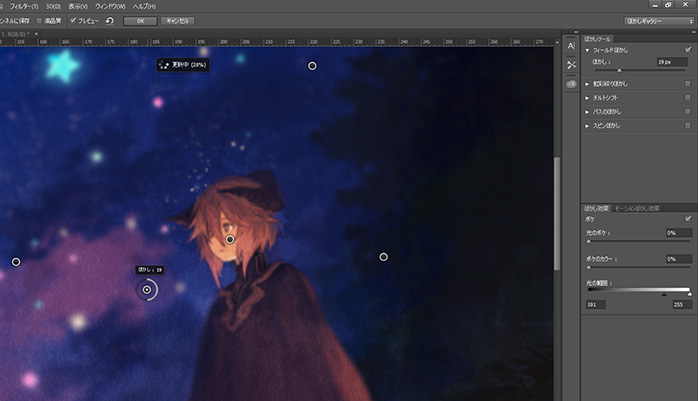 - Where did you learn how do draw?
I'm self-taught!
I studied art in university, but my major was design & video production, so it had little to do with illustration.
Like everybody,
there was a time when I was starting with the lineart and then drew the characters and the background separately
, using different layers for different parts and so on. However,
I hated having to draw linearts
(laughs) so I had to learn a way to paint directly on my canvas without it looking messy. That's how I developed my current style, which I think is my ultimate one.
It was basically the result of a process of extreme simplification, haha.