A Tablet that feels like using pen and paper? Hands-on with Wacom's newest product! Interview with Hiyori Asahikawa + Drawing Video
I'm the type to let compliments go to my head (laugh)
- When did you learn to draw?
I was doodling and scribbling before I can even remember. My older sister also liked to draw, so I sometimes copied her. There was a box full of flyers and fax backing paper at our house, so, as a kid, I would always sneak sheets from there and doodle on them.
- What was the point you went from doodles to drawings with actual subjects?
I was always using my sister's stuff--whatever she bought, I got my hands on, be they pen tablets or scanners. But when she moved to Tokyo for school, she took it all with her and I thought "Uh-oh." So I got our parents to buy me my own pen tablet (a Wacom Favo). It was right around then I started drawing "for real," I think.
It was also then that I got complimented for a drawing I sent into a magazine, and I thought it would be great if I could draw for a living. I let it get to my head a bit. (Laughs) From that point on I started focusing on drawing, through clubs and work, which brings us to today.
- So were you part of the art club at school?
My high school had a manga club, so I joined that. Still, there were more people who were there to make illustrations rather than create comics, and I was one of them. It's actually really tough to come up with a story (wry chuckle)... You end up thinking so many things and then have to make a sequence of drawings in order, and you can't really do it. That's why I prefer to take everything I want to express and put it all into one drawing.
And so I resolved to complete at least one drawing per day, and I continued to make original illustrations--since I thought I would need to make original creations as a professional illustrator anyway. Of course, I also drew characters and other things from anime and light novels, but I decided that was purely to be as a hobby. The club also had a rule about not drawing copyrighted characters or other people's work, so it was 3 solid years of creating original illustrations.
Digital and Hand-drawn: Getting the best of both worlds
- What did you use to draw during your high school years?
I drew by hand in my high school club. Our monthly magazine was released in black and white, so drawings were done with pen and paper. But for culture festivals and such, we made color illustrations on large panels, so those times I often used pencil crayons and watercolors. Still, when I came home, I made all of my own drawings digitally.
Thinking back, I think learning to draw both ways was good experience. I wouldn't have appreciated just how much more convenient digital can be. I mean, I was so impressed when I first used a fill tool (laughs).
- What drawing software did you use?
PaintTool Sai came out when I was in high school, so I've always used it since. It was just around then I also found out about pixiv, so I started to upload my drawings there, too.
- What kind of pen tablet do you use now?
After using the Favo I got in middle school, I wanted a bigger screen size to work with, so I bought a Bamboo Fun which I've been using forever. Recently, though, I've switched to an Intuos Pro. When I first tried it, I actually gasped in surprise at how different it felt. There was even a set of replacement nibs when you open up the penstand, which I like because it really lets me feel like I'm using professional equipment. I also press down harder than most so I go through them fairly quickly.
- Has it increased your drawing speed?
Absolutely! The ease of use is on the same level as pen and paper, and so drawing is enjoyable with it. More than it being faster to draw with, finding it that much more enjoyable to draw with was the best thing about switching to the Intuos Pro.
- You mentioned pixiv earlier; has anything changed about your process since starting on pixiv?
I used to only be able to show my drawings to people around me, but uploading it to pixiv let a lot of different people see it and give feedback.
I was super excited, like, "Oh wow, I'm so happy, what do I do?!"
when people first commented on my original artwork.
As well, there are many people who work in the game and book industries on pixiv that see these illustrations and make referrals, so I'm actually quite thankful to pixiv in that regard. It's a huge benefit to me as a freelance illustrator that so many people can see my work right away.
- You've shared a lot of illustrations, and the more you upload, the more followers you'll likely amass. How has uploading to pixiv changed drawing for you since you started?
Hmm, I've always drawn whatever I want, however I wanted to, so I'd like to think not much has changed, but there are certainly some things.
For example, though I've deleted it since then, I used to upload line arts and other rough work, like as a blog. But as more people began to follow my works and they began to enter the rankings, I've began to consider the state of the drawings when I'm uploading them.
A valuable thing I learned from an instructor was to "take the time to create each individual piece." Since I obviously have to put out a finished product when I'm working, I've begun to apply that to my personal drawings as well. For me, putting out completed drawings for people to see is also proof that I am someone who is able to properly put finishes on an illustration.
Still, it's good to make doodles as a change of pace, and, plus, you never know how any piece will resonate with the viewer, so I'll still upload them from time to time. (Laughs) In the end, no matter what the drawing, for me, there's always a feeling like that of a kid saying to her mom "Look what I made!"
- About those rankings you mentioned, when was the first time you got into the top rankings?
My first time with an original illustration was 2 years after I first registered. I also entered them with a fanart only 1 year after I registered. This is the illustration that I got the highest ranking with.
If I recall correctly, it was as high as 18th.
When I learned that this many people had liked my art, I was very happy. With the fanart, I appreciated that my interpretation and take on the character was well received, and with the original art, I was happy that people understood what I wanted to convey.
- When uploading illustrations, do you spend time making it more visible, like adding key tags or subjects or timing the uploads?
Hmm, truthfully, I don't think I spend any time thinking about it. (Wry laugh) I mean, the topics of the illustrations are chiefly those that I wanted to draw about. Though there is a streak of wanting to keep up with latest trends.
Oh, but I do avoid uploading right after midnight, ever since I was first blown away by just how many new uploads come around that time. Other than that, I don't particularly have a specific window of time I stick to, only loosely trying to keep my uploads relatively recent, I suppose.
And even then, since everyone's schedules are different, I don't spend too much worrying about it. Each encounter is unique, after all, so that's always my first concern.
Having a broad range in order to best express yourself
- Please tell us about your creative process. You have so many drawings beyond what you do for your work--where do you get your inspiration from?
I love to travel. I take
plenty of pictures of buildings and scenery from all the places I visit
. I spend time just walking around, thinking "What if I drew this or that girl on this scenery?"
As well, even though I draw a lot of fantasy-genre stuff, I like to listen to celtic music in order to help visualize things. I like celtic music so much that if a game has it in its soundtrack, I'll buy that game.
- What's the one thing you keep in mind when you're drawing?
It would be to show the lighting and shadow of things realistically. In art school, my instructor taught me that how an object captures light and how it's shown reflecting it can change the impact that object has on a viewer.
Even when I'm drawing things from pictures from my travels, I always do my best to carefully recreate the shadowing just as it is in the picture.
- Are there any themes or subjects you'd like to try taking on in the future?
I don't normally have chances to draw in the mecha genre, so a part of me wants to practice to make sure that I know how to. I suppose it's more for training than for fun. Though for me, that idea of training is fun, because I see it as a necessary ability in order to express myself. I always want to be able to draw whatever and however I need to best express myself.
I want to become an illustrator that can draw in any genre, and on any subject. It would be awful if there were many references to sci-fi and futuristic things in a light novel I wanted to work on but I couldn't work on it because I couldn't draw those things (laugh).
With all this in mind, I want to be able to draw not only the children's books I'm working on now, but all sorts of light novel and game characters' designs and illustrations. I'm grateful to have work due to these roles, but I also feel a renewed desire to encourage and bring joy to people through my illustrations. I want to become an illustrator as thanks to all the folks in my hometown of Ayagawa, Kagawa, who've supported me.
- What are your first impressions using the Wacom MobileStudio Pro 16?
It's got a great feel to it! It's easy to draw with, and it almost feels like putting pen to paper. I could draw all day with it (laugh).
I started off as a hand-drawer, so I always got the feeling of disconnect between what I saw and the pointer of a pen floating above a digitizer, but that feeling is almost gone with the MobileStudio Pro 16. It's like drawing in a sketchbook.
- Is there anything else you like about it?
It's also a Windows 10-capable tablet PC, so I like that I can draw with it wherever I go! Since with a regular drawing tablet, I'd need to connect it to a computer.
As well, whenever I'm under a crunch, I often go out to a nearby park and brainstorm through sketching, but since I press down so hard, I usually need something firm to support the sketchbook. Since this is both hard and is as easy to use as pen and paper, I feel like I'd get a lot done with this.
Plus, the size makes it easy to fit on a desk, too. 16 inches is easy to carry around, and I feel like the even smaller 13-inch model (Wacom MobileStudio Pro 13) would easily slide into a bag. I always imagined tablets to be bulky things, but this should be a great size for a lot of people. Me too, maybe… (Laughs)
- So this is something you want?
Absolutely! I don't have a computer back home in the country, so I can't do any work when I go there. A 13-inch I could slip into a bag easily or even just carry around. Most importantly, the fact that you can draw all just on the tablet itself is a great selling point. It's tempting... I might actually just buy it.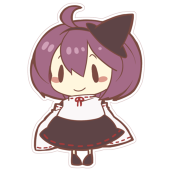 Hiyori Asahikawa
Illustrator
born in Kagawa Prefecture and currently living in Osaka Prefecture. Works
include character designs for books and games as well as trading card games.
Hobbies include travel and black teas.