How To Create Pixel Art GIFs? An Interview With Illustrator Yuuta Toyoi
Hello everybody, it's Nyalra (@nyalra).
Today I'm interviewing Yuuta Toyoi (@1041uuu), illustrator and pixel artist who is also part of Geek House, a project that collects various creators and which was introduced in the Japanese TV program The Non Fiction. His pixel works are beautiful and have a strong retro vibe, and have gathered a lot of attention from media. Toyoi has refused to release interviews up until now, but I took advantage of my friendship with him to visit him in Wakayama prefecture, where he currently lives. Surprisingly, he agreed to answer a few questions.

This is going to be a very rare interview article, so I hope you're grateful it exists.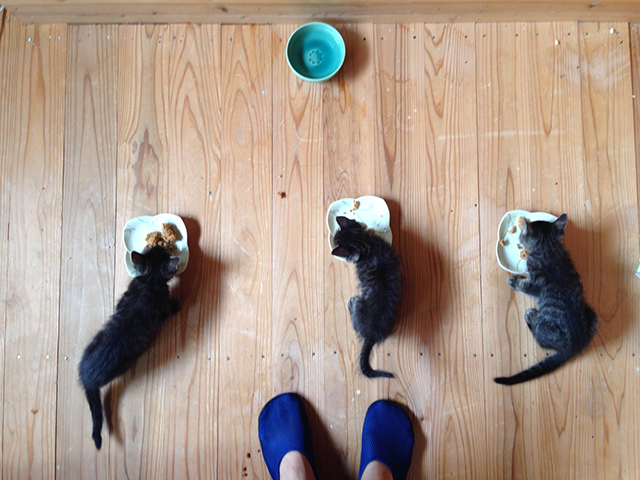 Currently, Mr. Toyoi is living an isolated life with his three kittens between the mountains of Kumano (Wakayama prefecture). He came here after experiencing life in a share house in Tokyo and after living alone in Kyoto. How do mountains all around him stimulate his creative motivation?
-- I heard you are quite adamant about not releasing interviews. Why?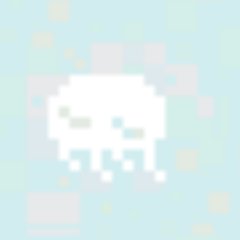 People interview other people because of their success. I don't like that, I think it's creepy. But since you came all the way to the mountains, I won't really consider this a proper interview.
-- Thank you. The first question is, what do you think about pixiv?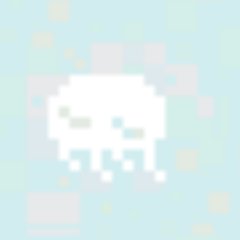 I always forget my pixiv ID and password, so I remade my account many times up to now. After 10 times or so, I got tired of it. But apart from that, I have no opinion about the service.
-- Look, I was told to ask you this question. I only look at R18 works, so I don't even know what regular pixiv looks like.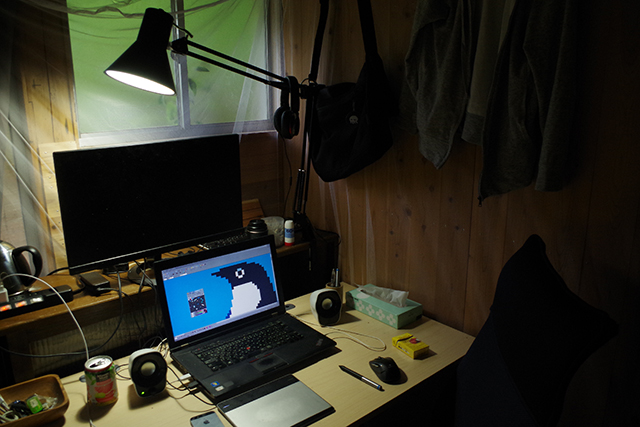 -- I'm gonna ask you a pretty serious, interview-like question. Please tell us about your production environment.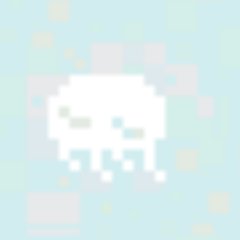 I use EDGE2 to create the pixel art, and Adobe Lightroom to adjust the colors. I use EDGE2 because it's one of the major software dedicated to pixel art, and I use Adobe Lightroom because it's way lighter than Clip Studio Paint and Photoshop. I tried other things as well, but I'm too used to the shortcuts of these two programs, so I think I will keep using them.
-- This is the illustration you drew on the occasion of this interview, right?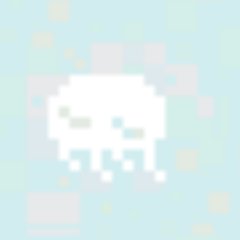 Yes, and it's drawn in a different way compared to the ones I created so far. Until now, I have been limiting my color palette to 32 colors, but this time I didn't use anti-aliasing and I took advantage of the jaggies effect in order to create a sense of depth. While looking for the right colors to express such sense of depth, the number rose to 128.
-- I see. (I have no idea what you're talking about)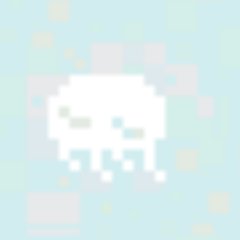 I wonder how detailed my explanation can be. Look, I like to watch adult videos - especially those that have been re-uploaded so many times on the internet that their quality is just terrible. By compressing the video, which was originally set to have a high saturation, the black and white parts crash together, creating colors that didn't exist in the original work.
-- It's the first time I learn about color theory with an explanation about adult videos.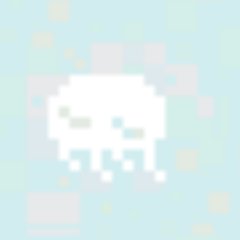 Even the plainest background can surprise you with unexpected colors like red, green and blue if you just stop and stare at it for a while. I always try to pay attention to such shades. The same technique was also used by the post impressionist painter Seurat.
-- I too want to become a man who can put adult video and post impressionism in the same sentence.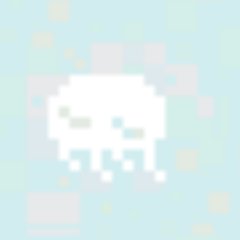 The colors that you see depend on many things, such as your consciousness or the state of your eyes. For my illustrations, I want to use colors that don't have a unique interpretation.
-- Tell us about the artistic aspect of pixel art.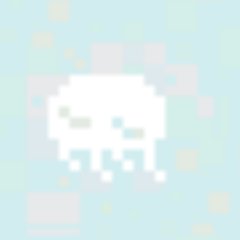 The truth is, pixel art is an ugly form or art that comes in low resolution.
-- Is that the official definition?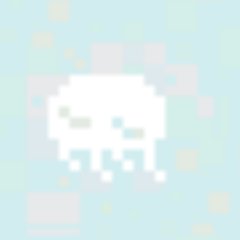 Therefore, it's essential to draw it in an easy-to-understand manner in order to make up for its ugliness. Collect similar colors in one single color, simplify complex shapes. If you don't do these things, the result will be an ugly illustration with meh colors.

Also, the appearance of each motif is very important. For example, real goldfish are very detailed and move in a very complicated way. If you try to replicate them as they are, they will look terrible. You need to simplify their movements and to drop the frame rate.

Even with the light coming from light bulbs or streetlights, it's essential to draw them carefully with anti-aliasing to give them a shape. You have to start from tiny white squares and create a whole picture.
-- It seems like you put great effort in creating different kinds of light. (Do I sound like a proper interviewer?) What about animating pixel art?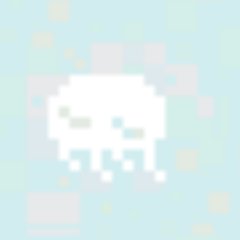 You have to make loops almost unnoticeable. By inserting different objects in the same illustration, some looping at multiples of 3 and some looping at multiples of 4, I try to make the general loop less noticeable. The placement of the objects moving is also important. I try to sprinkle them over the whole canvas, while checking the overall movement.

There are images called cinemagraphs, which combine still photography and video to create an almost perfect loop. In those GIFs, it's very common to move the background (the sea, clouds) and to make characters in the front stand perfectly still. By making the background move, you can express a feeling of time going by.

By inserting many different elements all over the canvas, you can create the illusion of time moving. Something I use often is a scrolling background, rain or petals.
-- The next question is not very original: how did you start creating pixel art?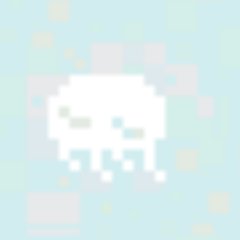 Originally, I was drawing illustrations using a pen tablet. The first time I created pixel art I was in middle school or high school. During lessons, I used Excel or MS Paint to draw. I took characters from manga and video games I liked and made them into 8bit pixel art.

They were simple sketches at the time. When I moved to Tokyo, I kept drawing. However, the only mean I had to draw was the touchpad of my PC. I used that to create pixel art in my spare time. 
-- Video games had a huge influence on your life. What game has the best pixel art?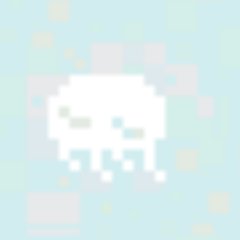 I love the backgrounds of King of Fighters, a fighting game. Rather than retro games like Mario or Kirby, I prefer those games where background look like full illustrations.
-- I'm an
otaku
, so I have to say this: my favorite background is the one after Kula freezes the ground in
King of Fighters 2000.
What is yours?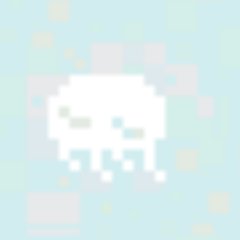 Those from 96!!
-- What a ready answer...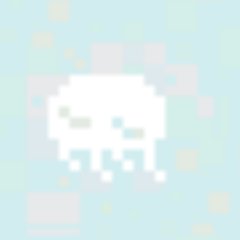 Specifically, the Esaka stage of King of Fighters 96. It's not particularly beautiful, it looks like a plain city landscape. There are some girls cheering with banners, people behaving in a weird way, and you can see employees through the office windows. I like the sense of reality conveyed by this background. I also like old gal game backgrounds. A perfectly normal bus stop, that could as well be the one in Ogikubo, becomes a wonderful painting.
-- Street Fighter backgrounds, on the other hand, are almost comical. Like that old man tripping on his bike, in the Chun-Li stage.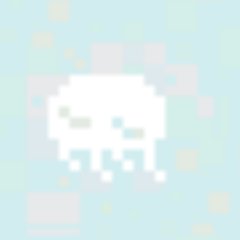 Street Fighter backgrounds are crazy. You don't see an old man tripping with his bike every day.
But I really love gal game backgrounds, like stations, squares and so on. You could see them in Hachioji.
-- They probably choose to portray such places because they were close to the company.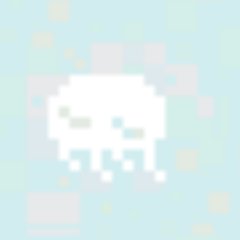 It went exactly like that with King of Fighter's Esaka. Some might wonder why they chose to portray such a boring view... But everything looks different with pixel art. For the same reason, I like the old Super Nintendo song arrangements... Ah, wait a sec, I'm gonna kill that.
-- (This is when the centipede of doom appeared)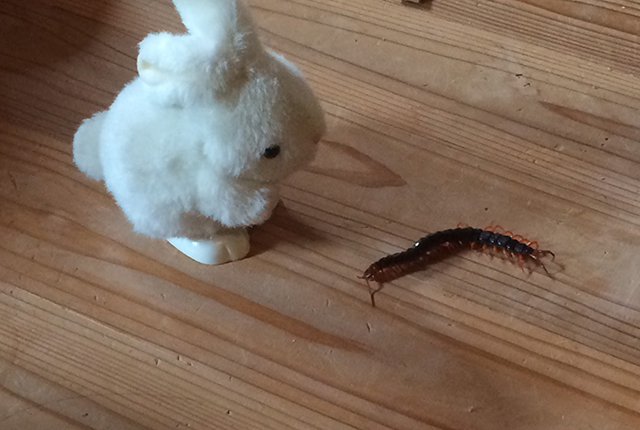 -- Tell me more about your fixations when it comes to drawing.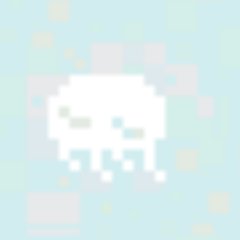 I enjoy drawing sceneries that are a little out of context, which feel complete and are interpretable in a single picture. Illustrations that can be appreciated even by people overseas who are not so interested in video games etc.

I'm a perfectionist. I tend to aim very high, but ultimately what I want is for the illustration I'm creating to look good. It makes things pretty easy.
-- It sounds like you want your illustrations to be appealing even for the overseas crowd.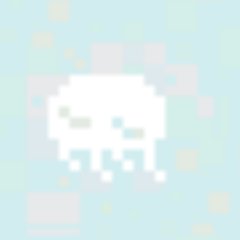 Yes, absolutely. Nonetheless, I particularly enjoy when people appreciate the illustrations that come from my heart, expressed without too many frills. I occasionally give in to lust, but I quickly end up disliking what I just drew and erasing it.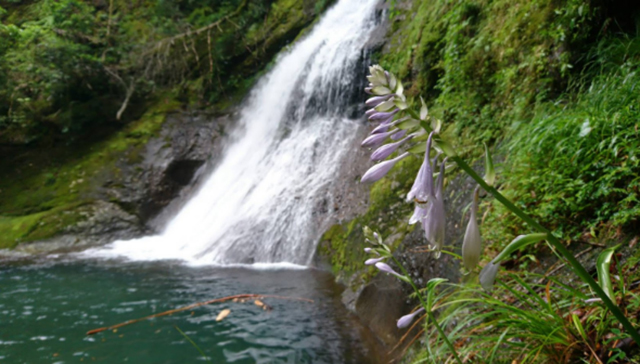 -- I'm tired of talking about art, so let's talk about you. Why did you decide to go to Tokyo?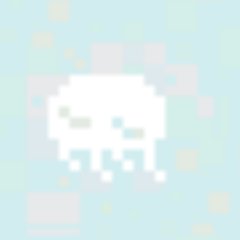 I was employed in a company, but one day I started hating my life. I took the bicycle I used to commute and pedaled all the way to Tokyo. I relaxed for a bit, then I met Pha and I started my life in the Geek House, a share house for creators.
-- You also participated in the TV program The Non Fiction. I already know the answer, but our readers don't: why did you decide to move in between the mountains?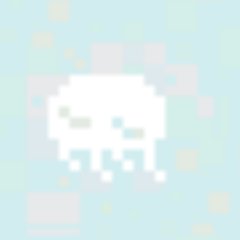 In Kyoto, my neighbor was making a mess every single night. My house was so noisy that I had to hit the wall with my fists multiple times. I escaped to the mountains, where I started living in a communal villa owned by one of my acquaintances. Little did I know, monkeys and crows are noisy as well. They're partying on my roof every night, so I basically switched from hitting the wall with my fists to hitting the ceiling with a stick.
-- There was a time when you used to create pixel art of beautiful girls. I really liked those, why are you not drawing girls anymore?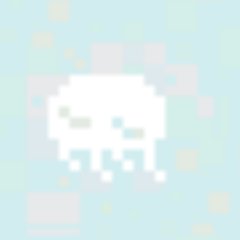 I don't like making a random girl into the protagonist of my illustrations. But sometimes I add girls to the landscape, to enrich it.
-- Like in the illustration you created for pixivision? It's crawling with high school girls.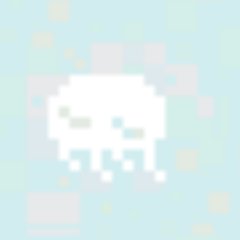 I think high school girls easily fit the role of protagonists. Plus, they contribute to making my illustrations the center of the attention.
-- It feels somehow ironic that you choose high school girls as the subject of an illustration you created specifically for pixiv.
-- I heard you've been deeply involved with a video game project.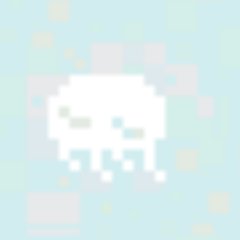 Yes. And since I'm a perfectionist, I'm not limiting myself to pixel art. I like to have my voice heard about the music, the game system... People must find me quite annoying.
-- Is there any project in particular that you'd like to be involved with?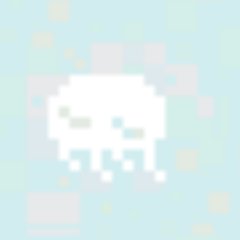 Nah, not really. I don't want to work. I'd like my Patreon fan base to grow. However, since you asked, I'd like to create the backgrounds for a fighting game.
This was my precious interview to Toyoi. I'm thankful he decided to collaborate with me.
If you're interested in his work and want to support him, here's his Patreon: 
https://www.patreon.com/1041uuu
By the way, take a look at the production process GIF that I posted in the middle of the article... The original one is quite large, close to 200MB. The artist requested that I posted it exactly how it was, but of course, I gave myself permission to fix it.
Essentially, both Toyoi and I suck at waking up at a certain time every day and work following a schedule. We enjoy working from time to time, but most of our days are spent relaxing. I think it was fateful for us to be connected in this work-related way.
There was another picture that I really wanted to show you - a sight of the river by night, with fireflies all around. Unfortunately, my camera didn't catch those fireflies and the natural light. I hope Toyoi will succeed to capture that magical moment in one of his pixel art animations.
This is it for today.