The 3D Character Making App VRoid Mobile has been launched - Now you can also take photos in the virtual spaces of Summer Wars!
pixiv Inc. (Head office: Shibuya-ku, Tokyo, Representative Director: Shingo Kunieda) launched the smartphone application VRoid Mobile, which can be used to easily create 3D character models and shoot the characters in 3D and real space (AR), on July 18, 2019.

With a camera function that can add blur effects (depth of field) when shooting 3D characters and plenty of photo-editing filters, VRoid Mobile enables anyone to easily take melancholic photos of their characters (Avatar Photos).
Download VRoid Mobile here:
 iOS Version: https://apps.apple.com/jp/app/id1469346321
 Android Version: https://play.google.com/store/apps/details?id=net.pixiv.vroid.android
■ 3D Character Making Feature
By using VRoid Mobile, you can create detailed 3D character models just by using your smartphone.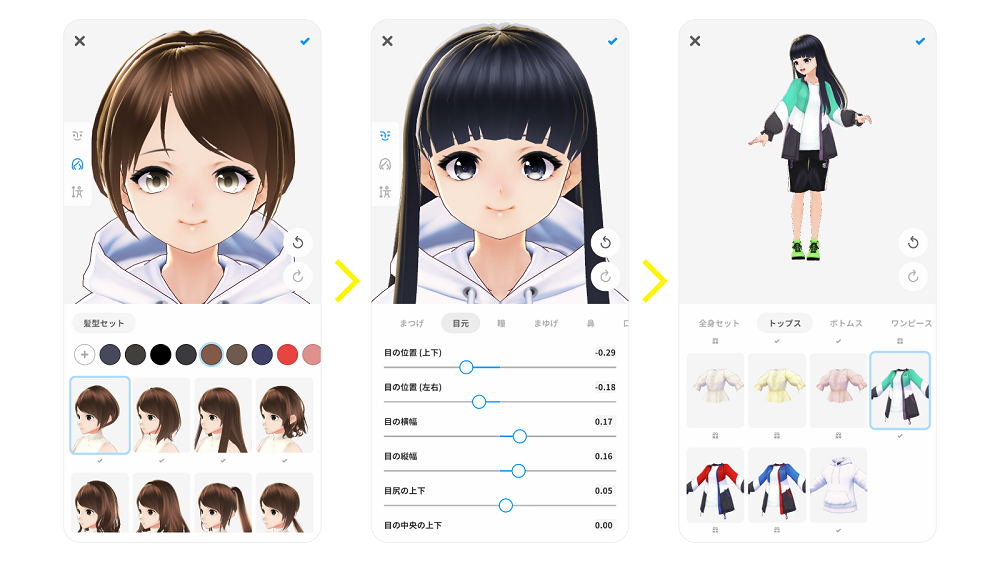 1. You can create your own 3D character models through simple steps of operation
You can easily create your favorite character simply by tapping on the face, hair, and body elements from the list. By moving the sliders, you can adjust various elements, namely your character's eye and hair colors, the size of their head, their body height, the length of their limbs and their physique, the positions and angles of their eyes, nose, and more according to your ideals.

2. Enjoy styling and dressing your character up with Avatar Wear
VRoid Mobile provides fashion items for 3D characters that are referred to as Avatar Wear. Make the characters you created wear tops, bottoms, dresses, socks, and shoes easily with just a single tap. Enjoy dressing up your characters according to the shooting scene and situation.

We plan to introduce plenty of new items including fashionable Avatar Wear by leading creators of virtual fashion.
Avatar Wear are paid digital items, but we will conduct a special offer in commemoration of the app's release to allow you to receive and change into as many Avatar Wear as you like. You can continue to use the clothes you received in the subsequent versions as well.
Since the special offer is only available for a limited period of time, please don't miss this chance to enjoy VRoid Mobile.
3. Use the 3D characters you created to play on other apps
The 3D characters created with VRoid Mobile can be uploaded to the 3D character platform VRoid Hub and published on the Internet. In addition, you can play using your character as an avatar on various applications that are linked with VRoid Hub such as streaming platforms, games, and more.

■ Avatar Camera Feature
The avatar camera feature allows you to call up a character created with VRoid Mobile to the real world and conduct AR shooting, take photos in the 3D spaces on the app, as well as play and communicate with other people.

You can also call up and shoot your own VRM model that you have uploaded on VRoid Hub.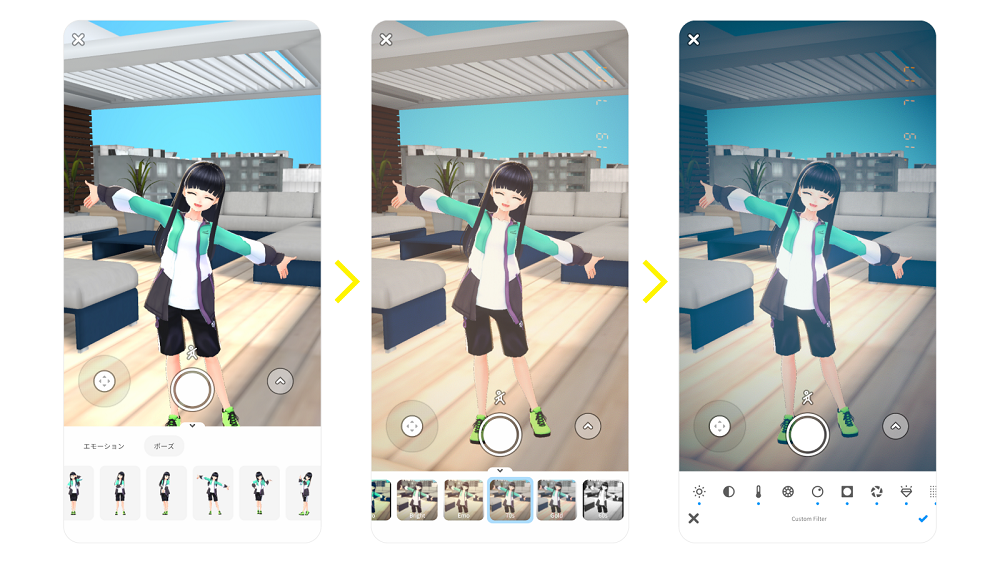 In addition to the character animation called "Emotion" and "Pose" for shooting, the avatar camera is equipped with 17 types of one-touch photo-editing filters that enable you to easily capture melancholic photos.

Also, there are 11 kinds of customization parameters that you can adjust in order to conduct a full-scale photo-editing, namely Brightness, Contrast, Color Temperature, Hue, Saturation, Vignette, Depth of Field, Bloom, Grain, Chromatic Aberration, and Frame.
1. AR Shooting Mode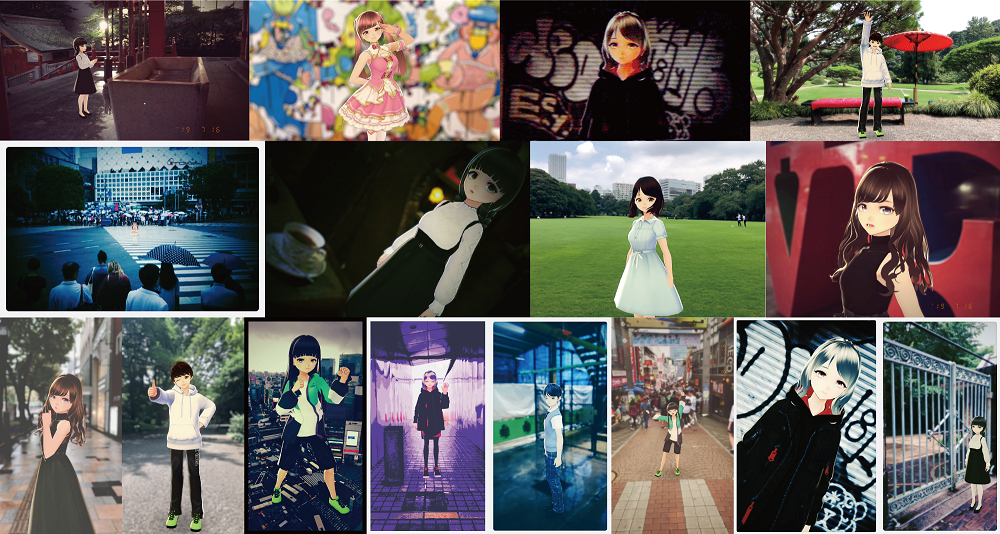 <Examples of photos taken only with the AR shooting mode of VRoid Mobile>

You can use the AR shooting mode to take photos of characters in your own room or against the sceneries outside. Anyone can easily take melancholic photos because they can check and adjust the blur (depth of field) of the background, adjust light (bloom), and preview the abundant filter effects before pressing the shutter.

Also, in this mode, you can move the character displayed in AR, zoom in or out the display size of the character on the screen, and adjust the character's height on the ground. One of the perks of using the AR shooting mode is that you can have a shooting experience that makes you feel like you're searching for situations that you want to capture together with your character.
2. 3D Space Shooting Mode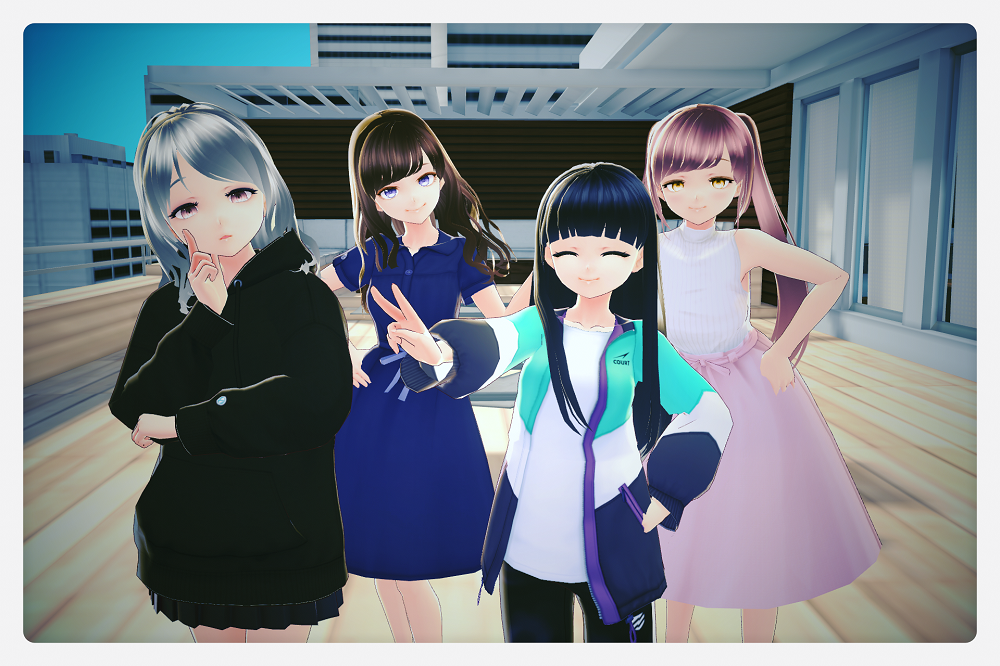 <An example of a multiplayer photo that features four people>

You can also move and shoot your character freely in the 3D spaces provided on the app. You can choose from 3 types of 3D spaces, namely OZ, Hanafuda Stage, and Penthouse.

In 3D space shooting mode, you can take photos of up to 4 people together in the same 3D space. By sharing the URL of the room you are in, you can invite friends and enjoy taking group photos. You can chat in the room by texting, so you can enjoy communication through avatars in combination with "Emotion".

*Currently, the multiperson shooting feature in the 3D Space Shooting Mode can only be used with characters created with the application VRoid Mobile.
■ You can choose OZ or Hanafuda Stage in the 3D Space Shooting Mode
The OZ on VRoid powered by pixiv, which is supported by VRoid Mobile to commemorate the 10th anniversary of the movie Summer Wars, is a "real OZ" that has been reproduced based on the 3D model data that were actually used for shooting. You can fly with the 3D character model that you created around two 3D spaces, namely the main world OZ and the Hanafuda Stage that was used in the battle between Natsuki and Love Machine.


Also, a total of five shooting spots are available in OZ and Hanafuda Stage. By tapping the camera icon displayed at the shooting spot in each space, you can take photos to recreate the scenes in Summer Wars with your avatar.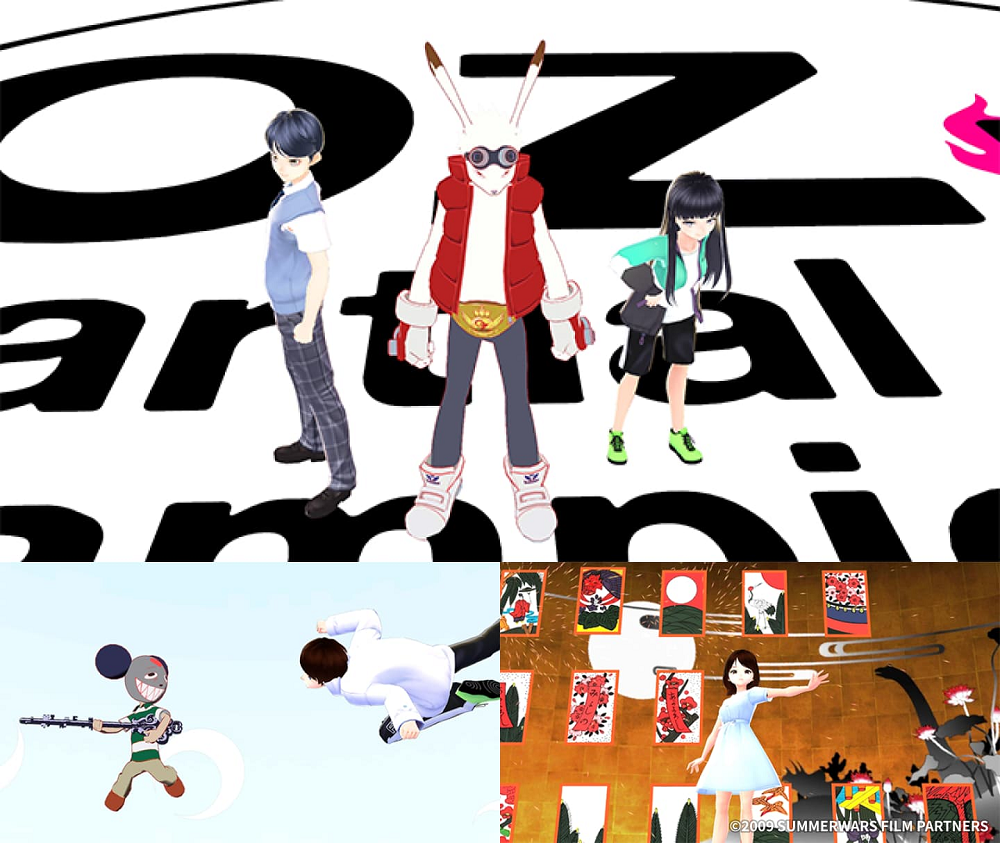 Additionally, there will be events that lead up to August 1, the date of Summer Wars' 10th anniversary, and special presents for users who joined this project. Details of the events will be announced on July 19th.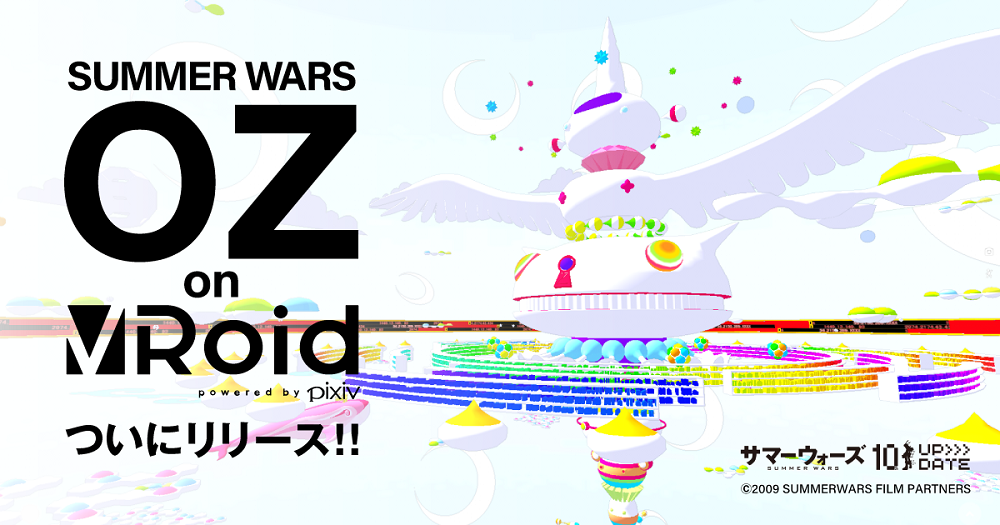 OZ on VRoid Website: https://vroid.com/special/summer_wars/
Planning & Production: pixiv Inc.

Supervision: Digital Frontier Inc.
Various updates have been planned for VRoid Mobile in the future, such as the enhancement of the character making feature, the addition of various Avatar Wear designs and 3D spaces for shooting, and the enhancement of the AR shooting feature. With this application, please enjoy taking the first step toward a world in which everyone can put on their own avatar.

■ About VRoid: http://vroid.com/
The VRoid Project is a pixiv 3D character project that was launched with the aim of delivering an environment where everyone can have their own 3D characters and enjoy creating works using those characters as well as interacting in a VR/AR space.
The VRoid project offers various services. For instance, the free 3D modeling tool VRoid Studio enables its users to create characters like drawing illustrations, and the service VRoid Hub allows its users to post 3D characters and use shared avatars in various VR/AR contents.
■ About VRoid Hub: https://hub.vroid.com/
VRoid Hub is a platform that enables you to post 3D character models that you created and share them with other users. By creating a pixiv account, anyone can use VRoid Hub for free. 
With VRoid Hub, you can create a profile page that allows your character to move lively just by posting a 3D character model, and you can distribute model data along with conditions of use. Additionally, the 3D character model you posted can also be used on various VR/AR platforms and 3D contents that are linked with VRoid Hub.
■ pixiv Inc. https://www.pixiv.co.jp
Head Office: JPR Sendagaya Building 6F, 4-23-5 Sendagaya, Shibuya-ku, Tokyo 151-0051
Representative Director: Shingo Kunieda
Industry: Internet Service
Established: July 25, 2005
Inquiry: Muramatsu Ito
Email: info@pixiv.co.jp Phone: 03-6804-3458