After All, Life's Not Fair / Curry Zawa Kaoru's Creative Counseling - Coping with Fanwork Taking a Little Too Many Liberties.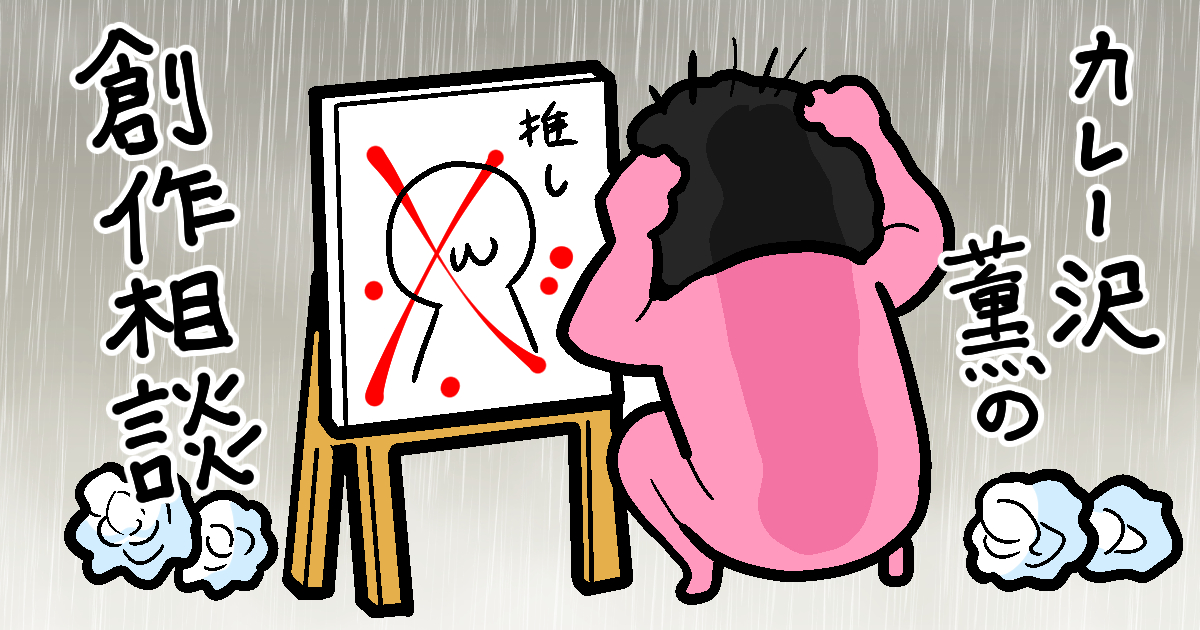 Article by Curry Zawa Kaoru
Coping with fanwork that ignores the original work's settings
Reading this kind of letter, I can't help but wonder: what did you all fanfic otaku do in your past life to deserve such a burden in your present life? You could live your life happily enough as a simple otaku and just rejoice in the happenings of your beloved series, but you just can't help getting involved in fanfics and spotting out all those irregularities to deprive you of sleep. Am I wrong?

To someone ranting about fanfics they don't like, I would normally suggest just ignoring them. Still, I understand why you get so worked up over a style so different from yours becoming the norm.
Fanwork is all about imagination and interpretation, but there are such things as mainstream and niche ways of interpreting.
Think of Touken Ranbu: I bet there's no human being who has never seen some artwork depicting Tsurumaru digging a traphole or wearing glasses, or even Mitsutada cooking.
So, people who are not familiar with the original game will be surprised when they find out that those are not the original characters' designs. As a matter of fact, it's not like the whole fandom is hallucinating and seeing Tsurumaru wearing glasses; rather, a fan thought: "Oh, this cutie would look good wearing glasses" and then other people followed by finding the idea appealing. And the following grew to such a point where it's hard to believe that character was not wearing glasses in the first place.
If you never liked the idea of Tsurumaru wearing glasses, though, that's the beginning of the end, as you'll keep coming across that kind of fanart more and more, and your idea/interpretation of him will slowly start to become niche and eventually go extinct.
Let's hold back and stop the instinct of screaming out how some fanwork has nothing to do with the original series. Don't stop creators from doing their job.
I know what it means when you only wish for your best boy to be happy and they somehow get a tragic (fake) backstory that depicts him as a psychopath (believe me, I know it's hard to stop yourself from running wild imagining turning the creator inside out like they were that old pair of socks), but you should know that putting your rage out there will only lead to that other pack of fans attacking you back, and we all know that cycle has no end.
Many creators stop creating because they can't put up with all that unnecessary fuss going on about their works.
In all honesty, I have the feeling that most of the people coming to me for advice are more on the naive side; I can say from my experience that some people will draw back from the creative scene just because someone told them something as random as "I don't like your fanfics, they're not faithful to the original story, stop writing."
There's no meaning in keeping up a hobby when someone makes you feel bad about it.
So, if you were verbal about how you feel towards those fanworks, the creator might even listen to you and stop their activity, and moreover, a part of the fandom will resent you and attack you in return.
Worst case scenario, they'll be asking you to quit and you'll grow to dislike creating fanfics and all that hard work you have been putting into it. And we don't want that, do we?
It doesn't matter how well you know the original story
My personal experience also suggests me that if on one side you don't like putting up with those who interpret characters and situations differently from you, there is also a part of you that can't stand the fact that those people who are less devoted to the story may be more popular/appreciated than you.
Surely, if you're bothered by a potential isekai-cross-gendered-harem sort of setting, then maybe expressing your disagreement is just a waste of time and you should try and avoid meeting eyes with such a parody.
On the other hand, even if the artworks are worth looking at and the story is interesting, some details in the fanfics may still put you off, like your best boy being called some cutesy names while you like to imagine him all strong and masculine.
What I'm trying to say is that I can sympathize with people feeling upset knowing that this noob who could potentially know less than them about their favorite series is getting all the attention in the fandom.

But hey, we have to understand that fandoms and creative communities aren't fair.
It's a world where you can devote yourself to some series, owning every piece of merchandise, knowing the manga by heart, listening to the anime OST on repeat while sleeping at night, and still get fewer likes than that guy who posts a drawing of your best boy saying: "sketched this character whose background story I have no idea of, but my buddy seemed to like it, lol".
Doesn't matter how hard you studied, all your parents will see is the mark on your report card.
Don't get me wrong, I'm not saying there's no meaning in studying; you have to study to get good marks.
So, next time you see the class bully bragging about the good mark they got, instead of comparing the amount of study you put into it, challenge yourself to get an even better mark. The only way out is channeling those feelings into creating better fanwork.
The more polished your fanwork is, the bigger following it gets. Give your series interpretation some time and it may even become mainstream.
Isn't that the ultimate goal when creating fanwork? Taking the pride of calling yourself a "Creator"?
Do as they do on Hypnosis Mic: don't use violence but rap about it instead! If the grass is greener on the other side, don't set fire to it but grow a beautiful garden on your side!
In your letter you said you can't help clenching your fist and taking screenshots, so do that! Take the pen in your fist and start putting those emotions onto paper.
Think about it, the answer was in your letter all along... I wonder if there was any need for me to comment in the first place.