Interview with Yu Toyota - "Cherry Magic" (Cherry Maho), a popular manga about an inexperienced virgin who gains the ability to cheat in love, is being made into a TV drama!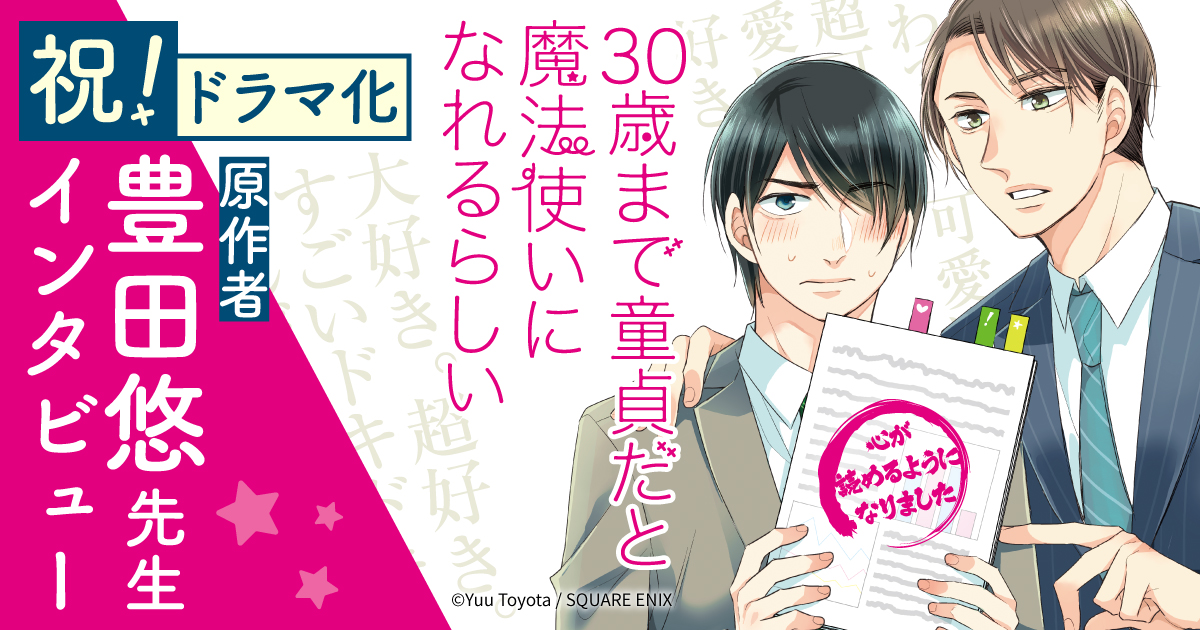 Cherry Magic! Thirty Years of Virginity Can Make You a Wizard?! (nicknamed Cherry Magic) is a wildly popular boys-love manga written by Yu Toyota and published in Gan Gan Pixiv, a joint manga serialization magazine published by both Square Enix and pixiv. The manga is being made into a live action TV drama, which started airing on TV Tokyo on October 8th. (New episodes air at 1:00 AM on Thursdays.)

The manga has sold more than 800,000 copies so far. It portrays a pure love story between an unremarkable salaryman named Kiyoshi Adachi, who is still a virgin at 30 years old and who has gained the magical ability to read people's thoughts, and a gorgeous man named Yuichi Kurosawa, who is in love with Adachi. Given the current popularity of making live-action adaptations of BL manga, is it any surprise that Cherry Magic's turn has finally come?! Today we'll be interviewing the author of the original work, Yu Toyota, and their editors, Ito and Kawai.
More popular than the author ever imagined!
── Congratulations on your manga being made into a TV drama! How did you feel when you first heard the news?
Toyota: I've always loved TV dramas, so I was genuinely thrilled! When I first started writing manga, BL was still mocked as a genre. The fact that we've come so far, with BL being made into mainstream TV dramas, is truly amazing. This is only possible thanks to the support of all of Cherry Magic's loyal readers.
── It was especially notable to me that it wasn't presented at all as scandalous or unusual that it's a story about two men falling in love on the drama's official website.
Toyota: Exactly! I think the number of people who shamelessly enjoy gay romances has increased, thanks to the success of live-action adaptations of series like, What Did You Eat Yesterday? This progressive age is why Cherry Magic was able to be made into a TV drama. I know I've already said this a million times (laughs), but I really do think we live in a wonderful age.
── How did you two, the editors, feel about the decision for this manga to be made into a drama?
Kawai: I became an editor because I wanted to work with BL. The first title I was assigned after getting hired was Cherry Magic. For it to be made into a drama is incredible...! I'm so proud that this story, which I love so much myself, is going to receive even more exposure. I used to tell Toyota, "Just you wait, Cherry Magic's time will come!" And she would reply, "You're too optimistic…" But now look at us! (laughs)
Ito: The making of the drama adaptation became a reality thanks to all of the loyal readers who have supported Cherry Magic. I'm so thankful for all of the readers' continued support.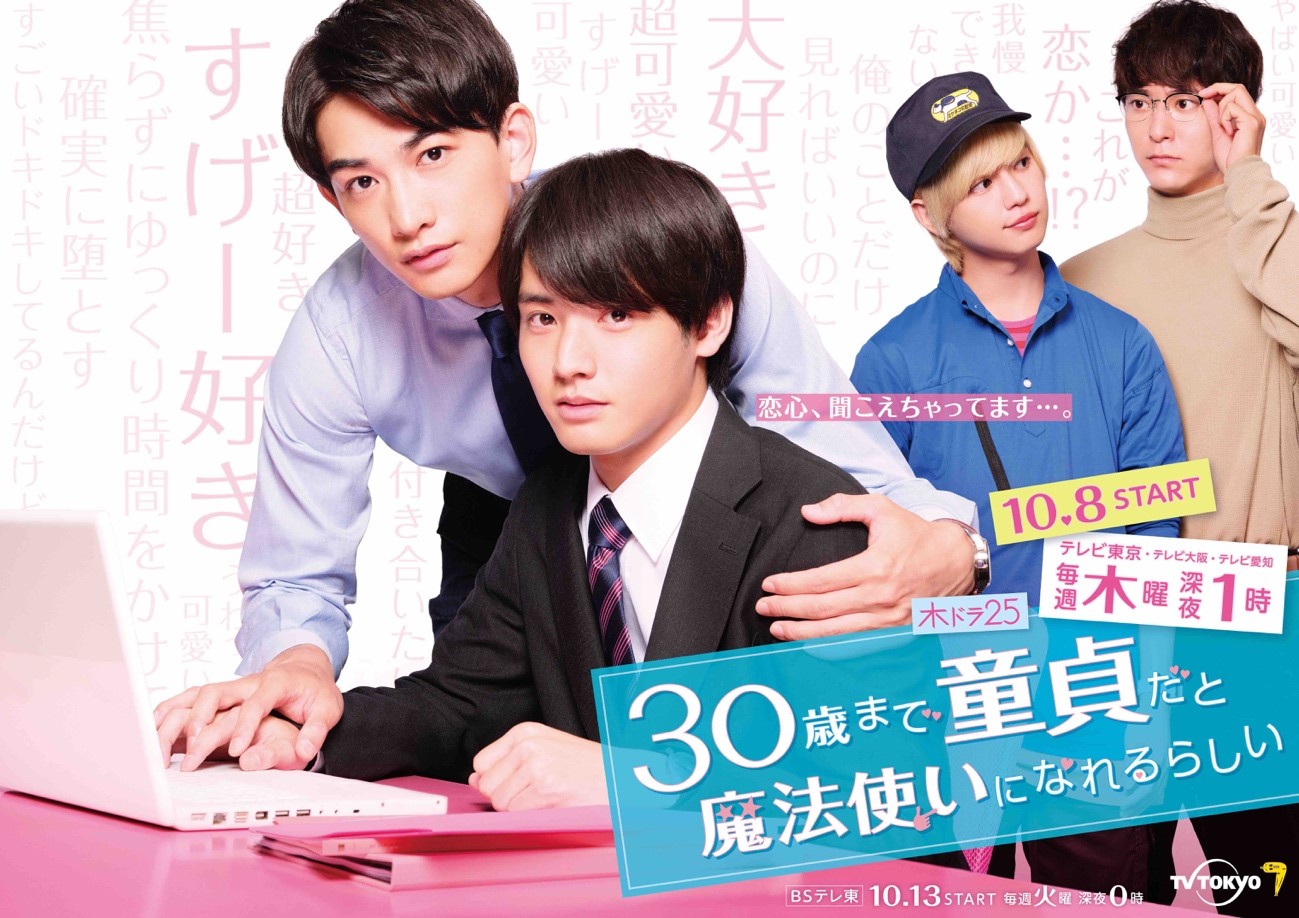 ── Eiji Akaso will be playing the role of Adachi, and Keita Machida will be playing the role of Kurosawa in the live-action drama.
Toyota: I haven't yet met the two of them, but when I received the materials for the adaptation, I found myself unconsciously saying, "With a cast like this, Cherry Magic is sure to be a huge hit!" (Laughs) Both of them are very talented actors, and their appearances fit the characters perfectly. When I first heard that Akaso would be playing Adachi, I was a bit apprehensive. I wondered if such an attractive and personable actor could really pull off playing a nerdy and socially awkward character like Adachi. But he's really gotten into the character completely… Machida is really amazing, too. Cherry Magic is a comedy manga, so Kurosawa's characterization as a flawlessly handsome man is already intentionally a bit unrealistic. It's incredible how well Machida has been able to portray this character in the live-action! My gratitude can't really be put into words.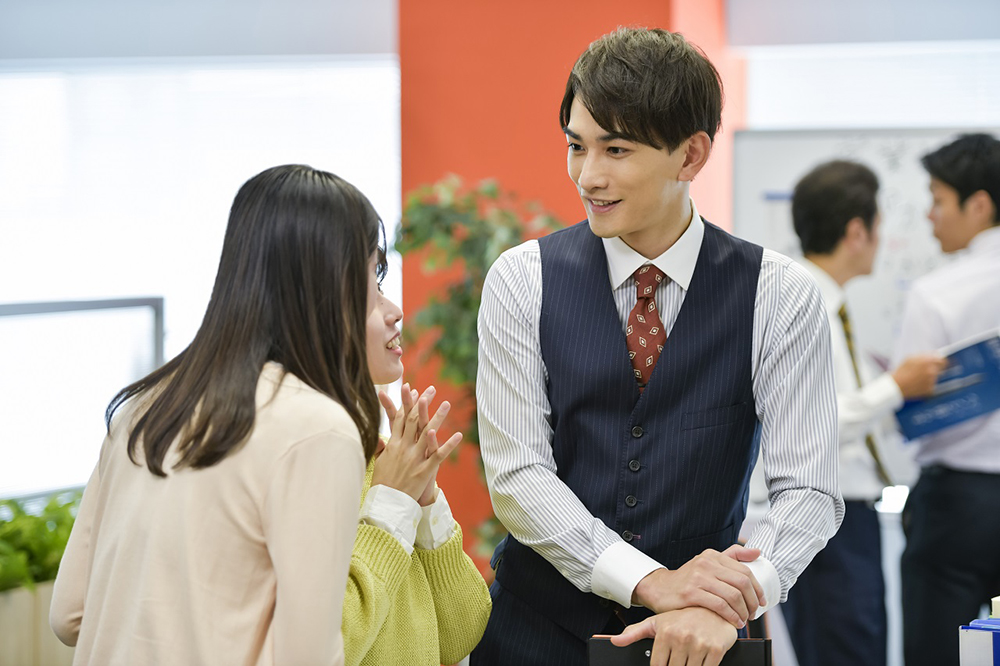 ── Have you made any requests to the production team for the live-action adaptation?
Toyota: I only asked that they don't use language that mocks BL or virgins. That said, back when I first started posting four page manga on Twitter, I didn't think very deeply about such things. Compared to how I was back then, the staff and cast of this drama are approaching the production from a much more serious and ethical point of view. I get the feeling that they all understand the theme of the original work and are committed to portraying it faithfully.
── Are there any positive differences between the original manga and the drama adaptation?
Toyota: There has been considerable progress in terms of political correctness since the manga was first published, and people's values have changed a lot. For this reason, I think it's wonderful that they're able to add some creative touches in the small details while keeping the overall story the same. Also, since the manga was originally made in four page blocks and the adaptation has 30 minute episodes, there are bound to be some differences in the flow of the story and its overall feel. 
── Did you receive any especially memorable congratulatory messages from your readers?
Toyota: As usual when a book is being made into a movie, there have been mixed reactions from the fans of the original. But in the case of Cherry Magic, the majority of people have said things like, "I'm so happy to see Adachi and Kurosawa come to life!" It made me really happy to see such positive reactions from fans who've been with the series all along and helped it grow.
Ito: When Toyota has held autograph sessions in the past, I was always impressed with how well-mannered the fans of Cherry Magic are. But that's only been reinforced by their reactions to the drama.
What would happen if you gave a virgin way to cheat in love?
── Cherry Magic began as a 4-page one-off manga that was originally released on Twitter in January, 2018. How did it end up as a series?
Toyota: I got a DM from Ito less than an hour after releasing the manga on Twitter, and over the next few days, we had several meetings.
── That's impressive speed!
Ito: I'd been reading Toyota's work already, and really wanted a chance to work with them. So as soon as I saw the manga they uploaded, I spoke with the chief editor and got permission.
── Square Enix doesn't publish many BL manga, so were you at all concerned about having the know-how of the editor in charge of a BL manga?
Ito: I had them also assign Kawai, who is a fan of BL as well, to work with me so the series has double the number of editors. But I'm also not excessively conscious of it being part of the BL genre. To be honest, I'm more concerned about creating an interesting manga. On that front, we're very fortunate that Toyota is such a diligent and talented manga artist.
── Where did the concept of "a virgin who can use magic to read people's thoughts" come from?
Toyota: First of all, even those who have little experience with love in their real life can enjoy romance stories. So I tried imagining what kind of power would, if given to someone with little romantic experience, be the most beneficial? And wouldn't that have to be the ability to read people's thoughts? I combined the local legend of "if you stay a virgin until you're 30, you'll gain magical powers" with that, and thus the foundation for Cherry Magic was born. However, the characters were completely different in the beginning.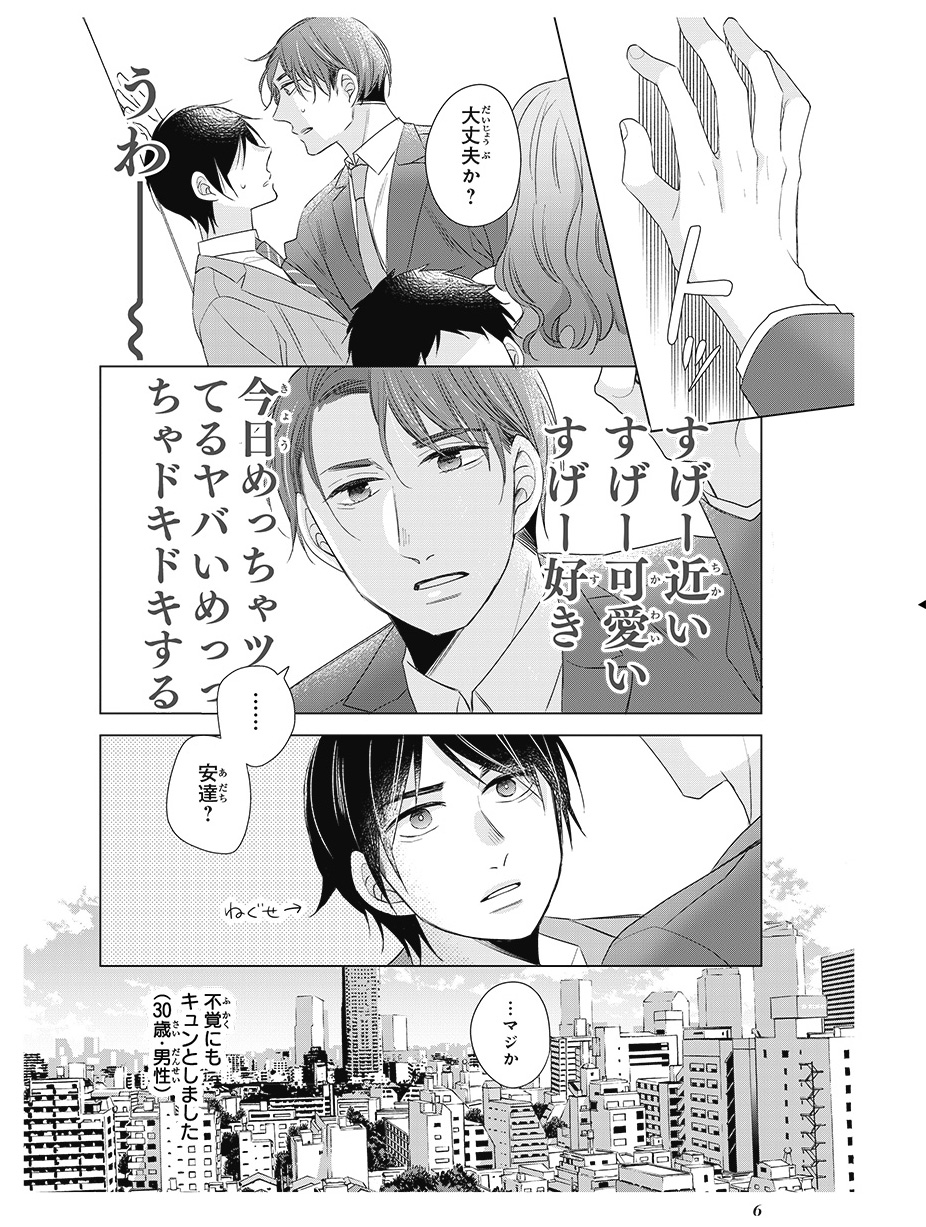 ── What do you mean, "the characters were completely different"?
Toyota: When I first came up with the idea of a virgin who could use magic to read people's minds seven or eight years ago, I initially imagined a couple more like Tsuge and Minato, who are minor characters in the main story. I figured the virgin character would fall in love with someone after obtaining the ability to read people's thoughts, and from there, have them figure out how to love… But when I actually went to draw the 4-page manga that I uploaded to Twitter, I thought it might be more interesting to make the virgin the one who was pursued. It ended up being the opposite of what I had originally imagined. 
── The ability to read people's thoughts could be thought of as cheating when it comes to love, but it's a new and refreshing concept that provides for a lot of opportunities for drama, isn't it?
Toyota: One of the main themes of Cherry Magic is that even if you have the ability to read people's thoughts, your love will never progress if you don't take the first step and get things moving. I think lacking self-confidence is a very normal concern among us Japanese. But by letting yourself become negative like that, you're basically searching for someone else to reassure you. I'd like to think that Cherry Magic isn't the type of series that loudly and passionately proclaims "Show your courage! Have faith in yourself!" Rather, it reassures you that you're fine just as you are and gives you a gentle push, saying "If you move forward with a little confidence, things may just change."
── This is a theme that can be applied not just to romance, but to all human relationships. This may be why Cherry Magic is popular among so many different types of people. 
Kawai: We have many male readers and many say that "This is the first BL I've ever read."
Toyota: There are even some elementary school aged readers...! This is why I foreshadowed in the afterword at the end of volume one, "There are going to be some slightly mature-content developments coming up." But I don't plan to draw anything terribly explicit either. (Laughs)
Kawai: There are many fans within the publishing company as well, but it made things very difficult for us after the release of volume 3. Everyone kept asking us "Are they going to kiss in the next volume?!" (Laughs)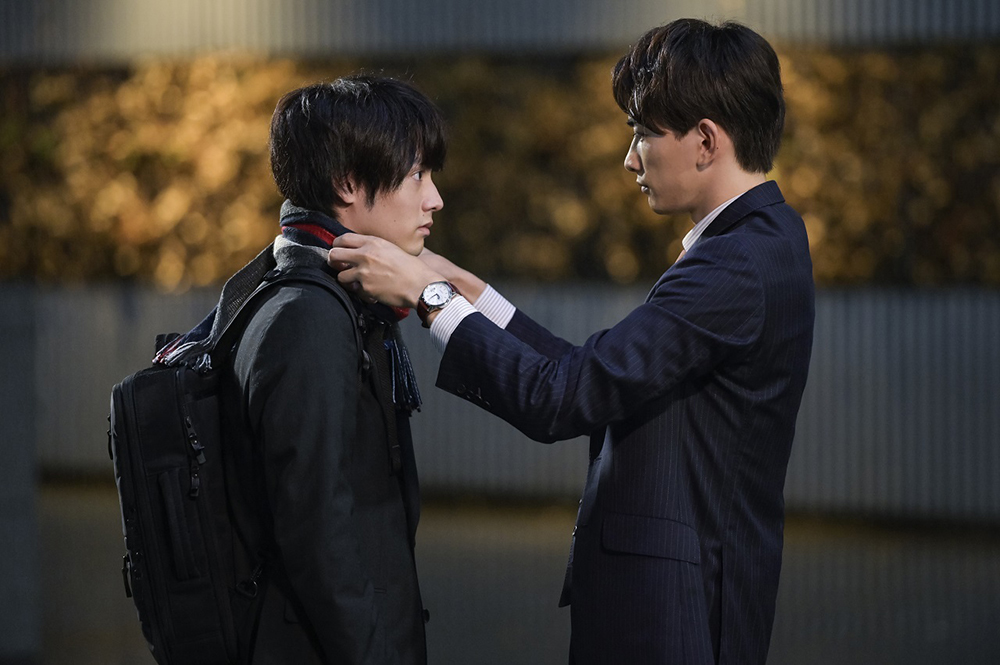 ── The love pattern between Adachi and Kurosawa is very pure, wouldn't you agree?
Toyota: I actually tend to prefer darker stories, so I have a feeling that 10 years ago, I would've had a hard time believing I'd one day be writing a story like Cherry Magic. (Laughs) But in addition to being able to reach many different kinds of people, another side effect of releasing my manga on Twitter is that while I'm writing the manga, I find myself more concerned with pleasing the readers than satisfying my own interests and preferences.
Kurosawa's character is composed of three layers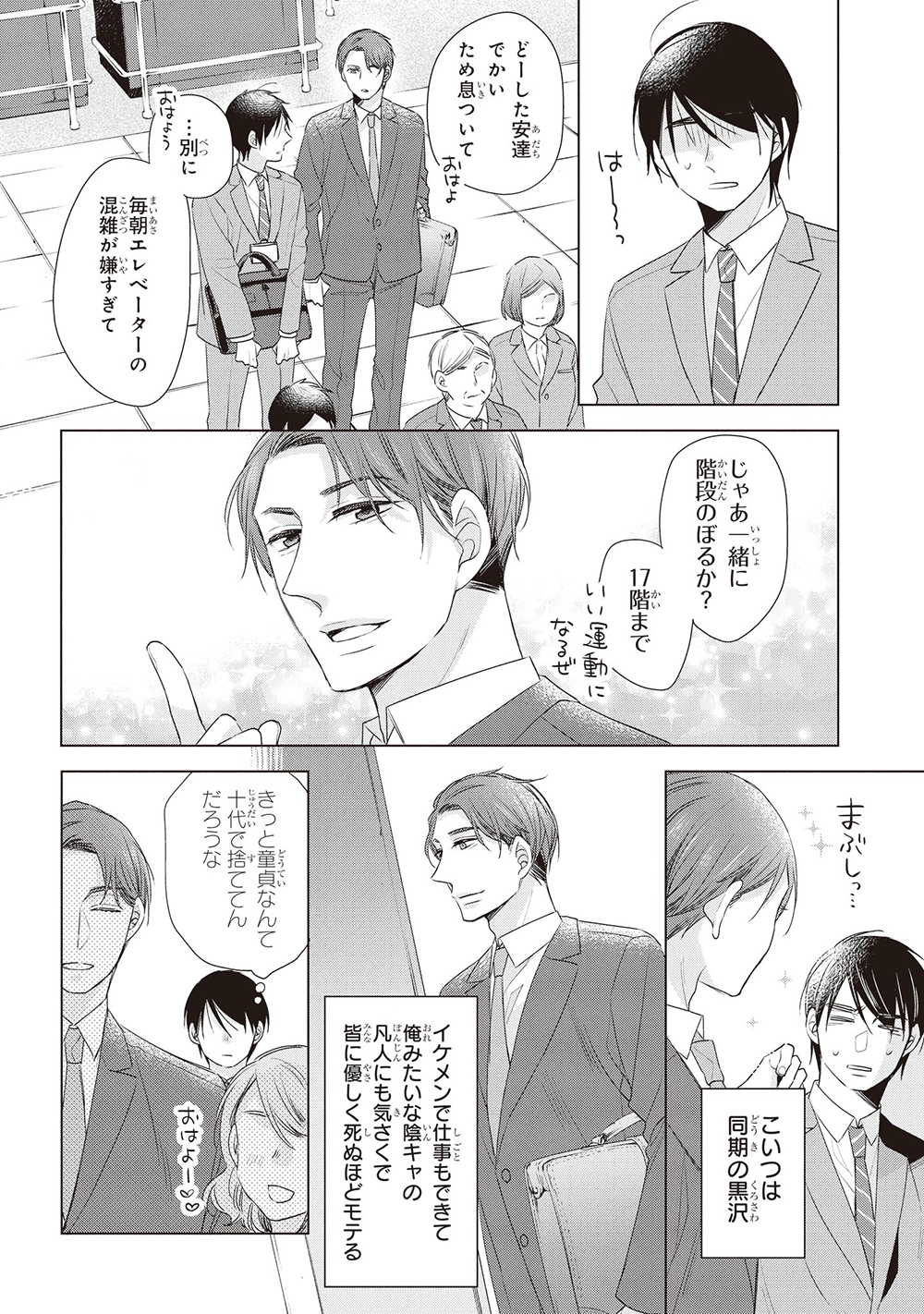 ── How did you come up with the personalities of Adachi and Kurosawa?
Toyota: Adachi was born from the idea of a character with little experience in love and not much self-confidence. Kurosawa I pictured as the exact opposite. Someone with plenty of confidence, with good looks and lots of romantic experience, and who is good at his job. That's how I came up with them.
── Kurosawa's characterization as a "flawlessly handsome man, but whose feelings for Adachi weigh heavily on him" relies on the plot device of Adachi being able to read people's thoughts, doesn't it?
Toyota: Kurosawa's character is composed of 3 layers. He's extremely handsome, but in his heart his feelings are running wild and he's a bit of a mess. (Laughs) But there's also the aspect of his pure love for Adachi, and only Adachi and the readers know his true thoughts. Surprisingly, I get many comments from readers saying things like, "I want to be loved like that!"
── So it seems that many readers don't just cheer for the success of Adachi and Kurosawa's relationship from the perspective of a bystander, but really get involved and imagine themselves in a similar relationship, like they might when reading a shoujo manga.
Toyota: When it comes to the "seme" (sexual dominant, pursuer) and "uke" (sexual submissive, pursued) roles that exist in the BL genre, they are an element of fiction and a bit unrealistic. But if you were asked if you'd be happy for them to exist in real life, there are some characters that might make you question it, right? I like trying to create characters like that, but for Cherry Magic, I did my best to create characters that make you think you'd like to be friends with them if they were real people.
── Aside from perhaps some minor supporting characters, there aren't any unpleasant characters in Cherry Magic, so it's pleasant to read.
Toyota: If I were releasing the 30-page chapters that are typical in magazine serialization, I think the readers would be happy to keep following the story, even if it were full of emotional ups and downs. But Twitter is an important platform for releasing Cherry Magic. I get the impression that more light-hearted material tends to be the preference on Twitter. So I try not to include anything that might kill the mood in the Twitter releases, and if I do want to draw something like that I save it for the side-stories exclusive to the paperback release.
The trick to making a manga that makes the readers want to cheer while reading
── What is a scene you feel strong emotional attachment to?
Toyota: I'd have to go with the scene in volume 3, where they hug at the airport. Adachi thinks "Maybe I gained magical powers just so that I could touch Kurosawa's heart" and returns his embrace for the first time.
── I was worried that the series would end with them confirming their mutual feelings for each other, so I was relieved when it continued after that scene. (Laughs)
Toyota: They may have confirmed their feelings for one another, but Adachi can still use magic, and things still haven't progressed very much.
── That's true! Will Adachi lose the ability to use magic at some point, then...?
Toyota: I get that question a lot! Look forward to finding out the answer in future chapters. (Laughs) Readers often ask me "Adachi is the uke, so he'll be able to use magic for the rest of his life, right?" but I can only laugh vaguely in response. I've never actually stated who is the uke and who is the seme in Cherry Magic.
Kawai: When people write about the series in the media, we always ask that they don't use the "x" symbol but use the "→" symbol instead.
── Hmm, that makes you wonder if it's Ada-Kuro or Kuro-Ada...
Toyota: Hehe. Please wait a bit longer to see which way it'll turn out! (Laughs)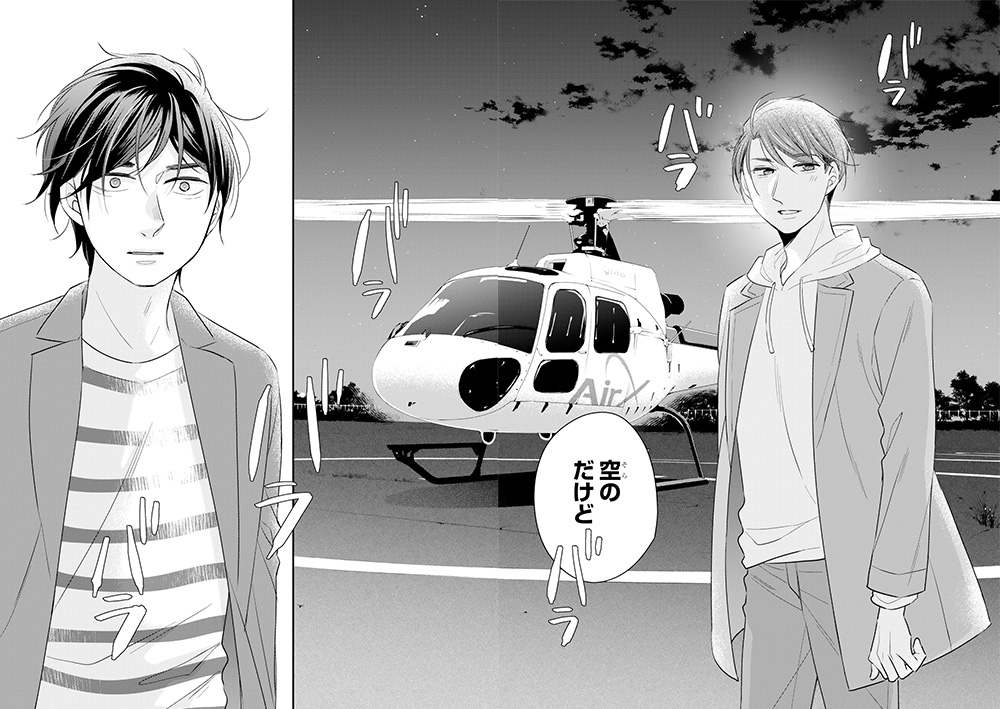 ── By the way, the helicopter date in volume 4 was quite shocking. I can't believe that Kurosawa got so into making their first date special that he surprised Adachi with a date in the sky...!
Kawai: When I first read the storyboard, I laughed and said, "You've got to be kidding me!" During our planning meeting, it was more of a normal, realistic situation like holding hands under the table at a restaurant.
Toyota: I already knew that I wanted the first date to be an epic fail. But I thought it wasn't very likely that Kurosawa would fumble an ordinary, realistic type of date scenario... (Laughs) So I decided to have him try doing something absolutely outrageous, and thus, they ended up going on a helicopter date.
── I found the way Adachi acted after the date was such a bust to be really admirable. He doesn't just count himself lucky that such a handsome guy is in love with him and leave it at that, but is determined to love him back.
Toyota: Adachi is serious and straightforward, and he understands people's feelings, but he's had a rough life because he has no self-confidence. That said, he's started to change since falling in love with Kurosawa, as has Kurosawa. Cherry Magic is also a story about character development. Back in volume 1, Adachi probably wouldn't have been able to gather his courage like that. But with the progress made in volumes 2 and 3, he was able to act like that in volume 4.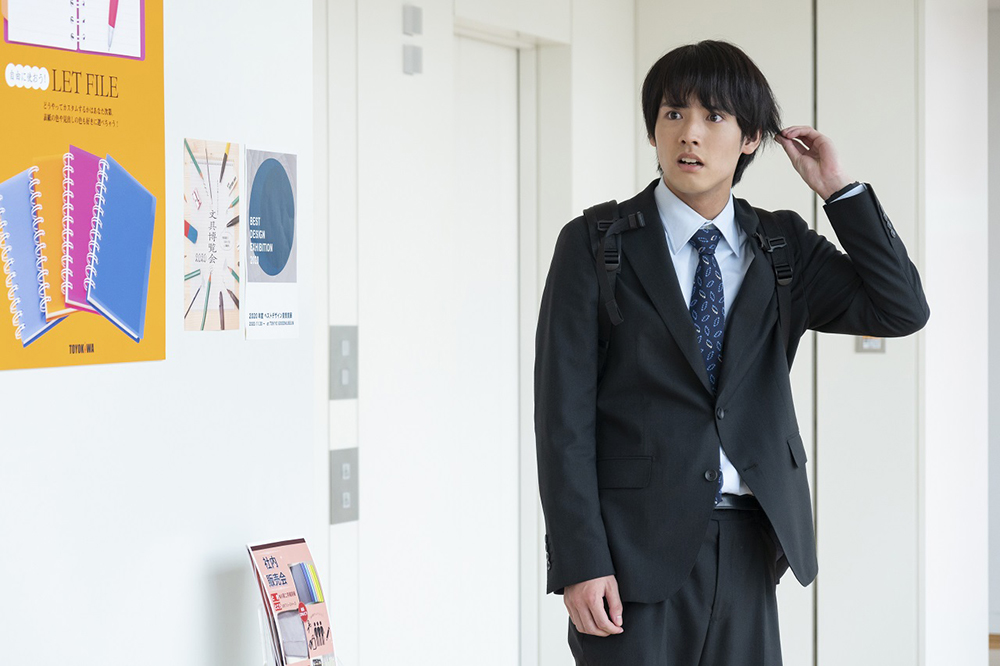 ── He's the kind of character you really want to root for.
Toyota: I once attended a special live audience reaction screening of a movie, and at the time, I thought it'd be great if there was a way readers of manga could cheer along together in real time while reading. So I put a lot of effort into including elements in Cherry Magic that make you want to cheer for the characters. I hope that everyone will watch the drama and find themselves wanting to shout at the TV, "Go for it! This is it! KISS HIM!" Please, break out your tambourine and shake it while cheering "Alright! They hugged, woohoo!" (Laughs)