Curry Zawa Kaoru's Creative Counseling - Kisses aren't the only symbols of love. Understanding the troubles and contradictions of killing off your favorite characters.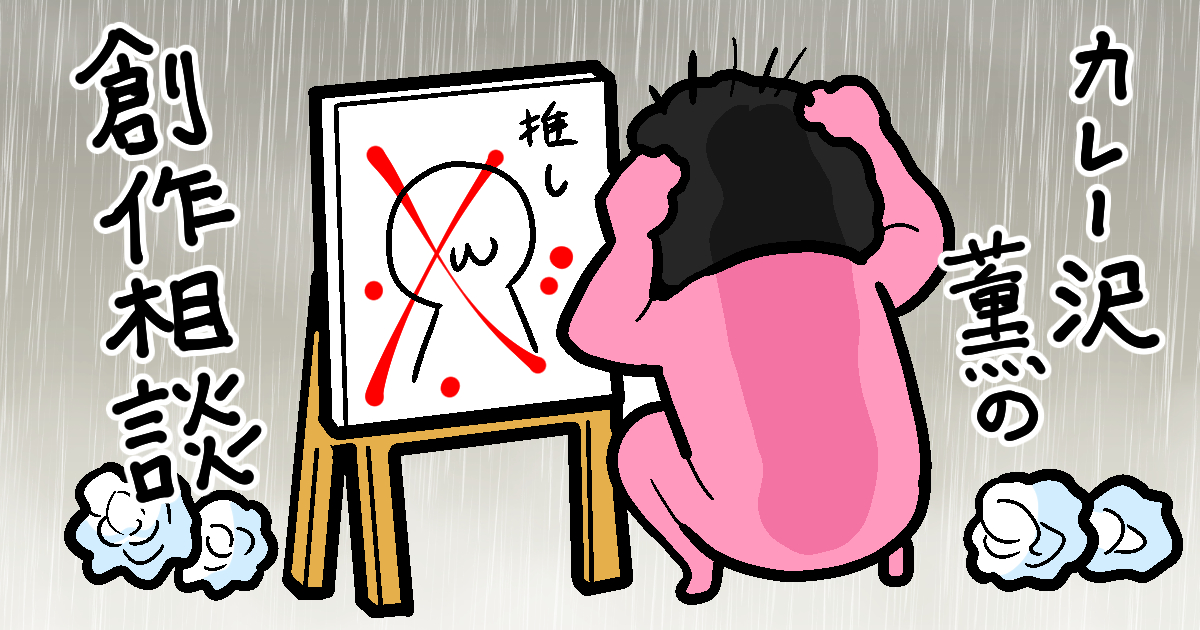 Article by Curry Zawa Kaoru
When you see this question, you may think, "What a troublesome existence
otaku
 fan creators lead," and you would be absolutely right. They're the kind of people with whom you should
never
make eye contact when you're in a hurry.
On the other hand, if you're the type who always need some background noise, all you have to do is ask an otaku fan creator about any sort of explanation on their favorite characters to get a good two hours' worth of strange, unintelligible banter. If you ask me, a more meaningful way to get that background noise would be turning on the radio.
Among creators, some stand on the light side and follow beliefs that even non-otaku folks can easily comprehend: "I'm a big fan of these characters, so I write stories where they are super happy!"

There are some others, however, who enjoy dabbling with the dark side (like you, who sent me this message) and whose struggles I could read dozens of times without ever making light of it, despite being an otaku myself.
I have to digress here. Even though my 30+ years of experience make me a veteran of girlhood, I have never crossed paths with Sailor Moon.

Recently, I saw a headline on the Internet that read, "Pretty Guardian Sailor Moon: Usagi Tsukino is our Comrade for Life!" and I thought, not without regret: "What a great movie title! If I knew that I would have had the chance to call Usagi my comrade, I'd have started catching up with Sailor Moon long ago."

Later, I found out that it wasn't a movie title, but a quote from Usagi's voice actress in an interview. Still, it's such strong wording that I'd love to suggest it as a candidate for a movie title.

On a completely unrelated note, even though I've read almost none of Sailor Moon, there's one line in particular that really stuck with me.

"Holding you close and giving you kisses aren't the only symbols of love."

I'm not sure where I read that or even who said that line to whom.
As far as I can tell, it was directed at otaku fan artists who assign very deep, heavy scenarios to their favorite characters, making them wander between life and death before bestowing a Baumkuchen ending upon them. 

(*Baumkuchen ending refers to a situation where two people get along so well that people around them often mistake them for a couple, but one half of the duo ends up marrying someone else and the other half attends the reception, gets the Baumkuchen cookies given to the wedding guests as a souvenir, and ends up eating them alone at home.)
You're supposed to love your favorite characters and your OTP, but then you find yourself letting them die, maybe even killed by their better half. To all the otaku fan artists who are wondering why, oh why they do this to the ones they love, I donate this vision I just had: Sailor Merry Bad Ending saying: "Holding you close and giving you kisses aren't the only symbols of love; there's also a form of love where you make your favorite character, who was born in a peaceful, gag-type time and space, act out a Battle Royale parody (here all the otaku folks around their 40s start pulling out their hair) and have their partner shoot them to death."
Different people express their love in different ways. In fact, when I asked someone I know who draws extremely graphic R-18G fan art if they were drawing such terrible things out of hate towards a certain character, they replied: "Why would I want to draw the guts of someone I hate?"
These words say it all. In most cases, the "will to create" can only be triggered by characters you like. It's just that people express themselves in more than one way.

If you were asked to assign a deep, heavy scenario to a character you neither like nor dislike and make them wander between life and death, you would probably only be able to come up with something we've seen over and over again, like the Momotarō story where he's put in a peach and flushed down the river.
The fact that you can't help but think of gloomy pasts and tragic deaths is your way of loving your favorite characters, and as a ryona artist probably once said: "If a character makes me wanna draw their small intestines, it means I'm serious about them."

The fact that you can come up with a tragic scenario for a character means that you're truly devoted to them.

Therefore, when you get fed up with yourself for only being able to show your fondness of a character in such a way, follow the teachings of your comrade for life, and when you find yourself thinking: "Why do I always end up burying the bodies of those I love?", answer yourself with: "Because that is a form of love too."

Depression is the result of a divergence between ethics and one's inclinations
The problem is that, although you wish you could be satisfied with your own way of expressing affection (by letting your favorite characters die or live in distress), when you think about the landmines you laid out you can't help but feel dejected. This is probably the most confusing concept for the otaku fan artists on the light side.
The thing is, someone's inclinations don't always coincide with ethics; in fact, they can be the exact opposite.
On the surface, I consider myself an otaku on the light side, I enjoy lovey-dovey contents and tend to look at works tagged #I'm gonna build a church here before others.
I never look at bad endings, death scenarios, cuckolding AUs, and such. Still, the other day I had to read a cuckolding-themed story for work and to be honest, it excited me five trillion times more than the lovey-dovey scenarios I am used to.
After reading it, I was overwhelmed by post-coital blues and decided to just sleep on it.
In other words, cuckolding-scenarios arouse me, but they also disgust me and my inner voice from an ethical point of view. The greater this discrepancy between ethics and one's inclinations, the deeper the suffering.
In a similar way, you are probably aroused by death and misfortune befalling your favorite characters, but the ethical side of you doesn't want to put them in a bad situation... and that's where your suffering comes from.

Take care of yourself and have fun
Unfortunately, I don't think one's inclinations can change unless something extraordinary happens.
What I do is take care of myself and go with the flow.
I usually only look at happy endings because I really can't stand the heavy post-coital clarity, but when I feel like a big girl and my condition allows it, I may still venture into cuckold territory.
If you're afraid you won't be able to leave your bed for a week after letting your favorite character die, then you should just let them live.
If the day comes when you're feeling nice and energetic, and surprisingly okay with leaving your beloved character alone to die a horrible death, betrayed and forsaken by the person who was supposed to have their back... then you should go for it and try to find the line where writing no longer affects your life and spirit.
No matter how peculiar your tastes are, you are blessed with the possibility to sublimate them in a way that does not violate the law or real-life ethics: creative writing. There may be some people out there who have your same inclinations but no way to express them, and who are looking forward to your work.
If you can't change your appetites, you might as well learn to get along with them and think of your inclinations not as troubling but as one of your talents. Keep creating and enjoy doing it!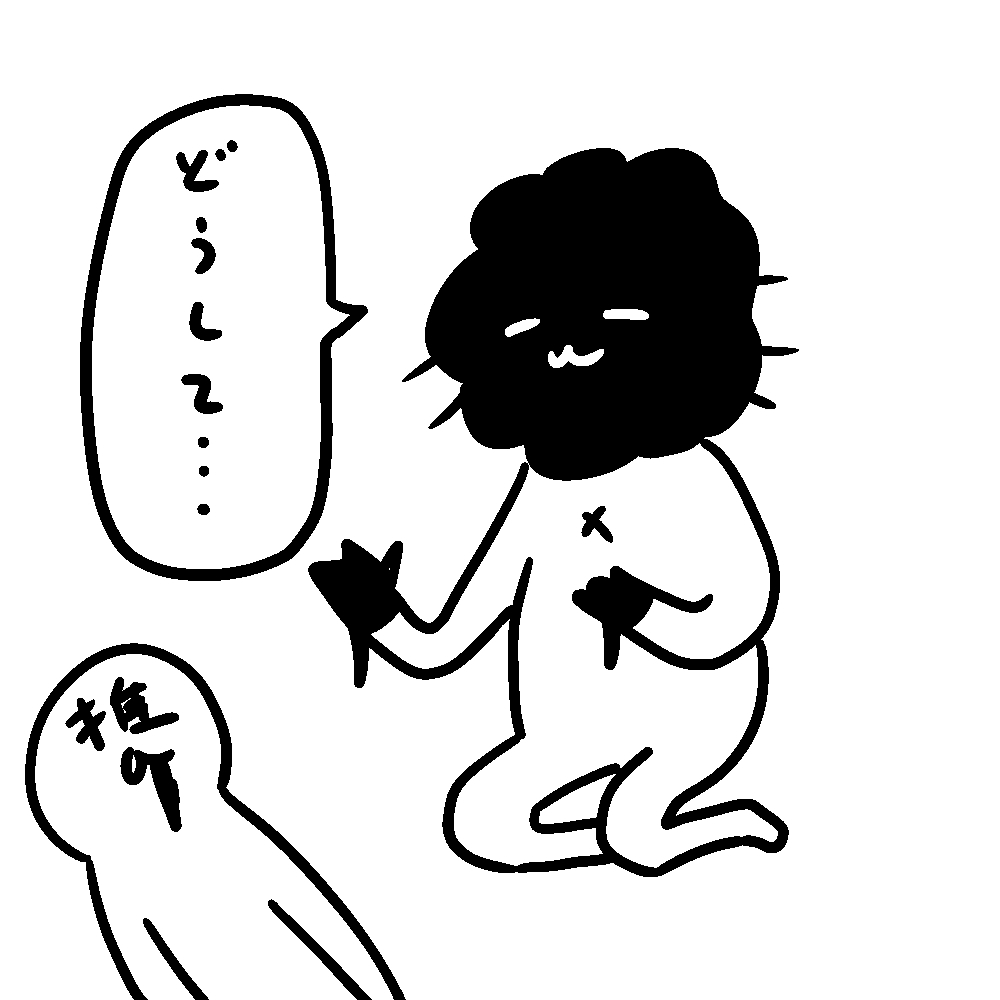 "Hitori de Shinitai" out now!
After the lonely death of her unmarried aunt, 35-year-old bachelorette Narumi Yamaguchi starts planning a better death!
Isn't it a bit early to start thinking about the end of your life in your 30s? Actually, there's so much to arrange!
A must-read manga for everyone out there (except if you're immortal).