We Asked Two Square Enix Employees What it's Like to Work as an Illustrator for a Company - With Portfolio Pictures!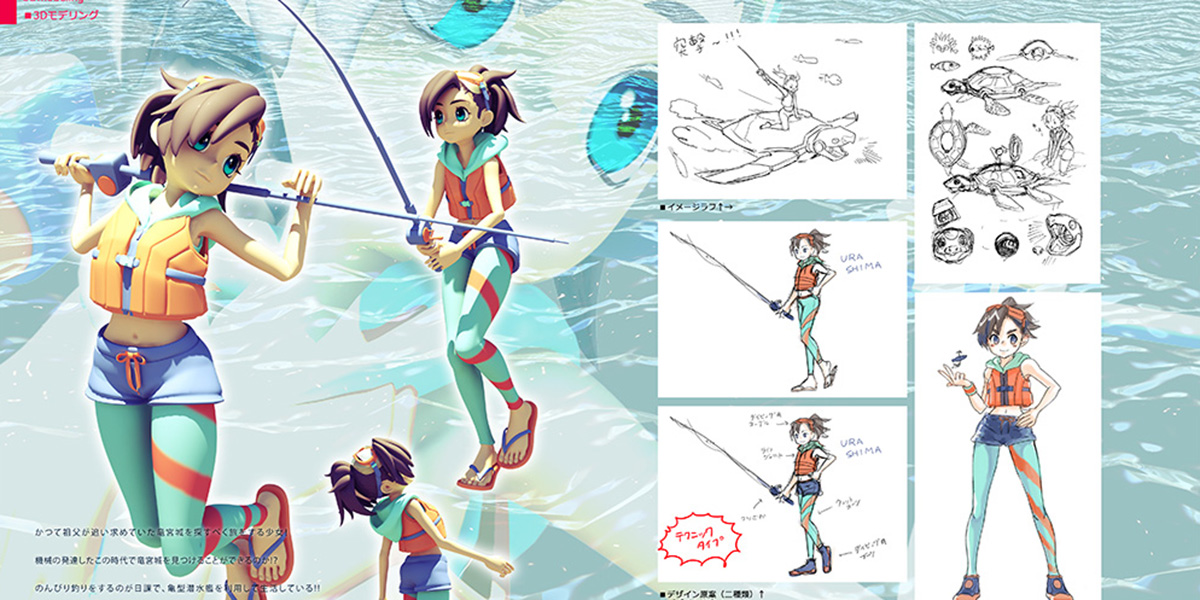 There are two main ways one can find a job as an illustrator: either by joining a company or freelancing.
However, it may be tough to understand the differences between these two work styles before actually entering the illustration industry, which makes it harder to pick which one is right for you.
That's why we asked two Square Enix employees to join us for an interview.
Our guests today are Kobayashi, a veteran in charge of character design for the ongoing anime The World Ends With You and who also has hiring experience, and Shimokobe, who has joined the company five years ago, right after their graduation.
We asked these two about their jobs and the merits of working as an illustrator for a company, about the differences of working as a freelancer, and what kind of portfolio is required to pursue a corporate career.
If you're looking to work as an illustrator for a game company, this article is definitely a must-read!
Working as a character designer
Kobayashi: I belong to the Creative Promotion Department, where I mainly work on character design, creating and supervising illustrations for product packaging and advertising, supervising related goods, and supervising anime characters.
Shimokobe: I'm in the First Business Development Department. So far, I have worked on projects like Trials of Mana, Dissidia Final Fantasy NT, and Kingdom Hearts III, among others, where I was in charge of the design of character weapons and enemy characters.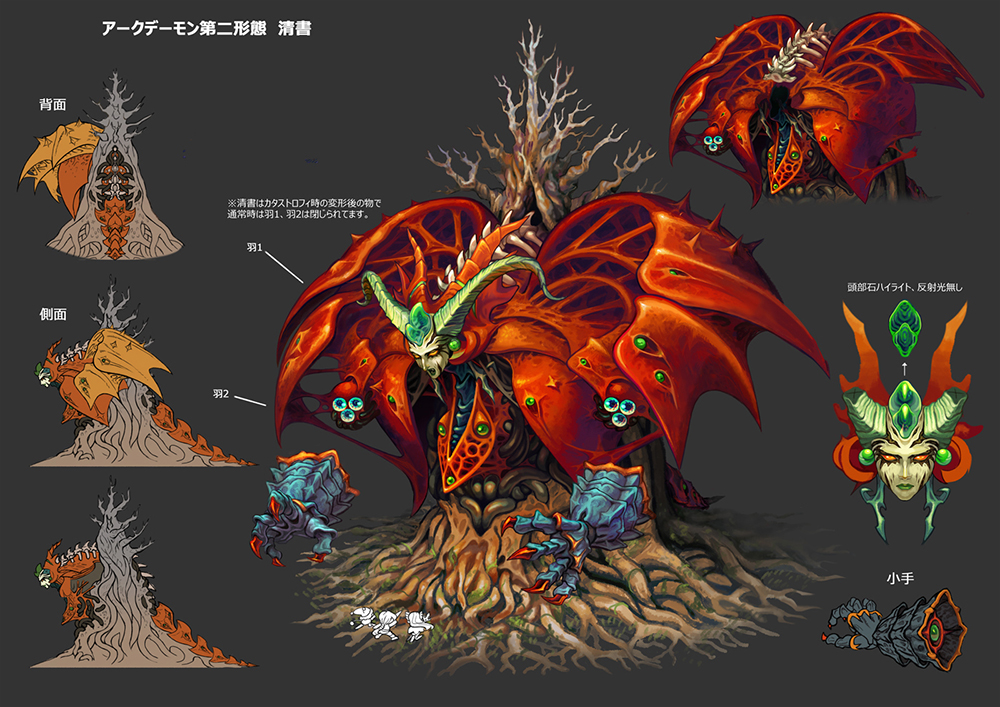 Shimokobe: I manage the process up to the point where data is ready to be used in the game (the final data takes the name of
resources)
, and also check and supervise motion to make sure the result is what was intended in the design.
When it comes to 3D titles, modelers take 2D designs and turn them into 3D models before motion is added.
── How long does it take to create a single character?
Shimokobe: It really depends on the project title and content of the job, but usually a boss class character takes me about a month. It can take up to three months to complete the final product.
Kobayashi: Designing a character in 2D is not the end of the job. We have to try the design in-game to check that its quality is up to the standard. If you include the process of having the in-house supervisor (or, in the case of joint development with another company, the person in charge of that company) check the design, three months is about how long it takes.
Shimokobe: I'm designing other enemies while I'm waiting for review. I work on several of them at the same time.
── It must be hard to get a good grasp of the game world.
Shimokobe: I take in the ideas for a design by looking at the reference materials and by observing or copying the motifs that come out. I try to incorporate those motifs into my designs, and if things don't work out, I go back to the materials and repeat the process.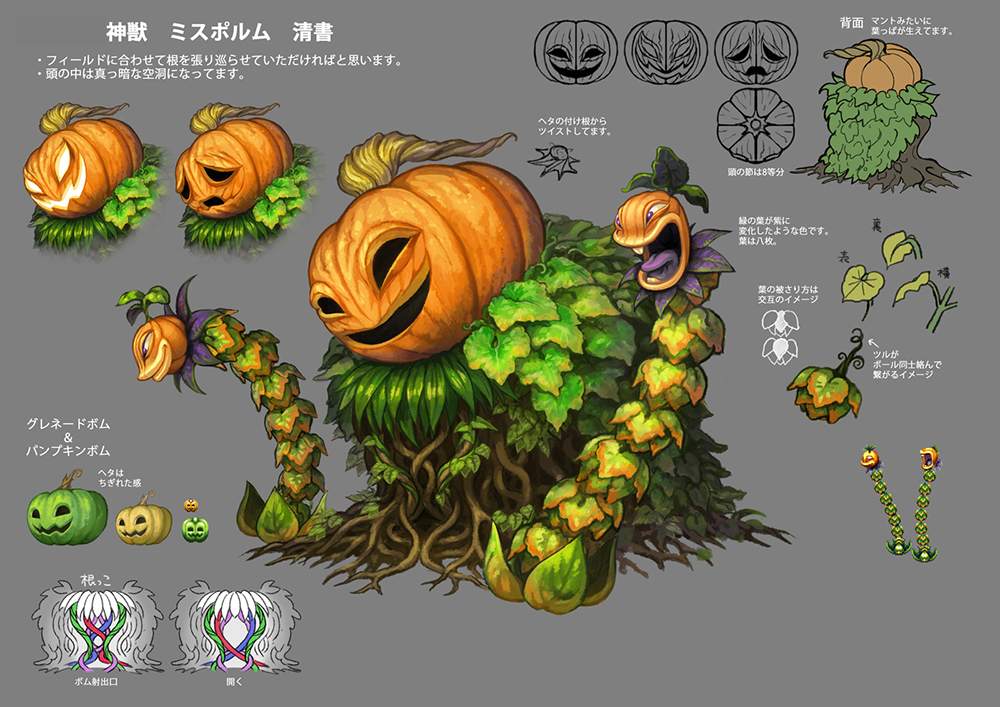 ── I'm sure making a game requires plenty of teamwork, so just how much freedom do you have in the creative process?
Shimokobe: They usually let us know what the gameplay will be like and in what kind of situations the characters will appear, but sometimes it can be really loose. In such cases, for example, I might take on a scene-based approach and propose an idea like, "There are roses blooming in the background of this stage, so let's make an enemy character that looks like a flower." When we need to use one of the story's important themes, we receive clearer instructions, but more often than not, we come up with the idea and create it ourselves.
Kobayashi: This varies greatly depending on the project. In many cases, it's the planning team that decides on a motif (e.g. a fish-themed character).
── Is there a particular design that holds a special place in your heart?
Shimokobe: I went through a lot of trial and error when it came to designing a character that pushed the envelope of the game's specifications.
It was a celebrative design for an anniversary event, so it needed to be lively and flashy, but there were some restrictions since too many details and data would make it too heavy to work in-game. I spent a lot of time creating the design while confirming the specifications with the people in charge of motion and implementation.

I design my characters so that they look beautiful even as simple illustrations, but ultimately, the game needs working data. Especially for large characters such as those that appear in boss battles, the data is divided into parts (head, arms, weapons) which move and rotate at various angles. The layer structure and the order of these parts are crucial.

── What do you mean by "layer structure"?
Shimokobe: Which parts are in the front and which are in the back.
For example, when a character jumps, parts that would normally be hidden behind them are momentarily visible. We have to keep this in mind while we design. It's a bit of a puzzle to figure out how to create data that looks right even in motion.
A portfolio that starts with still life.
── Let's take a look at Shimokobe's job hunting portfolio. Kobayashi, you have some hiring experience, so we would like to hear what to keep in mind when creating a portfolio.
Shimokobe: I attended a game graphic designer course at a senmon gakko (vocational school), so my portfolio mainly featured school assignments. After my profile and the table of contents, I decided to start with my still-life drawings.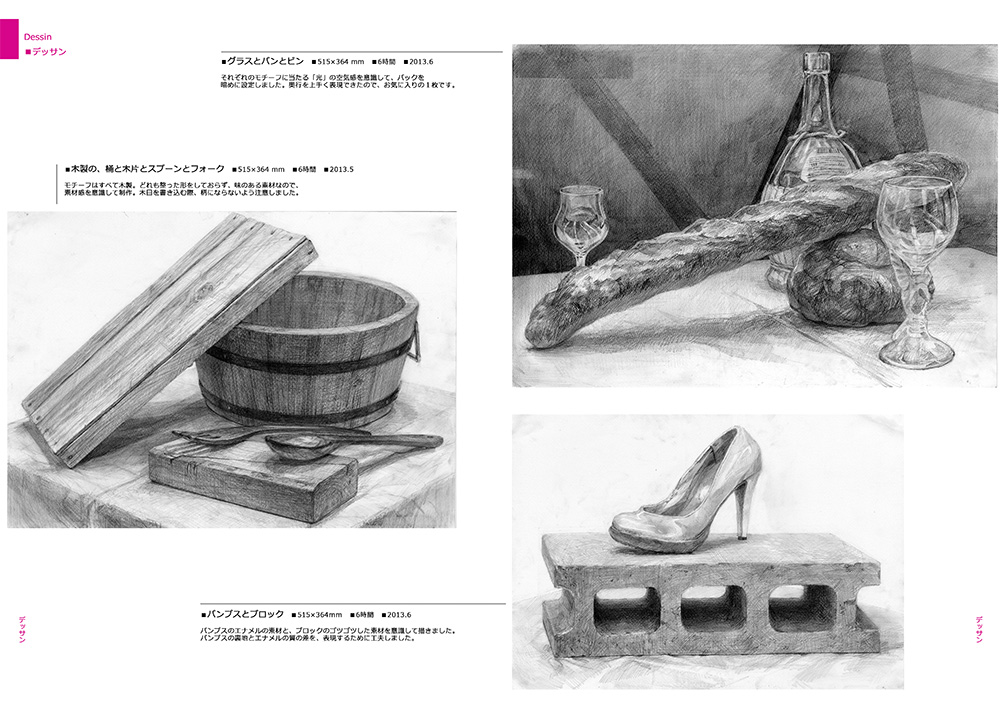 Kobayashi:
Most people put still life last. It's unusual to see it in the first pages of a portfolio.
Shimokobe: When I made my portfolio, I was told that it was pretty uncommon to start with still life. However, I thought this style of art would really showcase my drawing ability. What I wanted to convey is: "This is what I can do, for better or for worse!" I wanted people looking at my portfolio to get a grasp of my basic skills.
Next, I featured my 3D models.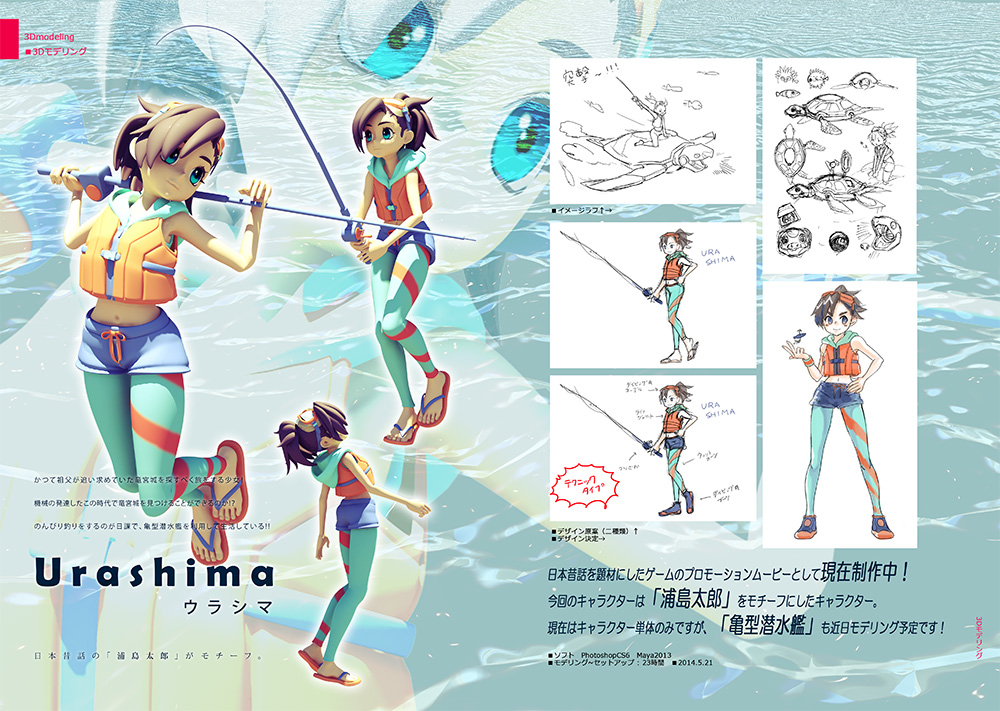 Shimokobe: At the time, I used to enjoy 3D modeling and I would put a lot of effort into it. I've included a few experiments in which I created 3D versions of characters from existing games, but most of them are original characters that I came up with myself.
I decided to add these works to my portfolio to show that I can look at a picture from a three-dimensional perspective and create solid designs, and also that I can parse a picture as data.
Kobayashi: Even if the main focus of your portfolio is illustration, including 3D works helps people see that you are motivated to learn and that you are exploring various things. If you can do 3D design, you should definitely put it in your portfolio.
Shimokobe: And of course, I also included 2D illustrations.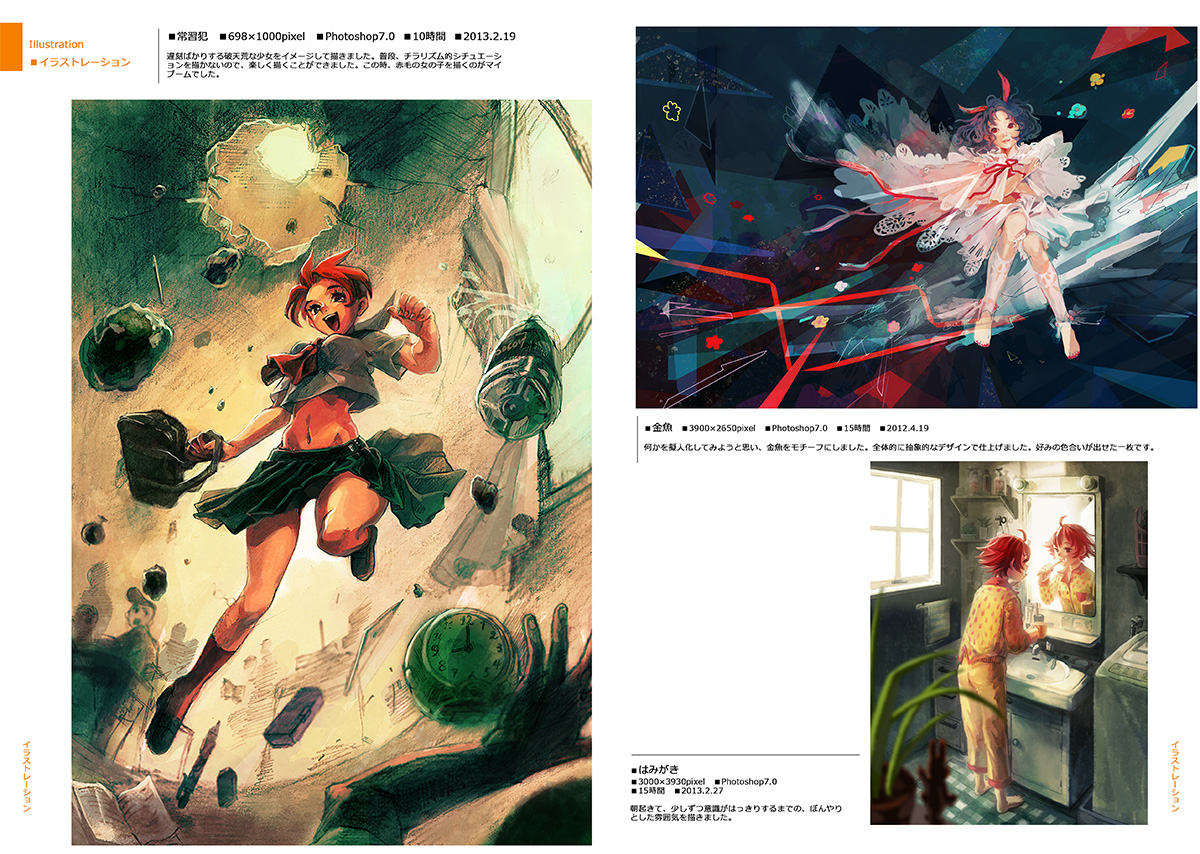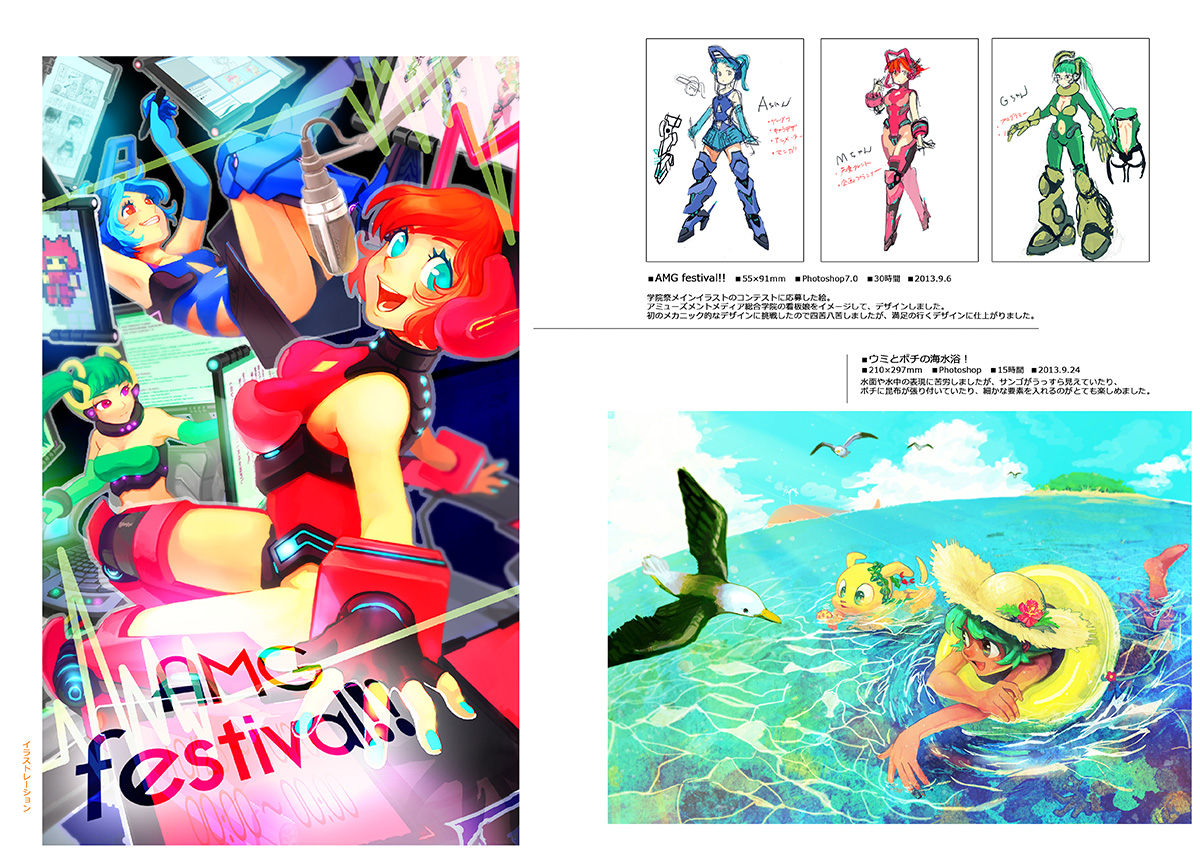 Shimokobe:
I wanted people to understand my thought process, and how I take a concept and turn it into a picture.
Kobayashi: When it comes to character design, a bit of dynamism makes it easier to visualize characters. This also applies to the work we're doing with the Kingdom Hearts series.
Shimokobe: Next is game planning.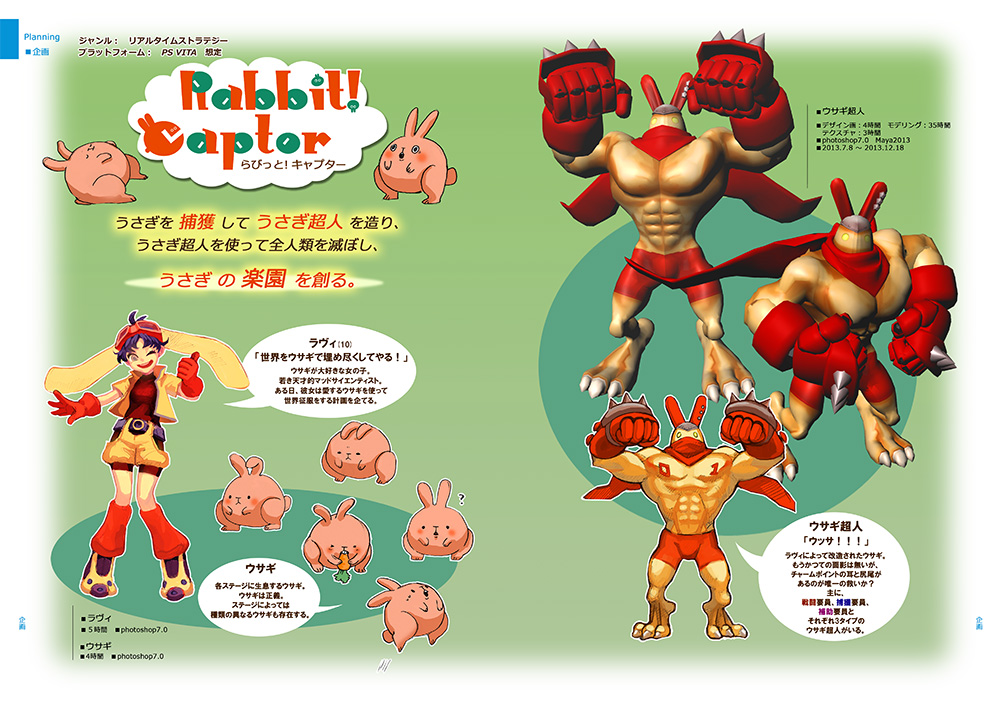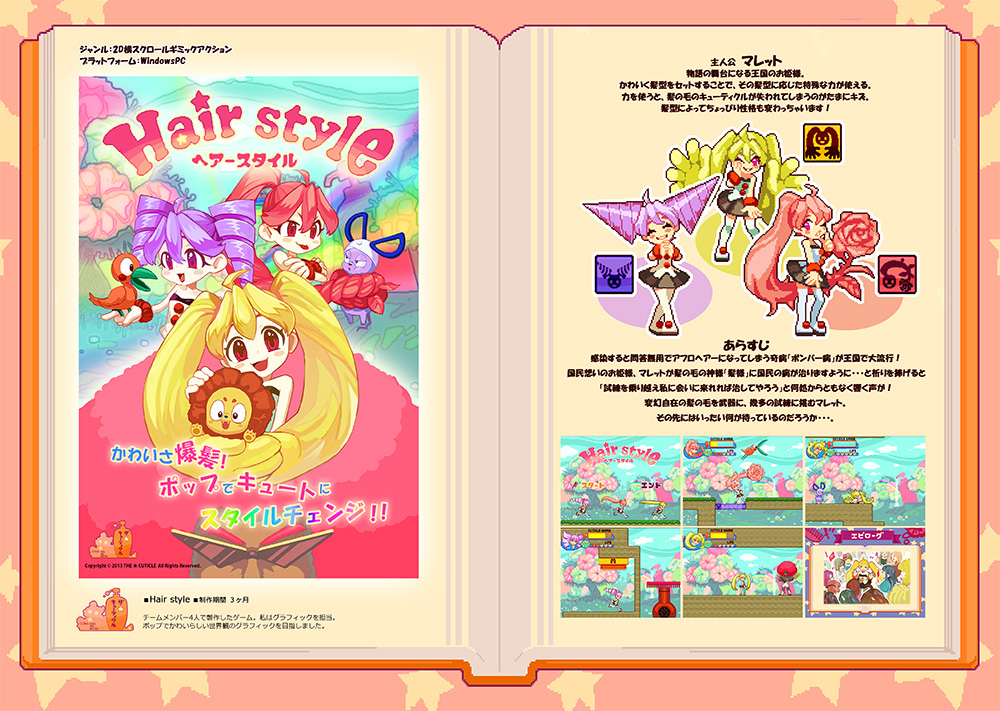 Shimokobe: I introduced the resources and animations of the games I made. It shows what kind of things I could make if I were to create a game with my current skills.
Finally, as an extra, I included some photos of the exhibition of my high school graduation project.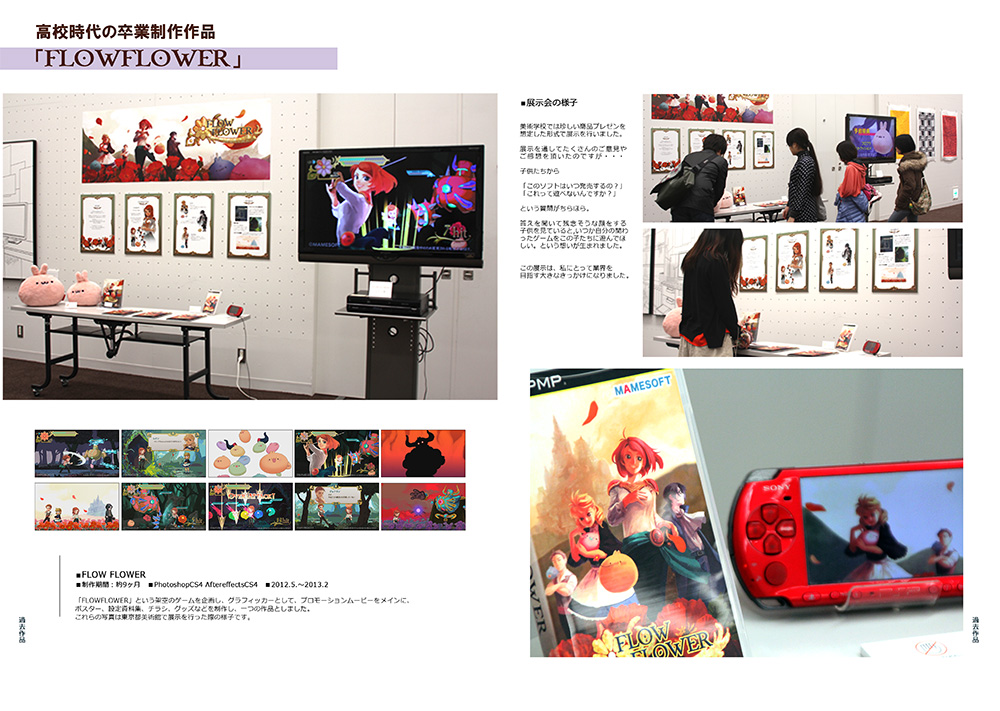 Shimokobe: I made a promotional video for the game, and I also included a collection of setting materials. It's not an actual game, but rather an advertisement of something I would have liked to create if I were to release my own game.
A portfolio should highlight what a game by this artist would look like
── Kobayashi, would you mind commenting on the portfolio we just saw?
Kobayashi: It has a good balance of 3D and 2D. It's also great that it features a commentary on the concept and intent behind each design.
Furthermore, all the contents of the portfolio have a connection to game design, so there is no waste of detail. Looking at this portfolio, I can imagine what a game by this artist would look like. Many students don't know what to feature, so some of them end up cramming in all the assignments they did in school. It's hard for a game company to evaluate a portfolio that features many generic works.
── If you want to get into a game company, your portfolio should reflect that too.
Kobayashi: Exactly.
An artist will never be able to convey their desire to make video games through their portfolio if the end goal isn't clear to them in the first place.
When designing characters for games, being aware of the viewer's perspective is a must. Gaining that kind of awareness can change the way you think about content.
When I look at a portfolio, I pay attention to what kind of thinking went into each design. Of course, the quality of the work is important, but even the most beautiful artwork can fail to convey its purpose without a proper explanation. Nowadays, if you search the Internet, you can come across numberless character designs, so some people just mix and match them. That's why I would like artists to write an explanation of the intentions and thoughts behind their characters.
── Shimokobe, does your portfolio feature works that you've created especially for it?
Shimokobe: Sure, I created a few pieces especially for my portfolio, but most of it was made of school assignments. I went to a two-year senmon gakko and I started looking for a job from the start of my second year, so I didn't have much time to put it together. My goal was to become a game creator, and I was aware from the beginning that I had to set goals for what I wanted to do and work on my school assignments so that the result could be included in my portfolio, despite the limited amount of time.
Even though the entire class was given the same assignments, some of us would draw backgrounds, while others would create different kinds of projects. Each of us had a separate approach. I wanted to do character design, so I tried to work on my assignments from a character design perspective. I created my works while keeping in mind my future aspirations and the steps I should take to get closer to my dreams.
Kobayashi: Game design comes in many different shapes: backgrounds, characters, effects. Finding out what you are interested in is something you can already do as a student. When I look at a portfolio and see that it mostly features backgrounds, I can be pretty sure that I won't be hiring them as a character designer. When you create your portfolio, you should focus on the things you really want to do and show them off.
In-house artists are fueled by the desire to create games, rather than to just draw pictures.
── Many illustrators choose to work as freelancers. Did you consider that as an option when looking for a job?
Shimokobe: What I wanted was to make games. If I had programming skills, I would have been able to work freelance, but I can only draw pictures. I thought I had no choice but to work for a company.
Kobayashi: There are some freelance illustrators who are involved in video games, but those who end up working as main character designers are often people with a certain level of fame. It's rare for freelancers to get deeply involved in the content of the game. Many of the people who want to become artists at our company are fueled by the desire to create games (and thus to create art for them), rather than to just draw pictures.
When a game company makes a game, sometimes all the work is done within the company, while sometimes part of the work is outsourced. That doesn't depend so much on the company itself, as on the team and project.
── So if I want to become a game designer, should I join a company first?
Kobayashi: Company employees are very different from freelancers in that they work in a structured environment. The good thing about an organized workplace is that you can learn a lot from your seniors, so it's a shortcut to personal growth.

Shimokobe: My seniors at the company have been really helpful. When I showed them my designs, they often critiqued them by pointing out that they couldn't see what I was trying to convey, or that I had to think more before I draw.
Kobayashi: Enemies need to be designed in such a way that players can predict their attack types, weaknesses, and whether they are powerful or quick at a glance.
Shimokobe: I've been into character design since my student days, and I even took on some work for my vocational school. Even so, I would only draw whatever I thought was good, to my heart's content. Drawing what you like is important, but when I joined the company and started designing as a professional, I became more conscious of the recipient's feelings. By practicing this kind of mindset, I was able to strengthen my shortcomings and deepen my understanding of character design.
The various tools and techniques I learned at school were only a starting point for learning about the industry. Learning how to use tools is something you can even do on your own. I understood that in order to become a professional, developing the mindset and analytical skills that design requires (such as the design process and discussing your work with the people around you) was way more significant.
When I was a student, I was still not very objective about myself and had not yet figured out my strengths, but as I gained experience after joining the company, I have come to believe that I am good at the unique, pop, fantasy line of character design. I was able to discover this largely through the support of my seniors.
Kobayashi: Even when working as a company employee, it's vital to recognize what you are good at and never stop working on your talents.
── For company employees (in Japan), I thought the ability to fit in with others came before each individual's strengths.
Kobayashi: It depends on the size of the company. In the case of our company, there are many large projects, and so the creation of things like characters and backgrounds is done by specialists. It's a bit rare, even for a game company, but new graduates are free to choose the type of work they want to apply for, and they are asked to join the company after deciding to some extent the areas in which they can make the most of their strengths. Therefore, there are many cases in which our company requires professionals in each field.
Someone who can comprehensively create backgrounds, characters, and motions may be useful for small-scale projects, but if they are merely average across all fields, they may not be a good fit for those projects that require specialists.

(Translator's Note: in Japan, mid- and large-sized companies often hire a group of new graduates and assign them to departments based on internal need for additional hands rather than the strengths of the individual hire. It is not uncommon to be assigned to a department that is completely different from one's degree, and "job rotation" means employees are shifted around to new departments every few years. Kobayashi is explaining that Square Enix diverges from this pattern and takes on a specialist hiring approach.)
── Kobayashi, you're in charge of Schoolgirl Strikers. Would you say that drawing cute girls is your specialty?
Kobayashi: When I first joined the company after a mid-career job change, I was in charge of character design for RPGs such as Musashi: Samurai Legend. I wouldn't say pretty girl characters were my forte back then. However, I wanted to broaden my horizons, so when I heard about Schoolgirl Strikers, I volunteered to take on the challenge.
── I guess strengths can change, can't they?
Kobayashi: I've always been good at character design, so the essence of my work hasn't changed. I'm just expanding my area of expertise.
── What other titles are you working on now?
Kobayashi: I draw illustrations for smartphone games every month while also working on console games. In 2007, I did character designs for
The World Ends with You
, and I'm continuing to work on
 Neo: The World Ends With You
, which will be released in Summer 2021. It's a bit of an odd situation, where I'm involved in a variety of projects, while at the same time not being engaged in the main development process.
── So you're basically working as an in-house freelancer.
Kobayashi: I work with a variety of people within the company, even from different departments. If we end up getting along well enough, I get assigned the next job, so I think that's a close definition.
── Once you joined Square Enix, how did they decide which jobs to assign to you?
Shimokobe: I was assigned to my current department after they looked at my portfolio. In the game development team, I was first allowed to do various things on a trial basis. After they figured out what I'm cut for, I was gradually put in charge of enemies and costumes, which is what I am doing now.
Kobayashi: When we start a project within the company, we may find ourselves lacking designers and thus look for someone with a certain drawing style to join the team.

── Was your first project hard?
Shimokobe: Yes, it took a long time. Even more so, there were many times when I couldn't get the work up to a quality that could be used in the game, and eventually, I had to ask my seniors to take over. In my first year, there were many things that I could not wrap up by myself. After a while, when I finally managed to handle the work of the first team I was assigned to, I was asked to design weapons and bosses for other projects too.
── Sounds like a challenging environment.
Shimokobe: The people from the company have been so kind as to watch over me and help me grow little by little.
If you're looking to become a professional game designer...
── What advice would you give to young people who want to become professional illustrators?
Shimokobe: To work as an illustrator, you need to make the people around you feel that you have potential and help them visualize the kind of things they could create with you around. That is why it's important to define your own commitment and vision for the future. Conveying your very own ideas in your work will make it more appealing; only when you have a clear vision of what you want to achieve, you can share your ideas with others and create something.
── That sounds difficult.
Shimokobe: Being moved by something we see and sharing our thoughts with others is what forms our identity. Rather than just going on with your life as it is, I would like you to dig deeper into the reasons behind your actions. This way, you will be able to draw out your logic and feelings, and develop the ability to take an interest in any subject.
Being an illustrator is a fun and wonderful job where your work becomes a part of someone's experience and memories. Nothing is a waste of time if you use the experience wisely. Don't be afraid to make mistakes and work hard on your creations.
── Kobayashi, what has your experience in hiring taught you about the people you would like to work with?
Kobayashi: Personally, I'd like to work with people who have a strong desire to show us their very own world. People who are looking forward to blowing a breath of fresh air into Square Enix.
Square Enix hiring information for new graduates
As our guests mentioned in the interview, Square Enix allows new graduates to apply by selecting an art field.


If you are a student with a burning desire to create games, keep an eye on the recruitment guidelines for new graduates that will be released in the future.