Curry Zawa Kaoru's Creative Counseling - Canon Interpretations vs. Personal Inclinations! Creative Work Lets You Be Greedy.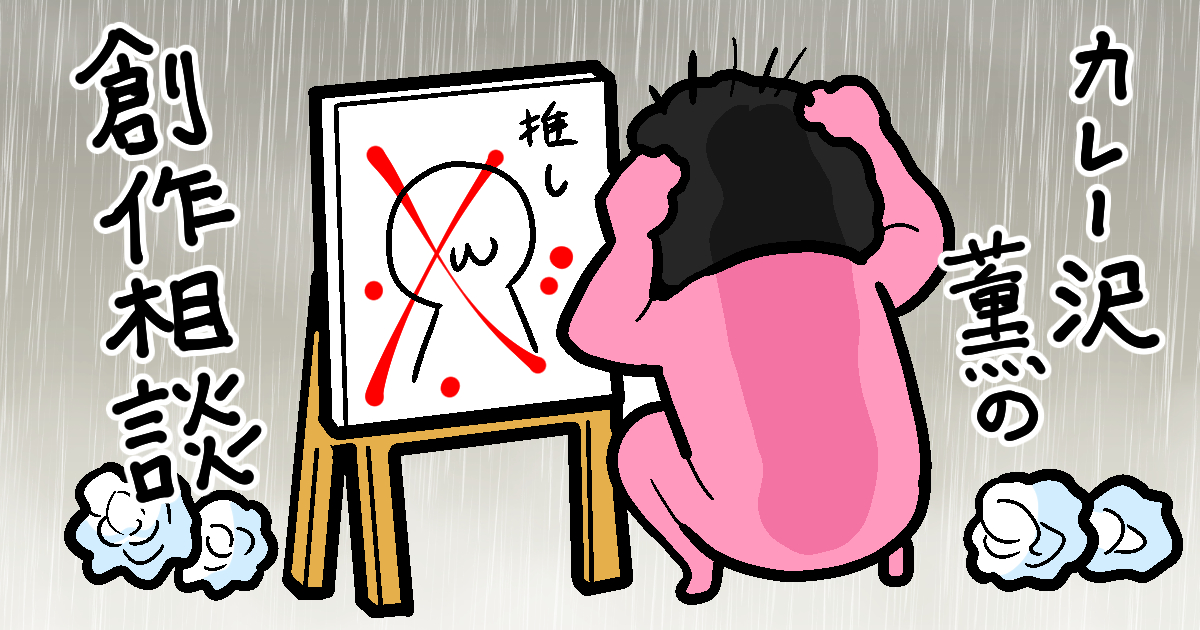 Article by Curry Zawa Kaoru
The struggle between canon and headcanon!
In nature, the most important goal is to survive, and wild animals do what they have to in order to live on.
In other words, a lion chasing an impala will never get the sudden urge to clean up his room and stop to dump the contents of his bookshelves all over the floor.

On the other hand, it's not rare for people to feel the impromptu desire to sort all their data into folders because they realize their PC is oh-so-messy, right on the day before a life-changing exam. Here comes New Folder 2 (Copy 4) and the chaos that ensues.
Prioritizing the trivial over the crucial is a kind of behavior that is uniquely human. And it's not rational, which puts humans a step below insects.
People who spend eternity fiddling with their phones at Starbucks while insisting that "they study better outside their homes," should take a lesson from the crab louse ー an insect that won't part from your pubic hair even after its death.

However, some may say that not living exclusively on our instincts, such as that of survival, is what makes humans more advanced than other species.
Only humans can say "Better a Super Chat today than a loaf of bread tomorrow" and carry out the belief that a single word of thanks from their favorite artist after a cheap pledge on YouTube is worth more than a meal (while biologically, nutrition should come first).
The biggest difference between humans and animals is the ability to put belief, reason, ethics, kindness, and pride ahead of instinct.

When a captured female knight begs her tormentor to kill her, it's because she is trying to choose dignity over survival. Still, what happens most of the time (unless it's a reverse gag manga) is that as soon as she asks to be killed, she'll be left alive and deprived of her dignity on purpose, made to face a fate worse than death.
The jailer would be more likely to let the prisoner go if they were instead brimming with the desire to live, One Piece style, and were willing to beg for their life on all fours, maybe licking the guard's soles.
As you can see, reason, ethics, and pride are important to people, but maybe sometimes we would live more comfortably without them.
Saying that "seme will be seme" is your personal preference and your instincts speaking, while admitting that "this particular seme wouldn't behave like that" is what the work's canon is telling you, and the voice of reason. 
Instinct vs. reason is a very simple yet sizable battle for humans.
Headcanon and canon both matter
The obvious answer would be to let reason win over instinct, unless you're some sort of ape. But since we're talking about the world of creativity, things get a bit more complicated; art is where you can do things you cannot do in real life, follow what inspires you, and fall in love with absolutely anything.
If you're not going to let your instincts
(your 
headcanon
, in this case)
run free in the fields of creativity, where the hell are you going to do it?
I've encountered some fan artists who just plain ignore the canon lore: even if a character has itty bitty tits in the original work, they don't think twice before drawing them a pair of massive knockers hanging almost to the ground.
As a viewer, I have to admit that I'm a little skeptical as to why someone would turn a character whose appeal is small tits into a character with bazookas, but I admire the artist who doesn't let a work's canon stop them from chasing their large-chested instincts.

But for an otaku, canon is often more important than life itself.
Many otaku folks would cross their arms at the idea of writing something that goes against a work's canon, and many would gouge their eyes out rather than seeing their favorite four-eyed character wear contacts.
To live as an otaku who dwells on their headcanon? Or to die on the hill of true canon? That is the question.
But do you really have to choose one?
Just as the magazine Shonen Jump is the only place you can read some mangaka's works, the world of creativity is the only place you can unleash your own inclinations at full power. In this sense, the decision you took to prioritize true canon interpretations is questionable.
And the idea that you have to choose one over the other is just too bound to real life.
If you were in the mood to eat both a hamburger and a plate of curry, your wish may be hard to fulfill both monetarily and in terms of stomach capacity.
What you can do, however, is draw a picture of yourself enjoying both curry and a hamburger at the same time. 
I'm picturing someone drawing that kind of illustration and chuckling to themselves and the image is actually quite scary, but! The good thing about creative work is that you can be as greedy as you want.
So why don't you try to create a work that satisfies both the true canon of a timid seme character and your headcanon in the form of bondage and restraint?

I think there's a lot of room to think about what kind of situation, state of mind, or drugs would drive him to such a condition, and how to preserve the timid nature of the character while sticking to your "seme will be seme" mindset.

I know it won't be easy, but take Tooru Amuro, for example: he works at a coffee shop, he's a private detective, he's part of a mysterious organization and moonlights for the public safety department. If he can do all that, you can take multiple challenges too.
If you're not confident in your multitasking skills, you can also choose to side with either your headcanon or the real canon to maintain the integrity of your story, but as you asked, I don't think that will do much for your uneasiness.
Is creative work a hobby for you? If so, then I think your enjoyment should come before the readers.
I hope you will try your hand at creating a story that supports both your headcanon and the work's canon. Load them both into your trunk, step on the gas, and go!