The Secret To Winning A Traditional Art Contest Is... Knowing When To Give Up? Interview With Copic Award 2021 Winner Umezakura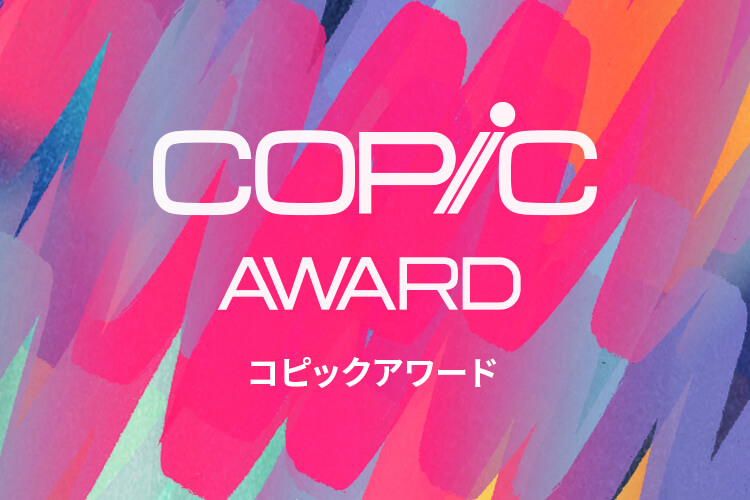 Article by Ichibo Harada @HEW
The winner of the pixiv Award in Copic's official art contest, Copic Award 2021, was the work titled Atatakai Mizu no Naka (暖かい水の中, lit. "In the Warm Water"), illustrated by Umezakura (梅桜). Umezakura's work was unanimously selected by pixiv's jury. According to a comment from the judges, "this work utilizes many elements and colors, and while it is difficult to achieve a balance in composition, the elements are portrayed with meticulous accuracy."
Coloring with Copic markers means you only get one shot to get your drawing right. We interviewed Umezakura and asked them what to consider ahead of getting down to work, and how to achieve natural results.
Drawing in between a busy parenting schedule
── First of all, congratulations on your victory! How did you feel when you got the news?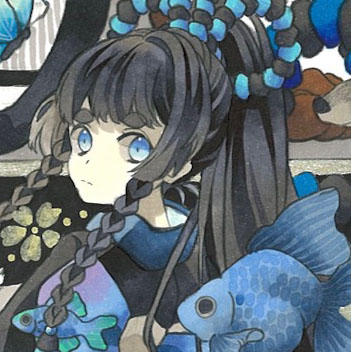 I jumped for joy! I told my husband right away, and he was ecstatic too. I'm not very good at looking up application guidelines and deadlines, so I had never entered a contest before. I have to thank my friend who introduced me to the Copic Award! 
── I heard that you have kids. Finding the time to work on your illustration must've been quite hard.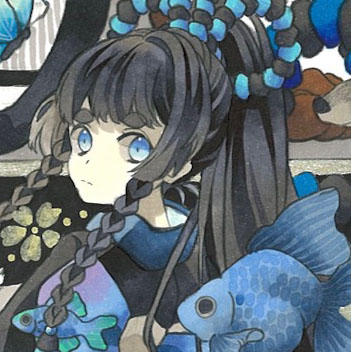 My oldest child is 3, and the younger one is just a few months old, so I had to work in tiny segments of time. While my kids were playing with their toys, while they were taking a nap... The illustration took about three weeks to complete.
── Do you manage to keep drawing despite your busy schedule?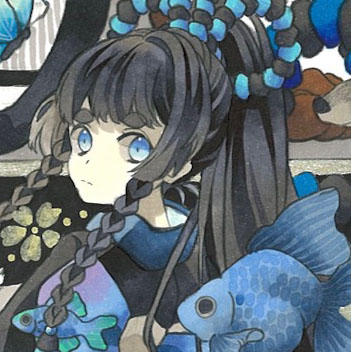 Drawing is my way of relaxing, so I do it for about 30 minutes a day. The rough sketch takes me a day, and the rest goes to coloring ー my favorite part of the process.
── At some point, your kids will realize their mother is really talented at drawing, won't they?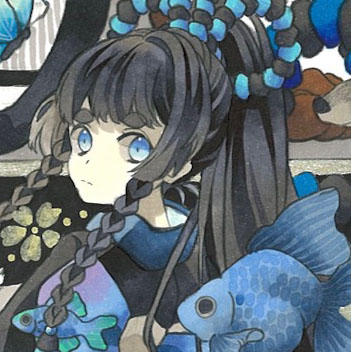 I wonder! (laughs) My kids keep asking me to draw Anpanman. They want me to draw the same thing again and again, so once the first Anpanman is done, they'll ask for a second, and I end up always drawing the same characters. The older one seems to have an interest in drawing, so they sometimes take away my Copics to play with them. I'm like "Careful with the nib...!" as they bang it onto the paper... (laughs)
Drawing the harder parts first to make retakes easier
── You mentioned earlier that the award-winning work took you about three weeks. What did your schedule look like for each part of the process? For example, how many days did the sketch take?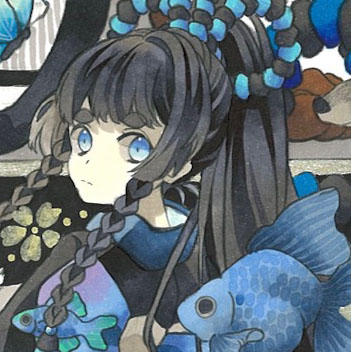 I don't usually do full sketches or preliminary drawings. I created a base for the character, which I wouldn't have managed to freehand in one shot, but as for everything else (from the background to the fish), I went straight for the lineart. To line my drawings, I use colored pencils and not pens, so if I were to add too much detail, I would end up smudging it with my hands. Also, I prefer to make decisions as I go, on a whim.
── I watched the making-of video of one of your works on the official Copic YouTube channel. You seem to draw very fast, so I thought you had the final result already in mind before starting to draw.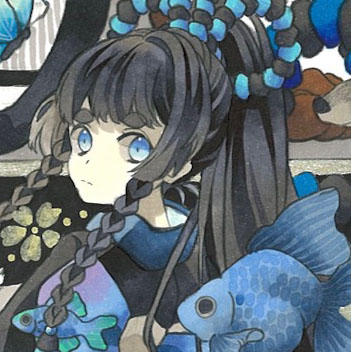 Actually, I don't think much before I get down to work. (laughs) I also pick the colors as I go.
── Don't you decide on a few key colors at first?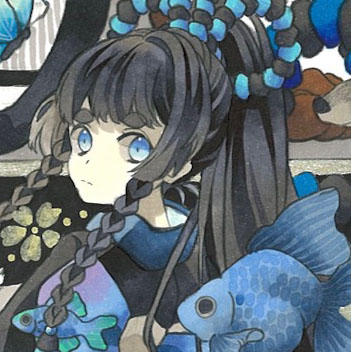 Not really... More than once, I initially intended to use a certain main color like red only to end up with a totally different shade. In the work for this contest, I was actually planning to color the hair lighter, but then I realized it didn't stand out as much as I hoped and I rashly decided to go with black instead.
── When using Copics, some illustrators prepare an extra sheet of paper to test the gradation and other aspects of the markers as they go.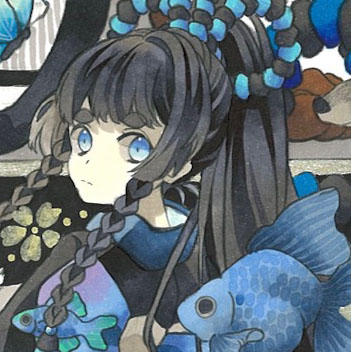 I don't do that either... I can't be bothered with tests, that's just how I am. (laughs) So, speaking honestly, I often make mistakes. I had to redraw this particular work three or four times.
── Having to redo the coloring means you have to start all over from the lineart, right?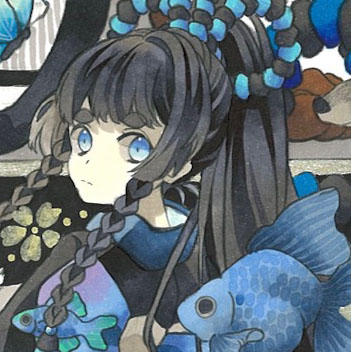 I don't necessarily complete the entire lineart before kicking off the coloring process. I try to prioritize those parts I'm most likely to mess up. For example, if I have an illustration that is mostly blank except for the main character, I prioritize the latter and color it right after finishing its lineart. Having to redo only a specific section is way better than having to start all over when the drawing's almost done. That's why I tend to draw the harder parts first.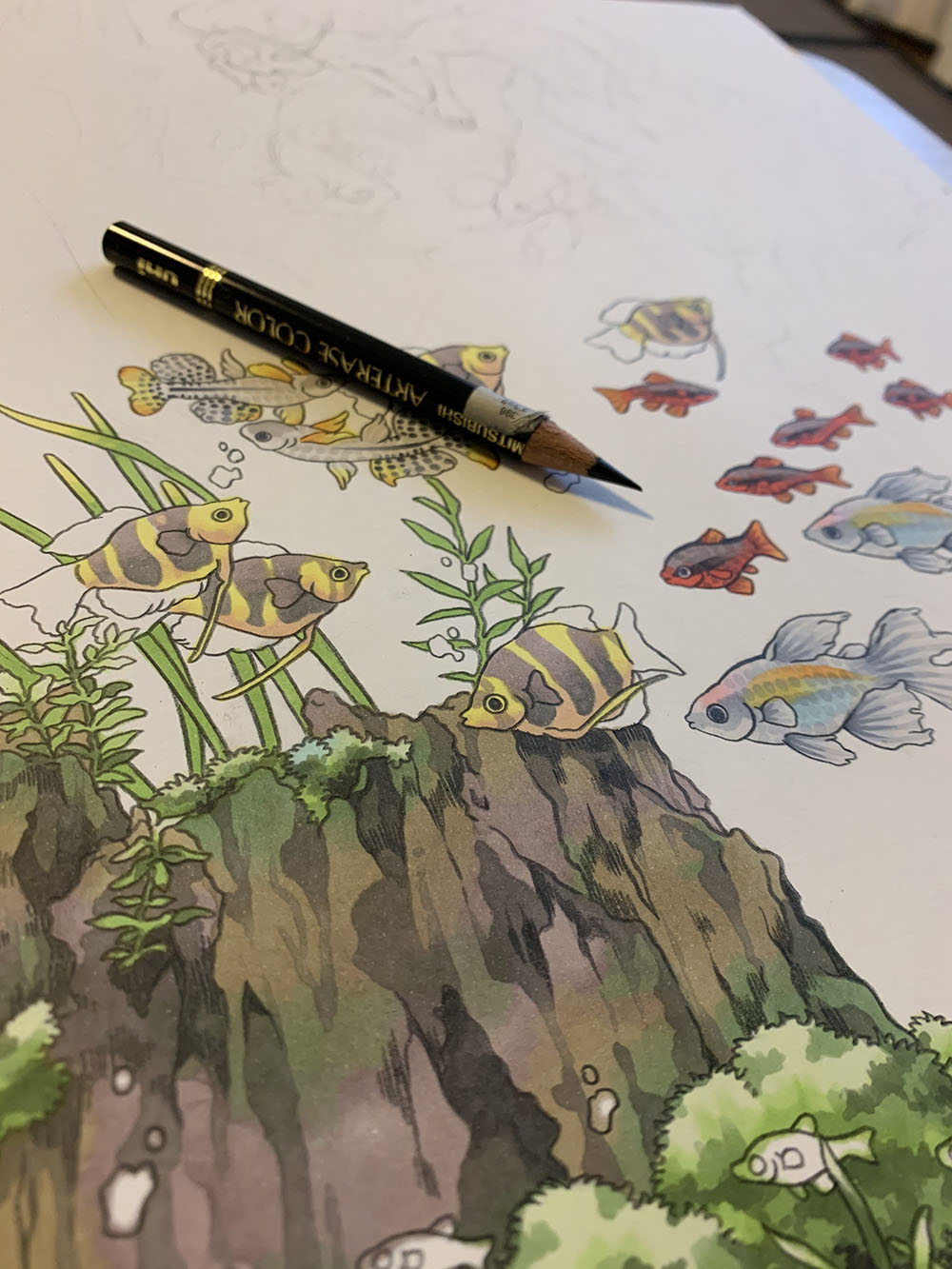 ── Still, redrawing a work from scratch sounds like a big decision. Do you consider yourself a fast artist?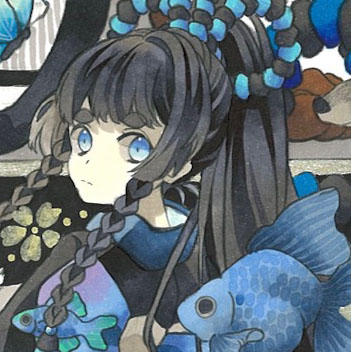 Indeed, my friends who also use Copics often say I'm pretty fast.
── For instance, how long would it take you to complete the contest illustration if you didn't have to take breaks?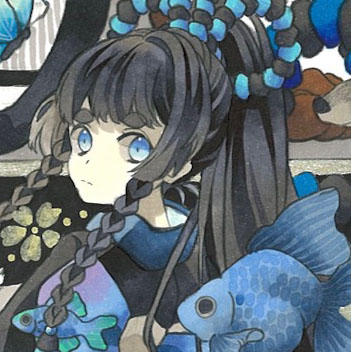 I guess about three days. When I'm focused, I can draw for six hours straight, and when I didn't have kids I would sometimes complete an illustration in a single day.
── Three days...! If you're that fast, I bet sometimes it's quicker to start over from scratch.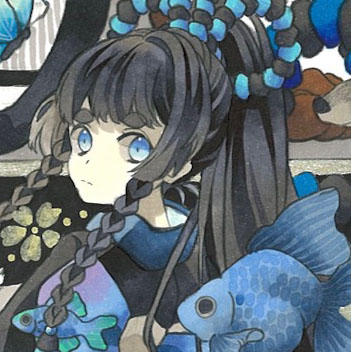 Of course, I always try to fix my mistakes first, but when that doesn't work I'm quick to give up. It's no use to keep pushing once you realize there's something wrong with your work, and nothing good will come from it ー that's why I'd rather start over than keep struggling.
Instead of using similar colors, try creating gradations by mixing different shades
── How do you fix your mistakes when you realize you've messed up?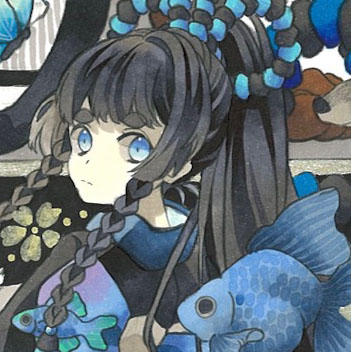 If I botch a light area, I'll cover it up by applying a darker color, while for dark areas, I apply even darker colors. For example, in the case of the illustration for the contest, I covered an inkblot with a fish.
── How many Copic markers did you use for the award-winning work?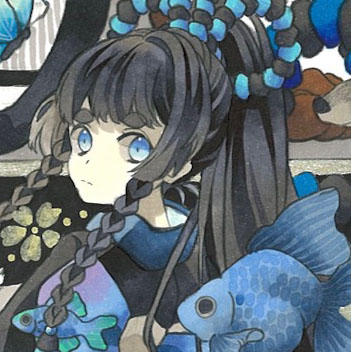 About 30 to 40.
── How do you create such a coherent illustration while using so many different colors?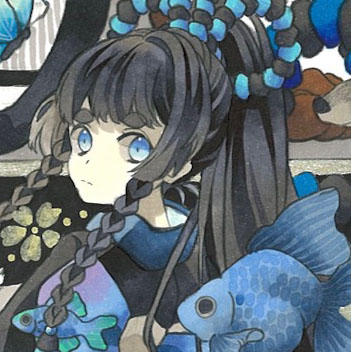 I often look at my work from a distance. Working while sitting at a desk means my field of vision can get quite narrow, so looking at the drawing from far away helps me notice things, like "I should add some red here."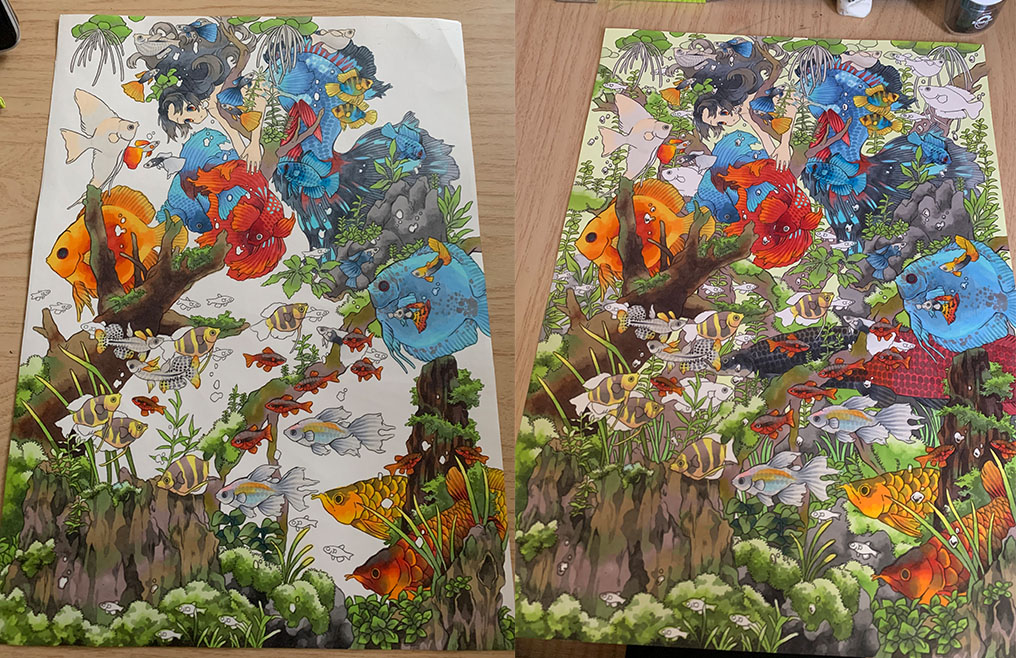 ── How do you develop an eye for choosing the right colors?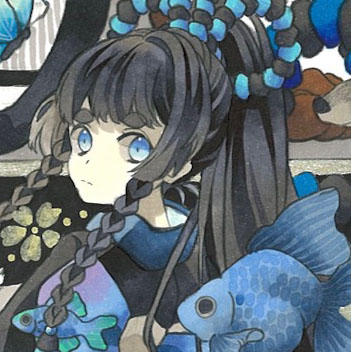 The knowledge of which colors go well together comes from experience, so you've got to keep trying different things. When I buy a new Copic marker, I try to use it together with my other markers first. I have about 150, and people often seem surprised to learn that I don't have more. Let's say I know how to create color combinations with the 150 Copics that I own.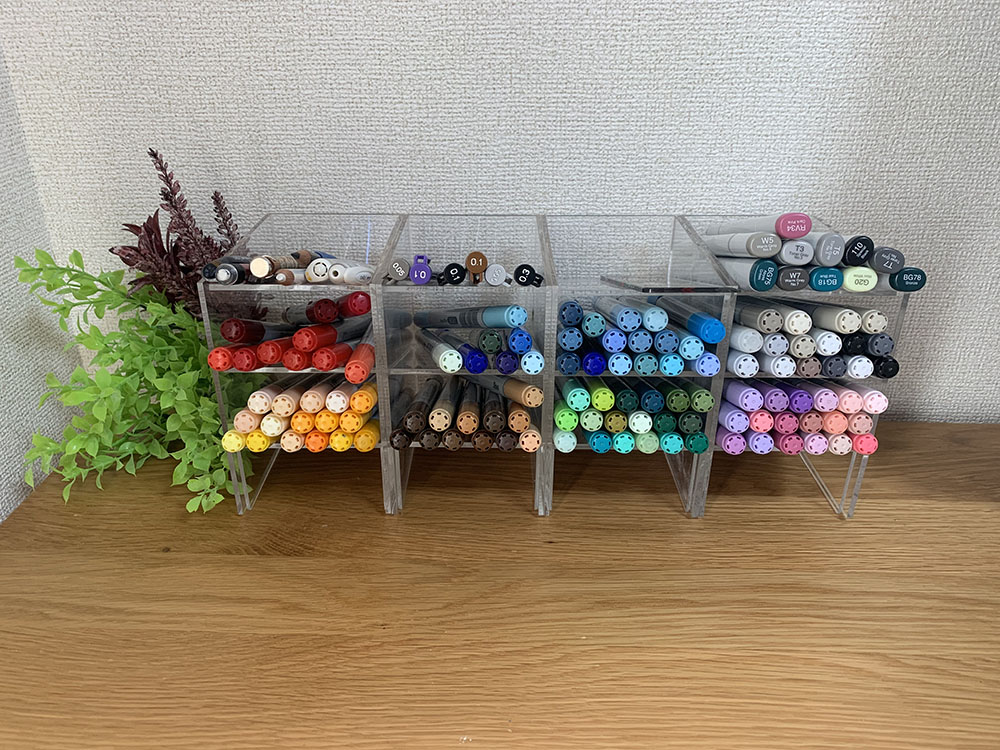 ── One of the features of Copic markers is the ability to create gradations. Do you have any tips about creating color gradients?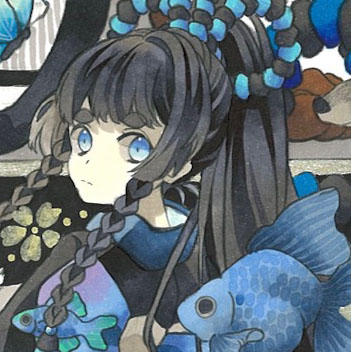 Instead of using similar colors, I think gradations look better if you mix slightly different shades. Rather than blending red with red and blue with blue, try layering blue and purple, or red and gray. The outcome is completely different!
── I see! Let's take a look at your illustration in detail.
Don't be afraid to use dark colors to express light
── How did your award-winning work come to life?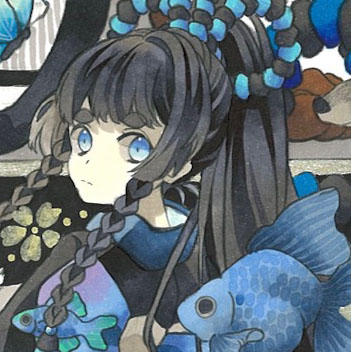 I like fish, so I drew what I'm best at to the best of my ability.
── The detail of the fish in your illustration truly conveys that love.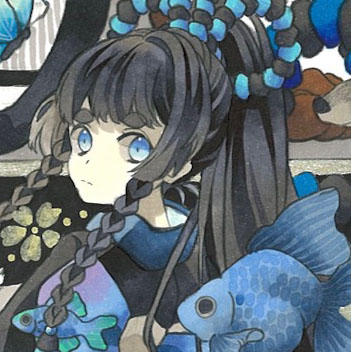 All of the fish in the illustrations are real species, and I've included some that I've personally owned: bettas, guppies, and gouramis. I love bettas especially, and draw them often. They're the fluttery red and blue fish swimming next to the girl.
── What were you mindful of when creating this illustration?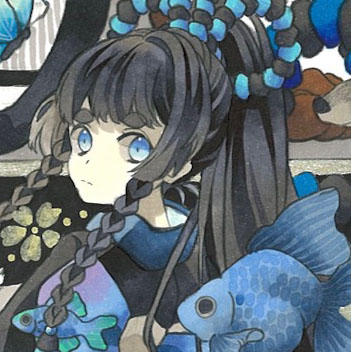 I used a variety of colors for each fish, and I hope people noticed the light reflections on the girl's skin.
── Your focus on lighting really comes through! Sunlight filtering through the water sounds like a challenging lighting situation to portray...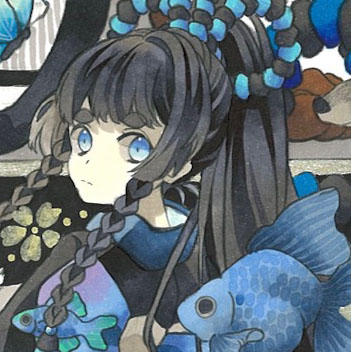 I am still learning, but I feel that expressing light in a way that clearly shows the contrast between light and shadow is essential. So I'm being brave (laughs) and using dark colors.
── Do you often use girls as the central motif of your illustrations?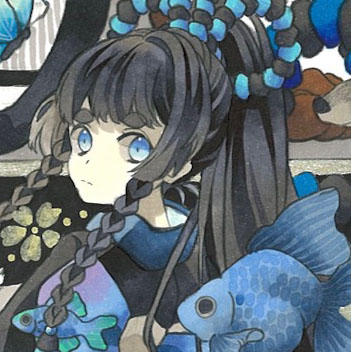 I do. I used to draw boys a lot, but now I only do girls. Girls, fish, and Japanese traditional themes are the motifs I go back to the most.
── Illustrators who often draw girls tend to be very particular about their eyes.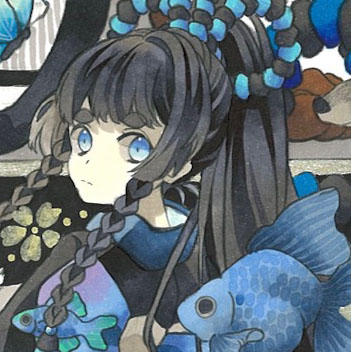 Many creators use Copics to color the eyes as if they were precious gems, but I tend to focus more on the hair than the eyes. I insist on the lines I have in mind until I am satisfied. Also, I don't just use a single color, but a light gradation for light areas and a dark gradation for dark areas.
── On pixiv, you post both colorful illustrations like the one that won you the award, and drawings with a limited range of hues.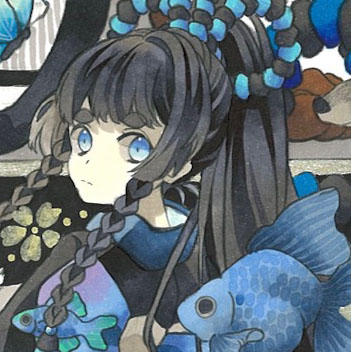 For the Copic Award, I chose a colorful illustration that would be sure to catch people's eye, but my pictures usually come in a more limited range of colors. It's not that I don't like colorful pictures ー I limit my colors when I just want the focus to be on the main character, while I use a wider variety when I want to include other motifs as well.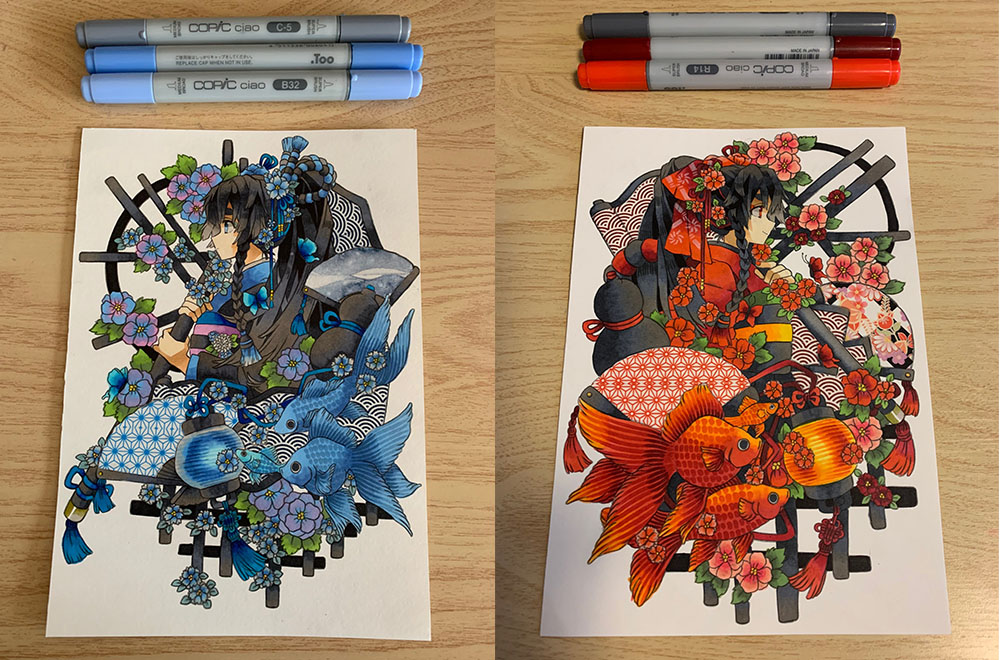 "How easy is it to undo things in digital art!?"
── What's your story as an artist?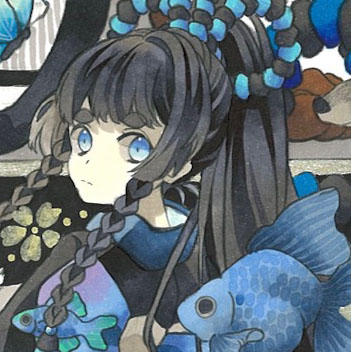 According to my parents, I've been drawing since I was two, which makes it 25 years now. I've been mainly focusing on traditional art, and when I was in high school, I discovered Copic markers thanks to some friends who would lend them to me. I kept asking them how they managed to pull off this or that gradation, and that made me even more addicted. If it weren't for those friends, I wouldn't be drawing with Copics today.
── What other media do you use aside from Copics?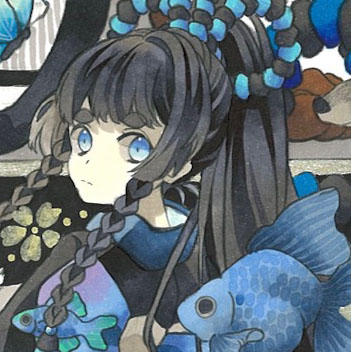 I use a black Sigma ballpoint pen, colored pencils, and a mechanical pencil for my lineart. After I'm done with the mechanical pencil, I use an eraser to make the lines fainter. The colored pencils are for darkening lines, and I don't use them much for coloring. For that, I only use Copics.
── Do you use a special kind of paper?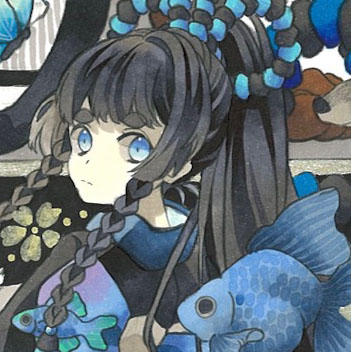 I'm not a fan of the rough texture of drawing paper, and it looks too much like paper when I scan it, so I use smooth paper instead. I also like Copic's paper products because they allow beautiful color gradations.
── Have you ever tried digital art?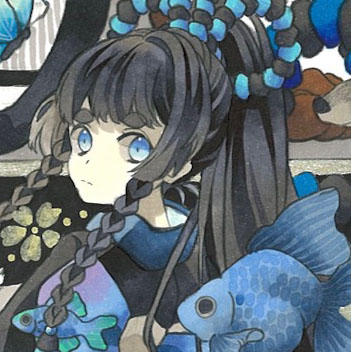 I've been practicing digital art since I bought an iPad two years ago. I'm not very good with technology, so my digital skills are almost nonexistent. 
── What made you decide to start practicing digital drawing from scratch when you're so talented with Copics?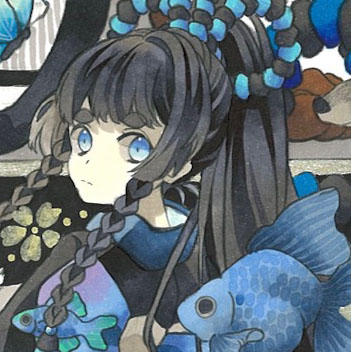 I thought if I was going to start doing commercial work, it wouldn't hurt to know a bit about digital technologies. And it's fun to be able to express myself in ways that are simply not possible with Copics, such as anime-like coloring. I've been using Copics for a very long time, so it's refreshing to be able to undo and redo things digitally. I was astonished to learn how easy it is to undo things in digital art! (laughs)
Don't force yourself to practice; stop drawing before you hit a wall
── This may sound like a naive question, but how do you get better at drawing?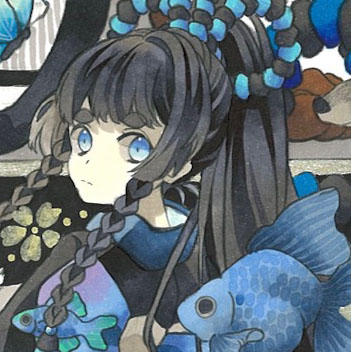 I think it's important to draw what you like without forcing yourself. If you feel like you have to practice drawing something only because you must, and not because you're talented at it or because you have an interest in it, you might not necessarily improve. It's far better to draw the things you like, because it'll help you improve your skills. Forcing yourself to draw will only make you restless, so if you don't particularly feel like drawing something, just don't do it. However, if you feel like drawing something that you're not good at, then you should absolutely try.
── How have you been practicing so far?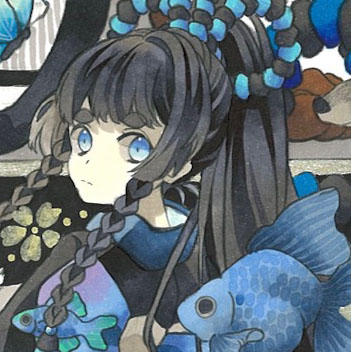 I draw what I want and when I want to, so I don't cram much practice in. However, when I get down to work, I don't just draw the character's face and call it a day but also draw the background in detail. I enjoy adding details to my work, and I think that led to some improvement. My policy has always been: "Never do anything you don't wanna do, and do what you wanna do all the time." (laughs)
── Have you ever hit a wall when drawing?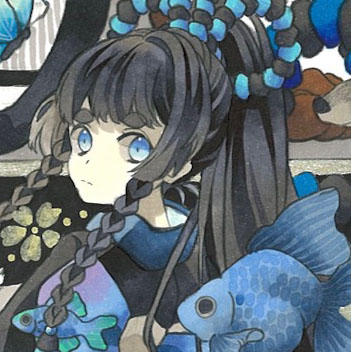 Not really. I can't accomplish anything if I'm brooding, so I always stop drawing before I get totally drained. When I feel like starting again, I do. I think switching gears like that is quite important ー it's always better not to overdo it!
── And after drawing at your own pace for 25 years, you even won a contest! It makes you think about the importance of not giving up. Lastly, what challenges would you like to tackle in the future?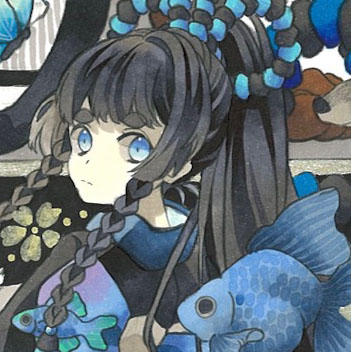 I'd like to try my hand at drawing artifacts. Up until now, I've been drawing a lot of plants and fish, but I'm not very good at inorganic objects, even though I like them... In the future, I hope to expand my skills in this area. In addition, I would like more people to see my illustrations. If I get an offer, I'd like to try my hand at commercial work, and I'd also like to make an art book of my illustrations.
See all of the other winning illustrations from the Copic Award 2021 contest here!
The fourth edition of the Copic Award has received more than 5000 wonderful entries, far more than last year.
All award-winning works have shown great skill and flair.
Don't miss out on them!