Curry Zawa Kaoru's Creative Counseling - "Is 40 too old for doujin events?" How to become an inspiration to the youth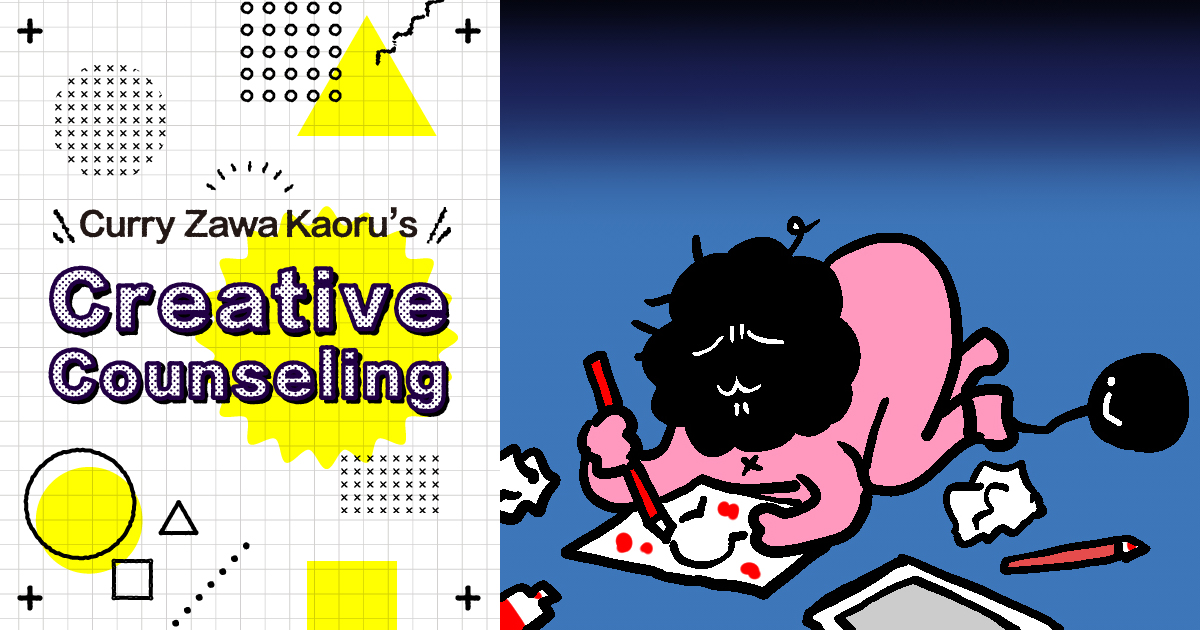 First time attending an event and I'm afraid that people will call me old.
The first time I attended an event was seven years ago, in my early thirties.
I wondered if 30-year-old-me had what it took to make her debut at an event revolving around a trendy new niche, but when I finally got there, I found myself reunited with three-or-so comrades that I had met in another niche a decade earlier. Touken Ranbu brought us together once more.
This means that, even back then, the event welcomed quite a few attendees in their 30s.

You're probably already familiar with Japan's declining birthrate and aging population, which is leading to the progressive aging of all industries.
The only environments where the average age hasn't gone up yet are elementary and junior high schools.
The increase in demand for mature women out there isn't due to the popularity of cougars themselves ー in fact, the average age of customers has risen due to the low birthrate and aging population, and as a result, the market for mature women has increased by the hand of those who're looking for someone in their same age range.
I also feel that the idea that doujin events are only for young people comes mainly from middle-aged folks and older.
The percentage of said middle-age folks meddling with the younger crowds is on the rise, so worry not: you won't be the only old hag around. On the contrary, I believe it's rather naive of you to expect the reputation of "old lady" at 40 in this aging society.
People attend events for the lewd works
In any case,
I don't really remember the average age of the participants of the events I attended.
Like, at all. Maybe they were all high schoolers except for me, but honestly, I can't recall because I didn't care. All I'm left with are good memories ー not embarrassing ones or memories that could get me blackmailed.
The reason why I don't recall such details is that my senses at that time were at Goku's level when he could barely distinguish between men and women without feeling their crotch. Also, I simply wasn't looking.
The only thing my eyes captured was the lewd fan-work featuring my favorite characters.
You might think that if you're sitting in one of the booths as the owner of a circle, people will notice you, but that's not the case. I still remember how excited I was when I found the publication that I was desperately looking for ー whose cover I'd been more familiar with than my parents' faces ー but for the life of me, I can't remember what the person selling it looked like.

I don't know about those big events happening about every week, but people who attend small-scale events of niche genres where the original work has already ended have probably come to terms with the fact that every event might be the last.
When it comes to niche genres, being surrounded by all sorts of merch of their favorite work is a dream come true for attendees, unbelievable enough to pinch both cheeks.
If you found yourself on treasure island, would you care about the age of those you're with or would you just start treasure hunting?
Right now, you're acting like someone who goes to an idol concert and worries that people will pay more attention to them than to the idols.
Your lewd (or non-lewd) works are the idols here; what you should be doing is polishing your creations and making the uke's nipples all white and shiny, not worry about stuffing your face with hyaluronic acid.
If a work is good, that makes the person selling it a god ー period. No one would ever change their mind about buying something because the hand holding out the change is more wrinkled than expected.
'Being old' alone won't make you the star of the class meeting
In the world of fan work, classroom assemblies spanning from the first to the fifth period are not that uncommon, and creators stealing the spotlight from creations aren't unheard of either ー the same goes for event participants getting the hell beaten out of them from time to time.
If you're a creator or an event attendee, it's only natural to wonder what would happen if you found yourself in a similar situation.
And if you're a newbie, or old enough to stand out, the thought gets even scarier.
But flame wars aren't that straightforward: 'being old' alone won't make you the star of the class meeting. If you want to take over the class, your lewd works have to stand out so much they make the whole world around them slide out of focus.
It takes guts to top the preposterousness of your average lewd doujin covers boasting unclad bodies and asses in lieu of faces. Such an ordeal is not for the little guy who's afraid to look crazy.
You mentioned you're a newbie when it comes to fan art and social media, so I guess you're worried about doing something wrong.
Still, real-life etiquette and event etiquette are not too far apart, and rest assured that there are no special rules such as how many acrylic keychains are allowed in each age range.
If you weren't familiar with the law against going out naked, you wouldn't think twice about strolling around in the nude ー and that's exactly why you should look up the venue rules and event etiquette beforehand. But as long as you have some common sense, you should be fine. And I believe that you, a working adult and experienced parent, should have no trouble respecting them.

Different age groups still have something in common
You worry that you won't have anything to talk about with your friends. Look, I too would struggle to find some common ground with regular teenagers and people in their 20s. I can only imagine how trying to match the mood of the younglings could turn into a slippery slope.
However, I had one thing in common with the kids I met at events: our favorite niche. What else would you want to talk about, anyway?
Still, it's possible that the fact that you are the oldest person in the group will make people around you feel self-conscious and slow down their Xtreme Otaku engine.
If you're worried about that, you can follow the example of those bosses who can read a room and politely decline all invitations to the company dinner's after-party: chat with your friends during the event and bounce before the wrap-up jamboree. Or you can even use your motherly powers and excuse yourself after half an hour because "you have to make dinner for your kids".
Or, you can warm your own engine during the event and if you get comfy enough with your friends (to the point that they start addressing you with 'Yo, old hag!') you can consider tagging along later, too.
The main purpose of this kind of event is to distribute your publications, so if you are worried about being left out of the crowd to the point where you have to give up participating in the event, it might be easier to just attend the event for that purpose from the beginning.
Become someone's inspirational story: you're never too old for creative work
In any case, I think you shouldn't give up attending an event that might even turn out to be the last in your niche because you think it's unbecoming of your age.
I once heard the story of a certain enka singer who decided to make their show barrier-free to accommodate their not-so-young audience so that even a wheelchair user in an almost-vegetable state could attend.
If you saw someone who fits that description, would you find it shameful that someone with one foot in the grave has decided to enjoy a concert?
Rather, it sends the message that it's totally okay to go to a concert even as a vegetable. It gives you hope.
Those who criticize you just because you're old are brats who don't yet understand that one day they too will age and eventually embrace their almost-vegetable state.
On the other hand, those who've got some brains will read your attendance as an encouragement: it's okay to keep up creative activities, even when you age or have a family.
You may not be aware of it yourself, but returning to the world you left when you got a job after raising your children, and then taking on new challenges such as fan art and participating in conventions at the ripe old age of 40 is such an inspirational story ー like those people who have children, then make up their mind to enter university again and dare to leave for a semester abroad.
What sets you apart from others are your fears alone. Just be confident, because I believe the day will come when the elderly attending doujin events will become the norm (and the same goes for vegetables buying lewd magazines).
Think of yourself as the first step in the right direction, and try to enjoy yourself.