Curry Zawa Kaoru's Creative Counseling - The reason why "drawing what's popular isn't fun" is because that's not what you're into!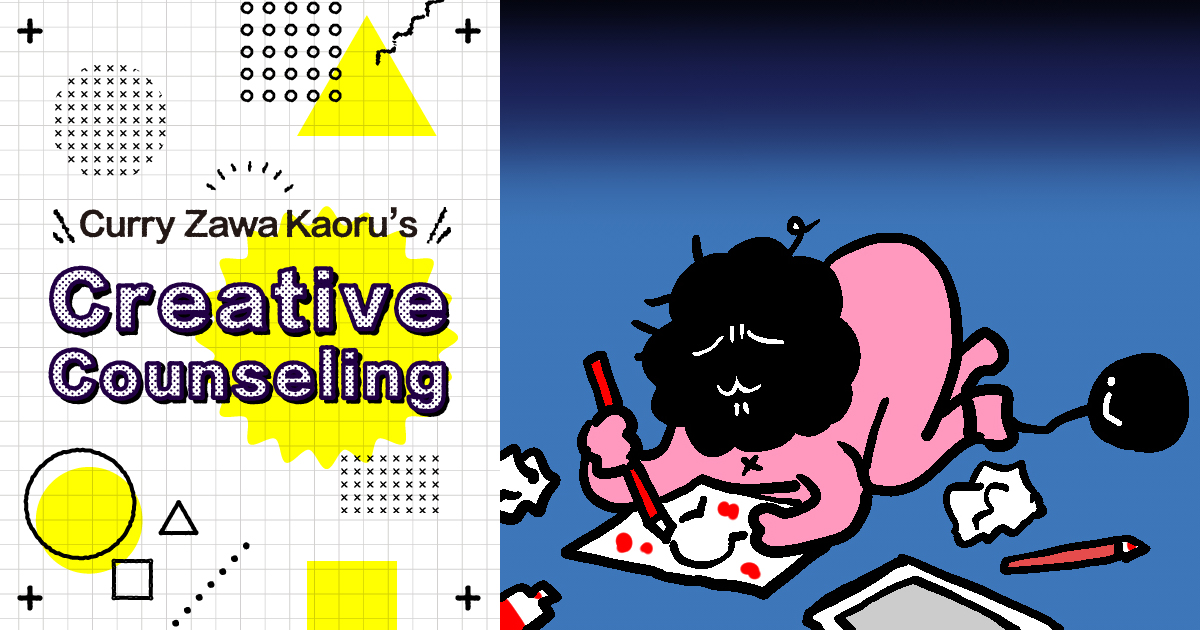 I want to be able to draw popular designs, but it isn't fun
If you're going to draw, it only makes sense to want people to see your drawings, and of course, you can't help hoping they'll like what they see. The quickest surefire way to draw people's attention is to either draw something trending within a popular genre or immediately go out and jump in front of Truck-kun so you get reincarnated as a god-tier artist.
However, trends are always changing at what seems like the speed of light, and in the same way that someone who was devouring boba tea yesterday might be pounding down Yakult 1000 yogurt drinks(*) today, tonight you may find yourself lying in bed next to the person who was your enemy just yesterday. Trends like these make my ass clench.
The world of drawing isn't immune to the dizzying speed with which trends come and go, and it's almost impossible to climb out of the metaphorical rut of your subject already being outdated by the time you've finally mastered drawing it. You can't help but repeatedly create drawings that reveal that you're an immortal duel master of the past.
Putting aside the topic of trends, I question the sense in trying to imitate something in the first place; shouldn't you instead pursue originality and try to create something that is your personal best, something no one on Earth but you could make?
Getting so worked up and worrying about what you're going to do that you wind up unable to start is a common trait among those who typically never get very good at drawing, so please be careful. Especially in your case, where you're writing to me about this problem rather than actually drawing. Based on your actions, all I see is someone who may have already lost the desire to draw to some degree. So, I think your first step should be to really ask yourself if you even want to draw, or whether you'd be happier dancing in a club or something.
You seem to have gotten a bit burned out from drawing, but honestly drawing is a masochistic hobby. Being hit by a whip hurts, and having candle wax dripped on you burns, but the pleasure you obtain through overcoming these obstacles makes the pain all worth it. 
People who feel this way are more suited for this hobby. If you stop and think about it for a second, the act of drawing by hand itself can be torturous and not to mention incredibly tedious — whether it's drawing a single line, a figure, or even background scenery. If you don't get an equal amount of enjoyment out of it, there'd be no reason to engage in such an intense activity.
If the tediousness currently outweighs your enjoyment and desire to draw, I don't think there's any need for you to go to the trouble of forcing yourself to indulge in this sort of activity. I believe that "not doing it when you're not in the mood" is the trick to continuing to enjoy any hobby long-term, not just drawing. I want to say that even masochists would decline their sort of play when they're not in the mood for a ball gag, but perhaps with this particular kink, the most enjoyable time to be forced to wear one is when they're not in the mood? It seems to be a very complicated hobby...
(*) Translator's Note: Yakult 1000 is a probiotic drink that has gained popularity in Japan for its purported health benefits.
Pursue personal improvement rather than chasing trends
When it comes to balancing enjoyment and keeping up with the trends, people have a tendency to find things they aren't good at boring in the same way we feel life itself to be a shitty game.
The fun of drawing only decreases the longer you go without any sort of improvement, and even more so when you have no one but your mom to praise your work. On the other hand, you'll get more satisfaction from your work when it turns out well, you'll be praised more often by others, and I'm sure you'll come to enjoy drawing more and more. In short, rather than chase the latest trends to update your art, you should instead draw with the mindset of improving your skills so that you can enjoy the hobby even more.
And the only way to improve is to just keep drawing!
...That's what I'd like to say, but the truth is that even though I've been drawing every single day since I debuted as a manga artist over 10 years ago, I really haven't improved very much.
I've blown the lid off the myth that "you'll improve if you just keep drawing" and am filled with disappointment at the revelation. However, I can't say I haven't made any improvements in all this time; I've progressed from being an absolute garbage artist who used to make my editor cry with how bad my work was, to merely just not that great of an artist. Honestly, I think that nowadays I wouldn't have been able to debut at all at my current ability level.
Basically, while it's not a total lie that continuing to draw will improve your ability, it also hasn't done all that much for me in over 10 years. Even in the world of sports, the era of people just fumbling their way through training, not being especially picky about their equipment, and just enjoying their sport as an almost spiritual experience has come to an end. Nowadays, it's more important than ever that you're doing the most effective training and using the most sophisticated equipment.
Drawing is the same. No matter how much you draw, you'll never improve unless you're practicing the right way.
I think the reason I haven't improved very much is due, in part, to my own lack of ability, which just can't be helped. But it's also because my goal when drawing has always been simply to just submit by the deadline that I have no ambition to actively try to improve. Because I only draw pictures that my current skill level allows for, my skill level won't increase no matter how much I draw.
If you want to get better, it's essential to have a goal for what you want your art to look like. In this sense, aiming to be able to draw what's popular is actually a good thing, but then because of that, you inevitably fall into a rut where drawing becomes tedious... which is a place where true improvement is the most elusive of all.
You can't continue drawing if you don't enjoy it
You may be wondering why this is, and I think the reason may be that you have no real interest in what's popular.
If you really want to get good, it might be best to start from the absolute basics. But that'll also be boring, and therefore you won't be able to continue, ultimately failing to break free from the very rut you're in now.
If you're drawing as a hobby, enjoyment is the most important thing. When it comes to practicing, you might want to focus on just drawing your favorite fictional character (or try to become a stan for Brutus). This will allow you to enjoy what you're doing. If you keep doing that, you may find yourself actually improving more than you might if you went back and studied everything from the very basics.
In all likelihood, you don't particularly care for what's popular, so you get no enjoyment from practicing that. When you finish a piece, your focus isn't on what you've just accomplished, but more on the fact that you feel that by the time you were able to finish it, your drawing is already out of style. This is just like how some people don't bother dieting even though they really want to lose weight. They feel defeated by the idea that even if they lose weight, they'll still be covered in stretch marks and have loose skin to boot.
Therefore, I suggest you search pixiv for an image you like, one that makes you think "If I could draw like this, I'd be my own fan" and practice drawing that. Even if the image you settle on is done in a super old drawing style and has some weird name like The Scrolls of Frolicking Animals or whatever, if you find that image appealing, it proves that a drawing's appeal isn't in the novelty of its drawing style.
I too have often tried mimicking other artists' work. Not in an effort to keep up with trends, but simply out of a desire to be able to draw something similar. Even so, I've never once been told that my artistic style resembles any of theirs.
It takes a lot of talent to master an artistic style through mimicry.
I would love to see you
use that talent of yours not to become able to draw what's popular, but to become the kind of artist you could see yourself being a fan of.