Curry Zawa Kaoru's Creative Counseling - "A year's worth of work on a manga lost to a scribble." Look at your own reputation rather than looking up in despair.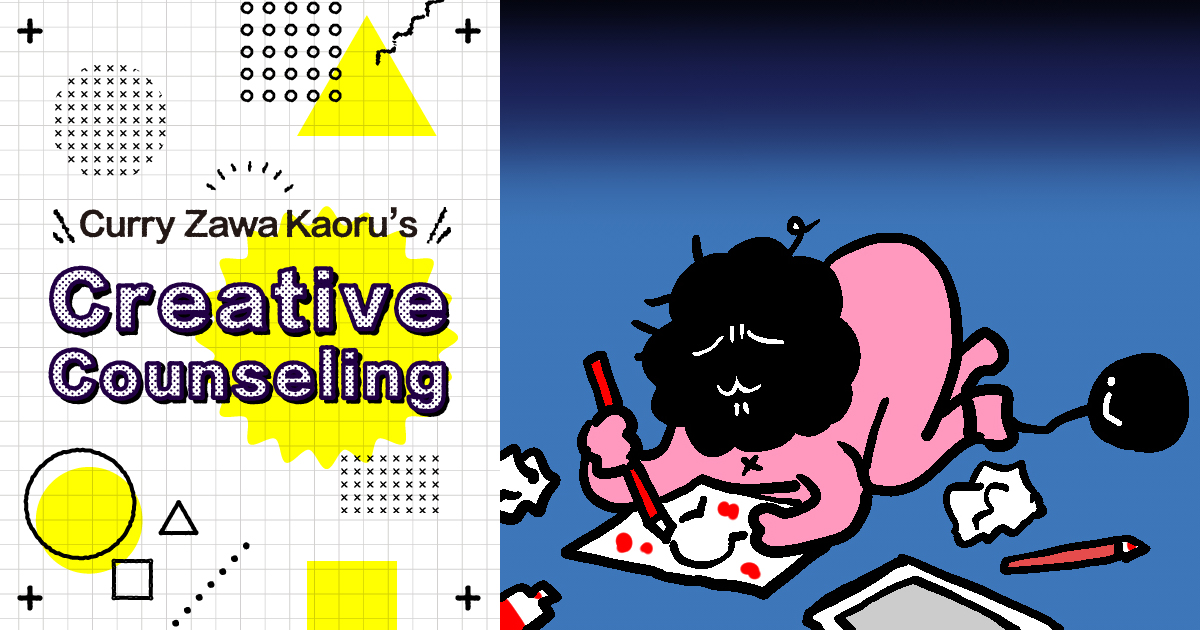 A year's worth of work on a manga lost to a scribble.
Saying you want to be a creator without suffering from an inferiority complex is like saying you want to do meth healthily. 
If such a way existed, it would be either to stand at the very apex of your field or to not show anyone your creations at all, which would mean no one would see your work.

Standing at the apex of the art world is by no means an easy feat, since the creative field, in and of itself, is a field where objectively deciding who's the best is difficult.

Let's say you begin a discussion with the idea of deciding on "the most interesting manga ever!" You'll undoubtedly see titles like Dragonball and Jojo at the top of the list, and then around by the tenth reply, someone will comment on a manga that was serialized in Beams that they absolutely love but wasn't a huge hit. From there, the whole thing would wind up being an exercise in futility. 

Even Osamu Tezuka, who is considered by many to be the pinnacle of manga artists, is rumored to have kept talented new artists in check with a handshake the likes of Kaoru Hanayama.

In other words, should Vegeta ever acknowledge Goku with a "Kakarot… You're number one!!", even if Kakarot could take a moment to be content with those words, in the very next instant, someone would follow up with, "But after all's said and done, isn't Krillin, the guy who married Android 18, the real winner here?" - This is the never-ending hellish cycle creators have to go through. 
It's believed that Tezuka Osamu was called a god because he turned his jealousy and inferiority complex into power which used that to create numerous masterpieces.

Unfortunately, this isn't possible for plebs like you and me.
We have this habit of falling into this endless, hellish loop of first exclaiming, "I can't work in a world like this! I'm going back to my room!" Then, with our smartphone tucked in our right arm and Nintendo Switch tucked in our left, we waddle to our room where we lock ourselves away, losing the motivation to draw and stifling our improvement. Then, we look around and compare our stagnant selves with our peers, causing our inferiority complex to flare up yet again. This makes our motivation to draw drop even further. It'd be great if we could just give up creating completely and take up surfing. In fact, that would be an excellent choice. But that wouldn't be escaping this creation hell. You'll instead fall into a deeper state of suffering despite not creating anything, which would be worse than what you're suffering through now. 
Therefore, if you don't have plans to bust out your surfboard, it might be good to get yourself motivated one more time so that you can get yourself out of one hell into a slightly better one. 

The reason you "can't do this anymore"
If the reason you feel you can't do this anymore is that you 100% believe that you "can't win against those talented people", it'd be tough for me to object. If anything, I want you to take those bracing emotions and, with a surfboard pressed to your chest, run towards the sea. 
Though, from some of your sentiments, namely your feelings of being "overtaken by a scribble in half a day," and "an artist's reputation being more important than their content", I think your feeling of doubt stems from the unjustness of your efforts not being properly appreciated.

That perception of things is incorrect.

If one is judged by their reputation, then how did they get that "reputation" in the first place?
There's no way the first thing you post will get reactions like, "It's that legend, Mimikin's new work! Gotta bookmark that now!"

No matter how sparkling the reputation of a godly artist is, they too started as some no-name nobody who was unknown to the world.

In the same way, you spent a year on your book, the artists who seem to be recognized by their reputations alone may have put in even more time and effort just to attain that "godly" status.
In other words, the world we live in isn't so unreasonable that everything but effort is valued. It's one where effort is justified, and since you lost through hard work, you should be able to win through hard work.

The creative world's irrationality lies in its "specifics"
I wish I could say something more impactful like that, but no matter how you slice it, it's clear that the world of creation is both irrational and flawed, and you have the right to be indignant.
I really can't deal with it either and if I could do another job, I'd do it right away.
Yes, effort is important but even if you put in the same amount of hard work, the degree to which you'll improve will vary depending on your talent. There's even the theory that pictures aside, a sense for storytelling is something you can't attain no matter how much work you put in.

Also, there are tons of undiscovered works and artists out there with great content but are unknown because they haven't gotten the exposure.
There's a famous quote by Edison that goes, "Genius is 99% effort and 1% shot at going viral." 

That saying spread the meaning that "effort is more important", but there's the rumor that afterward, Edison tweeted, "What I meant by that was if the 1% shot of going viral doesn't happen then the 99% effort is all worthless, but everyone cut it in a weird place." Adding, "Those who just put in the effort are wasting their energy," which he later deleted.
Since that tweet didn't go viral, the wrong version is considered correct and oddly enough, it proved that "going viral is more important".

The fact that this kind of creative world is unreasonable is the same reason why The Ultimate Challenge from Beat Takeshi is unreasonable, it's because of its "specifics". At the very least, it's a design that's easily perceived as unreasonable and demotivating.

Conversely, feeling that everything is unreasonable and being tormented with an inferiority complex because you started creating art is the same as being scared because you watched a horror movie. I'd say, in a way, you're enjoying the content of creating properly.

Trying to get that reputation
However, I would say that you're doing things in an easily discouraging way in a world that already tends toward discouragement, so why not try changing your style?
First off, the method of spending an entire year to complete a major work is a speedrun towards demotivation, especially in this day and age. 
The more time you spend on one piece of work, the more helpless you feel when it doesn't work out and you'll feel even more inferior to those popular works that look to have taken less time to do.
On top of that people's interests, especially on the internet, are extremely unstable these days. I mean, even the Myakumyaku (the mascot for Expo 2025) disappeared from my timeline within a week.
Consumption of media and art is much quicker now than it was before and the more time you spend creating, the more despair you feel at how quickly consumers eat it all up, and at the end of the day, it's like you went to the trouble of making ramen from scratch when it wasn't necessary and you're gonna feel silly.

Therefore, don't put your heart and soul into one thing. Instead, try increasing your output and doing something like releasing one piece a month.

Just like YouTubers who post videos almost daily even after becoming famous, "Short but frequent updates" are extremely important in today's fast-paced world of consumption.
And let's say you go viral, if you don't release a your next work right away, you'll immediately be forgotten.
Even if this titanic work that you spent a year on becomes even more famous, if your next release is a year later, then everyone will have already forgotten you by that point and you'll never get your hands on that "reputation".

The more work you put out there, the better your chances of going viral. For example, if your average romcom manga only gets three bookmarks but the story with the double lovers' suicide gets 1000 bookmarks, you'll also get a better understanding of what marketing tools you can put in your arsenal.

If you feel that there's something unjust about reputations, then I recommend you build your own.
Above all, by keeping production costs down, you can reduce the emptiness you feel about the time you spend and the resentment over a work that looks like a scribble. You can also recover more quickly in the event you produce a complete dud. 

When you get tired of looking up, look back on yourself.
Looking up and feeling depressed is something we can't do anything about, but after you're done with that, get back up and try to get your footing again.
Creation is really a world where if you do nothing but look up in despair, there'll be no end in sight and you can wallow in helplessness and inferiority as much as you like.
Even for me, when I open Twitter to express my joy over my manga being reissued another 1000 volumes, it's become an everyday occurrence to be bombarded with information on how another manga has sold over 10 million volumes.
When I'm asked how I can sanely keep drawing manga after seeing that distinct difference in talent, ability, and numbers, the honest answer is that I can't (keep sane, that is). But, it gets boring looking up in defeat after a while and my neck begins to hurt.
I do go crazy for a moment and send my vengeful spirit toward that author and their 10 million volumes, but when I get tired of doing that, I turn towards my own 1000 reprints, and though the numbers are small, I imagine all of the people who support me and think to myself, "Even so, I'm not going to give up on myself either."
That being said, after you're done resenting those godly illustrators with their stellar reputations, look back on your bookmarks and positive feedback. I think that if you do, you'll realize that all your effort was not in vain and being highly regarded like this is a big deal.
You're never going to be able to run away from inferiority complexes and jealousy as long as you continue to create.
Just get that inferiority complex out of the way, find your place again in your post-coital clarity, and keep your post-ejaculation move in mind.