Curry Zawa Kaoru's Creative Counseling - You may get lengthy complaints because you're Detective Conan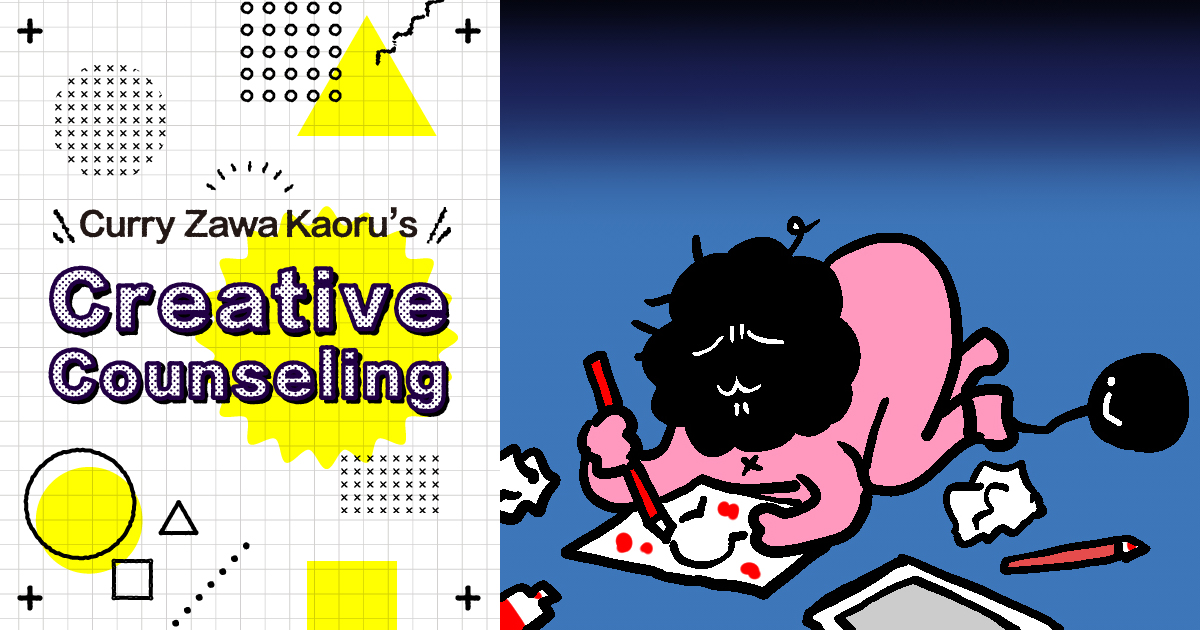 I keep getting lengthy complaints
My IB (Imaginary Balls) shrink just thinking about receiving one of those lengthy complaints, an ostentatious display of the sender's writing and expressive skills honed over years of creative work.
If it was a one-time occurrence, one may think they've touched the heartstrings of a sensitive yakuza or a member of a naive antisocial force, but if it happens repeatedly, there could be a reason.
First and foremost, this may have less to do with you or the sender and more to do with the environment in which incidents like these are likely to occur.
The fact that the senders seem to have a preference for less-than-popular pairings suggests that these instances are taking place in an underdeveloped niche.
In terms of sheer number, there are indeed far more incidents in large cities than in underpopulated ones.
However, the crime scene in major niches is similar to Grand Theft Auto in that you'll be mugged on your way there and again on your way back, making it difficult to remember the faces of every single mugger.
Minor niches and pairings, on the other hand, have a smaller population, so even if you don't want to, you will eventually get to know the people who are active there.
Despite this, many villagers refuse to communicate beyond a nod, and many believe they are the only residents, practicing self-ostracization. Some of the villagers, however, still manage to survive the hunger and cold by showing their work and sharing their impressions.
Strong ties do not automatically transform a village into The Village of Eight Graves. Because there aren't enough resources to burn or enough people to light fires, most villages simply pass the time, and before long, they end up sinking into a dam.
In rare cases, the villagers have become so close that it makes no difference what niche, pairing, or creative activity they're involved in because they'll just quarrel for the sake of quarreling.
If you've been an otaku for a long time, you've probably had at least one incident that still makes you look into the distance, eyes ajar, and say "Yup, that was nasty..." but that doesn't happen very often.
So the first possible explanation behind the fact that you keep getting lengthy complaints is that you are, in fact, Detective Conan.
Mind you, this does not imply that you're some sort of shinigami, the source of all woes. A quarrel requires two opponents: the best one can do on their own is finger-wrestling.
What I'm trying to say is, if you're Conan, then the other part must be none other than Kindaichi.
And if you combine Conan, Kindaichi, and a tiny village deep in the mountains where they still sing the old songs of minor pairings, something is bound to happen.
Everything always stays exactly the same, which is probably why similar murders (a.k.a. lengthy complaints) continue to occur.
So, how can we prevent these incidents from happening? The first option is to admit that you're not suited to the close relationships of tiny villages and instead engage in dry activities in larger cities.
Even in real life, many people who didn't fit in in their rural hometowns ended up finding their place in the city.
But, let's be real, that's never why an otaku chooses their niche.
To begin with, niches are not something you choose, but rather something you bump into, so whether the swamp you happen to come across is urban or rural is pure luck.
Now, let's consider what motivates people to write you long-winded complaints.
Your briskness may be misunderstood
You mentioned that senders are serious and write long stories about minor pairings, so I assume they're the type of person who stays in a single niche for a long time, regardless of how many people are in it.
You, on the other hand, are probably very brisk and active in a variety of niches.
Not that there's anything wrong with that; as long as you're not causing problems for others, you should enjoy your grasshopper life.
However, the other party may want to make their village a better place and feel betrayed by those young people who dare to leave town immediately after receiving their government subsidy because "there are no convenience stores within walking distance ROFL."
As a result, they may struggle to suppress their emotions and scream angrily, "Why, oh why are you leaving our niche?!!" to the rhythm of Miyuki Nakajima's Fight!
As a countermeasure, I would advise against expressing excessive enthusiasm for certain pairings, for example by suggesting to the village elders that you put together an anthology.
If you end up saying something overly enthusiastic, people may take you seriously and expect you to become the new niche leader, and the higher everyone's expectations, the more they'll feel betrayed when you leave.
In relationships as in life, LURK MOAR
I'd like to focus on the next point, the fact that those who contact you aren't particularly involved in the community.
In other words, they may not be very social and may take their time getting to know people.
You, on the other hand, are probably quicker at making friends.
When someone who's slow to close the distance and someone who's faster come together, they may perceive the distance between them differently.
And it's this distance that determines what is acceptable and what is not.
Only Captain Levi and Sandayū Dokumamushi are allowed to call someone "little shit" or "old hag" the first time they meet them. Aside from that, you'll have to gradually close the distance to broaden the range of what you can say, starting with talking about the weather.
Perhaps the other person still thinks that you're 10 meters away, only to get hit in the face with a blazing fastball you threw from just a 10 centimeters distance.
Maybe that's why they disliked what you said or did so much.
As a countermeasure, try embracing a LURK MOAR attitude toward people: use polite language; maintain a respectful distance for at least six months; and refrain from discussing personal matters other than niches and creative pursuits.
You were a big deal to them
The fact that "their work is either sensitive or very long" may have something to do with it too.
If the sender wrote short comedy, I'm sure their comments would also be short and to the point, along the lines of "I can't believe what the uke got jammed into him wasn't the seme but a rocket firework!" but from someone who writes long, sensitive stories, you can only expect long, deep comments. I believe you too have sent similar comments once or twice.
Because the senders are also creators, they most likely have an active imagination.
As a result, there's a chance they'll read your comments about their work over and over, up and down, trying to interpret them and eventually concluding that your feedback wasn't so much about their work as it was a critique of them as a person.
This type of person is difficult to deal with because, even if you keep your comments brief, they'll read so much into them that they'll deem them as not very nice, unfunny, decide you must hate them, so they'll kill you, and then they'll die as well.
However, I can say that it's not because you're insensitive that you are prone to stepping on the landmines of serious and sensitive types; rather, I believe we're lucky to have someone like you, who can easily relate to others even to those who have difficulty making friends due to their poor communication skills.

It's impossible to write a 10,000-word novel about a character you don't like, and it's even harder to write a lengthy complaint to someone you only mildly dislike.

I believe it's because you were such a big deal to them that they send you long, unwelcome feedback when something goes wrong.

It's a manifestation of those big feels we all love to dump on our OTP, but it's not so fun when those same feels get dumped on you.

In this situation, neither party is wrong: you're just not compatible.
Rather than forcing yourself to get close to someone you're incompatible with, it'd be better to keep a safe distance ー one that doesn't cause problems.
Now that you know who you're incompatible with, if you happen to meet a serious, sensitive, and shy writer of long texts in an underdeveloped niche in the future, tell them that Conan and Kindaichi shouldn't be together in order to prevent needless deaths and try to maintain your distance, no matter how heartbreaking this may sound.