Pro debut after just half a year of training! Find out more about the extraordinary Kamogawa's macho yet girly(?!) workplace!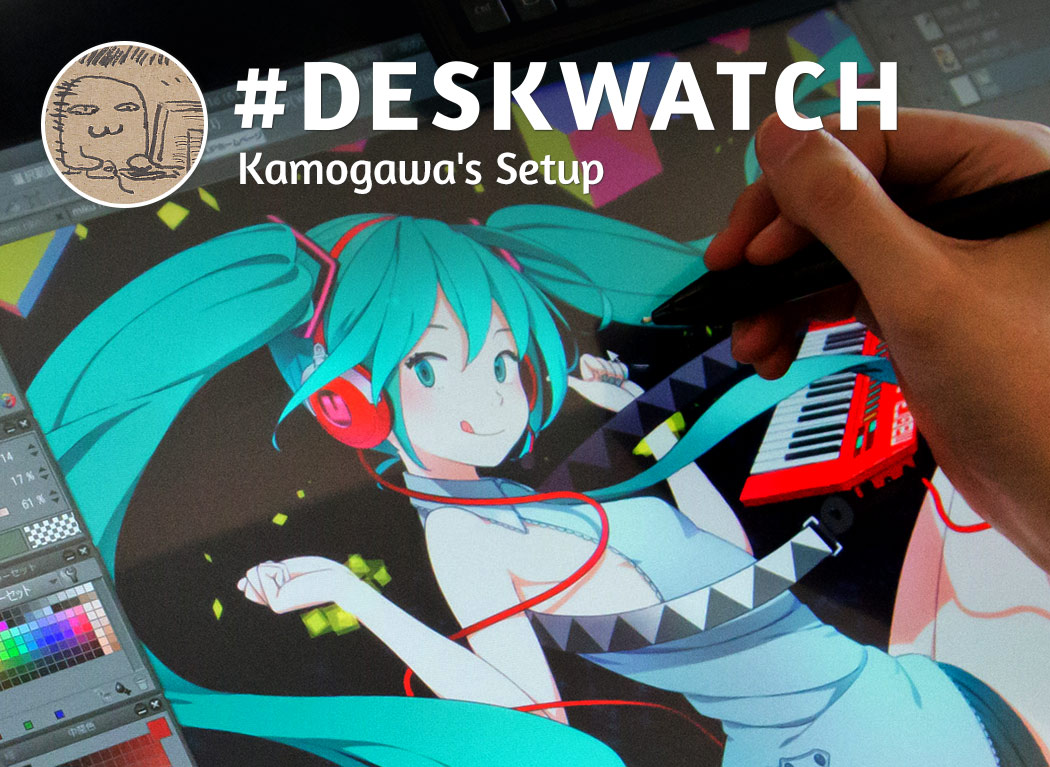 Interviewer: Momoka Ito (vi)  Photographer: Pon Sato
#DESKWATCH is a project that shines the spotlight on creators of illustrations, manga, anime, videos, music…. and their work environment. Discover how these gems of creativity are born, and what kind of tools professional creators use through photos and interviews!

This time, we had the opportunity to have a chat with the popular illustrator Kamogawa and learn more about Kamogawa's grand illustrations with a modern touch to it. Did you know that Kamogawa made pro debut as an illustrator a mere half a year since starting to draw? Let's dive into the mysterious world of Kamogawa who hasn't released any information about his/her age or gender!
Master of modern and vibrant colors to create optical illusions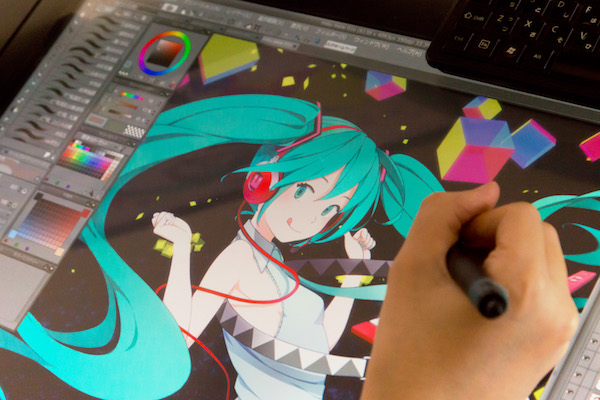 ▲ Kamogawa uses the liquid crystal tablet Cintiq24HD. Apart from that, it seems that Kamogawa put his/her PC together him/herself! The CPU is a i7 i7-2700K, with a 32GB memory, and the main drive of the hard disk SSD, connected t o an external HDD for backup.
- Firstly, tell us more about the paint tools you use!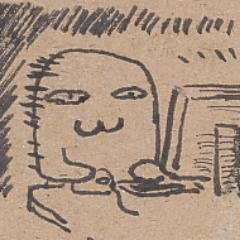 I do most of my work on CLIP STUDIO PAINT EX. And Photoshop CS5 to confirm the data. Currently, my main client is
GK Kyoto
, a traditional industrial design company,
and they're strict in a good way. They care about the minute details down to the very line.
That's why CLIP STUDIO is so convenient because of their ability to edit the whole folder at once.
- The larger the firm the stricter they are.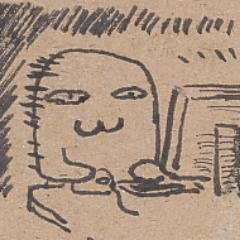 They're pretty firm regarding coloring, and I often receive instructions to shift the hue 5 to the right and saturation 10 down, as most of it is printed out on paper in CMYK. In that sense, CLIP STUDIO is useful as you can add a color correction layer.
▲ The final poster for
Moe Uzumasa
from the
Let's Ride The Metro
series that went through tens of rounds of editing
- Your art mostly has a pop and modern feel to it, and you'd expect the saturation to drop when using CMYK, but the final product is always so vibrant!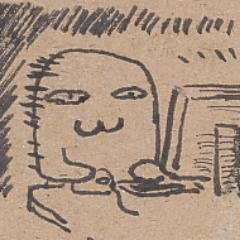 Thank you! There're several things I take note of when editing so the final product looks equally bright. For example, just using yellow alone will cause it to look slightly dirty as the saturation will definitely fall after the whole process.
However, by adding contrasting tones such as blue or green, the yellow will continue to look bright. I guess you could call it an optical illusion.
I kept that in mind when designing for 
NOVELiDOL
.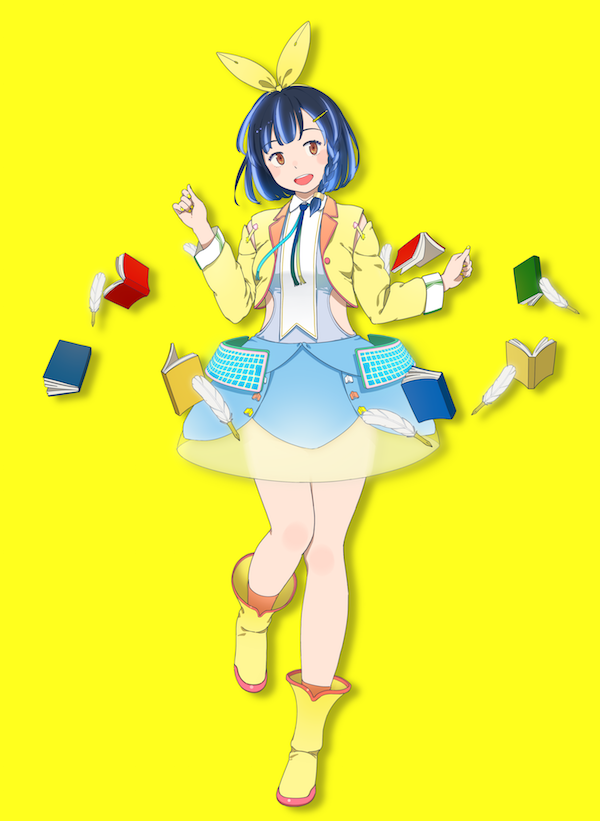 - I see....! That makes a lot of sense. Going back to your tools, do you use any shortcut keys?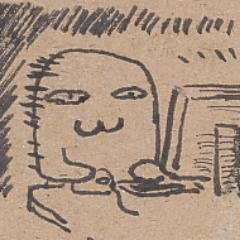 All the time! However, I recorded them all onto the left hand device, so I barely touch my keyboard. From the brushes, eraser, undo, redo, rotation of the canvas, reflection of the canvas and fixing the angle...all of them are in my muscle memory. Something like the stretches in Virtua Fighter (*1).
*1 Stretches in Virtua Fighter: A high level technique that allows you to defend yourself against mid-level attacks in the fighting game Virtua Fighter.
- That's some technical jargon with have there (lol) Apart from your tools, are there other things you must have for you to work?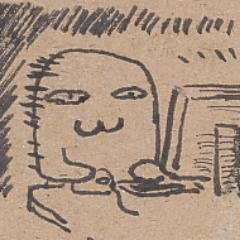 I really love coffee so definitely that. And I like choosing an aroma so that I don't get too stressed. I have a friend whose wife is a perfumer, who helps me write recipes. I've heard that the scent of basil is good for when your eyes are tired!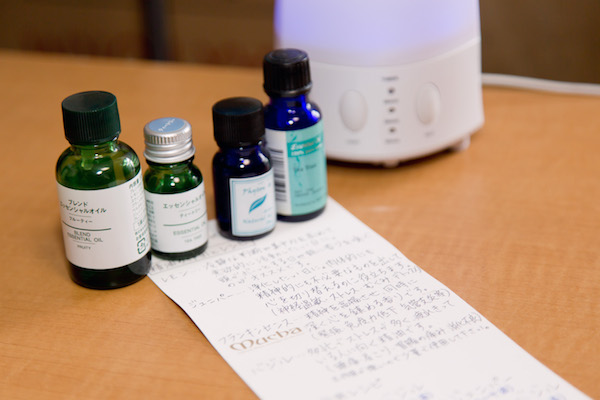 ▲ A part of Kamogawa's aroma collection. It appears that Kamogawa uses them in the bath as well.
- It's true that these kind of scents can help you relax. By the way, how about music?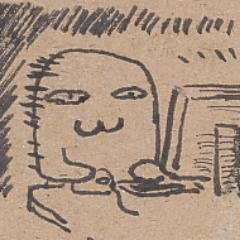 I always listen when I'm in the middle of creating something. Especially instrumentals with acoustic guitar. I'm a fan of the songs by T-cophony. However, when I need to battle something, I listen to EDM to get my spirits up! I like music from the online game EverQuest II as well. There have been times when I looped the soundtrack endlessly.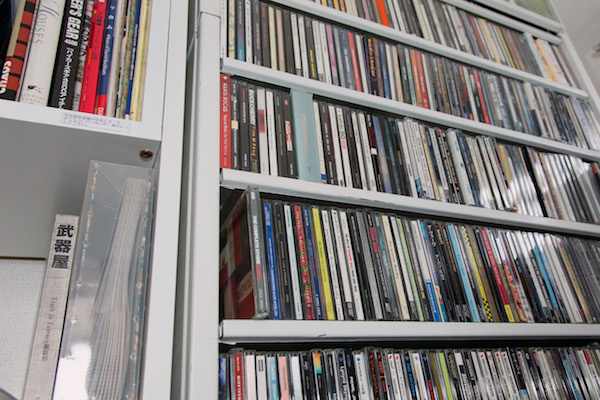 ▲ We found a whole stack of CDs on music lover, Kamogawa's shelf!
You can't survive if you don't understand the feelings of the Japanese
- Could you tell us more about how you got your pen name?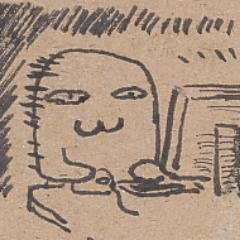 It's from the Kamogawa (Kamo River) in Kyoto. When I was younger, there was rarely anyone else at home. As a result, I always went over to my friends' places to play. However, my friends would be out during the holidays or weekends, and I'd head to Kamo River alone to catch crayfish. It's where I grew up, and I decided to make it my pen name.
- So you lived in Kyoto when you were younger. How long has it been since you started illustrating work?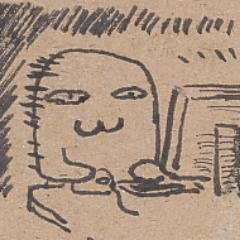 I got into drawing seriously around mid-2011, and officially became an illustrator in 2012.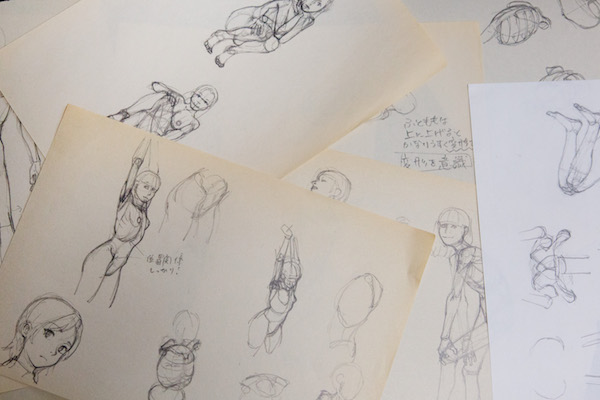 ▲ Part of Kamogawa's drawings from when he/she first started seriously learning drawing
- So that means, it only took you about half a year to reach a professional level! That's amazing....! By the way, what kind of work were you doing before that?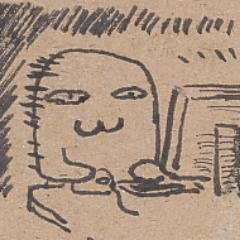 Looking back now, I did so many different things. I was once a writer for the arcade games column in the Monthly Arcadia, and I also worked at a second-hand clothes shop, import furniture shop.... I also worked as an manga author assistant previously, but I had no idea how to draw characters, and ended up drawing a lot of backgrounds.
- Your experience as an assistant probably helped you in your work as an illustrator.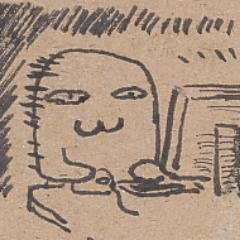 Yeah. In order to draw bodies accurately, the most important thing is to be able to draw a cube. I honed those skills during my stint as an assistant, so it wasn't like I was a complete beginner. I also feel that my color coordination was trained when I worked at the second-hand clothes shop.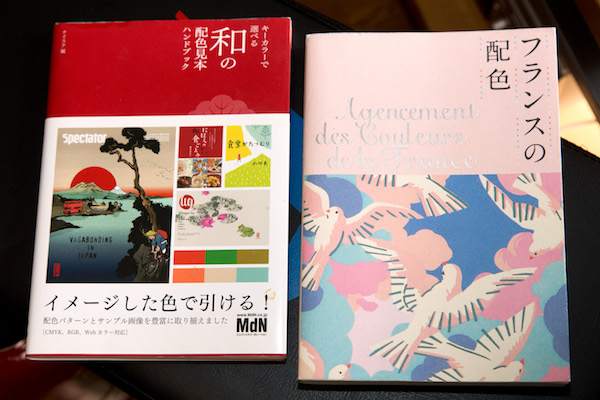 ▲ Kamogawa refers to books when choosing colors.
- It's really rare for someone to debut professionally after just half a year, and still receive a constant flow of requests, is there a secret to that?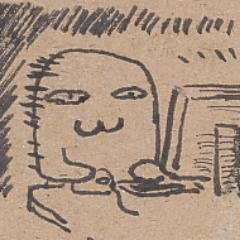 "To pay attention to feelings" I guess.... I don't mean this in a bad way, but it's my observation that people who like illustrations and manga tend to be slightly conservative. They may get some prejudices against the work based on the sex or gender of the illustrator....... In order to avoid that, I haven't revealed my age or gender. 
- That's a part of creating your own persona. You're a brilliant success story, but I think it's pretty hard to do that.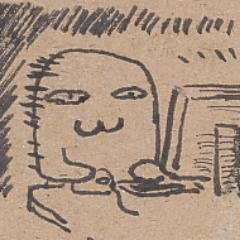 It's a world where you can't survive by following others, and you have to compete with originality or impressive skills. I don't have skills that can be considered "impressive" compared to others, so I decided to polish up my originality. A lot of my artwork is trial and error. It was then that I found the illustrations of people like mebae, Atsuya Uki and Haruko Ichikawa. They really left a strong impression on me, and I was able to appreciate their work from the bottom of my heart. It made me understand that work that can only be drawn by a Japanese are especially appreciated by the Japanese.
- Feelings that belong only to the Japanese, you mean?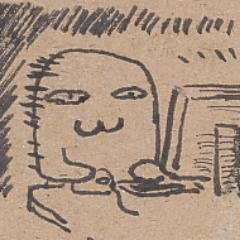 Recently, there have been more and more Chinese and Korean creators entering the Japanese market. That's why we've got to put up a fight by understanding feelings that are specially-Japanese, before our clients praise our work. I get this feeling from mebae, Atsuya Uki, Haruko Ichikawa and my own work. I ended up with this style of my own as I was chasing them.
Using all five senses when drawing females
- Which of the work you have posted on pixiv left the strongest impression on you?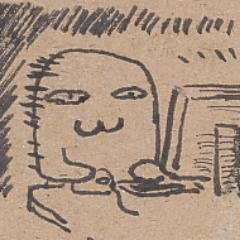 N-3B and HUGTON (*2) I would say.
*2
HUGTON
: Original character of the musician,
Kaseki Cider
.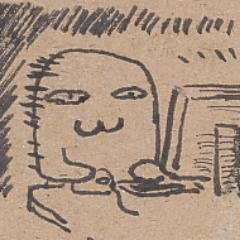 N-3B was when I was trying out a variety of things, trying to avoid the typical 3D style. It was a time where I found myself unable to draw the way I wanted to, and this was something I was surprisingly relaxed when drawing. And then I realized that this was what I had been looking for all along. I look at it when I want to go back to my roots.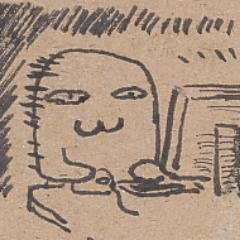 For HUGTON, Kaseki Cider asked me if he could used this for stickers to be sold with his CD when he saw it! I was really elated. This illustration makes me feel my connections with others. The producer of GK Kyoto is a big fan of Kaseki Cider too. I'm currently working on the illustrations for an MV of singer-songwriter Harumi Ohgi, and Minami Kitamura who's in charge of the animations also worked on Kaseki Cider's MV. It makes me think how all of this is fate....
- You also drew the image character for pixiv's energy drink 
pixiv DORADO
.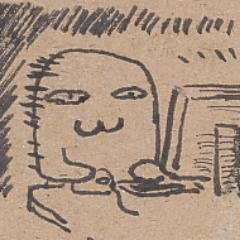 I drink it often when I need to burn the midnight oil. I was thinking about how it would be if companion wore the same outfit as the image character when the product was distributed during the Summer Comiket, but that would have been too much exposed skin (lol)
- Apart from pixiv DORADO, you've drawn many other cute female characters. Are there things you keep in mind when doing so?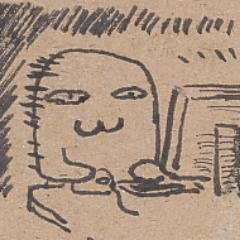 I make sure that it makes people want to touch them instinctively. I try to make them feel physically close to the viewer despite being in 2D. I want to convey the scents, the sensation, and the atmosphere, and not just draw a drawing. That's why I take note of the five senses when drawing.
The most important thing is muscles?! A macho yet girly workplace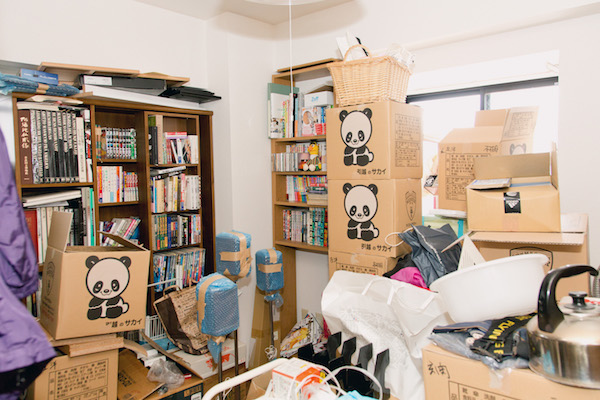 ▲ Kamogawa's workplace is full of cardboard boxes....!
- I'd like to ask about your work environment...I spot protein and weights around your room.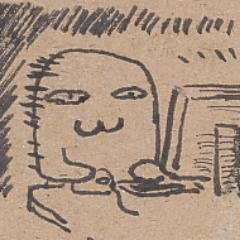 Muscles are pretty important in this line of work. I can clear my mind by taking a walk or stretching. I do some muscle training like push-ups, sit-ups and squats everyday, and I think everyone should at least do some morning stretches everyday. It may be a bother to move your body, but better healthy than sorry.
- It's a common problem among illustrators, but do you get stiff shoulders?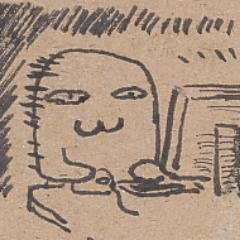 Your choice of the chair you use is important in this case. I used to get stiff, aching shoulders and headaches when I used to use a typical office chair. However, after choosing a chair suitable for myself, my posture became better and I stopped getting back or shoulder aches.
- Is there anything you're unsatisfied with, or would like to change now?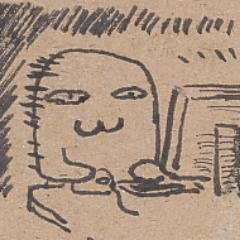 I want to do something about the cardboard boxes. It's been more than a year since I've moved, but I can't seem to get around clearing things up. There were about 200 boxes when I first moved in, but it's started to look pretty good! I thought of throwing the stuff I didn't need when moving, but I just didn't have the time to pack properly. I left everything to the movers and ended up not being able to throw anything away....
- True, we always end up procrastinating when we're busy.... By the way, what do you think is the best thing to start with for people trying to create their own workspace?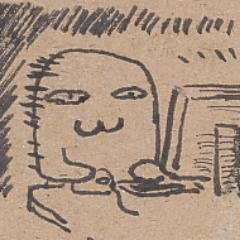 The chair! Even a cheap one's fine, but one with a high backrest would be good. My body is everything to me, and I definitely recommend something good for your health but still fashionable. Also, I suggest not wearing jeans because it'll cause vascular congestion in your legs (lol)
- Lastly, tell us more about your recent projects.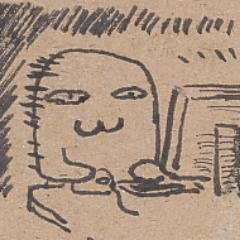 I'm in charge of the character design for Kyoto Gakuen University's official character,
Sono Uzumasa
. Also, the smartphone game
Station Memories
that I've been working with since it was created has a
collaboration event
with
Let's Take The Metro
.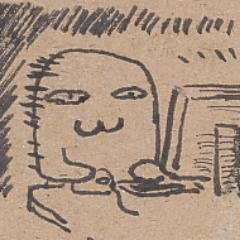 Another thing is that I'm working as an illustrator for the package in an upcoming tool called
Two-hole Tap for animators
. Anime taps used when creating anime normally have 3 holes, but hole punchers with 3 holes are usually priced very high, at about 30,000 yen. Two-hole Tap matches the holes made by typical 2-hole hole punchers, allowing you to avoid buying the expensive 3-hole hole punchers. Minami Kitamura that I mentioned earlier made the
commercial
, so do check it out!
The key to success, from an illustrator who debuted after just half a year
With the weights and aroma oils, Kamogawa has managed to create a workspace unique to him/herself.
Making Kamogawa's professional debut in just half a year is no easy feat, but Kamogawa managed to receive job offer after offer. Kamogawa may appear to be a genius, but Kamogawa's rich experiences beyond the world of illustrations, and meticulous self-production cannot be doubted. 
Even if you don't have much experience in the field of creation, you may be able to find something uniquely yours based on your own awareness. Look for your own strengths, and polish them to carve your path to success.
Find Kamogawa's 15minute drawing video here!
This serialization watches the inspiring desks of creators, and observes as they strive to deliver the best quality work.
Well then, till next time!