A light & portable device to draw wherever you want! New Windows 10 8-inch LCD Tablet "raytrektab" - Interview & Review with Saine
Recently, I've been drawing faces as cute as possible.
-- When did you start drawing?
I remember drawing the heroines of my favorite shoujo manga when I was in elementary school. I've loved drawing since forever, so I don't remember exactly when I started.
-- What were your favorite shoujo manga?
I totally loved Phantom Thief Jeanne by Arina Tanemura. When I was in elementary school I used to draw many characters from it. Since I started Junior High, my interests switched from shoujo to shounen manga. It was when I became addicted to NARUTO! My drawing style was quite influenced by Tanemura and Kishimoto. I started by imitating their illustrations and I ended up creating original characters in my very own style. I didn't just stick to a single genre, I used to draw many different characters with many different natures. However, I've enjoyed drawing cute girls since when I was little, and that hasn't changed at all over time!  
-- How did you learn how to draw?
Basically, I was self-taught. I have never attended a special school to become an illustrator, but I majored in design at my art university. That "design", though, didn't have much to do with illustrations: it was mainly about video editing and digital.
-- Why did you choose to major in something so strongly related to movies, instead of illustration?
I started making movies as a hobby when I was in high school, and I decided to follow that same path during university. Still, I have no memory of living my college days to the fullest, like in happens in movies. You know, between classes, my part time job and trying to improve my video production... However, that was the time when many people started seeing my movies and illustrations, so I feel it was worth it. I had fun, after all! Even now that I'm mainly focusing on illustration, I still enjoy producing movies.
-- You must have received many reactions when you started publishing your illustrations and movies! Is there one in particular that made you really happy?
Hmmm, there were really too many. Still, if I have to choose one occasion, it must be that time when I made a PV for a song, without receiving any request from VocaloP. That movie received so many amazing reactions, I was really happy!
▲ An illustration from when she decided to make a PV for the song "Dust" by KuwagataP
I create my illustrations starting from the colors.
-- You mentioned earlier that you enjoy drawing cute girls, but where do you get your inspiration or resources?
Hmmm. I don't use any particular resource. Recently I've been getting a lot of character design jobs, so I tend to try to do something different from what I'm supposed to do for work. If I can't come up with anything, I use reference books.
Yeah, I have a reference book about color theory and color arrangement. It also looks pretty cute - it's one of my favorites!
This book looks attractive even just from its cover, but the contents are amazing as well! You need to check it out!
-- So you're one of those artists that get inspiration from colors!
Apparently, I am. Now that I think about it, I often start drawing after deciding the colors. For example, "I'm gonna draw a blonde girl", or "I'm gonna draw a girl wearing a white dress".
▲ An impressive illustration by Saine which puts side by side pastel and primary colors. From "Saine Illustration Works world×world" (Published by KADOKAWA)
-- How did you decide which colors you're going to use?
One thing that I'm always conscious about is not to mix too many colors together. For example, I only decide one single color to start with. The only thing is, I always end up using my favorite colors: pink, light blue, purple. I really need to be careful there! These colors all tend to look dull once you turn an illustration into CMYK mode.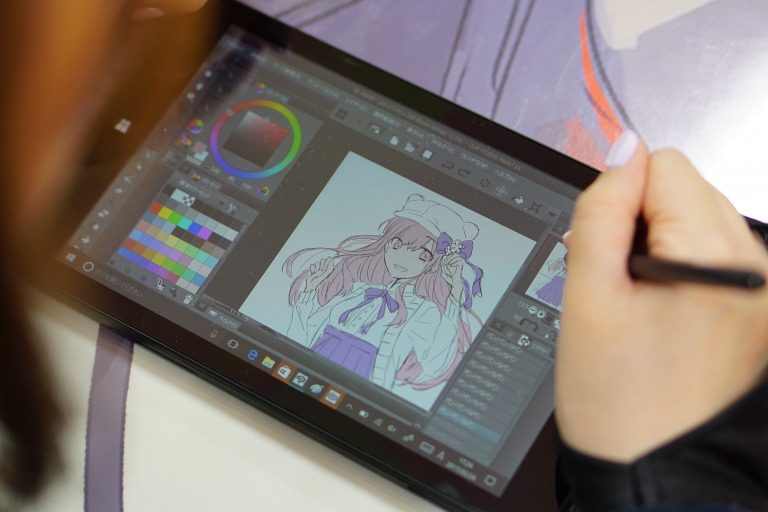 ▲ She used pink and purple even in the illustration she drew for us while reviewing the raytrektab.
-- Is there anything you're particularly careful about, apart from colors?
There are many things I could say, but if I had to choose one it would be faces. I want faces to look incredibly cute! Even though I feel my drawing style doesn't really match the kawaii standards, recently I've been doing my best to make my illustrations as cute as possible.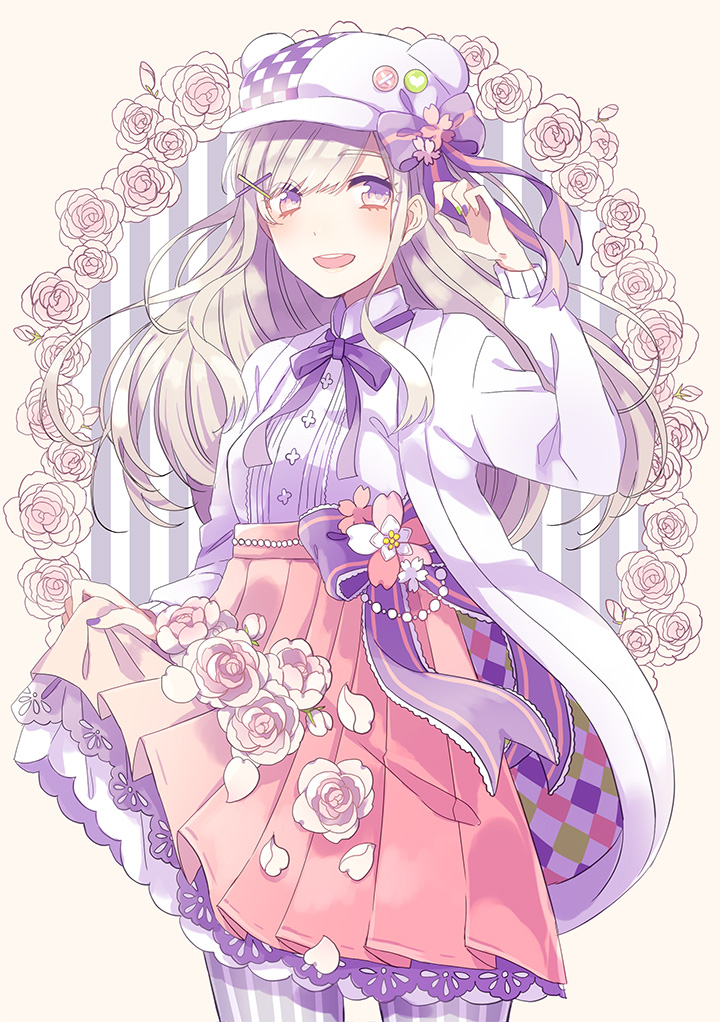 ▲ The illustration she drew for us. We're pretty sure this can be defined as kawaii, indeed! The whole illustration looks very cute, not only the face.
-- What challenges are you setting yourself for the future? What are you objectives?
I'd like to learn how to draw more masculine men. Even though I prefer slim silhouettes, I'd like to be able to draw "slim machos" or something like that! To make an example, I'd like to create characters similar to those by Shirow Miwa. He's also great at drawing girl and mecha, so I admire him very much! Also, my dream is for the characters I designed to be made into action figures. I'd like to design something that will develop in different products and whatnot. Yeah, I love character design!
-- Do you want to leave a message to those out there whose dream is to become an illustrator?
I don't know if I'm in the position to give anyone advice, but one thing I know is that if you don't get people to see your art, you won't go anywhere. It's not easy to get into pixiv ranking, right? So you have to make things happen by yourself. Participating to contents, posting seasonal contents... You have to make an effort to get something back! Unfortunately, there are no shortcuts in this field.
Saine
She deals with illustrations, movies and design (characters, CDs, novels, goods, logos). Since 2010, she's been actively providing illustrations for VOCALOID songs and has also worked with the movie production for Fukakuboryou's songs. In 2011, she joins the circle "Asukasoromanya-Z".